If you've been shopping for a vacuum in the past year or two, you may have come across a brand named Tineco. They manufacture several vacuum cleaners, with the Pure One S11 being one of a handful of cordless options in their Smart Vacuum line.
A Good All-Around Budget Cordless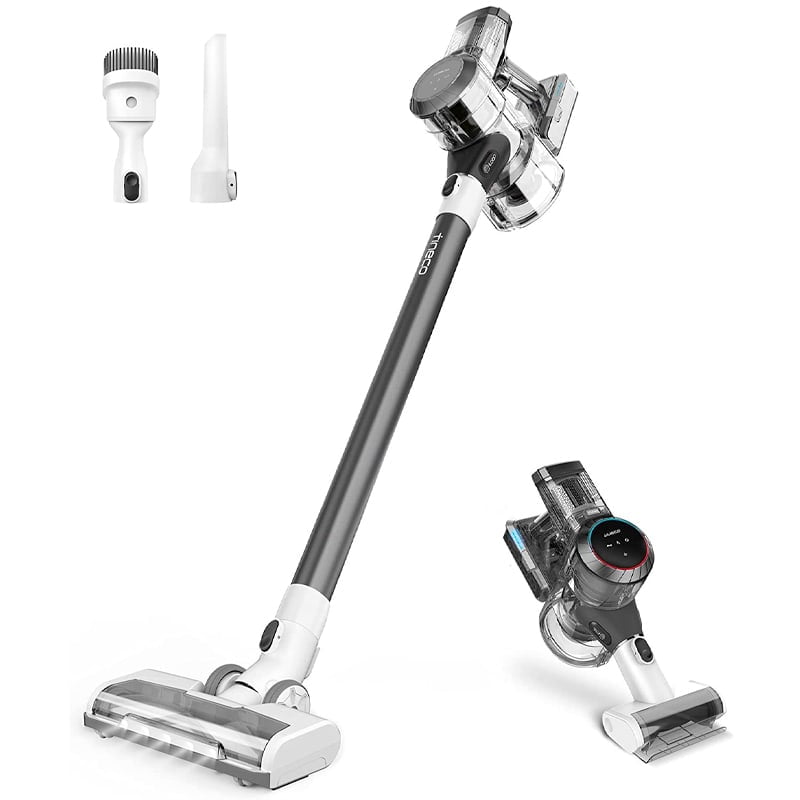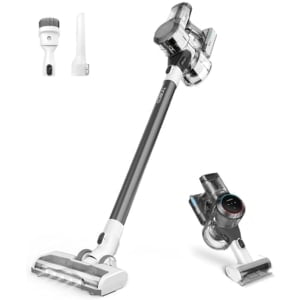 Verdict
If you're looking for an aggressively priced cordless vacuum with good all around specs, the Tineco Pure One S11 should be on your short list.
Performance -

9.4/10

Features -

9.1/10

Ergonomics -

9.3/10

Value -

9.5/10
Pros
Great cleaning performance on carpet
Excellent Soft Roller Power Brush
iLoop Dirt Sensor extends battery life
LED headlights
4-stage filtration
Cons
Full-size floor heads pivot awkwardly
Soft roller only ships with Tango model
There are two stick vacuums in that line that came after the S11, with the latest being the Tineco Pure One S15.
Tineco Pure One S11 stick vacuum models
The Pure One S11, one of Tineco's best-selling stick vacuums, is available in two variants. The first is the base model, simply known as the Pure One S11 or Pure One S11 Grey. The second is the Pure One S11 Tango, which is exactly the same as the standard model with one additional full-size cleaning head and a slightly higher price.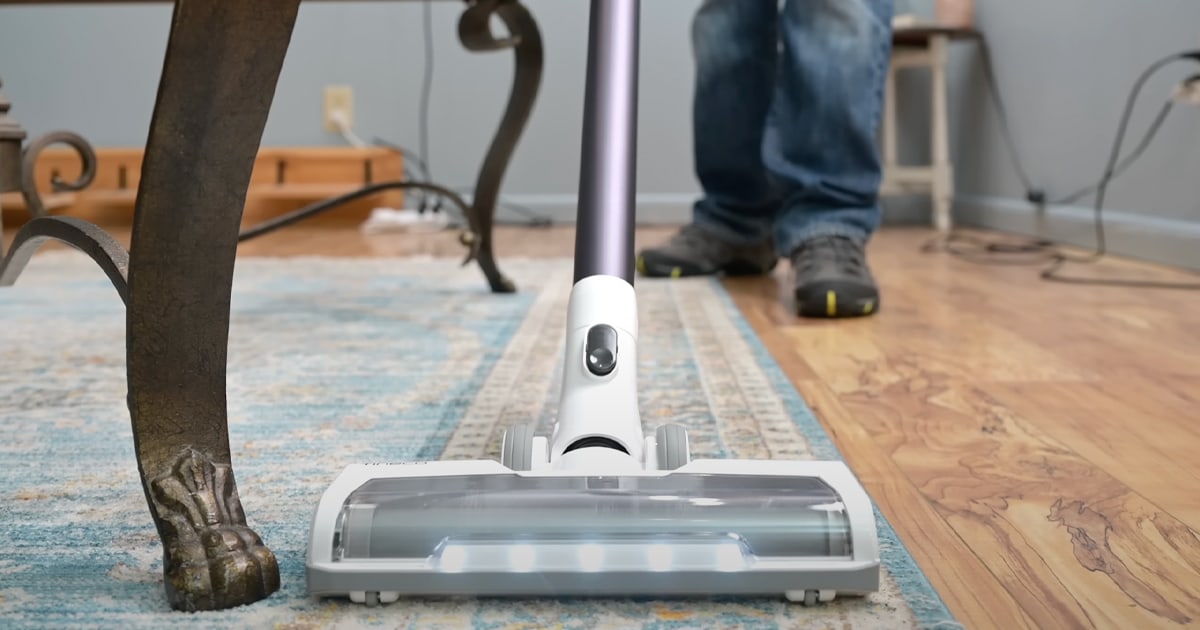 Both stick vacuum models have relatively good reviews online, scoring 4 stars or better on Amazon, for example.
The cleaning head is a soft roller head which Tineco calls the LED Soft-roller Power Brush. In contrast to the LED Multi-tasker Power Brush, the soft roller is specifically for hard floors, and it's quite good. For homes with hardwood floors or tile, this is the S11 you'll want to buy.
Specs
| | |
| --- | --- |
| Vacuum Type | Cordless Stick |
| Suction | 130 AW |
| Motor | 450W brushless |
| Bin Capacity | .6L / .63 qts. |
| Maximum Battery Life | 40 min. |
| Battery | 2500mAh Lithium Ion |
| Switchable Battery | Yes |
| Recharge Time | 4 hr. |
| Converts to Handheld | Yes |
| Headlight | Yes |
| Warranty | 2 yr. |
Tineco Pure One S11 / Pure One S11 Tango Specifications.
Unboxing and setup
We purchased our Pure One S11 Tango online. When it arrived we unboxed it and topped off the removable Lithium-Ion battery. That's all there was for us to do. There isn't any real assembly required beyond optionally installing the wall-mount charging dock and connecting the S11 to the Tineco App.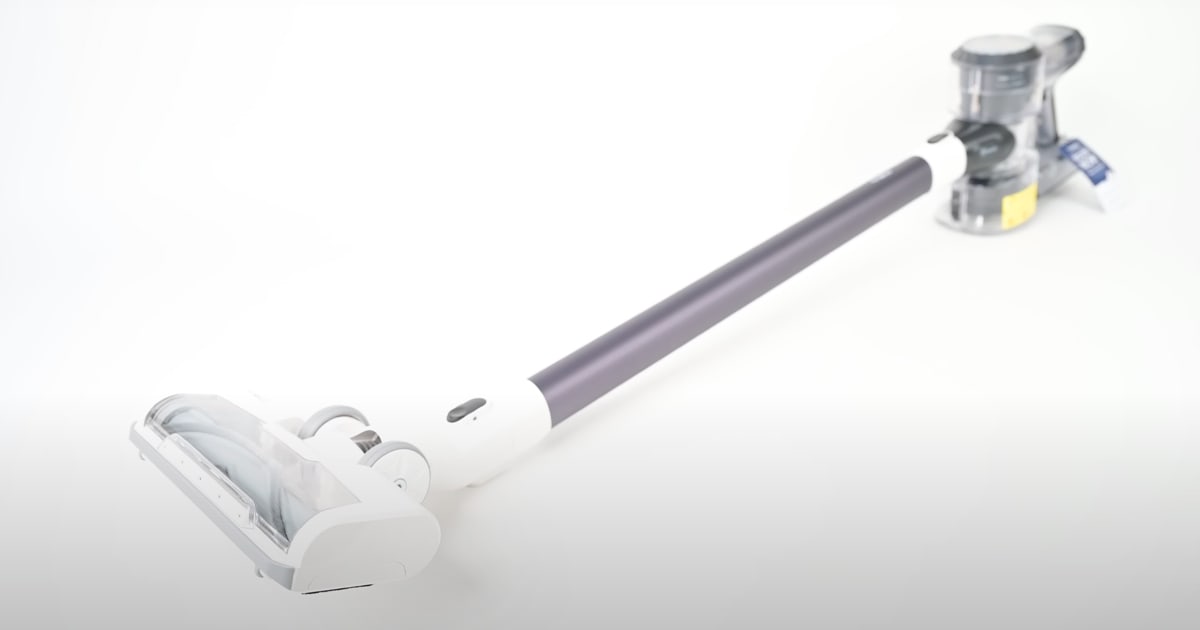 We won't go into the Tineco App much. For those that are interested, the Tineco Smart App integration provides status information on the Pure One S11 such as the remaining battery life, cleaning reports, and a variety of maintenance reminders and troubleshooting help.
In the box
Tineco Pure One S11
LED Multi-tasker Power Brush
LED Soft-roller Power Brush (Tango model)
Mini Power Brush
2-in-1 Dusting Brush
Crevice Tool
Filter cleaning attachment
Extra pre-filter
Hair cleaning tool
Wall mount charging dock
Power cord
Manual and warranty
Performance and test results
We ran the Tineco Pure One S11 through our current testing regiment and were impressed with the results. For a cordless vacuum with an MSRP of less than $400, we'd say it punched above its weight.
When compared with the average of all cordless models in our last round of tests, it more than held its own.
| | Tineco Pure One S11 | Average Cordless |
| --- | --- | --- |
| Carpet Deep Clean Test | 98 | 91 |
| Airflow at Base (Low) | 27 cfm | 25 cfm |
| Airflow at Base (Max) | 47 cfm | 42 cfm |
| Sealed Suction at Base | 96″ | 68″ |
| Unsealed Suction as Base | 1.23 kpa | 0.68 kpa |
| Weight at Handle | 1582 g | 1504 g |
| Actual Run Time (Max) | 10:30 | 14:30 |
| Noise Level (Low) | 60 db | 73 db |
| Noise Level (High) | 75 db | 77 db |
The test results above are from Vacuum Wars' independent cordless vacuum tests.
In all of our airflow and suction tests the Pure One S11 performed better than the average cordless vacuum. One notable area where it didn't is in how long the battery lasted in Max power mode. Our tests showed it to be good for about ten and a half minutes of cleaning, below the average of all vacuums we have tested by about four minutes.
Cleaning, dirt sensing, and battery run time
As far as the Max power setting and battery life is concerned, we recommend using the Auto mode. In Auto mode, the S11's iLoop sensor measures the amount of dirt and debris on the floor and adjusts the suction up or down as necessary. As it does so, the color of the ring around the edge of its LCD screen gradually changes color. Blue indicates there's less dirt, red means more.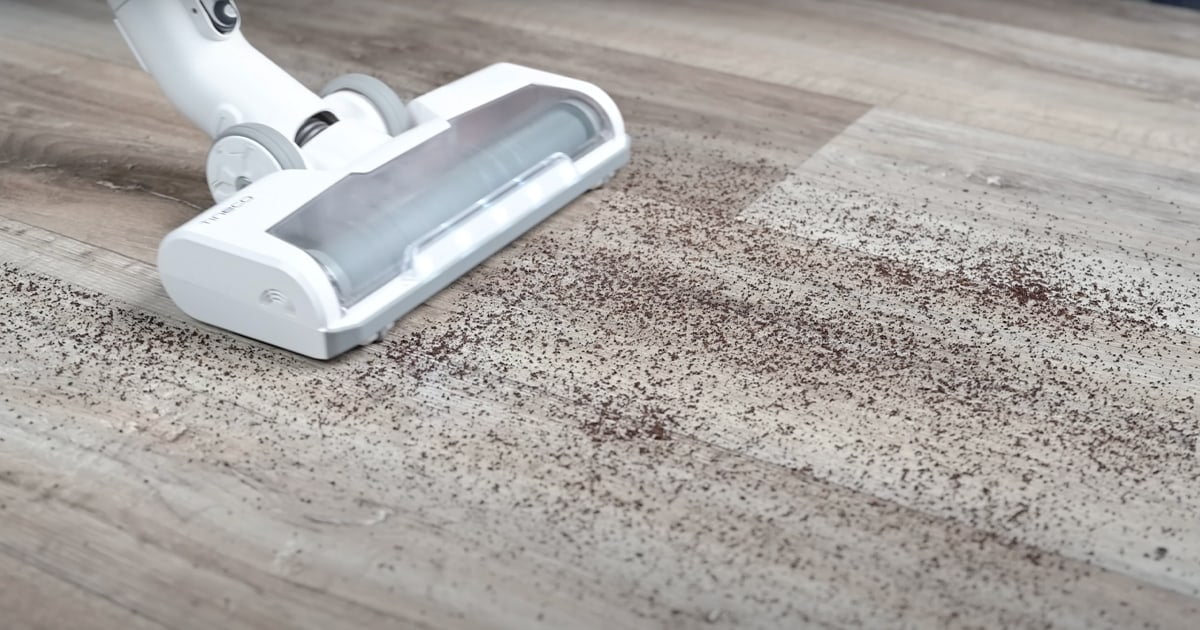 Tineco introduced the iLoop sensor on its earlier Pure One X models, predecessors of the Pure One S11 line, and it is also available on their newer Smart cordless vacuums.
Vacuuming on hard flooring and carpet
We put the Pure One S11 through its paces on hard flooring and carpeting to test its abilities.
Using the standard full-size cleaning head, we were impressed to see the Pure One S11 comfortably pick up many types and sizes of debris on carpet. In our deep cleaning test, where we test a vacuum's ability to clean up sand deeply embedded in medium-pile carpet, the S11's scores were again above average.
On hard flooring, the standard head didn't fare as well. While good on carpet, we found it tends to push larger debris around on hard flooring as opposed to vacuuming it up. The best cleaning head for bare floors is the soft roller head, only available on the Tango model.
The soft roller vacuumed up coarse dirt and cereal of various sizes easily. The benefit of soft roller heads like this one is that they pull debris in and suck it into the bin as opposed to pushing it around.
Tineco Pure One S11 Suction Power
Beyond well-designed cleaning heads, the Pure One S11 benefits from a 450w motor. It generates airflow and suction that are above average. In particular, the unsealed suction at the vacuum's head was nearly double the average of 56 cordless stick vac models tested.
Cleaning performance at the head also contributed to good results in our crevice tests with the standard cleaning head, too.
All in all, the Pure One S11 outperformed the average cordless vacuum across our tests, sometimes by a sizable margin.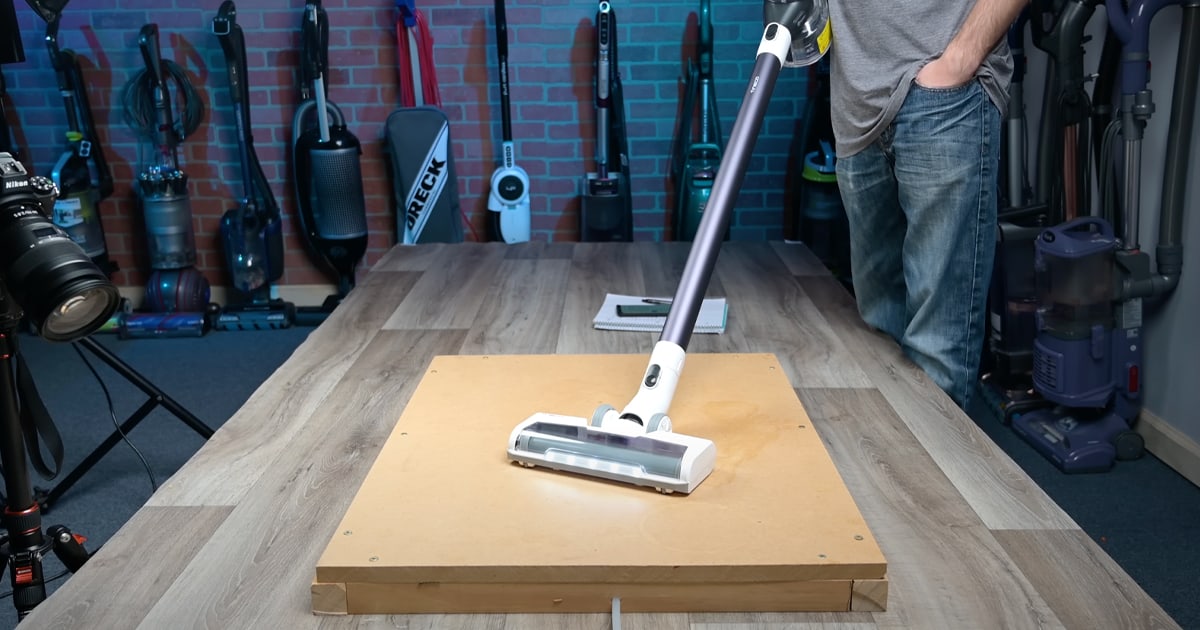 Features
Tineco got a lot right with the Pure One S11. The full-size brushrolls work very well. As we noted above, for those with hardwood floors, definitely choose the Tango model where Tineco's soft roller excels.
Although it doesn't have a ton of accessories, it does come with what you need to get by and the attachments are of high quality. Both models include a crevice tool, dusting brush, filter cleaning tool, and a mini-motorized tool (sometimes called a powered upholstery brush or powered pet hair brush).
That last accessory, which Tineco calls a Mini Power Brush, is good too. We tested it on pet hair and smaller debris and were impressed with its pickup.
The LCD screen is a nice touch, and it does provide helpful information beyond monitoring the iLoop dirt sensors, including blockages and brushroll tangles.
Getting back to the attachments, the LED lights on both of the full-size cleaning heads are helpful and appreciated, too.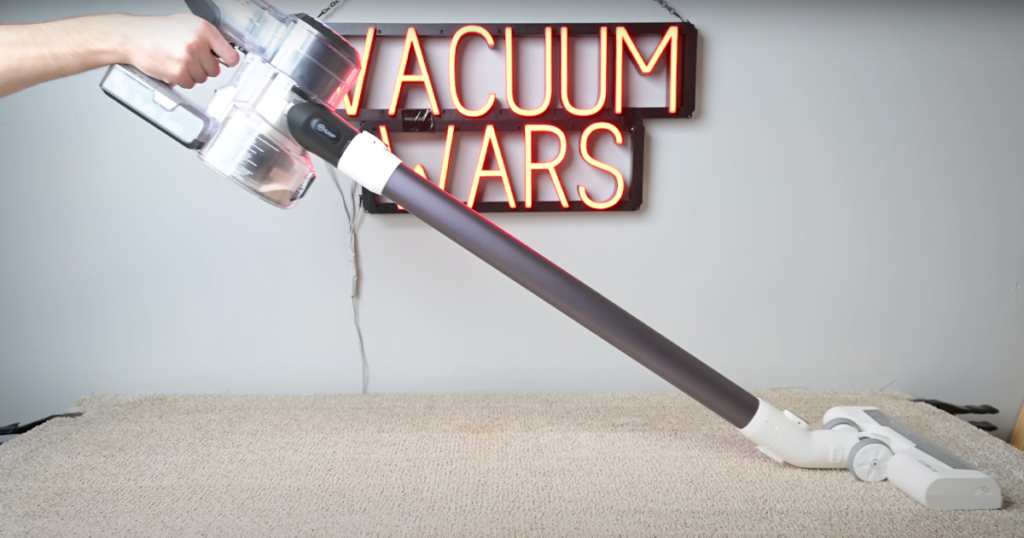 Detachable batteries are slowly becoming the norm, yet many stick vacuum models at this point have batteries that cannot be swapped out or replaced. Switchable batteries offer flexibility and a way to extend the life of a vacuum when its battery expires, and we appreciate that Tineco included the feature in the Pure One S11.
Ergonomics
Ergonomic scores were the lowest of the four categories we test for. This isn't to say that the Pure One S11 is unruly, but there are areas for improvement.
Compared to the average of all cordless vacuums we have tested, weight at the handle weight was heavier than the average vacuum, but not by much. But when compared with most Dysons, the Pure One S11 is lighter. The average handle weight of the V11, for example, is more than 25% heavier.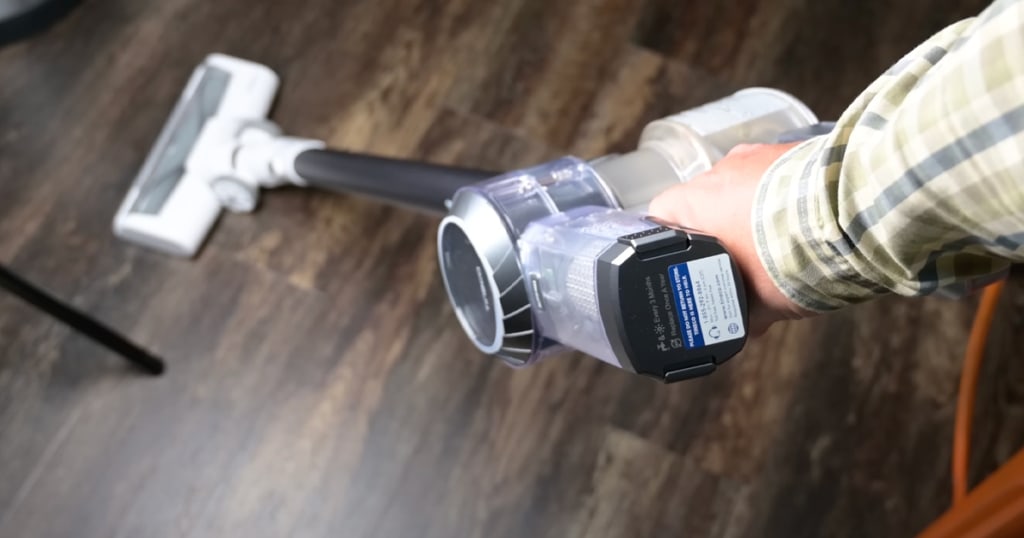 On the plus side, the Pure One S11 is easier to maneuver when used as a handheld than most Dysons. It has a more compact design, and with its lighter weight is easier to use before becoming fatigued.
Another area of improvement is how the full-size heads swivel. It takes more wrist motion to turn the full-size cleaning heads. This might be picky, but as it feels different than others we've tested we thought it was worth mentioning.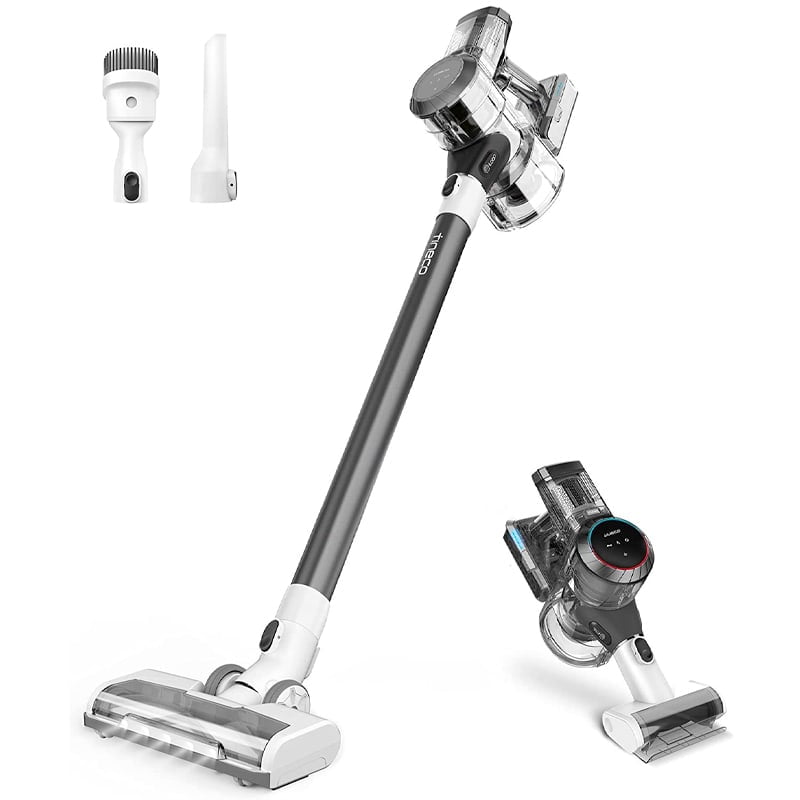 Pure One S11 vs Dyson V8
One common comparison is the Pure One S11 vs the Dyson V8. We actually did a comparison on our sister YouTube channel at one point. In that comparison the S11 won out, largely on features.
Since that comparison was made Dyson re-released the V8 with a handful of improvements. With its new hair-detangling technology and improved accessories, we think it would be about as close to a tie as there could be. Check out our Dyson V8 review to see what the updated stick vacuum cleaner model has to offer.
Value
The Tineco Pure One S11 offers a lot at a relatively low price.
As we mentioned, for those with hard floors the Tango variation is a must. The only difference between the standard model and the Tango model is the additional soft roller head it comes with. It is a good one, and far superior to the standard cleaning head on hard surfaces like tile, laminate, and wood flooring.
But for homes with mostly carpeted floors, we find the standard Tineco Pure One S11 to be an extremely good vacuum with a huge amount of suction power, very useful tools, and the cleaning time extending iLoop dirt sensor.
Recommendation
If you're looking for an aggressively priced cordless vacuum with good all-around specs, the Tineco Pure One S11 should be on your shortlist.
You can find and purchase the Tineco Pure One S11 online, including at the retailer(s) below.