Welcome to Vacuum Wars and our review of the new Shark Stratos cordless vacuum. We thoroughly tested the one we purchased this week and found that not only is it the most feature-rich Shark cordless vacuum yet, its performance scores were better than any previous Shark cordless we have tested.
RELATED: See our review of the Shark Detect Pro cordless!
A Great Cordless Vacuum from Shark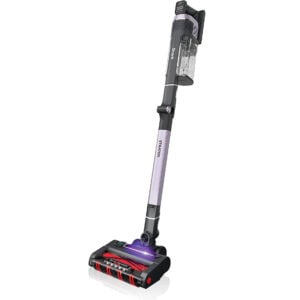 Verdict
There isn't much to fault to find in the Shark Stratos Cordless. We think this is the best cordless vacuum Shark has ever made. The DuoClean system is excellent and for the first time, we are comfortable saying that in the case of the Stratos Cordless, the DuoClean system performs as well on carpet as it does on hard floors. We recommend the Shark Stratos Cordless vacuum.
Performance -

9.7/10

Features -

9.6/10

Ergonomics -

8.3/10

Value -

9.8/10
Pros
Excellent performance on all flooring surfaces
Impressive suction and airflow
Great with pet and human hair
Anti-Allergen Seal
Long run time
Cons
Can be awkward as a handheld
Lacks upholstery cleaning tool
Expensive
The Shark Stratos vacuum line
There is more than one Shark Stratos vacuum cleaner. The one we are reviewing today is the Shark Stratos Cordless. The other is the Shark Stratos Upright, a corded full-size vacuum that excelled in every test we put it through.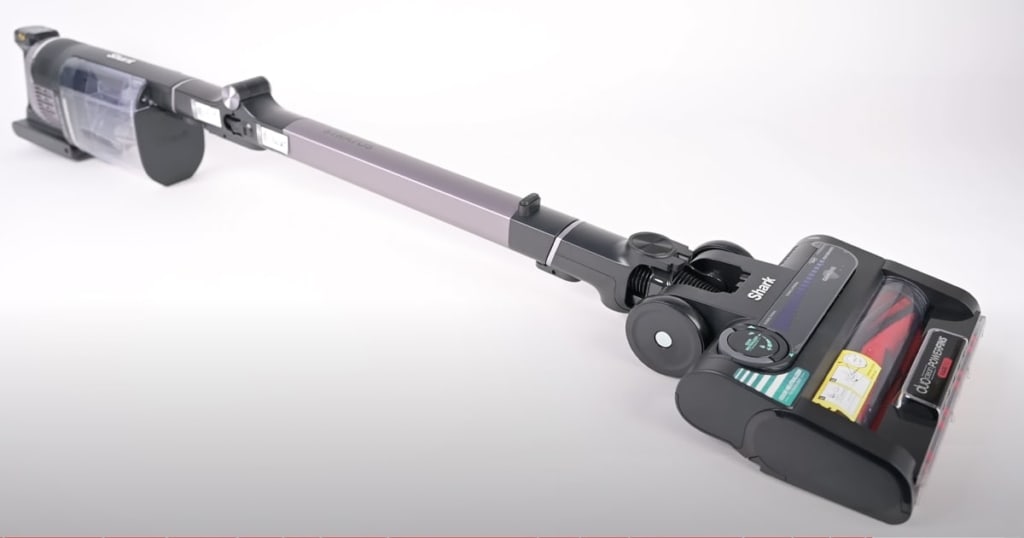 With the Stratos Cordless being the high-achieving upright's sibling, and the Stratos line representing the brand's flagship models, our expectations were high. Before reviewing the results of our tests, here's a bit about the Stratos Cordless at a glance.
Specs
| | |
| --- | --- |
| Vacuum type | Cordless Stick |
| Motor | 309W / 12.26 amps |
| Cleaning path width | 10 in. |
| Bin capacity | 0.68L / 0.72 qts. |
| Weight | 8.9 lbs. |
| Maximum battery life | 60 mins. |
| Battery type | Lithium Ion |
| Removable battery | Yes |
| Converts to handheld | Yes |
| Headlight | No |
| Warranty | 5 yr. limited |
Shark Stratos Cordless specifications
Unboxing and setup
Setting up the Stratos Cordless we purchased is easy. It takes less than ten minutes from breaking the seal on the box to being able to use the vacuum. Before we got underway, we did top off its lithium-ion battery, which arrived partially charged.
In the box
Shark Stratos Cordless vacuum
Duster Crevice Tool
Battery
Anti-Allergen Brush
Power cord
Manual and warranty
Performance and test results
As the Stratos is the successor to the Vertex model, we will be referencing it throughout this review. Below we have included it aside the Stratos Cordless and the average score of all cordless vacuums we have tested in the past.
Shark Stratos Cordless vs. Shark Vertex Cordless
| | | | |
| --- | --- | --- | --- |
| | Stratos Cordless | Vertex Cordless | Average Cordless |
| Carpet Deep Clean Test | 100 | 92 | 91 |
| Airflow at Base (Max) | 56 cfm | 46 cfm | 42 cfm |
| Airflow at Head (Max) | 42 cfm | 34 cfm | 37 cfm |
| Sealed Suction at Base | 76″ | 64″ | 68″ |
| Unsealed Suction at Head | 0.95 kpa | 0.34 kpa | 0.67 kpa |
| Motor | 309 watts | 281 watts | – |
| Dustbin Capacity | .72 qt. / .68L | .34 qt. / .32L | – |
| Weight at Handle | 1640 grams | 1636 grams | – |
The test results above are from our independent testing and are not from the manufacturer, with the exception of information regarding motors and dustbin capacity.
Stratos Cordless power and suction
First and foremost, the Shark Stratos Cordless' power is significantly improved from the previous Shark cordless vacuum, which held that designation. That vacuum and the Stratos' predecessor, the Shark Vertex, was above average in its own right.
In comparison, the Stratos Cordless had more airflow at both the base and the head. It also had significantly more suction power at the base as well as a higher score with the unsealed suction test at the head.
When comparing the Stratos Cordless to the Vertex, what's interesting is that despite their very similar weight and size, Shark is able to deliver so much more performance with this new model. The likely reason is the larger motor in the Stratos.
Cleaning, power modes, and dirt sensing
Power is nice, but cleaning performance is really what we are after, and what we found did not disappoint. In fact, the Shark Stratos Cordless was the first cordless vacuum to score a perfect 100 in our Carpet Deep Clean Test.
This test isn't one that is easy for cordless vacuums in general. In that test, we deeply embed sand into medium pile carpet. To gauge a vacuum's performance, we measure the empty weight of the vacuum's dustbin and then weigh it again after a set number of cleaning passes.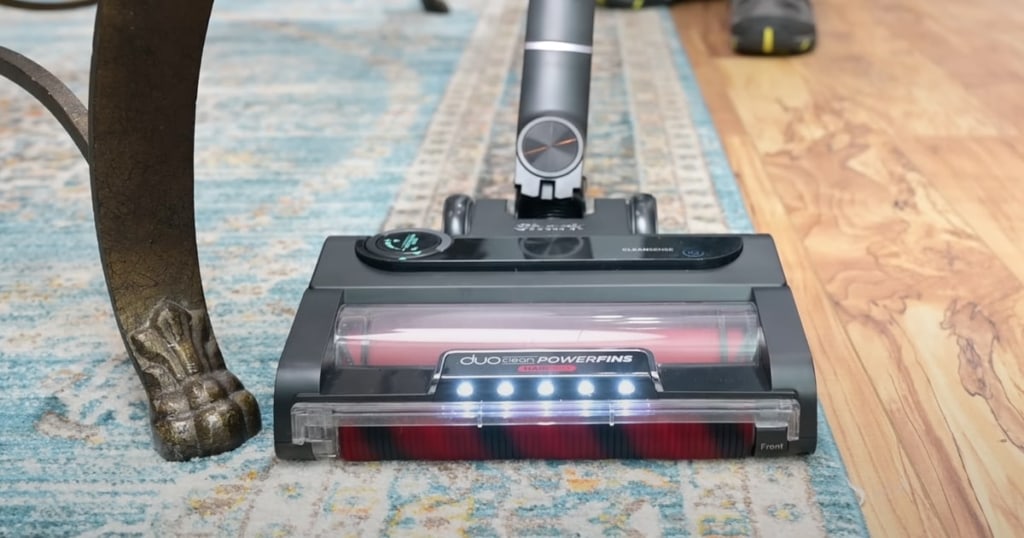 The perfect score that the Stratos Cordless achieved wasn't a one-off either. We tested the Stratos several times in a row, and it repeatedly scored perfectly.
Previous high-scoring peers include the Dyson V12 Detect and Shark Vertex, which scored 96 and 92 respectively. With our current testing methodology, the average score across 58 cordless vacuums we have tested is 91.
Vacuum on hard flooring and carpet
When gauging a vacuum's performance, we consider not only deeply embedded debris but also surface pickup on both hard flooring and carpet. Again, the Shark Stratos performed admirably. Where surface pickup is concerned, the Stratos cordless is about as good as it gets.
The Shark Stratos also makes short work of vacuuming up larger debris on hard flooring and carpets too. It does this without the need to make any height adjustments to the vacuum's head.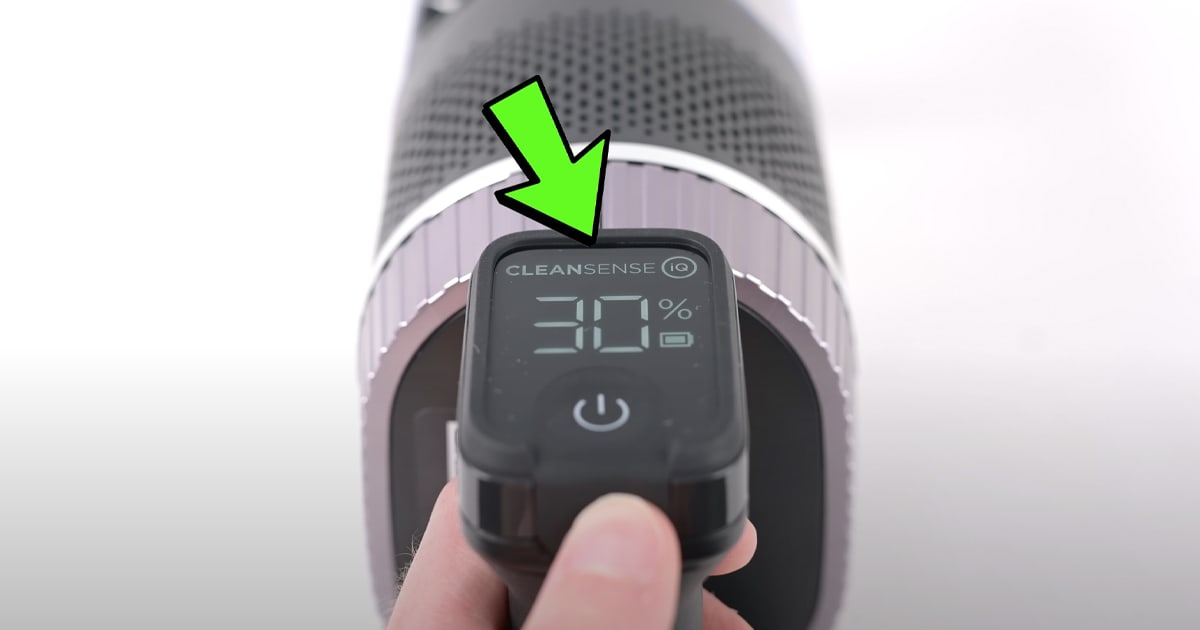 Shark Stratos cordless power modes
There are three power modes on this Stratos Cordless: Eco, Max, and CleanSense IQ. CleanSense IQ is an automatic mode, and it is new on the Stratos Cordless. When enabled, suction power is adjusted automatically based on the amount of dirt and debris it encounters.
We will get into CleanSense IQ a bit more in our features section below. We did want to note that after using Stratos Cordless we think this auto mode is the best setting to use for day-to-day cleaning. Expect somewhere around twenty to thirty minutes of run time in this mode.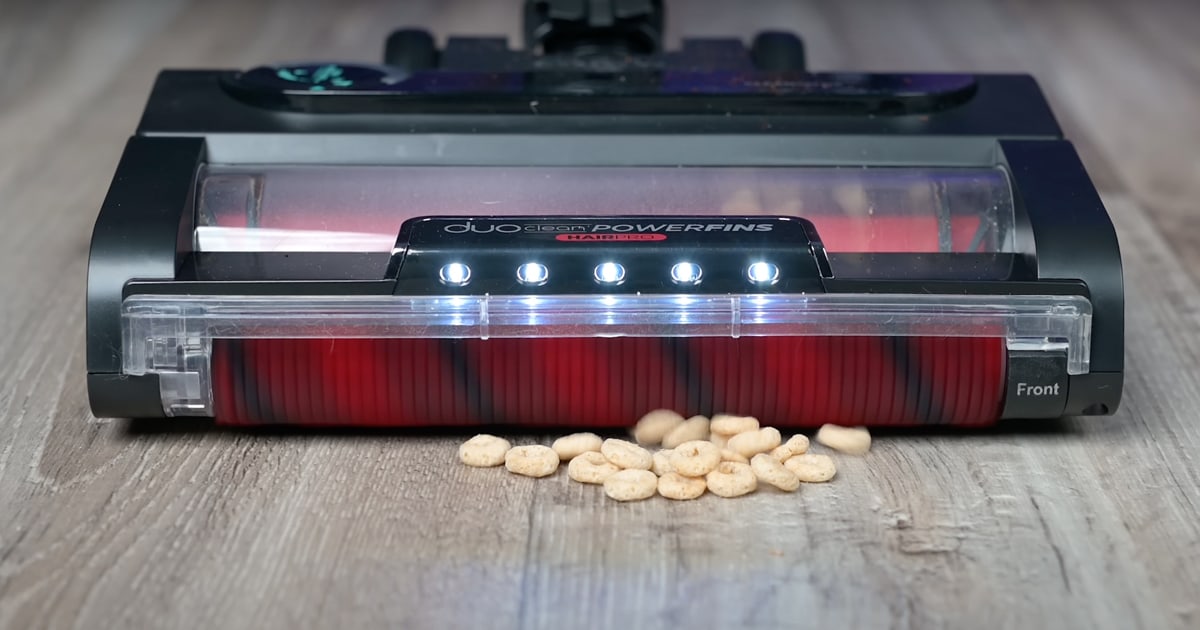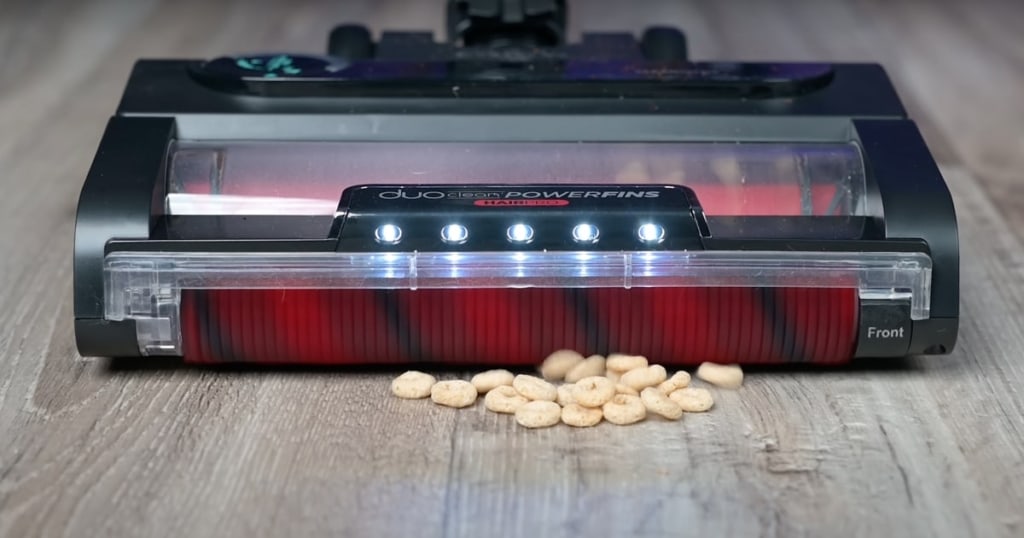 Features
The Stratos is packed with features. Below we touch upon the ones that Shark calls the most attention to and that we find to warrant credit for the Stratos Cordless' admirable performance.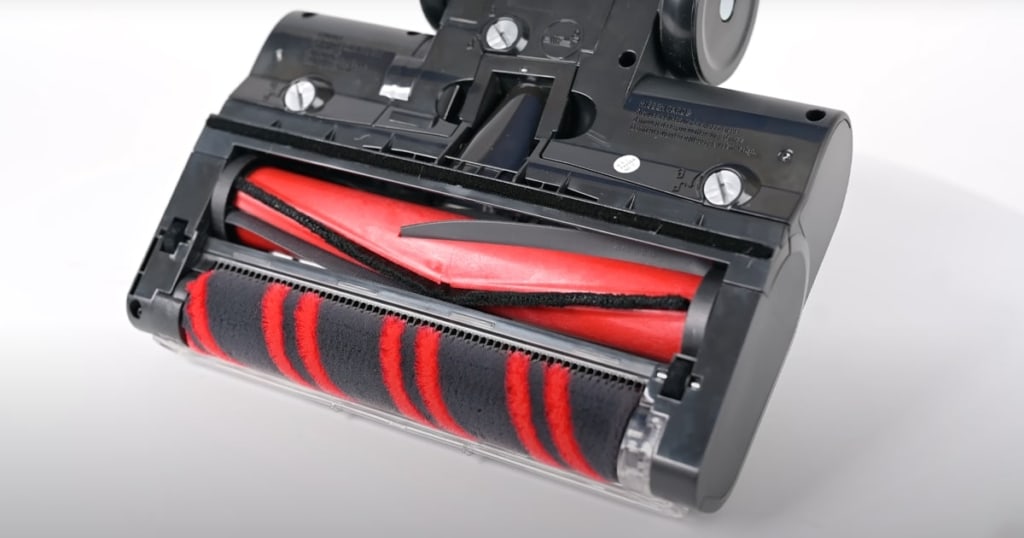 DuoClean
Shark's tried and tested DuoClean system gets a lot of credit for how well the Stratos Cordless performs. For those not familiar, the DuoClean system utilizes two spinning brushrolls. The brushroll that leads is a soft roller. The second, more traditional brush, has alternating rubber fins and brushes.
The patented DuoClean technology allows the Stratos Cordless to achieve a high seal on hard flooring surfaces. That seal translates into the ability to extract dirt that is deep in crevices while also excelling at picking up fine dust and debris on the surface of tile, wood, laminate, and other hard floors.
Self-cleaning brushroll
Shark is calling this version of the DuoClean system DuoClean® PowerFins® HairPro™. The new addition to the name is the HairPro part.
HairPro is Shark's latest anti-hair wrap technology. Generally speaking, this capability has become all but standard on both Shark cordless and upright models in some fashion. Essentially, when the Stratos Cordless encounters short or long hair, it manages to suck it into its dustbin as opposed to it becoming stuck on its brushroll.
To test it, we put the cordless up against large amounts of both pet and human hair. We have tested this system in the past and had high expectations, and we weren't disappointed. Shark has perfected this over the years, and we find it to be one of the best systems on the market for handling hair.
The Shark Stratos Cordless was the first cordless vacuum to score a perfect 100 in our Carpet Deep Clean Test.
Auto mode and battery life
We touched on Sharks' new CleanSense IQ mode a bit above. In digging a bit deeper, how CleanSense IQ works is by measuring the amount of dirt coming into the vacuum with an infrared sensor. The sensor relays that information to its internal circuitry, which increases or decreases the vacuum's suction based on the current conditions.
Suction power is reflected in real-time on the head of the vacuum. Systems like these are especially handy on cordless vacuums, as battery efficiency is maximized without compromising cleaning performance.
Shark claims a maximum of one hour of cleaning time before needing to charge its battery. That is in Eco mode, which is essentially a low-power setting. For comparison, the Dyson V12 cordless is rated at a slightly higher 63 minutes of cleaning time in its lowest setting.
We tested the Stratos Cordless on its Max setting, where it was good for ten and a half minutes of cleaning. This provided more run time than the Dyson V12 delivered in our tests, at seven minutes and 45 seconds.
LED display
A compact, simple, and easily visible LED screen reports what you'd want to know, such as the power setting currently in use and remaining battery life. Displays like this one are helpful and primarily found on high-end vacuums like this one.
Anti-Allergen Complete Seal
Shark's included its high-performing Anti-Allergen Complete Seal on the Stratos too. It is difficult to stress how beneficial systems like this are. In poorly sealed vacuums, dust and finer particles can literally make their way back out of the vacuum as opposed to being captured inside it.
Shark prevents this bad behavior in the Stratos Cordless by way of precisely engineered seals and HEPA filtration. According to the SharkClean website, the system "captures and traps dust, allergens, dander, and more, keeping them out of the air you breathe." Once again, this level of filtration and containment is only found in premium vacuum cleaners.
We perform tests to gauge how well vacuums are sealed, and the Stratos Cordless did well in this regard too.
Odor Neutralizer
Like its upright sibling, the Stratos Cordless has Shark's new Odor Neutralizer technology. The system leverages a round cartridge in the main cleaning head, which is intended to freshen the air while the vacuum is in use.
As we noted when testing the Stratos upright, we're not completely sold on the Odor Neutralizer technology, but the more we think about it, we can't identify a reason not to use it either. Its use is optional as well.
Where surface pickup is concerned, the Stratos Cordless is about as good as it gets.
Ergonomics
Ergonomically, the first thing we have to mention is MultiFLEX. Shark's MultiFLEX wand system is a hinged section strategically located in the middle of the vacuum's rigid tube. Inside the joint, a flexible hose maintains the vacuum's suction power when MultiFLEX is in use.
In practice, cleaning under furniture is far easier with MultiFLEX, requiring less bending or crouching compared to other cordless vacuums. Additionally, when completely folded over, MultiFLEX dramatically reduces the Stratos' overall height making it easier to store too.
A negative strike against the Stratos Cordless is its handle. We found it a bit heavier than we would prefer and its shape to be awkward for use as a handheld vacuum.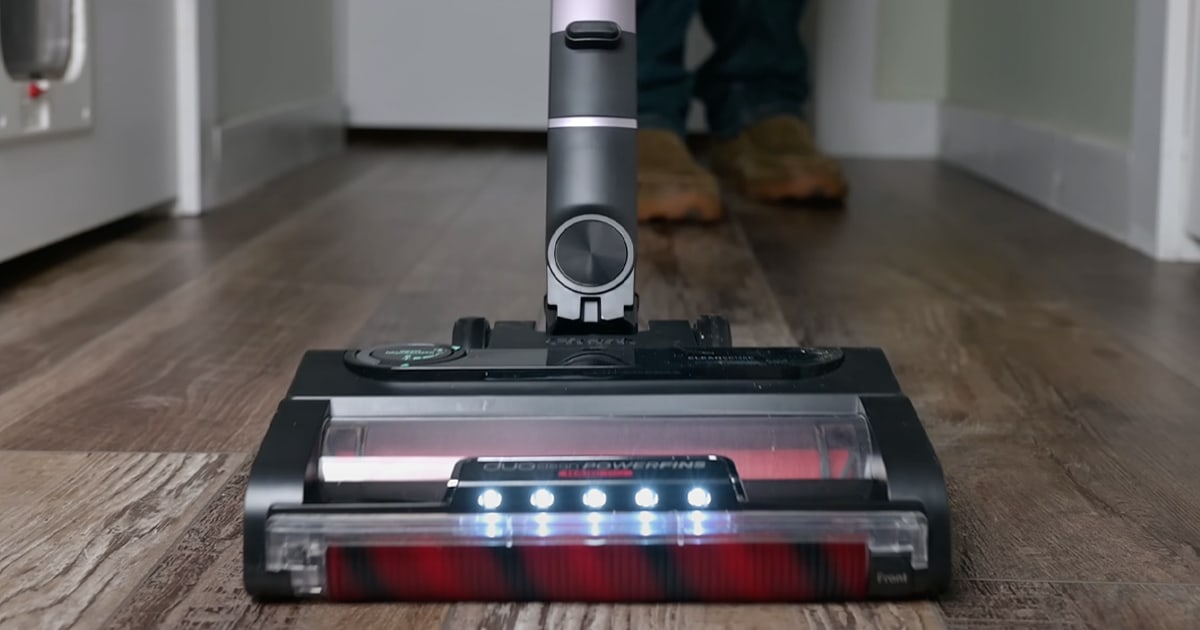 LED lighting at a vacuum's cleaning head makes seeing what you're cleaning much easier. The majority of cordless vacuums do not have LED lighting; thankfully, this one does, in a series of five LED bulbs that provide adequate lighting when cleaning darker corners and beneath furniture.
Vacuuming in and around objects and just cleaning in general is easy with the Stratos Cordless. It has good weight in the head and at the floor, wheels at the rear of the cleaning head, and a confident swivel. This equates to predictable, simple movement, allowing precise placement of the head, especially when cleaning on hard floors.
Value
The Stratos Cordless is Shark's most expensive cordless stick vacuum. Whether or not that price is worth it will depend on what you are looking for in a vacuum cleaner.
As far as cleaning performance, this is an excellent vacuum. It also carries a five-year limited warranty which is longer than most brands offer.
What you won't find, however, are some options that may or may not interest buyers. For instance, an auto-emptying dock, like the one that the Samsung Bespoke Jet (review) includes, isn't included or an option. In fairness, that Samsung model is more expensive. One other notable omission is the lack of a dedicated, powered upholstery tool.
Getting back to the price component of value, while the Stratos Cordless is expensive, competing models by Dyson, Samsung, and others are at the same price point if not higher.
Recommendation
There isn't much fault to find in the Shark Stratos Cordless. From our seat, this is the best cordless vacuum Shark has ever made. The DuoClean system is excellent, and for the first time we are comfortable saying that in the case of the Stratos Cordless, the DuoClean system performs as well on carpet as it does on hard floors.
With the few shortcomings we've noted, we think the Shark Stratos Cordless is a great vacuum. It is the best Shark cordless vacuum we've ever tested, and it is the first to score that perfect 100 in our Carpet Deep Clean Test.
If we had to pin down a home that it's best for, we'd say one with mainly hard flooring. That doesn't mean the Stratos isn't good on carpet, because it is, but it really shines on hard floors.
We recommend the Shark Stratos Cordless and its strong combination of features and cleaning performance.
The Shark Stratos Cordless vacuum is available online, including at the retailer(s) below.