In this review, we'll be looking at the Shark Rotator Lift-Away ADV upright vacuum model LA502. It's another very popular, very capable upright vacuum from Shark. It costs less than Shark's premium uprights but still has a long list of features that those pricier models include.
High on Value and Performance
Verdict
We are very impressed with the Shark Rotator LA502. In our tests, it performed close to more expensive uprights while also being lighter and including several premium features. The Rotator was about as good as it gets with pickup from hard floors, and more than held its own when vacuuming carpet too.
Performance -

9.6/10

Features -

9.8/10

Ergonomics -

9.5/10

Value -

9.9/10
Pros
Excellent on hard floors
Very good on carpet
Price
Cons
Non-powered Lift-Away
Can feel heavy
About the Shark Rotator Lift-Away ADV LA502
The Shark Rotator Lift-Away ADV LA502 (aka Shark Rotator Lift-Away ADV Upright Vacuum with DuoClean PowerFins and Self-Cleaning Brushroll) is a big upgrade from the now almost iconic Shark Rotator NV502, which was released all the way back in 2012. That upright still holds its own in testing and was actually sold by Shark up until quite recently.
Over the course of a week, we put this new Rotator through all kinds of tests to see how it stacks up, and something interesting happened along the way through our testing. Even though this was supposed to be just a review, it kind of turned into a competition – pitting the Shark Rotator Lift-Away ADV against the top-of-the-line, more expensive Shark Vertex.
It's a pretty interesting matchup, and we hope the points of comparison will help if you're choosing between the two.
What we like
Suction power and airflow
In many ways, the Shark Rotator LA502 is a lot like the Navigator 300 series in terms of power. We measured 75 CFM of airflow at the hose, 62 CFM at the head, and 80 inches of suction.
Those power specs weren't quite as good as the top-of-the-line Shark models like the Apex and the Vertex, which have bigger motors and thus better raw power specs, but we found that the smaller motor on the Rotator didn't seem to negatively affect much in our various real-world oriented tests.
Carpet cleaning performance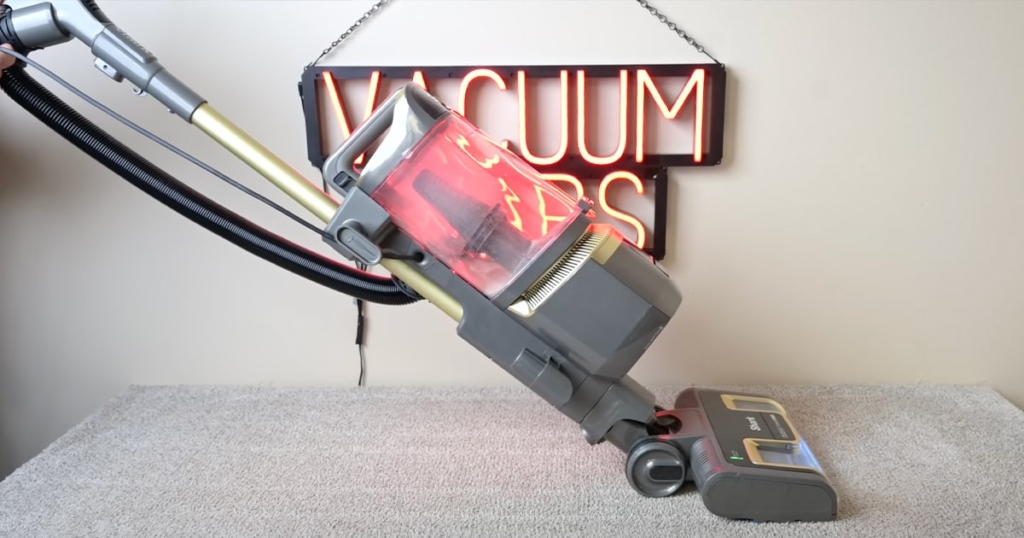 In our carpet deep clean test, where we embed sand into medium pile carpet and weigh the bin before and after the test, the Shark Rotator scored 96. That's exactly the same as the Apex and might as well be the same as the Vertex which scored 98.
Crevice pickup test
In our crevice pickup test, it got the same, and very rare, perfect score by picking up all the debris in its first forward pass. It may have even performed a little bit better than the other Shark uprights in this regard.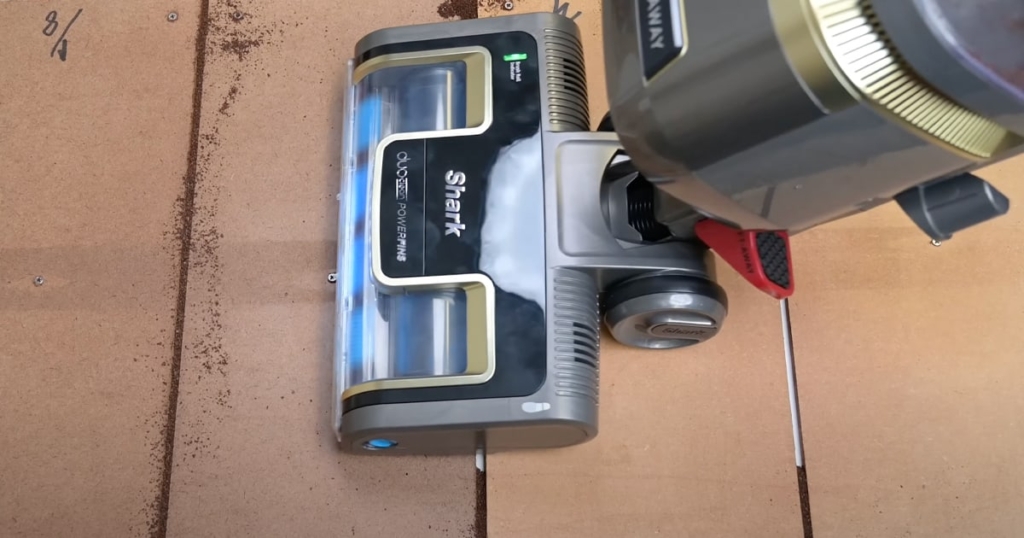 Unsealed suction
This was more or less quantified with the new usable suction, or unsealed suction, test which tends to be a good way to test the floorhead design and the power at the same time.
Here the Rotator actually scored a little bit better than the Vertex, though it was close. The point is that the Rotator's smaller motor size does not seem to be holding it back in our real-world tests.
Construction and design
Before moving on, we wanted to talk about features specific to the Rotator's floorhead design. It has Shark's DuoClean system, which is a soft roller in the front and a more or less standard roller in the back. It has Shark's new PowerFins design, which they claim makes it even better at debris pickup than the original DuoClean.
It also has a newer style hair Anti-Tangle roller system, which has shown to be better in our tests than the previous Anti-Tangle system that was seen on the Apex Zero-M, for example.
Debris pickup
The bottom line is that the Shark Rotator's pickup ability on hard floors and carpets seems to be as good as it gets for upright vacuums. In comparing it with the two more powerful Shark models, there was no noticeable difference.
The DuoClean roller allows you to pick up large debris without changing the head or adjusting the height, which we really like. But it's not just about large debris – the soft roller kind of dusts the floors, making it better than average with fine debris too.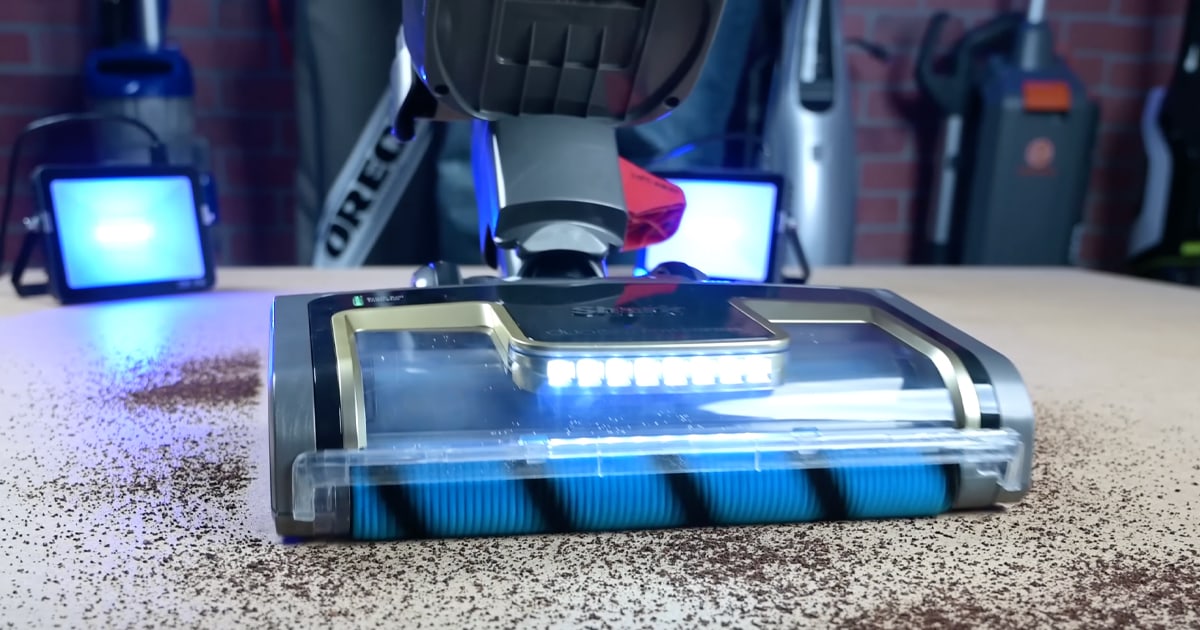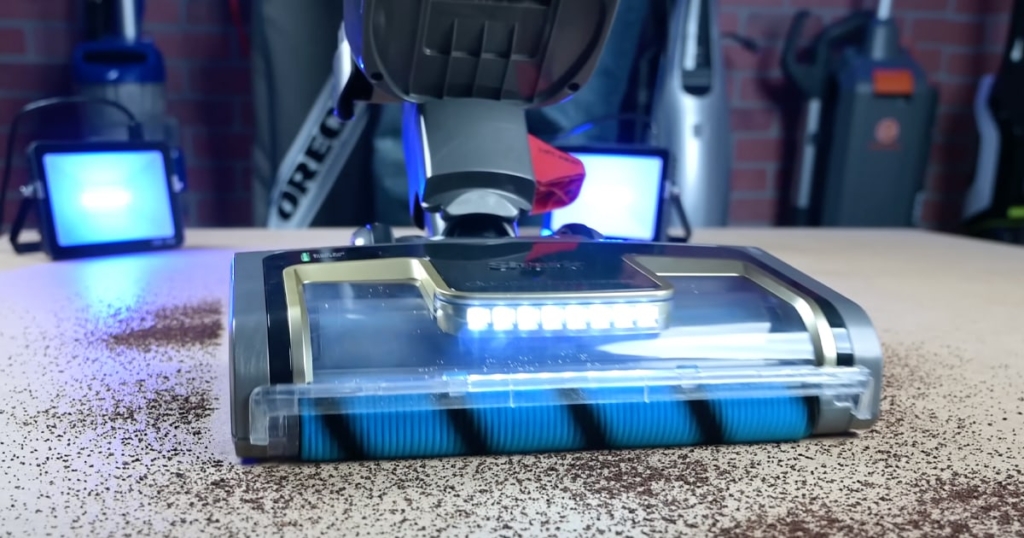 Hair pickup and anti-tangle tests
As we've mentioned, Shark has an Anti-Tangle roller, and we've been trying to find exactly what its limits are. We started off with a standard test of one gram of seven-inch human hair, and then 1 gram of 14-inch hair.
In those tests, it picked up all the hair perfectly with no tangles. We knew from previous tests that this head design would even do two to three grams of 14-inch hair, which is pretty much unheard of by the way.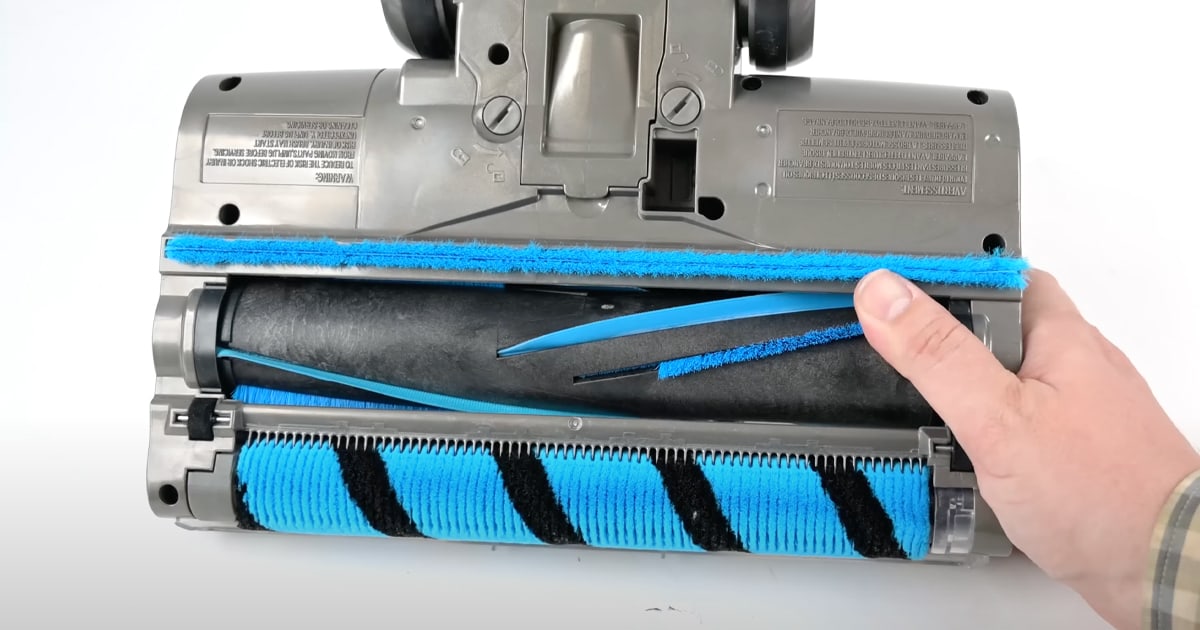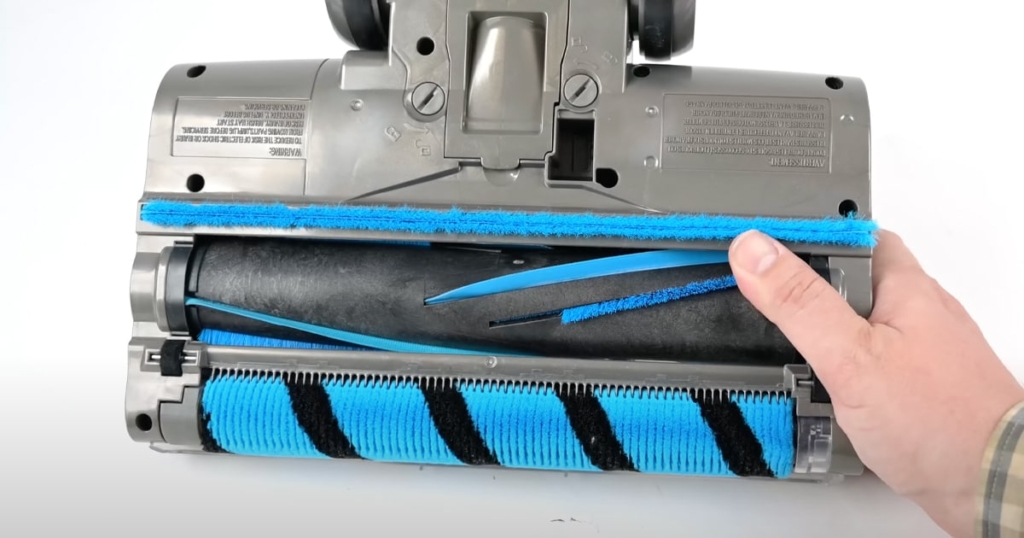 But just for fun, we upped it to 5 grams of 20-inch long hair and bunched it all up instead of spreading it out. Where testing a floor head brushroll is concerned, this is about as much of a stress test as we have ever done.
RELATED: See our Shark Rotator ZU782 review. It's another Shark upright that is often priced in the same range as the LA502.
With this test, we finally got a little teeny tangle. Basically, this anti-tangle roller design is a huge advantage for Shark vacuums at the moment, and other manufacturers have some catching up to do. We can't say it's perfect though. In fact, we did find a tangle on the Vertex's soft roller while performing these tests.
Maintenance Tip
With Shark DuoClean vacuums like this one, dust build-up will form behind the front roller. If it isn't regularly cleaned, this will cause the vacuum to stall and not start until it gets cleared out.
Filtration
The Shark Rotator has the same Anti-allergen Complete Seal filtration system that other premium Shark vacuums have. It does really keep the tiny particles in the machine and filters them through a HEPA filter, which is something we consider a must in a vacuum. We were happy to see that the Rotator included this feature as you don't often see it in upright vacuums in this price range.
Above-floor cleaning with Lift-Away
The Shark Rotator LA502 has some other design changes, including a foot pedal that releases the canister for use in Lift-Away mode. Lift-Away mode is when you detach the pod from the floor nozzle and then carry it around for lightweight above-floor cleaning jobs with the attachments.
Attachments
The Shark Rotator LA502 comes with a crevice tool, a combo upholstery tool and dusting brush, and a suction-powered Turbo brush. Like the full-size floorhead's brushroll, the Turbo brush has Shark's Anti-Tangle technology. It performed quite well in the few tests we did with it.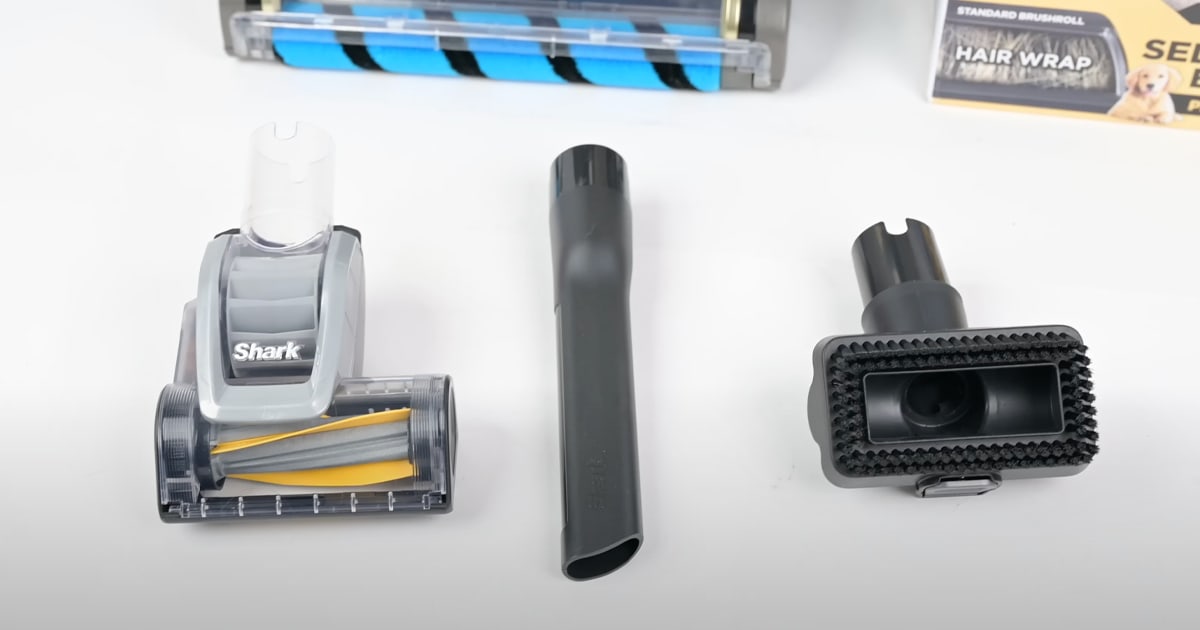 Other notable features
It has a big bank of bright LED lights on the floorhead. The noise level was about average at 78 decibels. The Rotator's weight is listed at just over 12 pounds, which is lighter than both the Vertex and the older Rotator that the LA502 replaces.
Price
One last positive point is the Shark Rotator's price. It's currently around $100 cheaper than the Vertex. Based on everything that we've seen in testing and reviewing the Rotator, that makes it a pretty good value.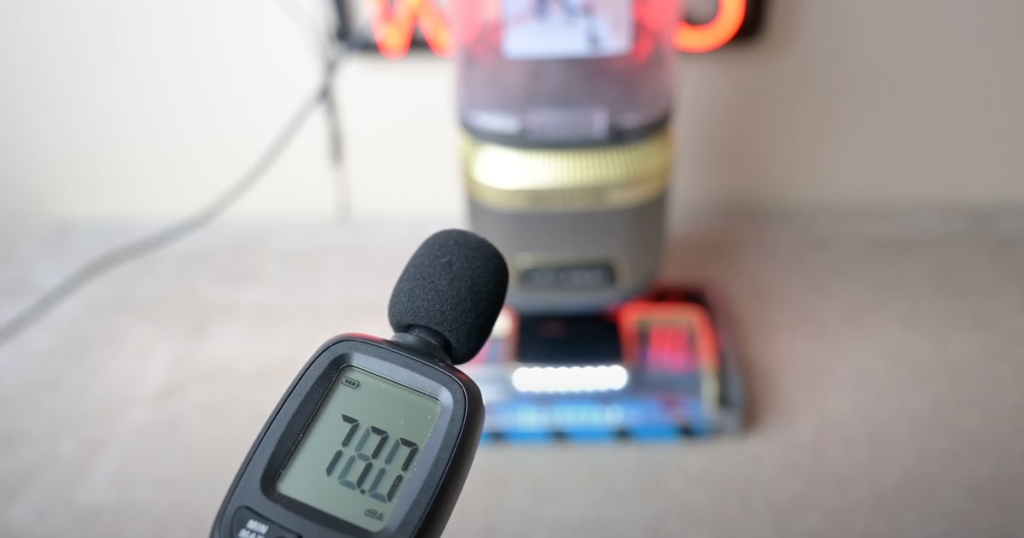 What could be improved
As far as negative points, we went through a lot of online reviews looking for any areas of weakness.
Weight
Although the Rotator LA502 is lighter than its predecessor and many other uprights, we noticed a lot of people mentioning the Rotator's weight. It seemed that most of the comments were from homeowners that had a lot of carpet (or a lot of thick carpet) and smaller framed people.
We tested it on a one-inch shag carpet rug and didn't really notice that big of a difference though. We would recommend, as always, using the lower suction setting when vacuuming high-pile carpet.
Unintentionally self-propelled
Similarly, there's a self-propelled aspect to the Rotator that is not something Shark advertises at all. In fact, we think it's kind of a bug and not a feature.
Basically, on carpet the rollers kind of pull the vacuum forward a little bit by itself. It can be a bit of a strain on your arm as you have a little bit more resistance when you pull the vacuum back toward you. It's not something that you would notice in a smaller house or when vacuuming hard floors, but if you have a bigger house with a lot of carpet, you would start to feel it.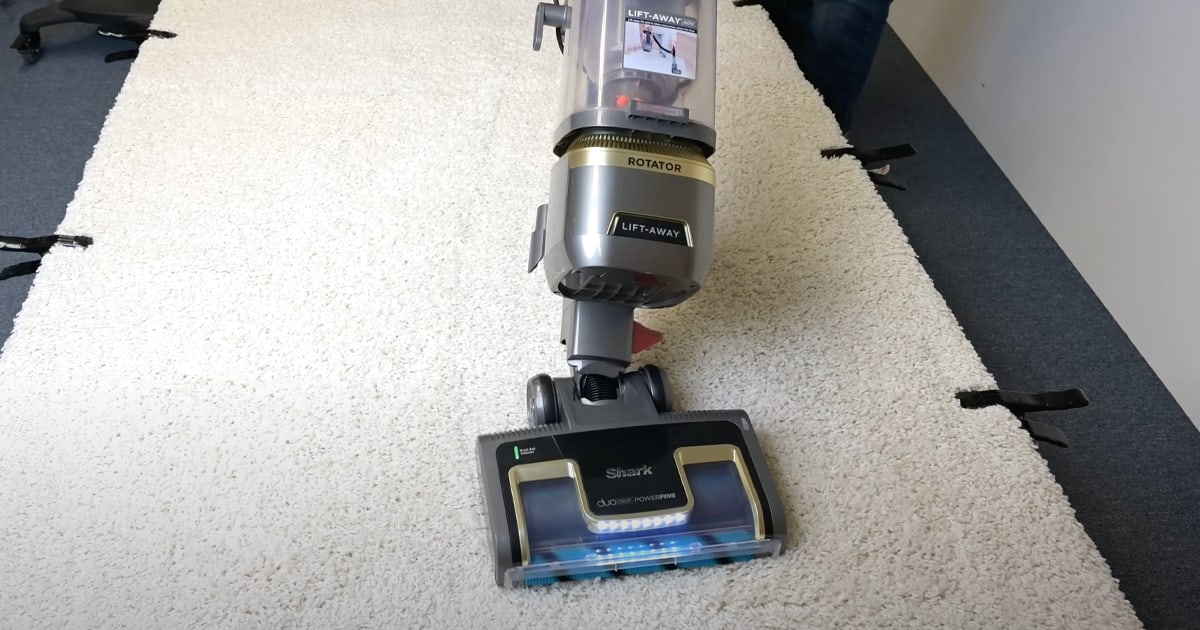 Non-powered Lift-Away
I think one big difference between the Vertex, Apex, and this Rotator is that its Lift-Away feature is not powered. Powered Lift-Away allows those other Shark models to be used like a stick vacuum as well as a regular upright vacuum.
That didn't seem to be a major issue for us, and we found it to be as good or better than most standard vacuums with getting under furniture, at least up to a point.
Conclusion
Here's our honest takeaway with the Shark Rotator ADV: If you have 50% or more hard floors in your home, you'll probably love this vacuum. If you have only hard floors in your home, you'll love it even more.
That's not to say you wouldn't love it if you had mostly carpets, but in our opinion, Shark has better models for you like the Navigator series, including their new Navigator.
Shark Rotator LA502 vs Vertex AZ2002
Do we think the Rotator ADV is better than the Shark Vertex? No, but it's really close in terms of practical cleaning ability, and it's lighter and cheaper. So it seems like it's a better value than the Vertex upright.
Frequently asked questions
What is the difference between the Shark LA502 and LA500?
The Shark LA502 and LA500 are essentially the same vacuum. The difference is that the LA502 includes the Self-Cleaning Pet Power Brush, which is a powered upholstery and pet-hair attachment.
Does the Shark Rotator LA502 have Lift-Away?
Yes, the Shark Rotator ADV does feature Shark's Lift-Away technology. Note however that, unlike the more expensive Shark uprights, the Rotator has non-powered Lift-Away as opposed to powered Lift-Away.
Is the Shark Rotator good with hair?
We found the Shark Rotator to be great at vacuuming up both short and long hair. Shark's anti-tangle, Self-Cleaning Brushroll not only excels at vacuuming hair, it also prevents hair from becoming wrapped around the brushroll.  
Specs and features
| | |
| --- | --- |
| Manufacturer | Shark |
| Model | Rotator LA502 |
| Vacuum type | Corded Upright |
| Bagged/bagless | Bagless |
| Motor | 910W / 10 amps |
| Dust bin capacity | .84L / .89 qt. |
| Cord length | 25 ft. |
| Hose length | 6 ft. |
| Height adjustment | Automatic |
| Swivel head | Yes |
| Brushroll on/off | Yes |
| Powered accessories | No |
| Headlights | Yes |
| Weight | 12.3 lbs. |
| Dimensions (L x W x H) | 10" x 12" x 46.5" |
| Warranty | 5 yrs. |
Shark Rotator LA502 specifications from the Shark website and product manual.
The Shark Rotator LA502 is available online, including at the retailer(s) below.