Roborock has shown itself to be a major force when it comes to robot vacuums. This review includes our tests and experience with the Roborock Q5+. We put the robot vacuum and auto-empty dock through all sorts of tests and compiled our findings below.
Roborock Q5+ Robot Vacuum
Verdict
Roborock's Q5+ is a great no-frills, LiDAR-based robot vacuum. We really like the included Auto Empty Dock as it makes the robot vacuum experience far better by eliminating daily or weekly dustbin emptying. Suction and cleaning performance were impressive, with the Q5+ scoring at or near much pricier Roborock models. Overall, the Roborock Q5+ stands above its challengers with its precise navigation, an excellent app, and solid performance in both general debris pickup as well as carpet cleaning
Performance -

9.1/10

Features -

7.8/10

Navigation -

9.3/10

Value -

9/10
Pros
Plenty of suction power
Great mapping and navigation
Vacuums well on all surfaces
Cons
Hair can wrap around the brushroll
No mopping capability
Roborock Q5+
The Q5 was the first robot offered in the brand's Q-line, which is Roborock's mid-range offering. The Q5 is a robotic vacuum cleaner as opposed to one of the brand's combo models which also mop.
It isn't meant to compete with the brand's higher-end models like the Roborock S8 Pro Ultra but it does include some features of that premium model.
Specs
| | |
| --- | --- |
| Vacuum type | Robot vacuum |
| Suction | 2700Pa |
| Self-emptying | Yes (w/Q5+ package) |
| Obstacle avoidance | No |
| Navigation | LiDAR |
| Battery | 5200 mAh Lithium-Ion |
| Max battery run time | 180 min |
| Dustbin capacity | 470mL / .5 qt |
| Robot Length x Width | 13.78 in. x 13.78 in |
| Robot Height | 3.78 in. |
| Robot Weight | 7.05 lbs. |
| Color | Black |
| Warranty | 1 Year |
Above specifications are from Roborock's website.
Roborock Q5 vs. Q5+
The Roborock Q5 looks like it was intended to pick up where the recently discontinued Roborock S4 Max left off. Its counterpart, which adds a plus designation to its name, the Roborock Q5+, brings something to the table that the S4 Max never offered: an auto-empty dock.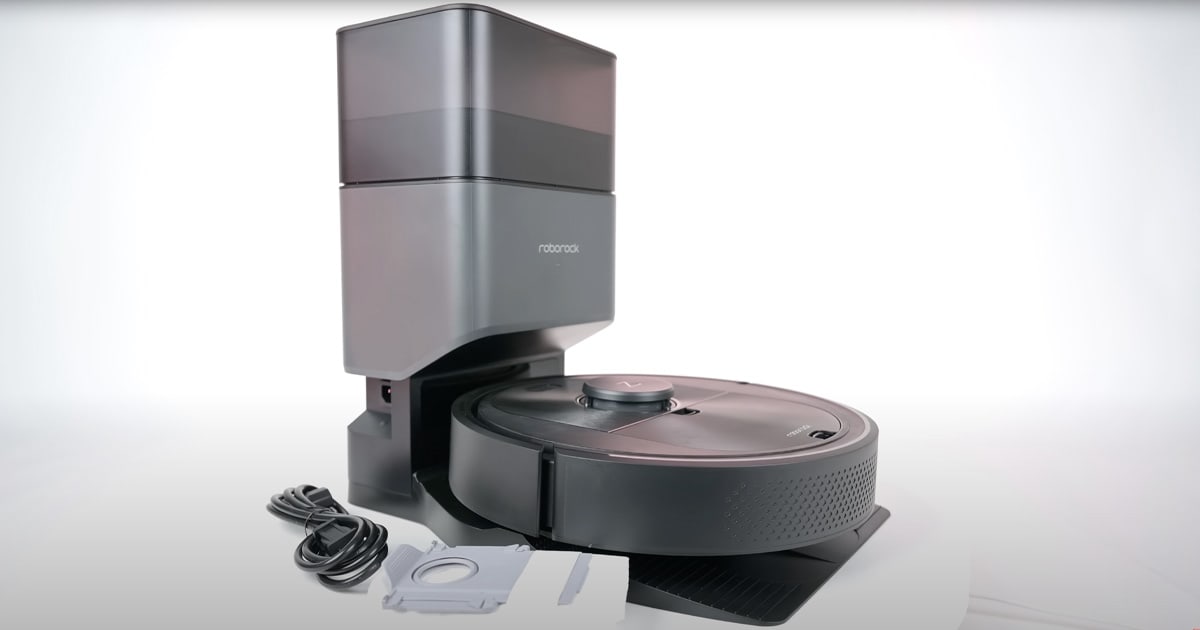 The only difference between buying the Roborock Q5 and the Roborock Q5+ is that the plus model comes with the auto-empty dock and a few extras for that dock. The robot vacuum itself, regardless of which package you buy, is exactly the same.
In our deep clean test the Q5+ got an 84, which is not only well above average but is the best score we have ever seen with any Roborock–including their latest flagship, the Roborock S7 MaxV.
The Q5 and Q5+ models vs. S-series models
As we used, tested, and thought more about the Q5, we found it to be a kind of stripped-down version of higher-end Roborocks. And we literally mean stripped down, as in it is three pounds lighter than the S7 MaxV Ultra robot vacuum that we recently reviewed.
So what is the Q5 and Q5+? The Q5 is designed to be a minimalist version of a LiDAR robot vacuum, with the Q5+ package paired with an auto-empty bin. In keeping costs down, the robot does not have a mopping system like most other Roborock robots.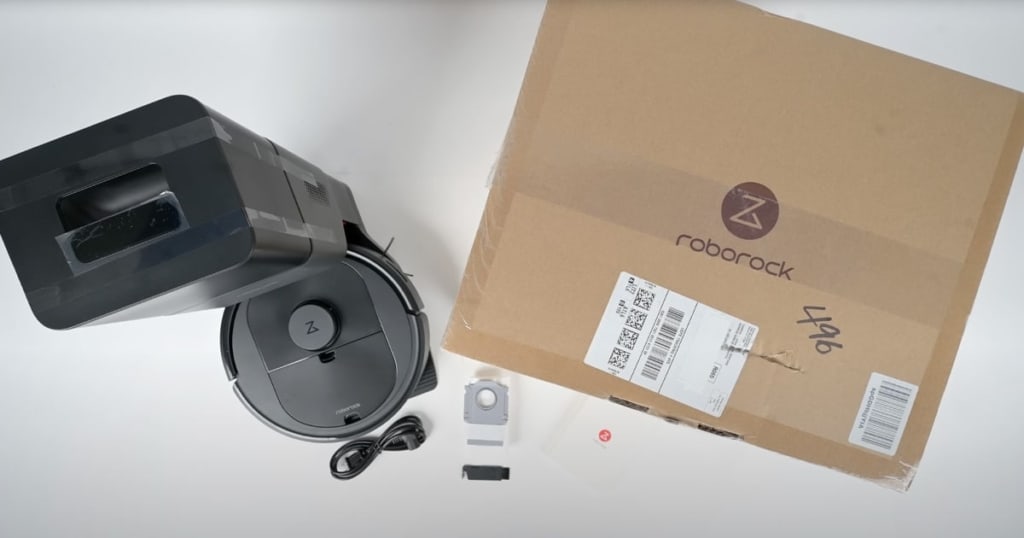 The Q5 also has Roborock's older style brushroll and a few other changes that contribute to its mid-range price point, but we found it still has most of the things that made Roborocks the brand to beat when it comes to LiDAR-based robot vacuums.
Robot vacuum buying guides
Unboxing and setup
We purchased our Roborock Q5 as the Roborock Q5+ package. As we made our way through the content of the box, we set aside what was responsible for most of the package's weight: the robot vacuum itself and Roborock's Auto-Empty Dock Pure for Q Series robots. Then we emptied out everything else and took a quick inventory while the robot's battery was charging.
In the box
Roborock Q5 robot vacuum
Auto-Empty Dock Pure for Q Series (Q5+ package)
2x Dust Bag (Q5+ package)
Screwdriver (Q5+ package)
Power cord
Manual and warranty
If you go with the Q5+, in addition to the auto-empty dock, you'll also get two dust bags and a screwdriver. That screwdriver is just for attaching the top of the Auto-Empty Dock Pure to its base.
There is no assembly to be done on the Q5 robot itself. So, if you go with the standard Q5 package, all you need to do is choose a home for the charging base, top off the robot's battery, connect to it with the Roborock App, and start cleaning.
Performance and test results
We were really curious to see how the Q5 would stack up against not only other Roborock robot vacuums but also competing brands' robot vacuums in its price range.
Suction power
The Roborock Q5's power was pretty good. Roborock says it has 2700 pascals of suction, which is more than their previous flagship, the S7, had. In our tests where we measure airflow and suction, we found the Q5 to be comparable to Roborock's higher-end robots like the S5, S6, and S7.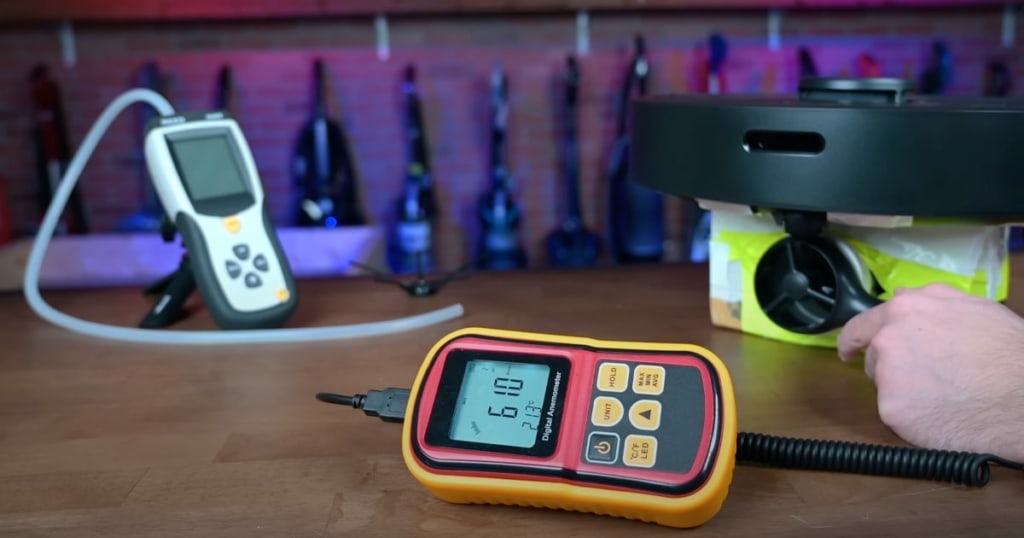 Vacuuming hard floors, rugs, and carpet
Another huge pro was its ability to deep clean carpets. In our deep clean test the Q5 got an 84, which is not only well above average but the best score we have ever seen with any Roborock including the latest flagship, the Roborock S7 MaxV. If you're wondering if it's good with carpets, the answer is definitely yes!
In real-world use, the Q5 has a feature called carpet boost which increases the robot's suction power when it detects carpet. This not only allows for a deeper cleaning while optimizing battery run time.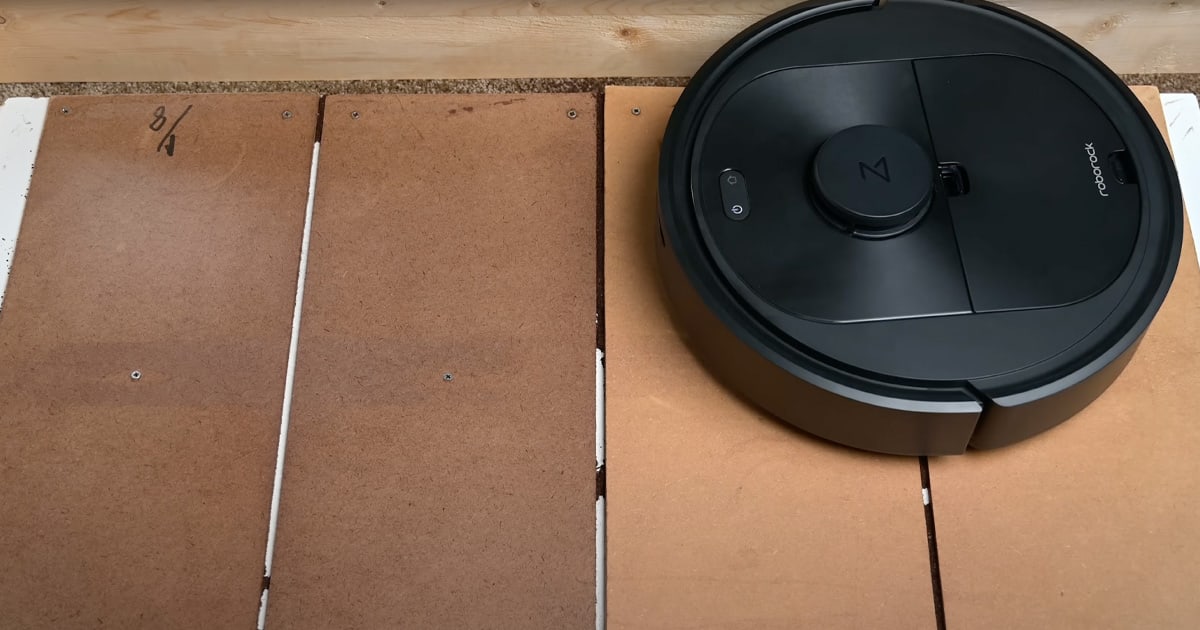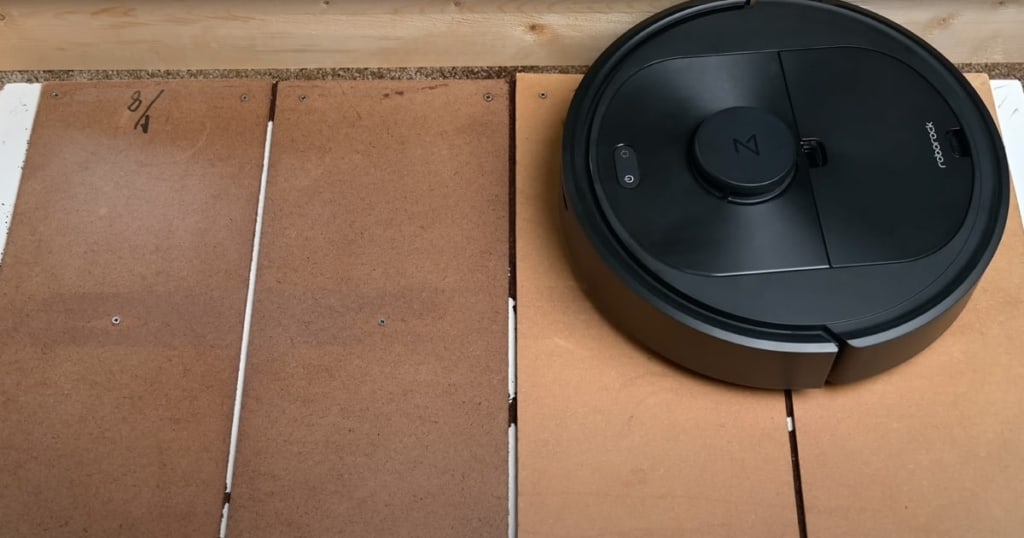 That power, in combination with what seems to be the same adaptive brushroll housing seen on the premium S7, made it also do great in our Crevice Pickup Test. This wasn't really a surprise.
We always praised Roborocks for their efficient pickup of debris on the surfaces of hard floors and carpets–what we call sweeping–and the Q5 was no different. It did as well as the higher-end Roborocks with this, including handling heavier debris, like cat litter, which it picked up even in its default power mode.
If you purchase the Q5+, it ships with a new auto-empty dock specifically made for the Q5 model. Roborock also announced that all robot vacuums it manufactures going forward will be compatible with a dock that can empty the robot's dustbin automatically.
Cleaning up pet and human hair
We tested the brushroll, which as we mentioned, is the older style Roborock brush from basically three generations back. It did get some pet hair tangled around it in the home tests and some human hair tangled in the studio test. This is common for robot vacuums, but it's a definite downgrade from the newer brushroll that ships with other Roborock robots.
Another thing happened during our Home Torture Test, where we have it vacuum our house (where we have two cats) after a week of not vacuuming at all. Essentially, the Q5 got hair stuck in the dustbin evacuation process (when it was emptying itself with the Q5+'s auto-empty dock).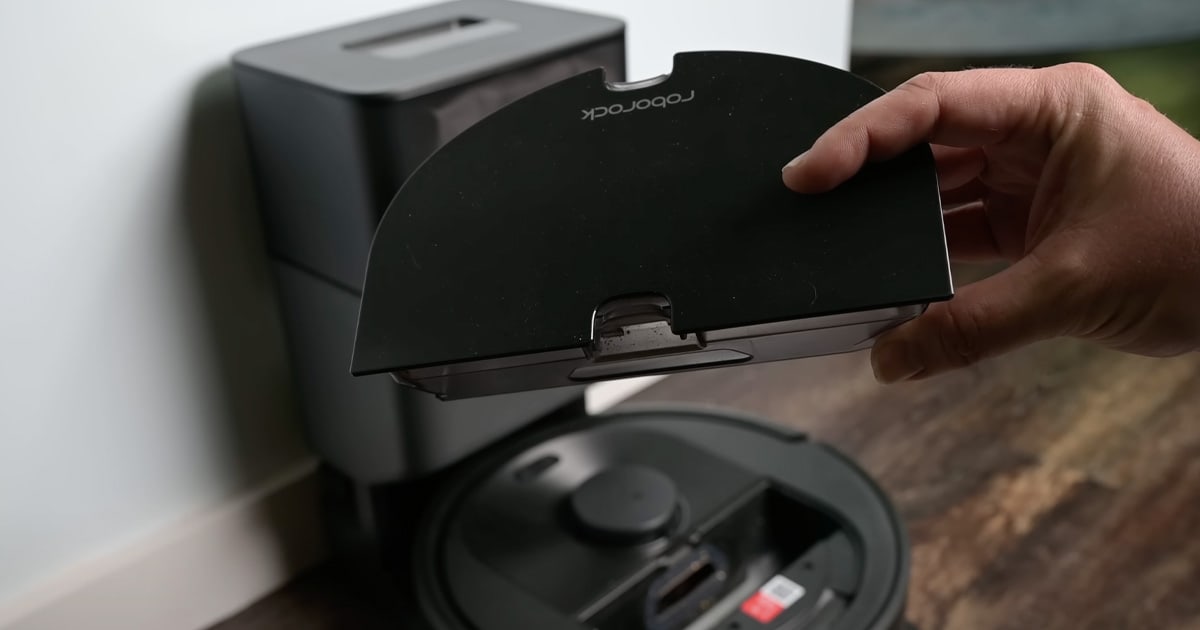 The Home Torture Test results were actually normal, as most other robot vacuums fail at this test too. It's solved by running the robot more times a week so hair doesn't build up. For example, in real life we run a robot vacuum two or three times a week to keep up with all the pet hair and it's never really been a problem.
The Q5 did clean all the hair perfectly in our tests after adjusting its cleaning frequency, but we suspect this model is just a hair–no pun intended–worse than the other Roborocks when it comes to how much hair it can evacuate at one time.
Purchasing Tip
The Q5 is compatible with Roborock's new style brush rollers, which you can buy separately. In the tests we did with the upgraded roller it was better with pet hair and somewhat better with human hair, too.
Features
The Roborock Q5 and Q5+ are created around the idea of value. While some features are noticeably absent, such as mopping, the model line does have a solid set of features. Here are a few that stood out to us.
Battery life and recharge-and-resume
The Q5 has the same size battery as the premium Roborocks at 5200 milliamp hours (mAh). Roborock says it can get up to three full hours of runtime on low power, which is incredibly good. For comparison, the iRobot Roomba Combo j7+ gets around 1 hour and 15 minutes on a charge, as do most premium iRobot robot vacuums.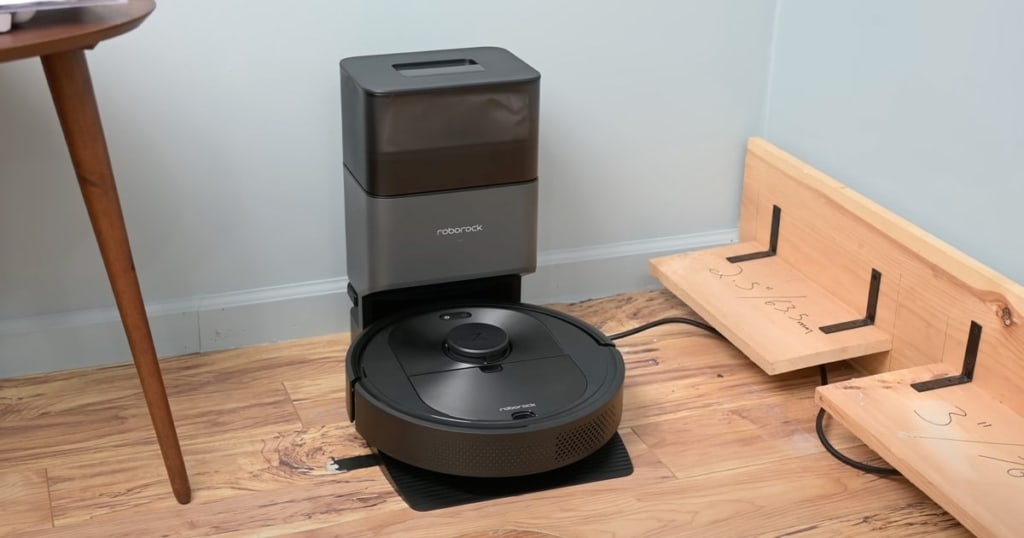 The Q5 will also return to the dock automatically to recharge. And, it has recharge-and-resume, meaning after the Q5 recharges, it will resume cleaning exactly where it left off until it completes the job.
Roborock app
The Roborock app is a big pro for all Roborock robot vacuums. It has all the new advanced features, like No-go Zones where you draw lines or boxes on the map in the app to keep it from going where you think it might get stuck. We found this to be as accurate as any other Roborock or any other LiDAR robot vacuum for that matter.
It also has zone cleaning, where you can tell it to clean one area only, and you can integrate all this with the scheduling features too. The Q5 and Q5+ are also among the first Roborock robot vacuum models to get 3D mapping. At the time of release, 3D mapping was only available on the highest-end robots from the S-line.
Q5 smart home assistant compatibility
The Roborock Q5 is compatible with Google Assistant and Amazon Alexa. You can command the robot to do just about anything you'd want to with either of these smart assistants.
The Q5 isn't compatible with Apple HomeKit, but there aren't many robot vacuums that are. Several Roborock robot vacuums do however work with Apple's Siri Shortcuts, including the Q5.
Roborock's Auto-Empty Dock Pure for Q Series
You have likely seen or heard about robot vacuum auto-empty bins as they are offered by more and more brands. If you haven't, here is what they do: When the robot finishes its cleaning job and returns to its base, a motor in the base kicks in and sucks the debris out of the robot's dustbin and into an included disposable bag.
If you purchase the Q5+, it ships with a new auto-empty dock specifically made for the Q5 model. Roborock also announced that all robot vacuums it manufactures going forward will be compatible with a dock that can empty the robot's dustbin automatically. It is the exact same dock used by the Q7 Max+ which is a step up from the Q5 and includes mopping and greater suction power..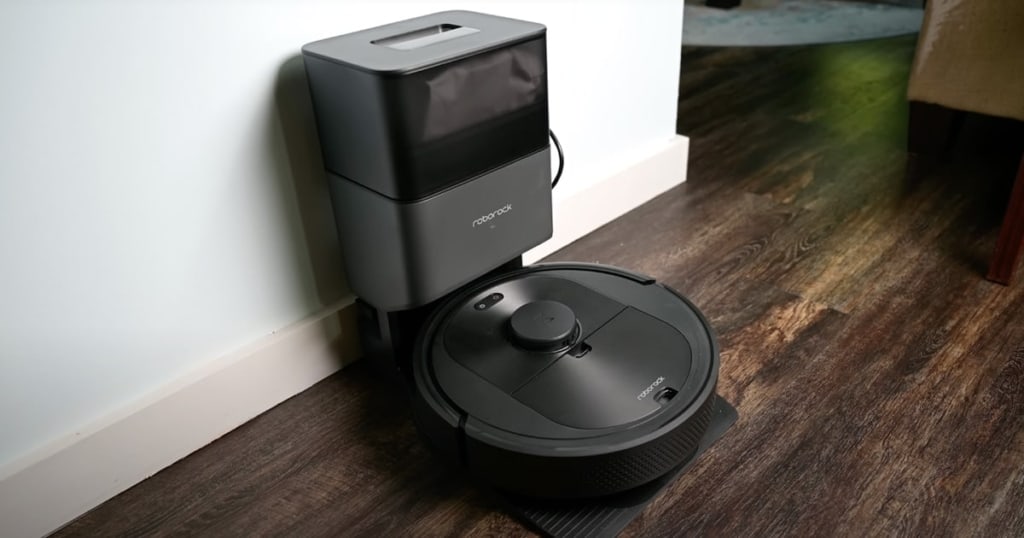 When it works well, this feature is great to have. Robot vacuums without it require their bins be emptied after every one or two cleaning runs.
Roborock says the Q series dock holds 2.5 liters, or 7 weeks of dirt, which is different from the previous bags from Roborock. We think it is actually a better design than the older bag system too. In our tests, the Q5 robot also worked with the dock from the S7 Plus.
Purchasing Tip
You can purchase the Roborock Q5 without the auto-empty bin, and purchase the bin separately at a later date if you wish to upgrade.
LiDAR, navigation, and coverage
Roborock has been a leader in the robot vacuum world partly because of their LiDAR navigation and because their app's features have always been solid. The Q5 follows this pattern as it does what it's supposed to do without a lot of glitches.
In both the studio and home use, we found there to be very little difference with the Q5 in terms of navigation when compared with high-end Roborock models. It got the same near-perfect coverage in about the same amount of time as pricier Roborocks, mapping our test house very quickly.
Mapping-only mode
The Roborock Q5 has a new mapping-only mode where it doesn't clean, but just looks around and maps the basic structure of the house. This only takes a few minutes, and we really do like that it successfully created a working map on its first try.
As far as cleaning goes, our Q5 did get stuck on a bathroom rug on its first run while we weren't filming. But while filming a second run, it didn't get stuck on that same rug. In any case, it's probably a good idea to pick up things it could get stuck on. Alternatively, No-Go Zones can be created in the Roborock app too.
Value and recommendation
The Roborock Q5+ is for the person who wants a quality robot vacuum with all the important features but none of the frills. That person likely also prioritizes LiDAR navigation and an auto-empty bin but does not want or need to assign mopping duties to their robot.
If you're the buyer we described above, we think the Q5+ is a great buy at its current price. There are other competitors with similar features, but we like the Roborock Q5+. With all other things being equal, the Roborock Q5+ stands above its challengers with its precise navigation, excellent app, and solid performance in both general debris pickup as well as carpet cleaning.
Roborock Q5 / Q5+ FAQ
When was the Roborock Q5 released?
The Roborock Q5 and Q5+ were released in April of 2022.
What is the difference between the Q5 and Q5 Pro
The Roborock Q5 Pro and Q5 Pro+ are advanced versions of the Q5 and Q5+. The new Q5 Pro models have more than double the suction of the original Q5 as well as the ability to both mop and vacuum floors. As with the original Q5, the plus designation means that the Q5 Pro+ includes an auto-empty dock.
Is there an app for the Roborock Q5?
Yes. The Roborock Q5 and Q5+ both use the Roborock app which is available for both Android an iOS. The app is known to be one of the most comprehensive from a feature standpoint and includes no-go zones, invisible walls, and adjustable suction power among a long list of features.
Can the Roborock Q5 work without WiFi?
Yes, but when used without WiFi the Q5 is far less capable as many of the robot's features are only accessible via the Roborock app which requires WiFi. When used without WiFi, the Q5 and Q5 plus will lack scheduled cleaning, suction power adjustment and customized room and zone cleaning, for instance.
The Roborock Q5+ is available online, including at the retailer(s) below.