In this cordless upright vacuum test and review we'll be sizing up the Hoover ONEPWR Evolve Pet Elite. We recently bought one and put it through our battery of tests to see how it stacks up against its competition. What we found was that it was very impressive in both performance and ease of use.
An impressive cordless upright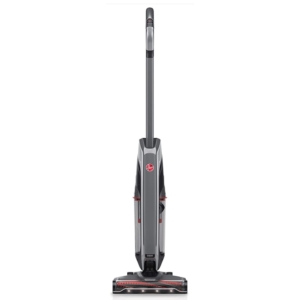 Verdict
The Hoover ONEPWR Evolve Pet Elite impressed us. It has a lot of power and performed well in our tests on both carpet and hard floors. We like its upright-like design, which scored big points for usability, as well as its new anti-hair tangle brushroll.
Performance -

9.4/10

Features -

8.3/10

Ergonomics -

9.4/10

Value -

9.4/10
Pros
High suction power
Lightweight and easy-to-use
Anti-hair tangle brush system
Cons
Loud on max setting
Not for above-floor cleaning
The Hoover ONEPWR Evolve Pet Elite and cordless uprights
When Hoover set out to design the ONEPWR Evolve Pet Elite they had a lot to work from. That's because they are a pioneer with the upright cordless vacuum style. Many years ago they released the Hoover LiNX, which was followed by the first version of the Hoover Evolve, simply called the Evolve Pet.
What we like
Lightweight
Starting off with the pros, the ONEPWR Evolve Pet Elite is very easy to use. Weighing in at a mere nine pounds, it is very light as far as upright vacuums are concerned. But the main reason we consider it to be light is because of the minimal weight that's actually on your forearm when vacuuming.
Nimble and easy to maneuver
The nimble feel of this Hoover cordless vacuum is the advantage of an upright-style cordless vacuum. In contrast to cordless stick vacuums that have their battery and other heavy components at the top of the vacuum handle, this Hoover's upright form places the weight far lower on the vacuum. That means the weight of those heavy components doesn't need to be supported by your arm.
As far as cordless vacuums are concerned, most take on the stick-vacuum form, like the Hoover ONEPWR Emerge Pet+ that we recently reviewed. It's another high-scoring cordless Hoover and worth consideration too.
Another contributor to that nimble feel is the ONEPWR Evolve Pet Elite's smooth swivel. It provides a good turning radius and makes it easy to maneuver in and out of tight spaces with a twist of the wrist.
One last and rare advantage of this cordless upright's design: it stands up on its own. This makes it easier to store, and it's also nice not to worry about what to lean the vacuum against when you have to pause your vacuuming.
Move from surface to surface
We've used several vacuums that were a bit of a hassle when moving from one flooring surface to another. The Hoover ONEPWR Evolve Pet Elite isn't one of them. It's made to be easy to transition directly from hard floors to carpets. You switch it to a hard floor or carpet mode using the fingertip controls on the handle. There's no head height adjustment to fiddle with either.
Carpet and hard floor performance
The Hoover ONEPWR Evolve Pet Elite floorhead was well designed for carpet and hard floors. It has one large front gate to accommodate larger debris while still minimizing air loss. It did very well in the debris pickup tests we performed on hard floor and carpet.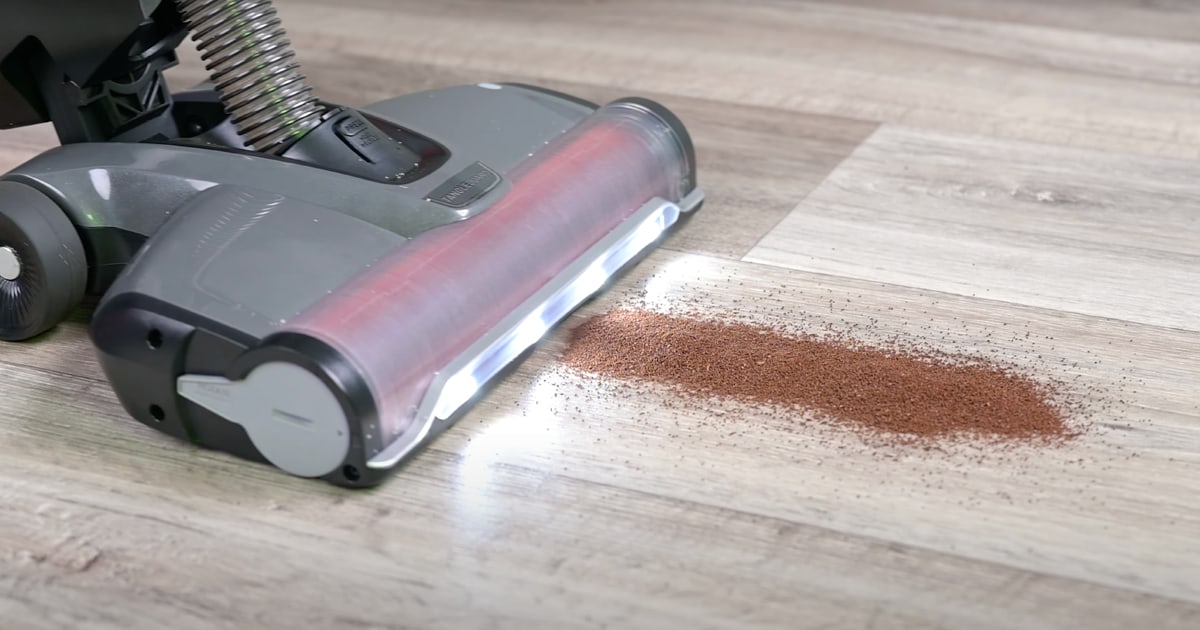 On hard floors it was great with fine, medium, and even extra-large debris. It was just as good if not better with carpets–not only with surface debris but also when we performed our carpet deep clean test.
In our carpet deep clean test, we weigh and then embed sand into a medium pile carpet. Before and after the test we weigh the dustbin to see how much sand the vacuum picked up. In that test, the ONEPWR Evolve Pet Elite scored a perfect 100.
Battery and suction power
The ONEPWR Evolve Pet Elite normally comes with a 4 Ah (amp hour) battery that can get 35 minutes of use on its low power setting. That may not sound like much at first because most manufacturers claim that their cordless vacuums can get 60 minutes when used on low power, but we found a difference.
Most of those cordless vacuums that manage an hour of cleaning time are quite weak when used on their lowest power setting. But in our tests, the Hoover Evolve showed 37 CFM of airflow on its low power mode. That's higher than the average max power of other cordless vacuums we've tested.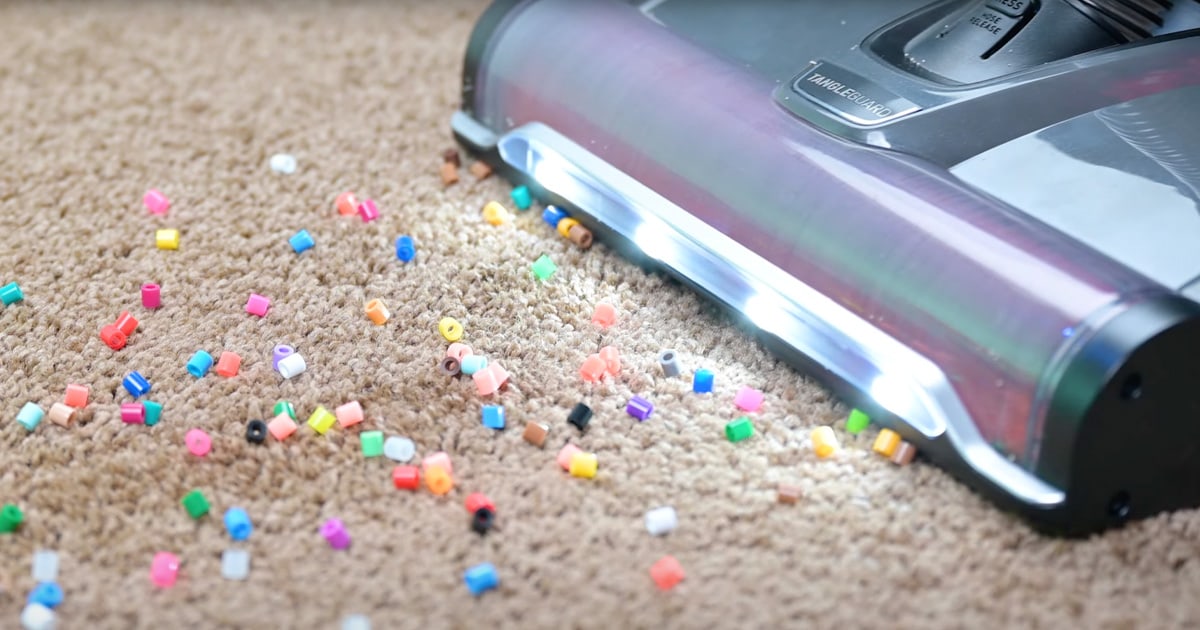 Speaking of power, its sealed suction on max power was really high. In max power, it was also in our top 10 as far as airflow at the head. So all around it is a very powerful vacuum.
Hoover ONEPWR
The battery is removable and because it's a part of Hoover's ONEPWR system, you could easily buy more batteries if you needed more run time. Hoover sells an 8 Ah battery that could effectively double all these runtime numbers.
Anti-hair tangle brush system
Hoover has a new anti-hair tangle brush system that they're calling "Tangle Guard," which we got to try out with the Evolve model. According to Hoover, this system is capable of handling hair tangles of up to nine inches in length.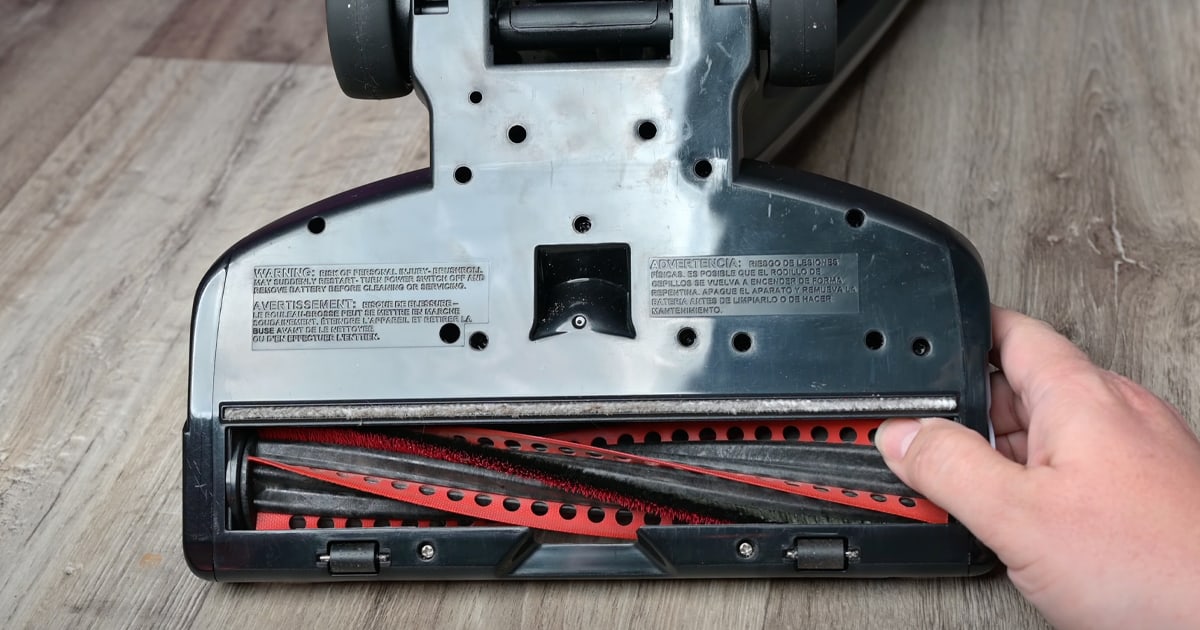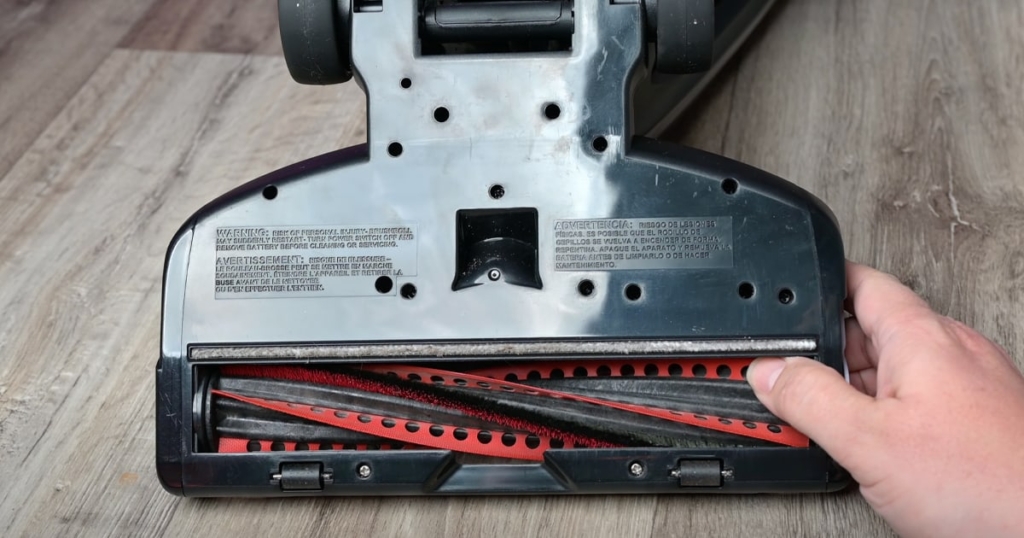 We would agree. In our independent tests, it did really well with nine-inch hair. It did start to tangle when tested with hair that was about 14 inches in length. Overall, the results were impressive.
Dustbin and LED headlights
Wrapping up the positive aspects that stood out to us are the ONEPWR Evolve Pet Elite's dustbin and LED headlights. It has a huge one-liter dustbin that is easy to remove and empty. We've mentioned our affinity for LED lights along the floorhead of vacuums before. This cordless Hoover has a really bright set of LED lights, which makes it easy to see debris that you might otherwise miss.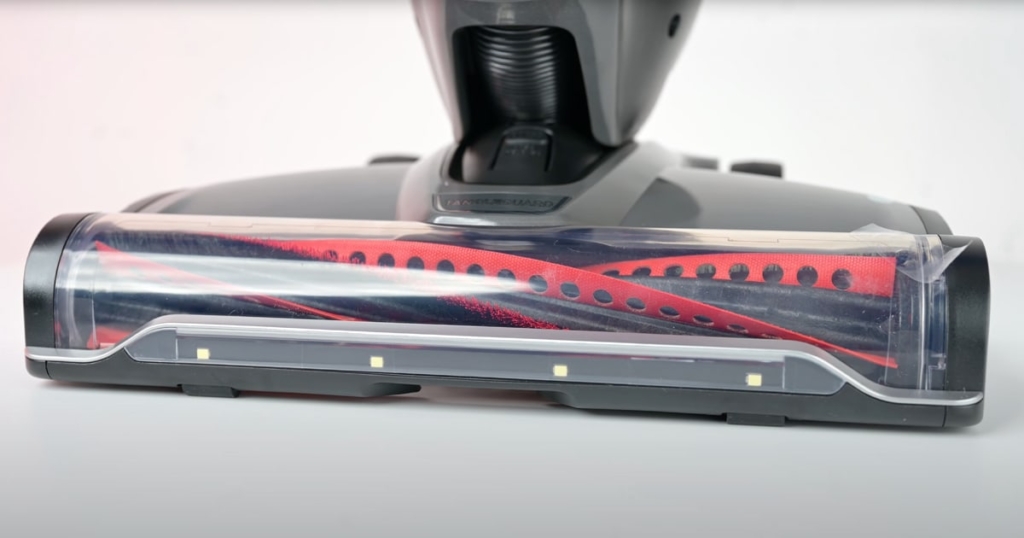 What could be improved?
There's room for improvement with any product. Here are a few things that could be improved from our perspective.
Filtration
The ONEPWR Evolve Pet Elite's filtration system wasn't as good as we had hoped. As far as we can tell, it lacks a sealed HEPA system. The reason for our disappointment was that it is priced right at the price point where sealed high-efficiency systems start to show up on vacuums.
Lacks hose and cleaning accessories
This Hoover cordless is specifically for cleaning hard floors, carpeting, and rugs. That's because it does not have a hose or any other way to use it with attachments. So above-floor cleaning tasks just aren't something it is capable of–it's just for floor cleaning.
In the box
Hoover ONEPWR Evolve Pet Elite
Removable ONEPWR Battery
Manual and warranty
Noise
It was also a little louder than average on its highest max power setting. But on low power, its noise level was pretty quiet at only 74 decibels. As we said earlier, the Evolve puts out more power on that low-power setting than most cordless vacuums do on max power. So in that way, its noise level was pretty good.
Conclusion
Overall, the Hoover ONEPWR Evolve Pet Elite is an impressive vacuum. It has tons of power, which translates into a high-scoring cleaning performance on both hard floors and carpet. It was incredibly easy to use with its lightweight upright construction. It also has a very versatile battery system, which is a trend we'd like to see more of, and it is offered at a fair price point.
Hoover ONEPWR Evolve Pet Elite specs
| | |
| --- | --- |
| Manufacturer | Hoover |
| Model | ONEPWR Evolve Pet Elite |
| Vacuum type | Cordless upright |
| Cleaning path width | 9.75 in. |
| Bin capacity | 1 L / 1.05 qts. |
| Maximum battery life | 35 min |
| Recharge time | 2 hrs. |
| Battery | 4.0Ah, 20V Lithium-Ion |
| Removable battery | Yes |
| Converts to handheld | No |
| Weight | 9.8 lbs. |
| Headlights | Yes |
| Warranty | 3 yr. |
Specifications are from the Hoover website and the ONEPWR Evolve Pet Elite manual.
Frequently asked questions
What is the difference between Hoover Evolve and Emerge cordless vacuums?
The most significant difference between the Hoover Evolve and Hoover Emerge cordless vacuums is that the Evolve is an upright style whereas the Emerge is a stick vacuum style. 
How long do Hoover ONEPWR Evolve Pet Elite batteries last?
When on the lowest power setting, the Hoover ONEPWR Evolve Pet Elite with a single ONEPWR 4.0 Ah battery can achieve a maximum of 35 minutes of cleaning time.
What types of Hoover devices use ONEPWR batteries?
The Hoover ONEPWR system includes several types of vacuums including wet/dry, handheld, upright, and stick vacuums, as well as an air blower and flashlight.
What is the largest ONEPWR battery available?
Currently, the largest capacity ONEPWR battery is a 20 volt 8 Ah battery.
The Hoover ONEPWR Evolve Pet Elite is available for purchase online, including at the retailer(s) below.