This is the Vacuum Wars review of the Eufy RoboVac G30 robot vacuum. Eufy has made its name with high-performing, modestly-priced robot vacuums, so we bought a G30, put it through several tests, and are sharing those results as well as all the pros and cons in this review.
A Good RoboVac on a Budget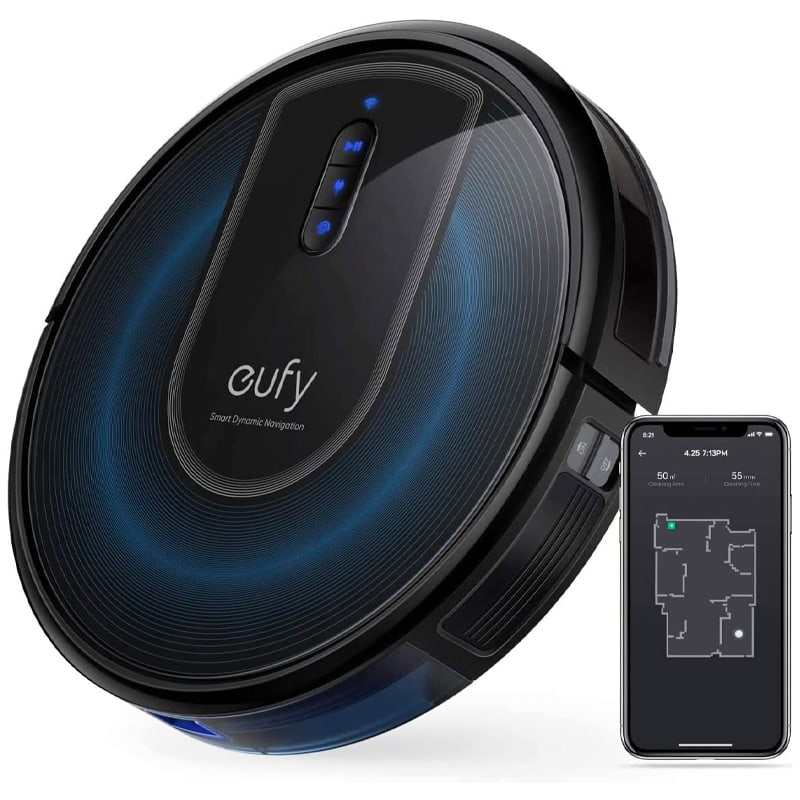 Verdict
Eufy is prioritizing value with the G30. The inclusion of room mapping, row-by-row cleaning, and recharge and resume distances it from competitors lacking these features. Add to that a generous bin size, good battery run time, and an easy-to-use app, and the result is a well-priced, well-performing budget robot vacuum.
Performance -

8.4/10

Features -

7.5/10

Navigation -

7.8/10

Value -

8.3/10
Pros
Balance of features and a budget price

A lot of power

Great at its primary job of vacuuming

More features than most budget robot vacuums
Cons
Can get stuck under low furniture

Recommend home robot-proofing before use
This is an interesting robot vacuum that we think may represent a change in what we expect from budget robot vacuums.
Eufy RoboVac G30 robot vacuum
The Eufy RoboVac G30 is a budget robot vacuum. While budget sometimes means low performance or lacking features, that's not the case here.
| | |
| --- | --- |
| Vacuum type | Robot vacuum |
| Suction | 2000Pa |
| Self-emptying | No |
| Obstacle avoidance | No |
| Navigation | Gyroscope |
| Max run time | 110 min. |
| Dustbin capacity | .6L / .63 qt. |
| Length / Width | 17.6 in. x 17.3 in. |
| Height | 2.85″ |
| Weight | 5.3 lb. |
| Color | Black |
| Battery type | Lithium Ion |
| Warranty | 1 year |
Eufy G30 Robot Vacuum Specifications from the Eufy website.
Unboxing and setup
For the most part, the Eufy G30 arrives ready to go. Beyond topping off its battery and connecting it with the Eufy Clean app, there's not much setup to speak of with the robot itself.
In the box
Eufy Clean RoboVac G30 robot vacuum
Two Side Brushes
Extra Filter
Cleaning Tool
Cable Ties
Charging base
Power cord
Manual and warranty
We test a lot of robot vacuums. When we put them into a real home environment, some find their way around without getting stuck, whereas others encounter challenges. With just about any robot vacuum there needs to be some degree of robot-proofing to allow for better cleaning. This isn't unique to the Eufy G30, nor is it unique to many other robot vacuums.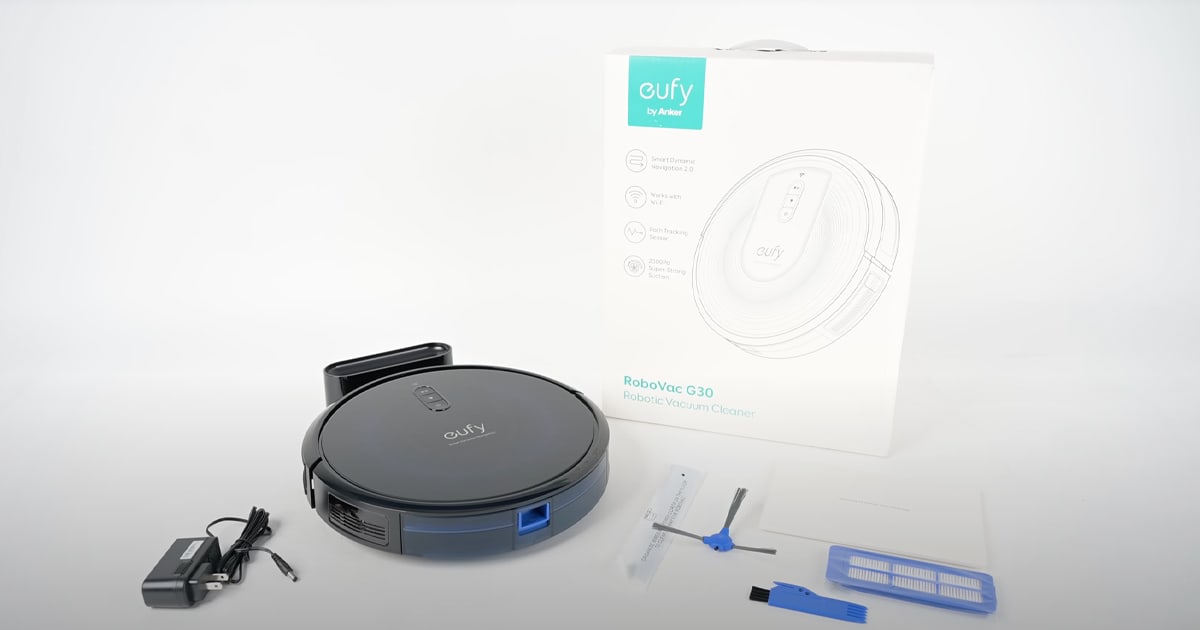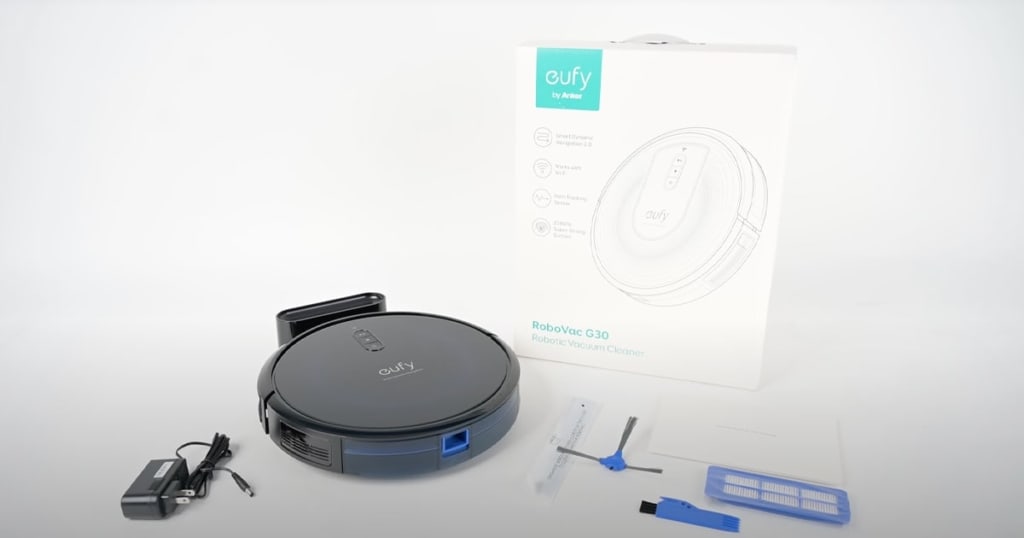 Generally speaking, the less sophisticated a robot's sensors and internal algorithms are, the more potential for it to get stuck in some way. Budget robot vacuums like the Eufy G30 lack the sophisticated and expensive systems found in premium robot vacuums. At the end of the day, what it all means is that a little bit of home preparation can do a lot of good for the robot vacuum and your sanity.
The inclusion of room mapping, row-by-row cleaning, and recharge and resume distances it from competitors lacking these features.
In the end, we found some areas where the Eufy G30 was challenged and made some adjustments ourselves. We'll cover that later in our review.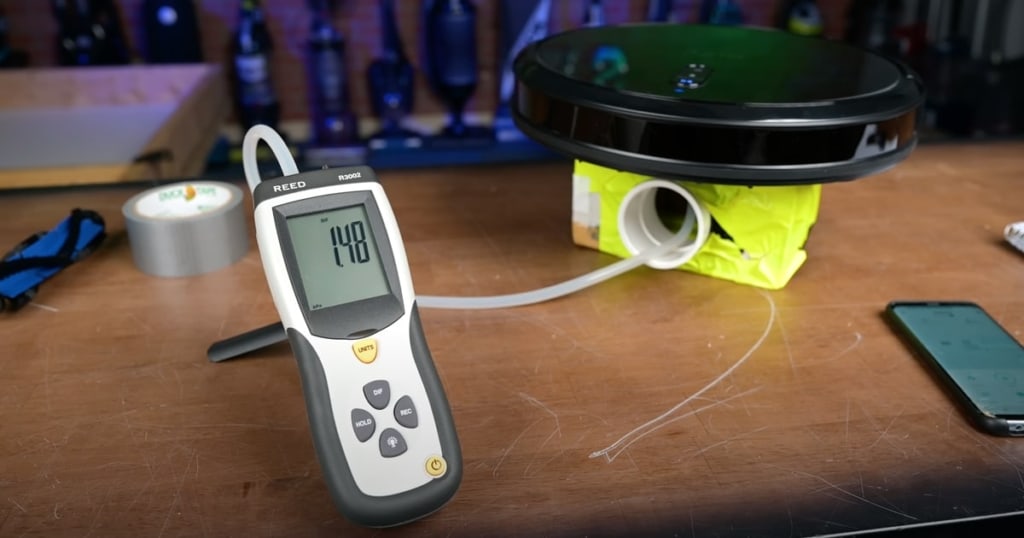 Performance and test results
Our first measurement was to determine how much suction the Eufy G30 has. Eufy's site says it has 2000Pa. In our tests, its suction score was 12, nearly double the average of over 70 robot vacuums we have previously tested. In addition, its airflow score was 17 CFM, scoring slightly better than the average robot vacuum, which scored 16.4 CFM.
The most expensive, premium robot vacuums, like the Roborock S7 MaxV Ultra, have twice as much suction power as the Eufy G30, but this robot isn't competing at that level. Among its direct competition and within its price range, 2000Pa is more than reasonable.
Vacuuming hard floors, rugs, and carpet
With surface debris pickup, the Eufy G30 did as well or better when compared with other budget robot vacuums we have tested. This held true not only on hard floors but on carpeting too.
We test surface pickup by scattering debris of all sizes in a given area, from fine to extra large. Then, we set the robot out to see how well it cleans everything up. Whether sand, cereal, coffee grounds, or something in between, the Eufy G30 did a great job cleaning up surface debris.
Cleaning up pet and human hair
Vacuuming up hair was another area where the Eufy G30 performed well. We tested it with both human and pet hair of long and short lengths. Hair can be troublesome for robot vacuums, as it tends to get wrapped around their brushrolls instead of landing in the dustbin where it belongs. This was, unfortunately, the case with the Eufy G30 too.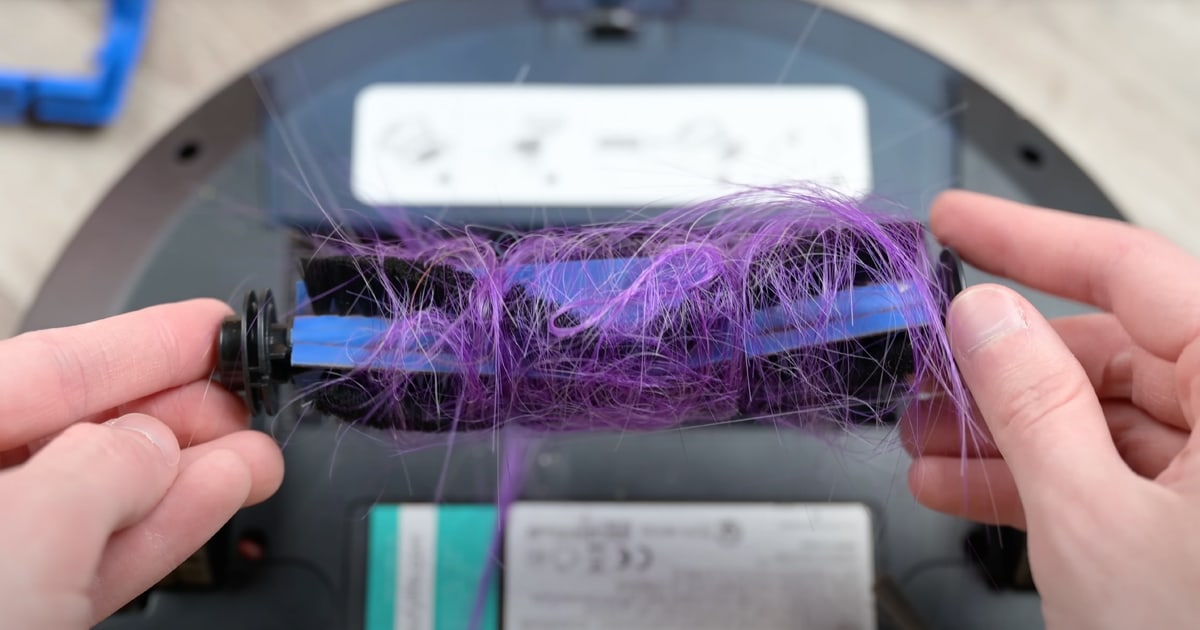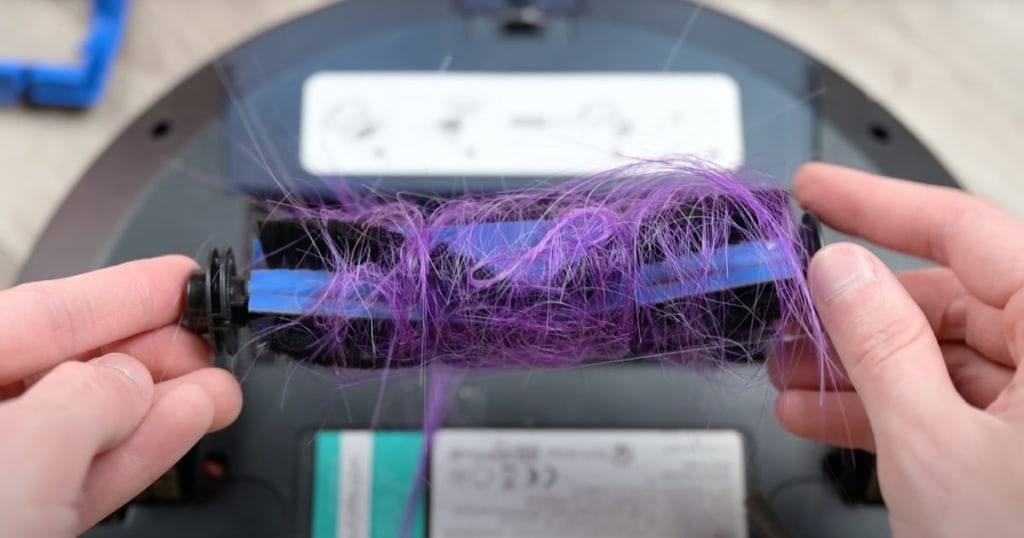 Maintenance tip
Regular maintenance of a robot vacuum's brushroll, filters, wheels, and sensors can prevent issues not only in regards to cleaning performance but also in simply getting around your home.
Deep cleaning
The hardest thing for any vacuum to do, robot vacuum or otherwise, is to lift dirt and debris from deep down in carpet. This was one of the areas where we found the Eufy G30 to be limited. It scored below the average score of the over 70 robot vacuums we've previously tested. We saw a similar shortcoming with the Eufy RoboVac G40+ too.
The Eufy G30 did do slightly better with deep cleaning carpet than previous generation Eufy RoboVac budget models, such as the 15C, which it narrowly outscored.
Features
The Eufy RoboVac G30 has more features than most budget robot vacuums. Here are a few that stood out as we worked through our tests.
Slim design
Like many Eufy robot vacuums, the Eufy G30 has a slim design. How slim? It is a mere 2.85 inches tall – significantly less than the average of all robots we've tested. This low-profile design allows it to clean beneath lower furniture, much more than many of its peers.
Large dustbin
One surprise was that, especially for such a low-profile robot, the Eufy G30 has a pretty large dustbin. A larger dustbin allows for less frequent emptying, something that anyone who has owned a robot vacuum will appreciate.
BoostIQ
Eufy included their BoostIQ technology on the G30. BoostIQ increases suction when the robot detects it is on a rug or carpet and helps provide a deeper clean. It isn't surprising to see this kind of technology on a robot vacuum today, but you don't find it on many budget robot vacuums.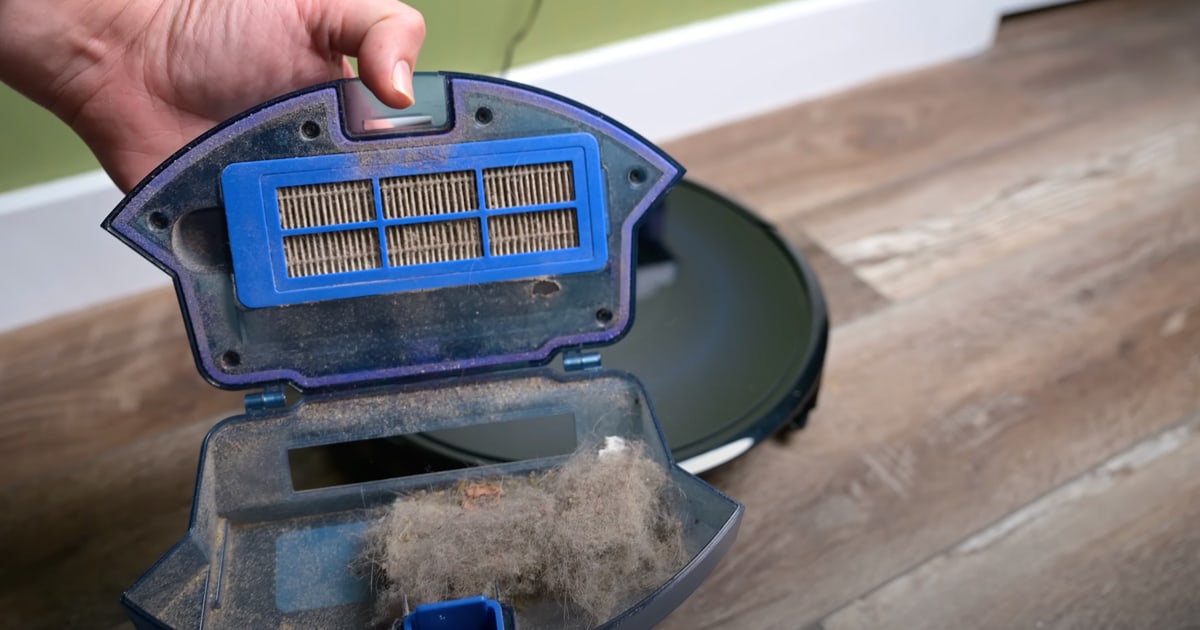 The benefit of BoostIQ is two-fold. First, BoostIQ helps free up stubborn dirt and debris that is embedded deep beneath the surface. Second, the run-time before the Eufy G30's battery needs to recharge is increased, as the robot is only working hard when it really needs to.
Battery run time before recharge
In its lowest suction setting, Eufy quotes 100 minutes of cleaning time for the G30. While that is slightly lower than the average for many robot vacuums available today, it is average for budget robots priced at $200 or less.
Recharge and resume cleaning
Due to a bit of innovation with the Eufy G30's navigation system, which we will cover later, this robot vacuum is able to create and store maps. With mapping features comes the ability to pause a cleaning cycle, return to its charging base to top off its battery, and then resume cleaning where it left off.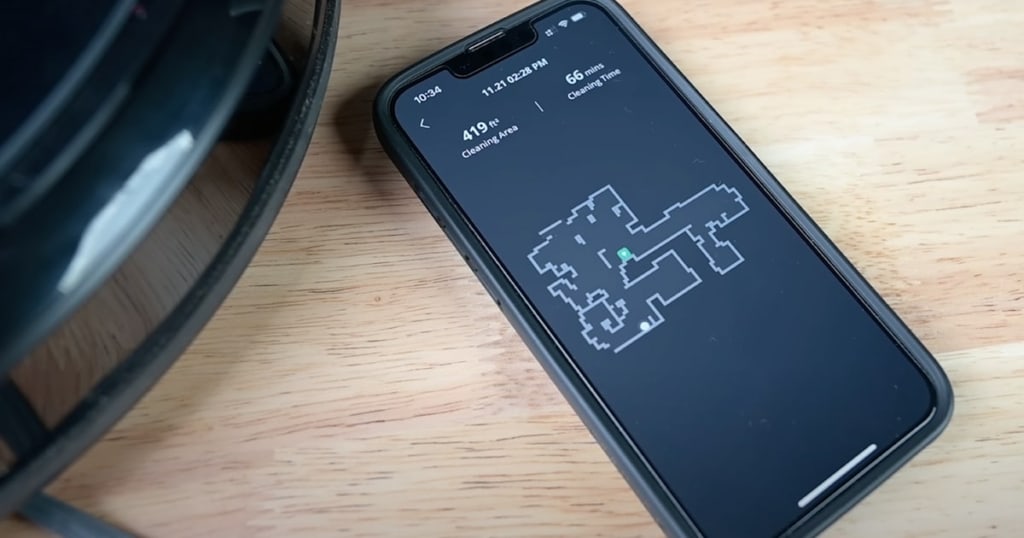 Recharge and resume isn't anything new, but it isn't what you would expect to find on a budget robot. That's because low-priced robot vacuums simply don't have the hardware and sensors to produce maps and determine their location. Another reason why recharge and resume is so great is that it makes battery life less of an issue (assuming it is one).
Navigation
How the Eufy G30 gets around is worth talking about, and it is what we alluded to above when we said this robot might change what we expect from budget robot vacuums in the future.
In contrast with premium robot vacuums, navigation systems used in low-priced robot vacuums have seen little innovation in several years. In fact, many of the original budget robot vacuums that were popular years ago are the same ones that are popular today.
While high-end models received lasers, cameras, and other advanced technologies, budget robot vacuums did not. If you have read our Eufy RoboVac G40+ review, you may recall us covering this topic. The approach to navigation that the G40+ robot utilizes — floor tracking sensors and gyroscopes — is also in use here on the Eufy G30.
Note: We are aware that there are other budget robot vacuums with on-board gyroscopes and floor tracking sensors. The Eufy G30 is simply the first one we have tested that works well.
The combination of gyroscopes and floor-tracking sensors makes it possible for Eufy to offer the G30 at a budget price while still offering capabilities like row-by-row cleaning and location detection.
Eufy calls the system "Smart Navigation 2.0," and it does a good job. Its maps aren't as detailed as you would get from a robot vacuum with LiDAR or a sophisticated camera array, but it provides capabilities that are often found in more expensive robots, and that's what is so encouraging to see.
It did get stuck
In all fairness, there were some shortcomings with Eufy G30's navigation. This may be related to the specific furniture in our home, but it did get stuck more than once, primarily by wedging itself in a place lacking enough clearance.
Whether driven by the robot's height or Eufy's programmed algorithms, we are noting it because the G30 got stuck more than other robot vacuums tested in the same environment. In order to get a full cleaning run knocked out, we had to resort to blocking troublesome areas around the house.
We also noticed that when we rescued the Eufy G30 from a situation where it pinned itself beneath something, it seemed to forget where it was on its map. Whether that was because the robot was picked up and moved or for some other reason, it created an interrupted cleaning run that needed to be restarted.
With all the good and the not-so-good taken into account, we feel the Eufy G30 navigates impressively and easily has the best navigation in its price range. We hope to see more budget robot vacuums with this type of navigation that perform as well as Eufy's Smart Navigation 2.0.
Value
Eufy is prioritizing value with the G30. The inclusion of room mapping, row-by-row cleaning, and recharge and resume distances it from competitors lacking these features. Add to that a generous bin size, good battery run time, and an easy-to-use app, and the result is a well-priced, well-performing budget robot vacuum.
Recommendation
The Eufy RoboVac G30 is a pretty amazing robot vacuum that is well worth its price, even if you may need to do a bit of robot-proofing of your home. So if you're in the market for a budget robot vacuum, the Eufy RoboVac G30 is worth consideration.
The Eufy RoboVac G30 is available online, including at the retailer(s) below.