Our review of the Ecovacs Deebot X1 Omni includes our findings after our comprehensive testing of the latest flagship robot vacuum and mop from Ecovacs. What did we look at specifically? We tested the Deebot X1 Omni's navigation, suction, vacuuming, mopping, obstacle avoidance, and more. Here's what we learned.
Ecovacs' Flagship Robot Vacuum & Mop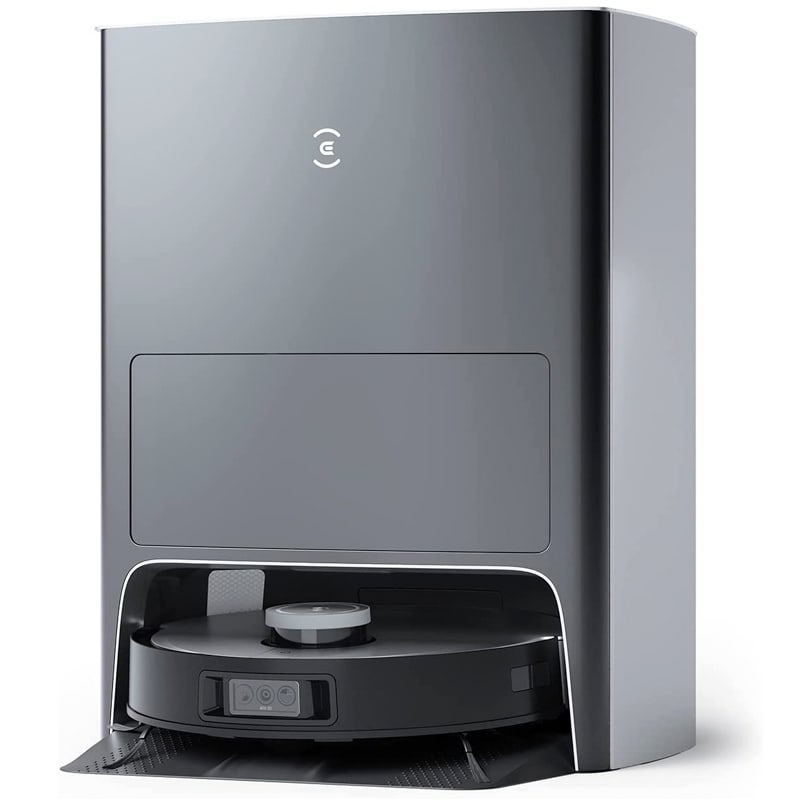 Verdict
There's a lot to like with the Ecovacs Deebot X1 Omni. It performed well as a vacuum, navigating, and picking up dirt and debris of all sizes on carpets and hard floors. The Omni Station was also a strong point, too and was without issue as far as functionality is concerned, too. On the negative side, mopping was lackluster in our tests. And while it functioned great, the Omni Station is large, taking up quite a bit of space that some homes might not have to spare.
Pros
Lots of power
Design of the OMNI station
Navigation and mapping
App features and usability
Cons
Struggled with mopping, especially dried-on stains
Size could make placement in home challenging
Obstacle avoidance not up to par
Ecovacs Deebot X1 Omni
The Ecovacs Deebot X1 Omni may be the most advanced robot vacuum yet in terms of specs and features, but it comes with a huge price tag, and it's just huge in general. It is even bigger than the Roborock S7 MaxV Ultra, which we tested at a later date.
Before moving into our tests, here are the Deebot X1 Omni's high-level specs.
Specs
| | |
| --- | --- |
| Vacuum type | Robot vacuum & mop |
| Self-emptying | Yes |
| Obstacle avoidance | Yes |
| Navigation | LiDAR |
| Diameter | 13.3″ |
| Height | 3.4″ |
| Weight | 7.35 lb. |
| Color | Black |
| Battery type | 5200mAh Lithium Ion |
| Warranty | 1 year |
Ecovacs Deebot X1 Omni Specifications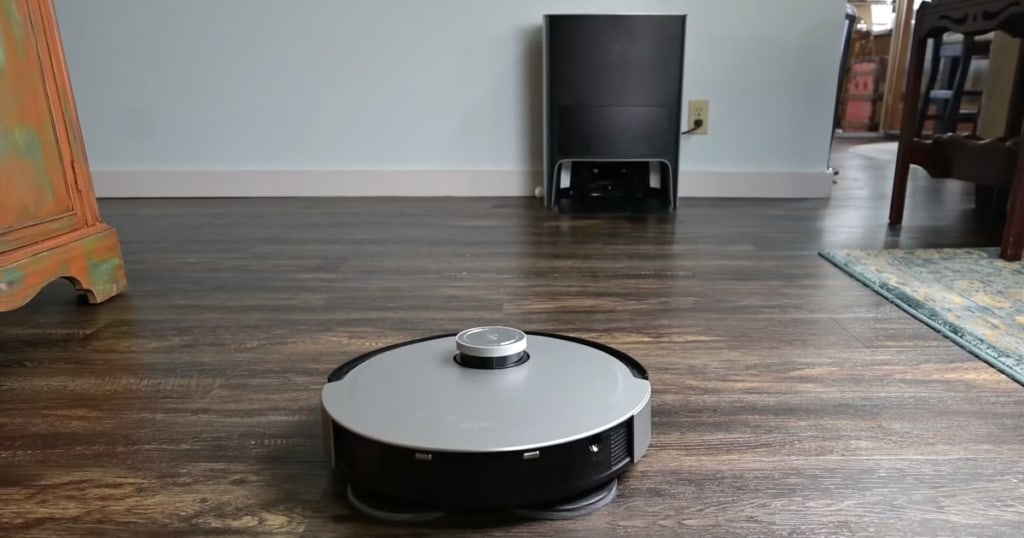 Unboxing and setup
After unpacking the robot vacuum, we set up the OMNI station and connected to the Ecovacs App while charging was underway.
In the box
Ecovacs Deebot X1 Omni robot vacuum and mop
OMNI Station
2 sets of Spinning Mopping Pads
2 Auto-Seal Dust Bags
Set of Side Brushes
Cleaning Brush
Multi-function Cleaning Tool
Power Cord
Manual and Warranty
Performance and test results
As we made our way through our robot vacuum and mop tests, one thing became abundantly clear: the Deebot X1 Omni has a lot of power.
RELATED: Don't miss our review of the Ecovacs T20 Omni, a more recent and feature rich Ecovacs robot vacuum & mop combo!
Suction
Ecovacs claims the X1 Omni has 5000Pa, making it the "Strongest Suction Power in the Market." 5000Pa is a lot, more than twice their previous high-end robot vacuum, the Deebot T8 AIVI.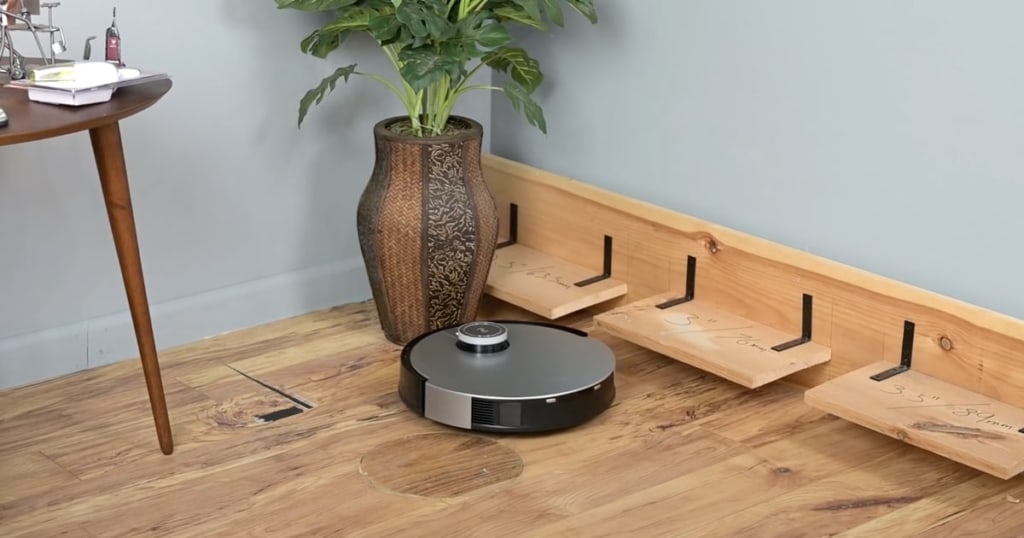 We tested both the suction and airflow and agreed that the Deebot X1 Omni does produce a great deal of suction. At the time of review, it was almost double the next closest robot vacuum we had ever tested.
Starting the search for a robot vacuum that can empty itself? You might want to look at our Ecovacs Deebot T10 Omni review. Also check out our review of the budget-focused Eufy G40+. In addition to the model we reviewed, there is also a version that can both mop and vacuum like the Deebox X1 Omni.
Airflow was high too. The Deebot X1 Omni tied its predecessor, the Deebot T8 AIVI, and was significantly higher than the average of 60 previously-tested robot vacuums.
Vacuuming carpets and hard floors
All that power yielded good results in both our crevice pickup test and our carpet deep clean test. In that second test specifically, the Deebot X1 Omni performed above average at vacuuming up sand deeply embedded in medium-pile carpet.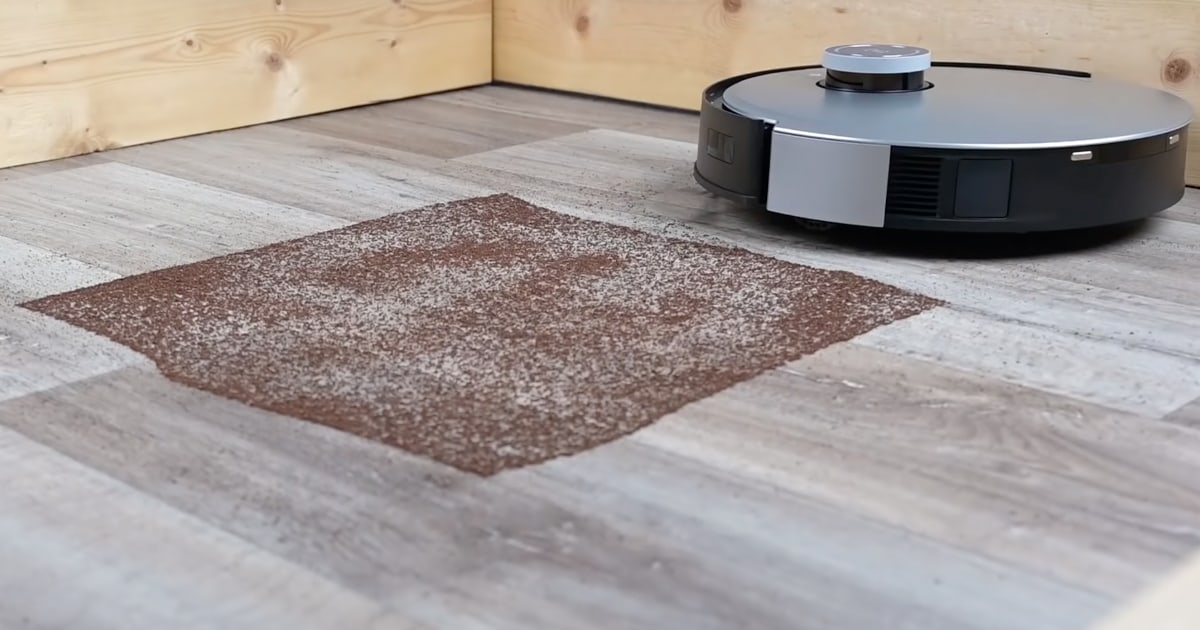 As far as picking up dirt and debris on the surface of carpets and hard floors it was mostly a pro. It had very good pickup on hard floors, even with kitty litter, which is impressive. On carpet, the Deebot X1 did well with small, medium, and large-sized debris, which in our case was various sizes of cereal. All-in-all however, it did an adequate job as opposed to being exceptional.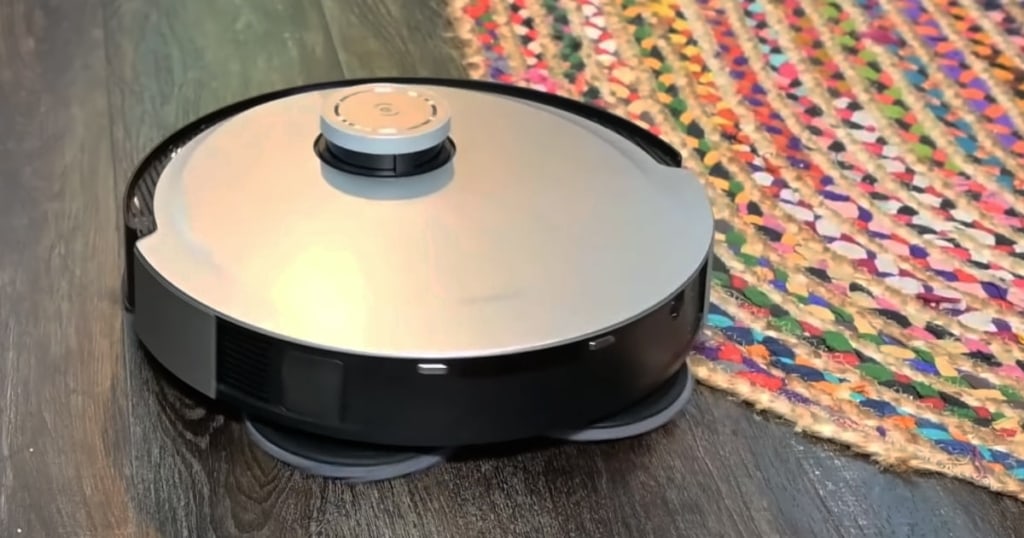 Mopping
Unfortunately one of the cons with the Deebot X1 Omni is a big one: its mopping system was not very good in our opinion. The mopping system for the X1 is called Ozmo Turbo 2.0. The system uses two removable and washable rotating mopping pads.
When the mopping pads are installed, they are automatically recognized by the robot and it cleans hard floors, both vacuuming and mopping them. When the mopping pads are attached, it recognizes and avoids carpet and rugs altogether.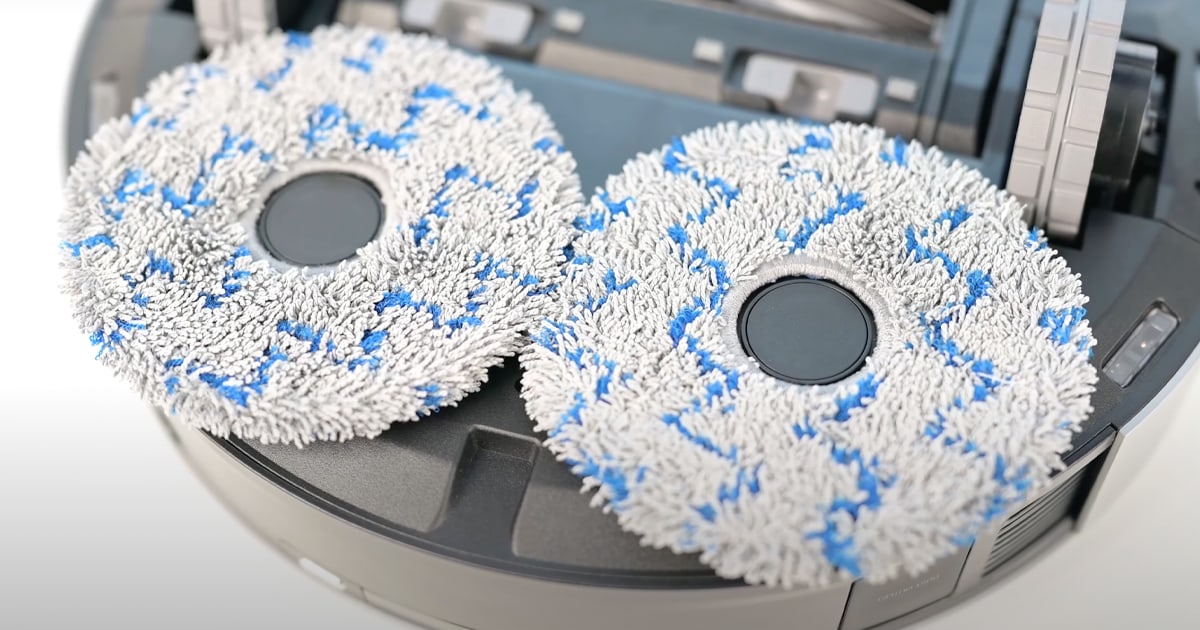 As we already mentioned, our experience with this system wasn't good. After testing it in multiple ways with both wet and dry stains, on different surfaces, and with different water levels on the app, the result was that it just didn't mop very well. Dried-on spots that just about every robot vacuum mop we've tested can clean were still difficult for the Deebot X1 Omni.
Even after multiple mopping runs on the highest water flow setting dried on stains weren't cleaned well. This could be because the Deebot X1 Omni that we purchased had an issue. We did make sure that it was soaking its mopping pads, and with our infrared camera we could see that it was distributing the water, just not very much.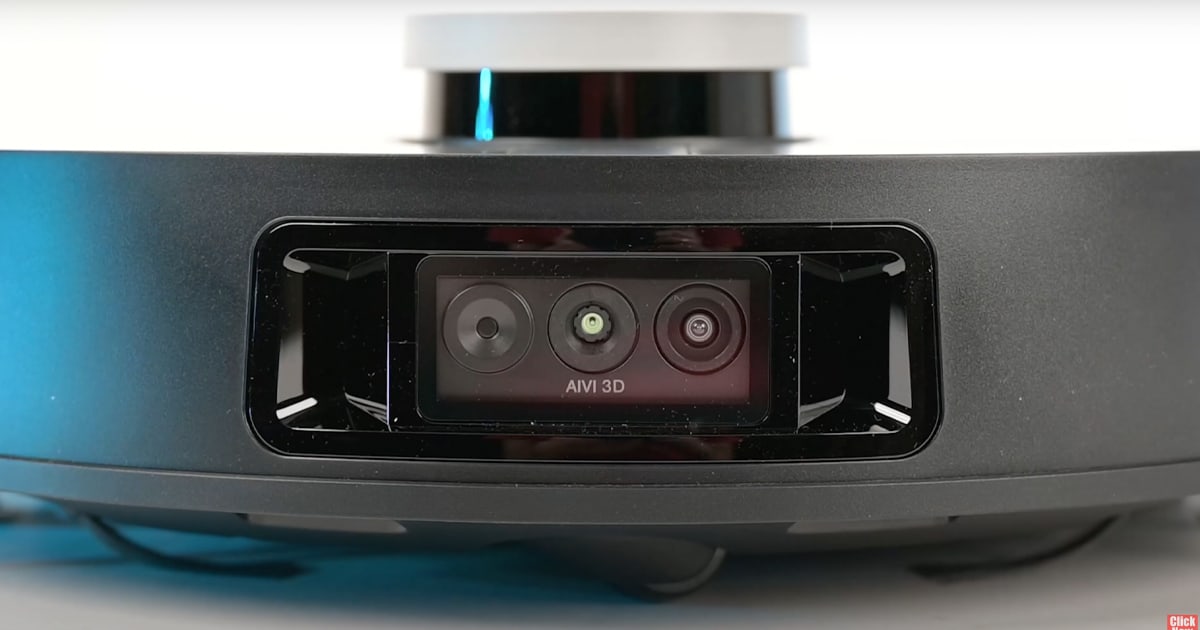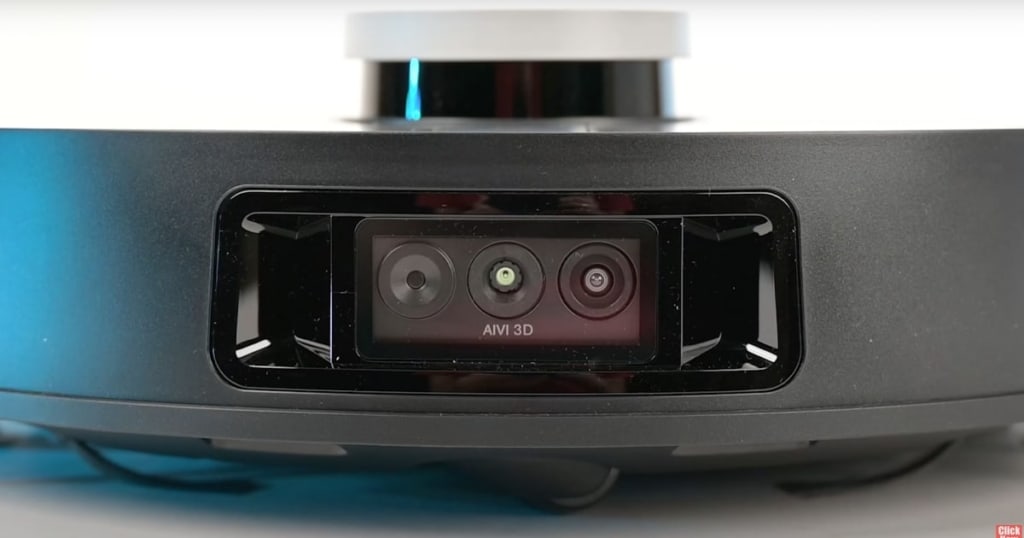 Battery
The Deebot X1 Omni has a large lithium-ion battery to power its vacuuming and mopping capabilities. At 5200mAh, it may be the largest capacity battery that they'll put in a robot vacuum. Although that 5200mAh figure is the same as it was in the T8 AIVI, Ecovacs says battery run time for the Deebot X1 Omni on its lowest power setting is 260 minutes, up from 180 minutes with the older model.
We didn't run the battery out, but find manufacturer battery estimates are almost always in line with actual performance.
Ecovacs Deebot X1 Omni features
All-in-One Omni Station
One of the biggest (pun intended) new features of the Deebox X1 Omni is the All-in-One OMNI Station. It performs a few functions.
First, it automatically empties the robot when it returns from a cleaning run. Second, it both cleans the mop pads and refills the robot's water tank. Finally, it tops off the robot's battery.
Generally, we really like these auto-empty bins and are glad they're becoming a standard with premium robot vacuums like this one. This one is unique in that Ecovacs was the first with one that not only empties the vacuum and charges it, but also cleans and dries the mopping pads as well as refills the robot's mopping tank.
Washing the mop pads and refilling the water tank
Of note is that the All-in-One OMNI Station is really well built. Everything works well, which isn't a given, especially with all the new technology it introduced. The water bins are very sturdy and easy to fill.
The auto-empty station did not leak any water either. After inspecting both the mopping pads and the dirty water tank after several runs, our experience was that the dock does a good job cleaning of the mopping pads, too.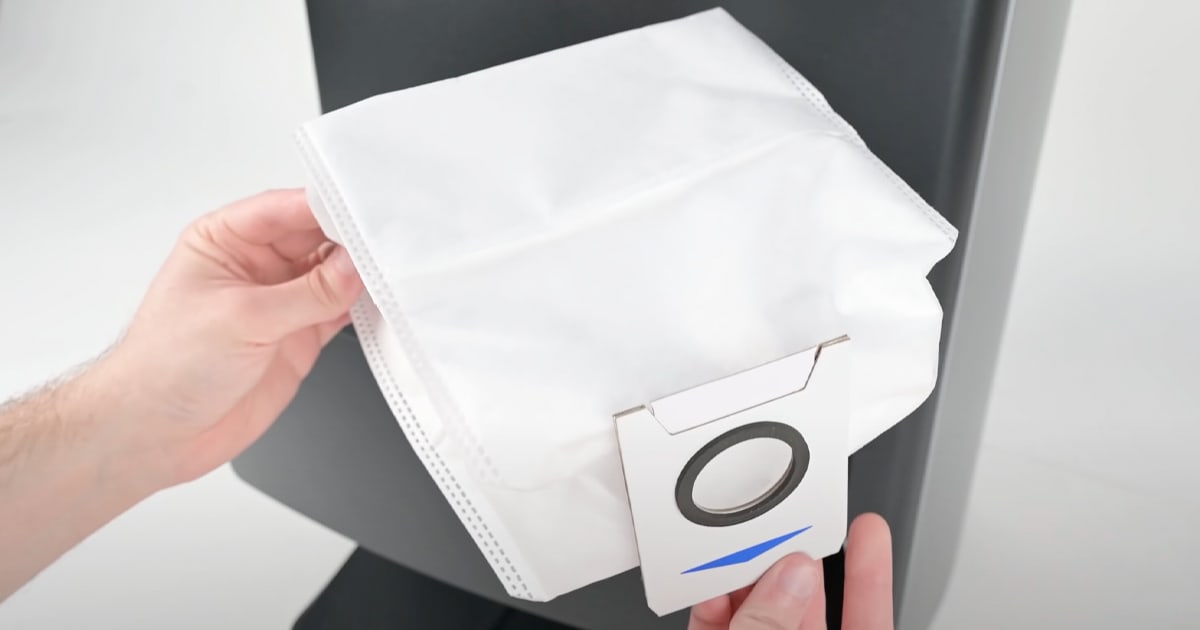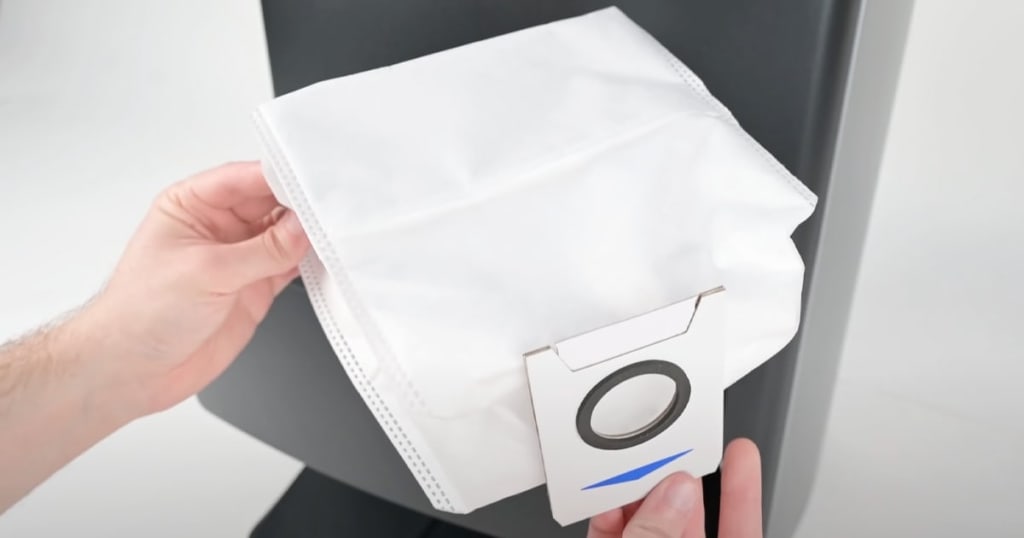 Emptying the Deebox X1 Omni's dirt bin
Ecovacs' auto-empty system works well, too. It is a new design that places its dust outlet, or hole that mates with the bin, on the robot's side. It functioned well, and we prefer it to the previous system which had two holes on the bottom of the robot's dustbin. In our tests, it emptied the contents of the robot's bin without any clogs.
Ecovacs mobile app
We could probably do an entire article on the Ecovacs mobile app alone. The app works well and has all the functions we would expect to find with a premium robot vacuum. A few stand-out app features include:
Multiple floor plan storage
General or highly detailed scheduled cleaning
Intuitive map editing and customization
No Go Zone creation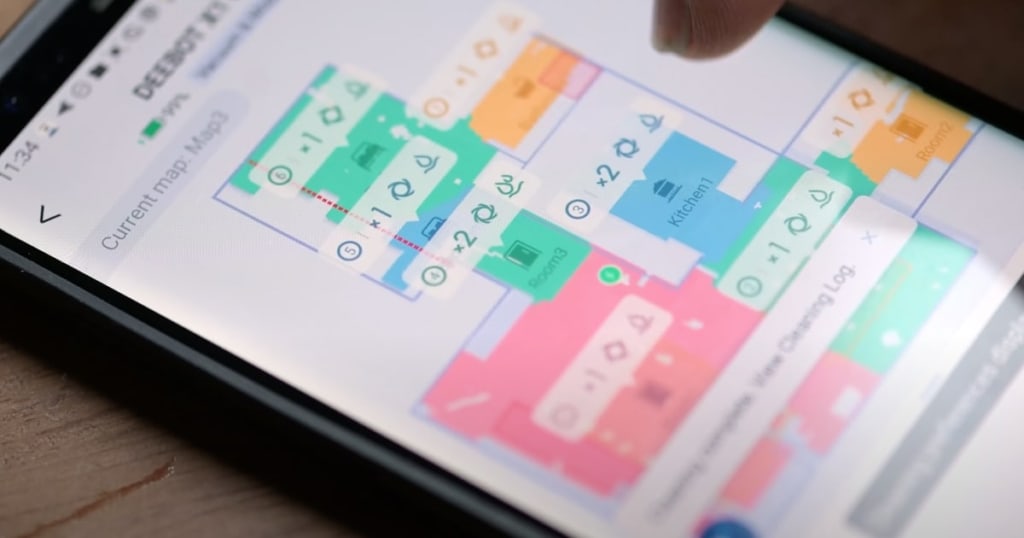 The level of detail you can specify is impressive, such as cleaning specific rooms on specific days in a specific way. All-in-all the app is another strong point.
Voice control
Another feature of the Deebot X1 Omni is that it can be controlled with your voice as opposed to using the App. While most of Ecovacs' competitors have tapped into Google Assistant or Amazon Alexa, Ecovacs has taken a different route. Their voice recognition system is their own, called the YIKO Voice Assistant.
The voice system allows the same kinds of voice command operation as systems using Google Assistant or Alexa. For advanced Google Assistant and Alexa users, there may be some frustration with the proprietary system's inability to integrate with complex scenes or routines which tap into multiple IOT devices.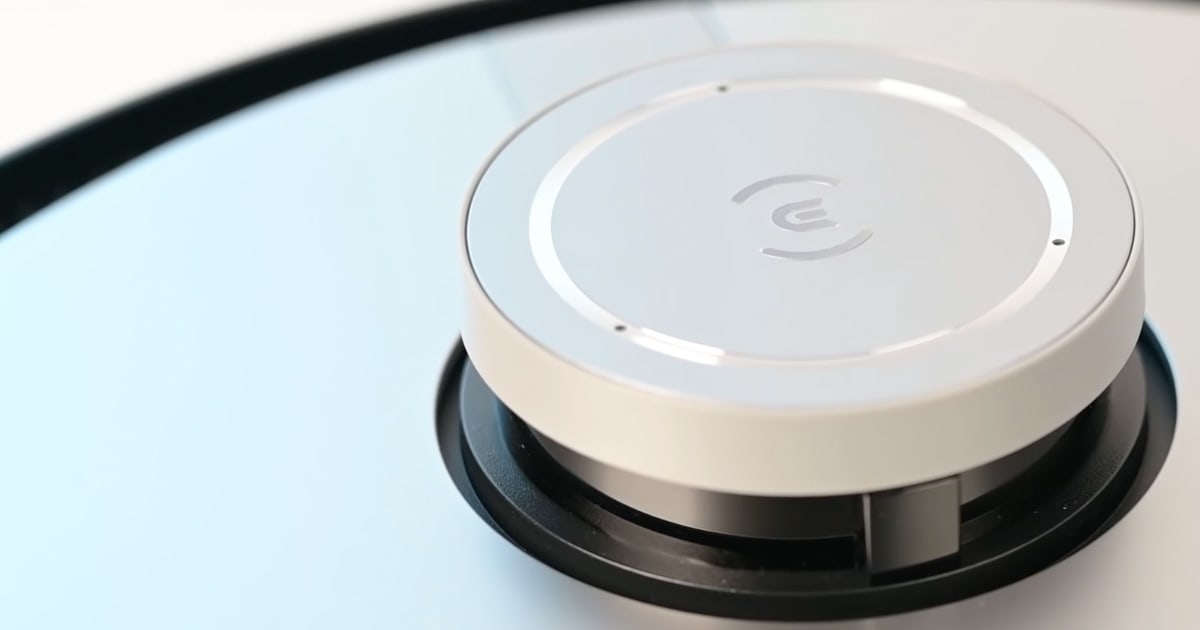 Navigation
The Deebot X1 Omni also did well with both navigation and obstacle avoidance. The X1 Omni has a LiDAR sensor on the top of the robot for mapping and basic obstacle avoidance, and it has several front-mounted sensors, including a camera and a 3D mapping system.
Mapping and coverage
The X1 Omni was quick at mapping and the map it created was accurate on its first try. In coverage tests, where we test how much of the reachable floor space is visited, the Deebot X1 Omni scored highly and it did so in a short period of time.
Avoiding obstacles
In our obstacle avoidance tests, we think the Deebot X1 Omni showed that it was very accurate at avoiding the obstacles that we put down. It does avoid obstacles that are too low for its LiDAR or too light for its other sensors, and it did detect various objects like cords, cloth, and (simulated) pet waste.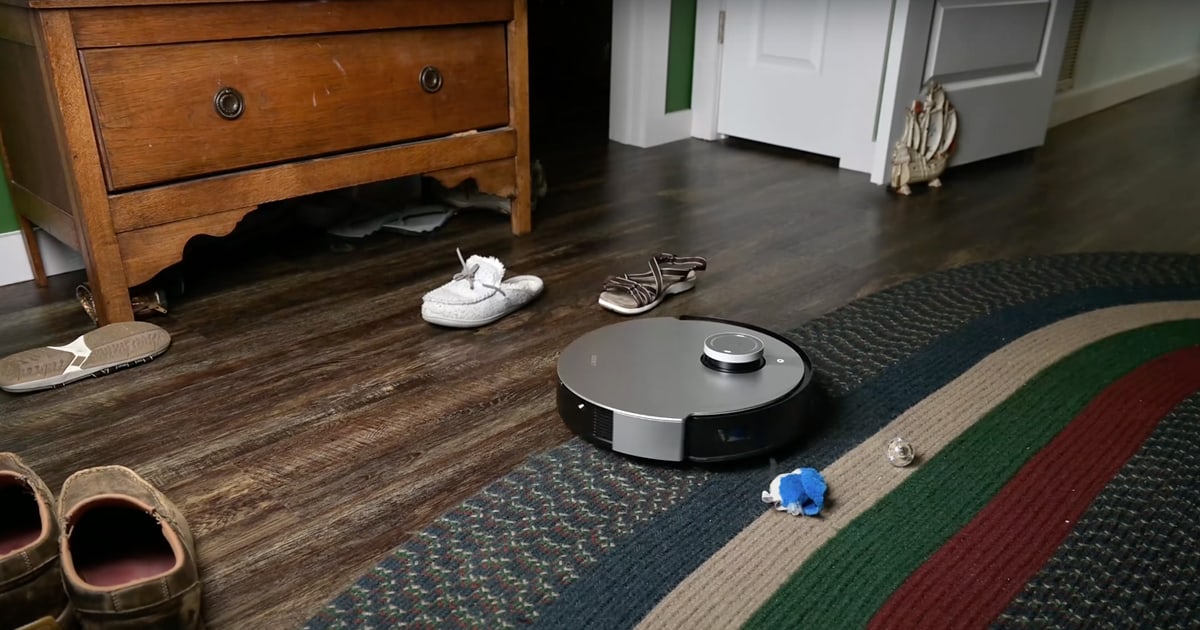 But, while it had its successes, it would occasionally miss something. While we might be over-scrutinizing here, the reality is that other obstacle avoidance systems we've tested performed better right out of the box. While what it could do was impressive, at its price tag, we hoped we'd be more impressed.
Recommendation
There's a lot to like with the Ecovacs Deebot X1 Omni. It performed well as a vacuum – navigating and picking up dirt and debris of all sizes on carpets and hard floors. The Omni Station was also a strong point and was without issue as far as functionality is concerned too.
Additionally, setting up and using the Deebot X1 Omni was straightforward and the Ecovacs app is feature-rich and easy to use. Not everything was perfect, however, so we do want to reiterate a few points.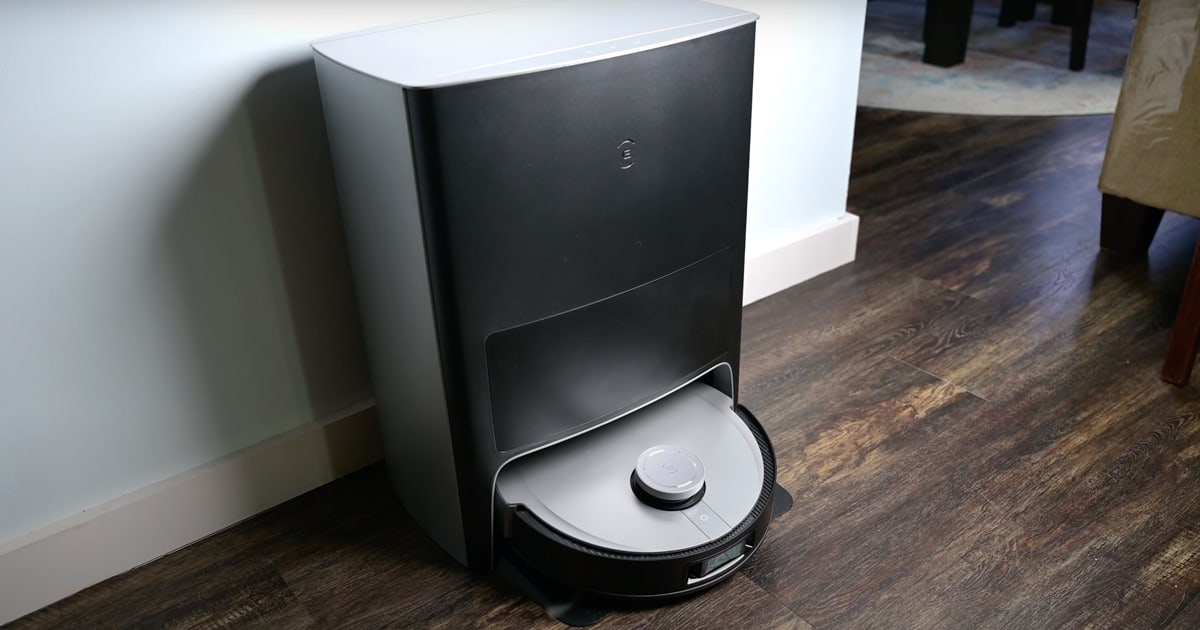 Mopping wasn't great in our tests. As far as the mopping issues we experienced, one thing we do know is that the dual-rotating pad design is new. Earlier Ecovacs models with mopping used a more traditional, single stationary pad. It could be that this new mopping system isn't as sorted yet.
Regardless, from our standpoint mopping ability was a shortcoming, and one that represents a big contributor to both the size and price of this robot vacuum.
One last consideration is the size of Ecovacs' Omni Station. We appreciate that it is well-built, but it is large, so take its size and where you would place it into consideration when making your buying decision.
The Deebot X1 Omni is available online, including at the retailer(s) below.