In this cordless vacuum review we'll be exploring the Black+Decker POWERSERIES Extreme cordless stick vacuum cleaner. It's an inexpensive vacuum as well as one of the best-selling cordless vacuums out there. We bought one and put it through various tests over a week's time. Here's what we found, including all of the pros and cons from our perspective.
Great on Carpet!
Verdict
The Black+Decker POWERSERIES Extreme cordless is a good, low-priced stick vacuum for those with carpeting in their homes. In our tests, it did great with debris pickup on carpet, achieving the best deep cleaning score we have seen in its price range. If you have other tools which use the Powerconnect battery system, it makes even more sense. We do suggest that homes with hard flooring consider alternatives.
Performance -

8.8/10

Features -

8.4/10

Ergonomics -

8.2/10

Value -

8.7/10
Pros
Price
Good for carpeting
Battery system
Cons
Larger debris on hard floors
Handheld use
About the POWERSERIES Extreme Cordless
The Black+Decker POWERSERIES Extreme stick vacuum is one of a half-dozen or so cordless vacuums the brand currently sells. POWERSERIES Extreme uses a 20V lithium-ion battery system that makes it a part of a much larger family of products. Those products include other vacuums and several types of tools, including lawn trimmers, drills, sanders, and blowers.
In a lot of ways, it is conceptually similar to the Hoover ONEPWR Emerge Pet+ which we have recently reviewed. In fact, the two vacuums have many of the same features. The POWERSERIES Extreme cordless costs far less, however. At last check, its price was half that of the Hoover.
What we like
Affordability
We mentioned earlier that the Black+Decker POWERSERIES Extreme comes with a budget price tag. When compared against nearly sixty other cordless vacuums we've tested, the POWERSERIES Extreme had a price far less than average.
That affordable price may be one reason why it sells so well online.
Power and carpet deep clean test
Another positive is how much power it has. We measured its airflow at the base and at the floorhead and found it higher than average in our tests. It also has an extremely good seal on floors because its floorhead is lower to the ground, with fewer openings than other cordless vacuums we've tested. As the opportunity for air to escape decreases, the efficiency of that seal increases.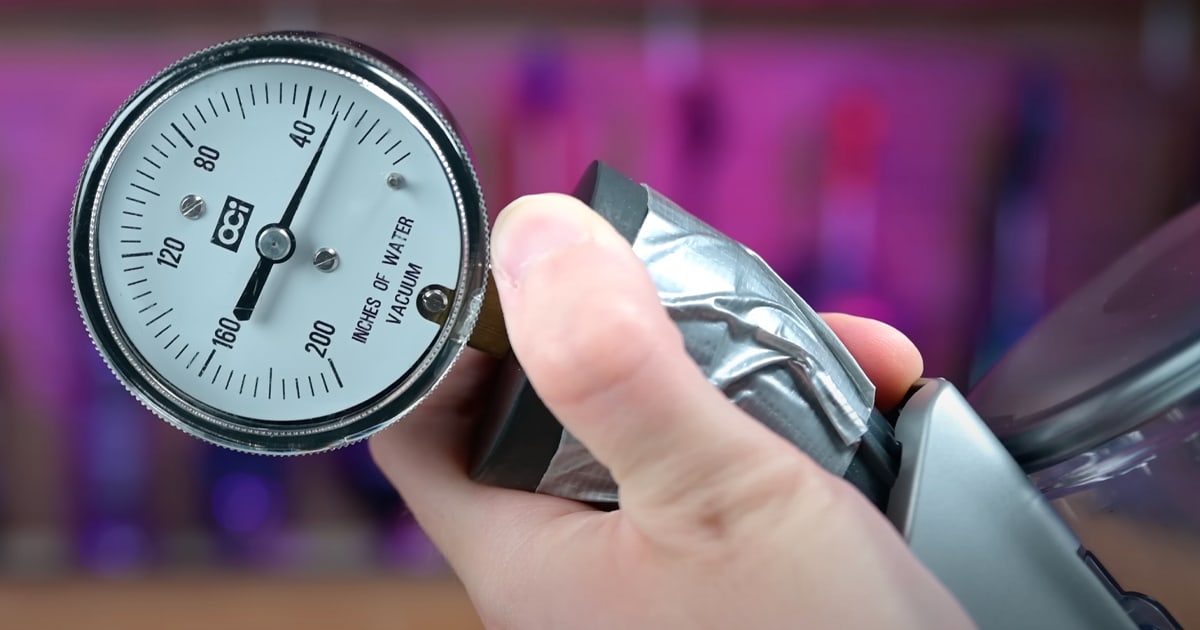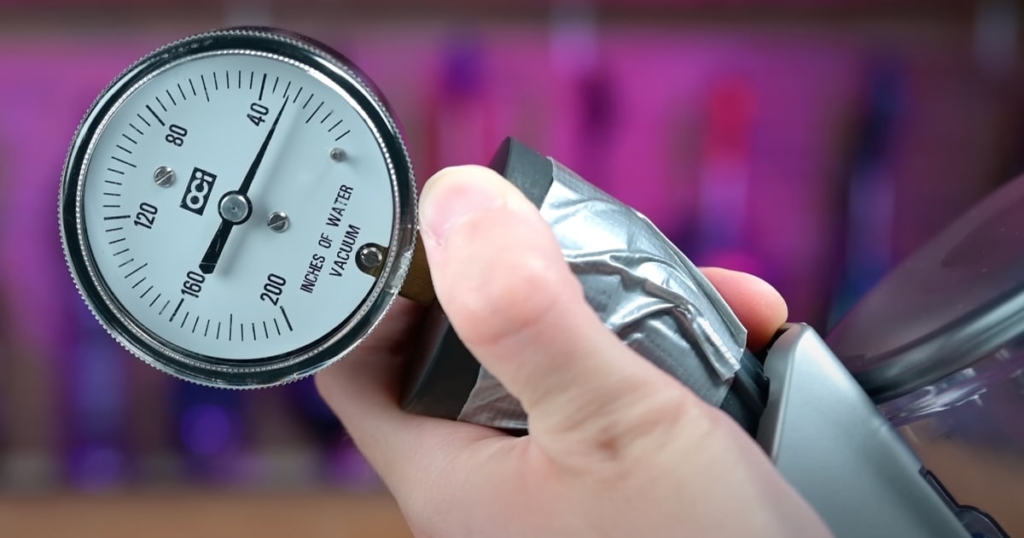 Airflow comparison chart (Max)
Below are our airflow measurements when running on the highest power setting. These results are from our own independent testing, not manufacturer specifications.
| | | |
| --- | --- | --- |
| | POWERSERIES Extreme | Average |
| Base | 50 CFM | 42 CFM |
| Head | 40 CFM | 37 CFM |
Vacuum Wars' independent test data.
As we expected, this made it particularly good in our carpet deep clean test, where it again scored higher than average. In that test, we embed sand into a medium pile carpet and weigh the bin before and after a set number of cleaning passes. For comparison, on its maximum power setting the POWERSERIES Extreme scored the same as another, much more expensive vacuum: the Dyson V12 (read our Dyson V12 Detect Slim review).
Debris pickup on carpet
It was also really good with debris pickup on the surface of carpets. It picked up everything from fine to large debris though it did struggle a little bit with extra large debris. But overall, it proved to be a good vacuum for carpets.
Power Connect system
As we noted earlier, the POWERSERIES Extreme is also part of Black+Decker's Powerconnect battery system, which means that it uses a removable battery that's interchangeable with other cleaning, lawn, garden, and power tools from Black+Decker in the same series.
So if you already have other tools from the Black+Decker Powerconnect system, that battery could function as a backup battery, effectively doubling your vacuum's battery life (or more if it's a larger battery).
Self-standing, LED lights, accessories, and more
There are a few other positive aspects we didn't want to forget. First, the POWERSERIES Extreme cordless is self-standing, which is a rare find in cordless vacuums. Second, it has LED lights on the floorhead, which helps to see debris that we might have otherwise missed. Third, it was easy to use.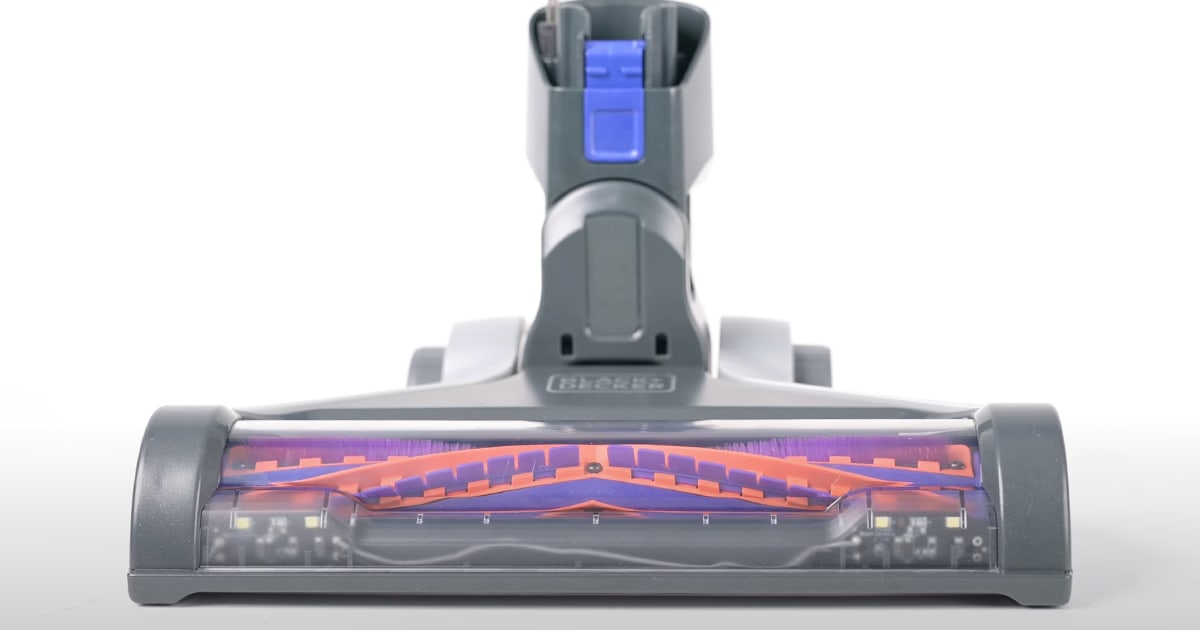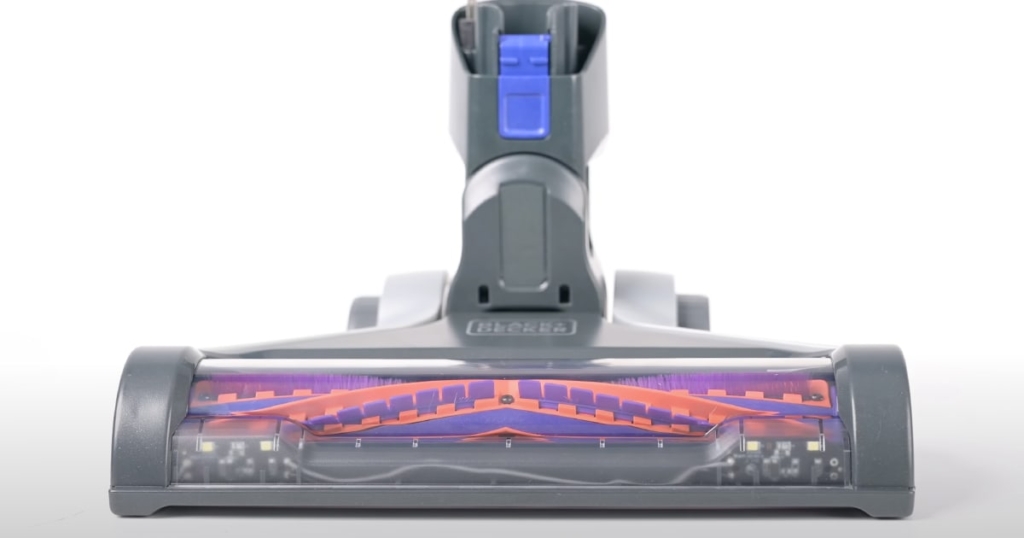 The controls are simple; on the handle, there are three different power options to choose from as well as the option to turn the brush roll on or off. And finally, BLACK+DECKER packaged the POWERSERIES Extreme with many different tools for above-floor cleaning jobs, including a crevice tool with a flip-out brush, a low-profile pet accessory, and an accessory holder.
Battery life
Battery life isn't really a check in the pro or a con column but is more of a neutral note. The POWERSERIES Extreme cordless vacuum comes with one of their smaller battery sizes, a 2 amp hour (aH) Black+Decker Powerconnect battery. Black+Decker says it can get 55 minutes on low power which is above average.
| | | |
| --- | --- | --- |
| | POWERSERIES Extreme | Average |
| Low | 55 min. | 40 min. |
| Max | 10 min. 30 sec. | 14 min. 30 sec. |
Vacuum Wars' independent test data.
We tested it on its highest power setting and got almost 11 minutes of runtime, which is a little below average for its airflow, but still pretty good. We would recommend using it on its medium power setting for most tasks. In that setting, it should provide around 20 minutes of cleaning per charge.
And as we mentioned earlier, if you have an extra Black+Decker battery, you'll have all the runtime you'll need for sure.
In the box
Black+Decker POWERSERIES Extreme Cordless Vacuum BSV2020G
Pet Accessory
Flip Up Brush
Crevice Tool
Battery Charger
Manual and warranty
What could be improved
Now we'll move on to the cons, or things that could be improved with this cordless vacuum.
Suction and handheld use
Suction power at the vacuum's base was below average, so it wasn't as good for handheld tasks where suction is most important. Also, the handle weight was a little heavier than average, which made above-floor cleaning tasks a little more difficult, but it did not impact regular vacuuming that much.
Another negative point is that on its maximum power setting, the vacuum sort of sticks to certain rugs or becomes quite hard to push. This is because of that low floorhead we mentioned earlier. It performs well on regular carpets, which may allow for a lot of airflow, but it may stick to certain types of rugs that don't have much breathing room underneath them.
Hard floor cleaning, noise, and filtration
One significant downside to this vacuum is its performance with debris pickup on hard floors. This is again because of that close-to-the ground floorhead design. It was able to pick up fine debris really well, but it would just push medium to extra large debris around rather than pick it up. It was also a little louder than average in our noise tests.
One last con is that it doesn't have very good filtration. To be fair, almost every cordless vacuum in this price range has the exact same filtration setup.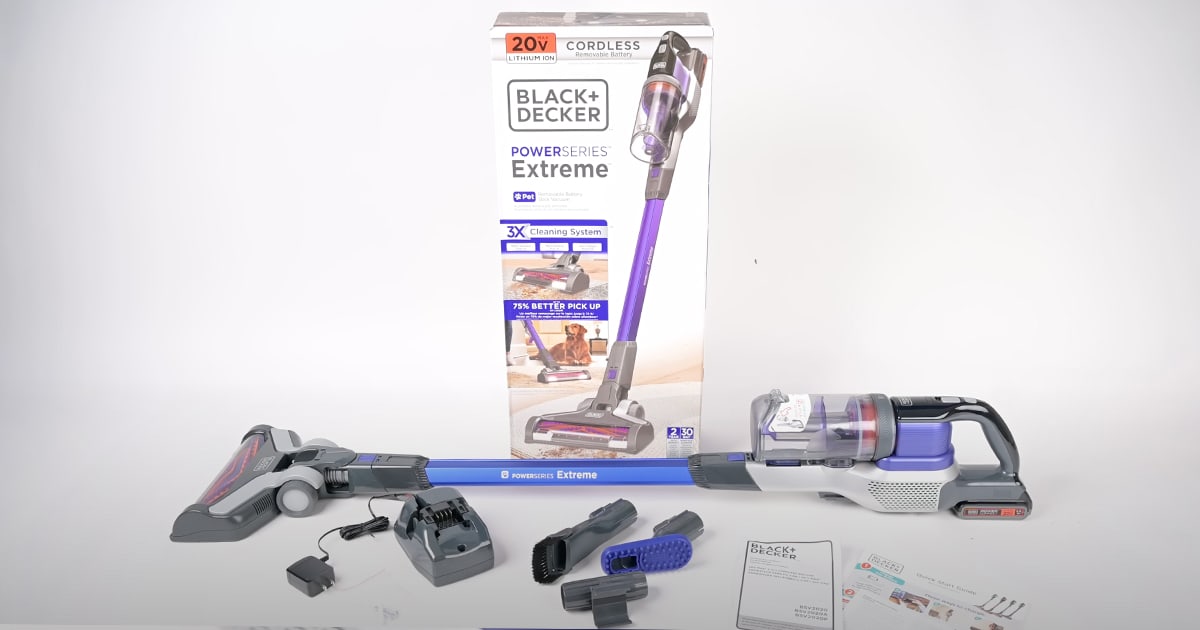 Should you buy the Black+Decker POWERSERIES Extreme cordless vacuum?
After reviewing all the information we have covered in this review and looking at the test footage again, we are actually pretty pleased with the Black+Decker POWERSERIES Extreme for people with carpets. It has great pickup and one of the best scores on carpet deep cleaning we've seen at this price point. Its floorhead design is not great for hard floors however, so if you have mostly hard floors we would pass on this one.
Specs
| | |
| --- | --- |
| Manufacturer | Black+Decker |
| Model | POWERSERIES Extreme Cordless BSV2020G |
| Vacuum type | Cordless upright |
| Converts to handheld | Yes |
| Bin capacity | .69 qt. / .65L |
| Maximum battery life | 55 min |
| Recharge time | 5 hrs. |
| Battery | 2.0Ah, 20V Lithium-Ion |
| Removable battery | Yes |
| Converts to handheld | Yes |
| Weight | 10.3 lbs. |
| Headlights | Yes |
| Warranty | 2 yr. |
The specifications above are from the Black+Decker website and BSV2020G manual.