Welcome to Vacuum Wars and to our Best Shark Upright Vacuum round-up for 2023. We have tested just about every Shark upright out there in the past few years. But with recent additions to Shark's lineup, we thought it was about time to put them all through their paces again and see which ones are the best.
Both of the vacuums that tied for first place are excellent Shark upright vacuums.
Best Shark Upright
Shark Stratos Upright
Best Overall (Tie)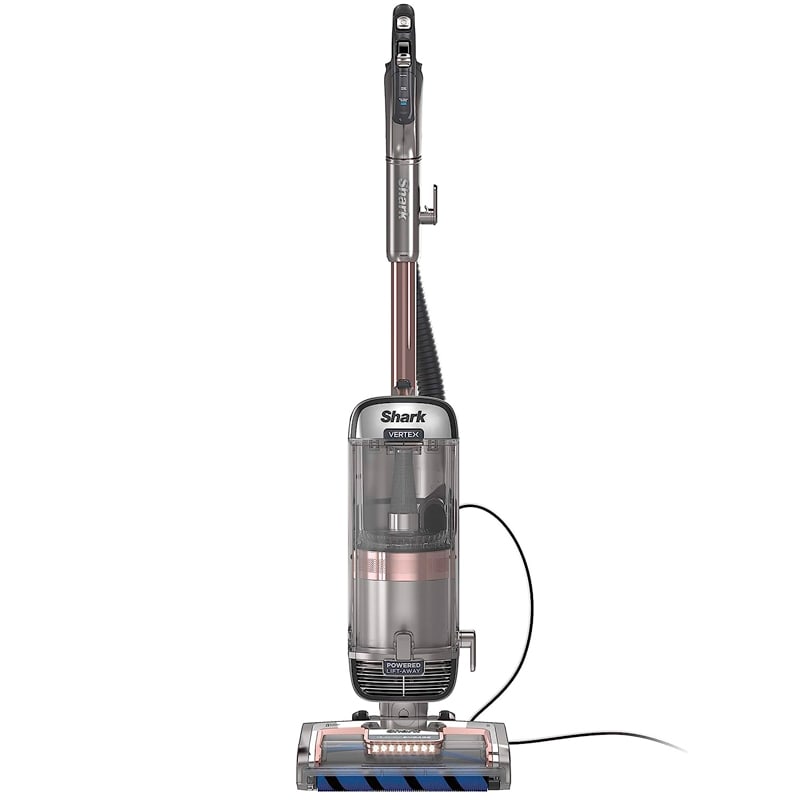 Shark Vertex Upright
Best Overall (Tie)
As the evaluations and testing evolved, we decided to include a total of four Shark upright picks: The best Shark upright overall (the tie above) and two picks for best budget Shark upright: One for homes with mostly hard floors and one for homes with mostly carpeting. We ended up having a tie for first place overall.
Here are the winning budget Shark uprights:
Shark Upright Budget Picks
Shark Rotator ADV
Budget Pick – Hard Floors
Shark Navigator Lift-Away
Budget Pick – Carpet
Shark Stratos AZ3002 (Tie for Best Overall)
The Shark Stratos Upright is the successor to the vacuum it is tied with: the Shark Vertex. The Stratos was released in 2022. The box proudly claims that it has the "strongest suction & best hair pickup of any vacuum." Without a doubt, the Stratos does have a ton of suction. Hair, regardless of length, poses no problem either.
The Stratos description reads like a best-of list of Shark's upright technologies: DuoClean PowerFins HairPro, Powered Lift-Away, and Shark's Anti-Allergen Complete Seal, which includes HEPA filtration. It has LED headlights and is easy to maneuver around with its precise steering.
One of Shark's newer technologies is PowerFins HairPro. The HairPro designation is the new part. It's a self-cleaning brushroll that ensures hair makes it into the dustbin as opposed to becoming wrapped around the brushroll.
We've used and reviewed the Stratos, and it is an exceptionally good upright vacuum. Another Shark upright stood right alongside it, however.
Buy the Shark Stratos: Amazon – Walmart
---
Shark Vertex AZ2002 (Tie for Best Overall)
The Shark Vertex upright effectively tied the Stratos model when all was said and done. The Vertex was Shark's corded flagship upright vacuum until being unseated by the Stratos.
While its successor is newer and has higher specifications in some regards, the Vertex Upright holds its own in a side-by-side comparison. The two uprights have near identical airflow, and while the Stratos narrowly edged out the Vertex in our Carpet Deep Clean test, we find the Vertex a very, very compelling option with nearly the same performance for significantly less money.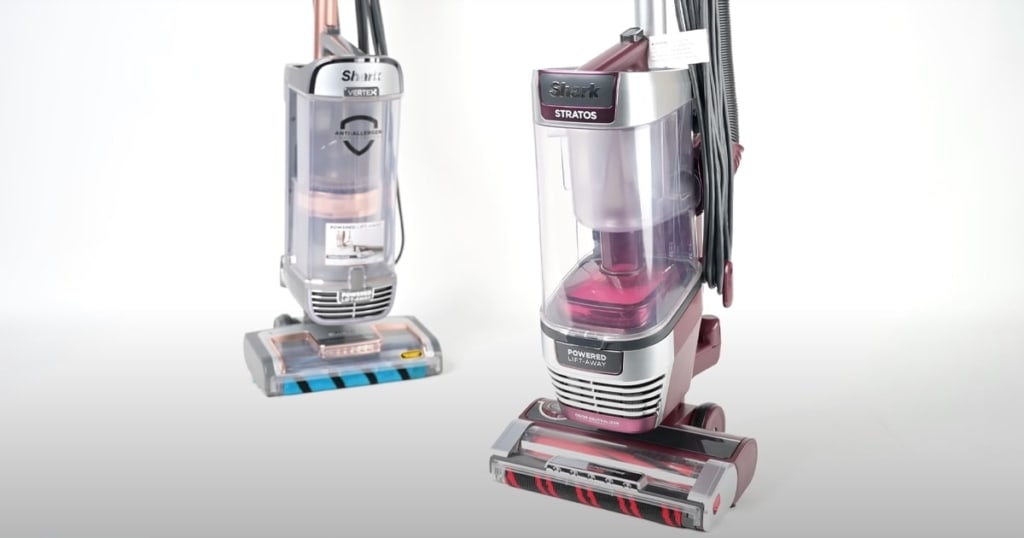 If you were choosing between the two, do check the major differences and price of each. What you're giving up with the Vertex is just a bit of suction power, the latest brushroll design, and the new Odor Neutralizer technology.
Related: See our Shark Vertex Upright Review.
But for a more reasonable price, you still get a nearly as powerful upright with Powered Lift-Away, DuoClean PowerFins, and that HEPA Anti-Allergen Complete Seal.
Like the Stratos, the Vertex has great ergonomics and a predictable swivel that allows you to accurately place the cleaning head right where you want it.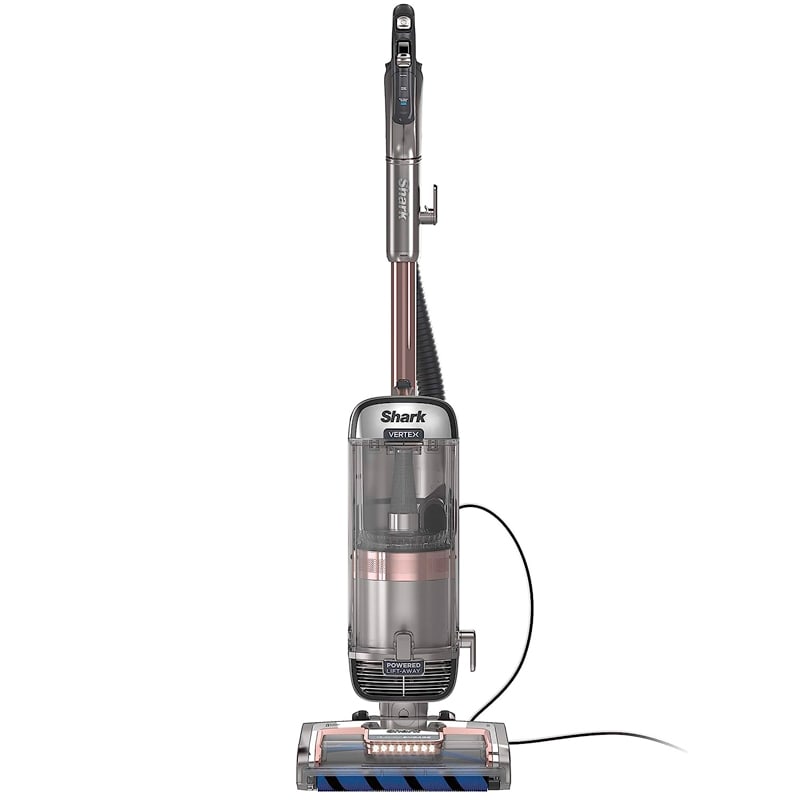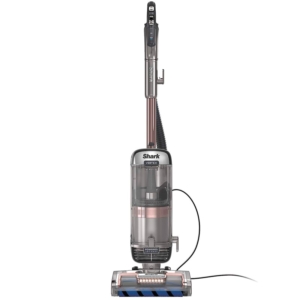 Buy the Shark Vertex: Amazon – Walmart
---
Choosing the best – more about the Stratos and Vertex
Our best overall picks were initially made without taking price into account, and as covered above, there were two Shark uprights that scored a virtual tie: the Shark Stratos Upright and the Shark Vertex Upright.
They really are almost identical with regard to specs and features except that the Stratos has a new Anti-Odor cartridge on the floor nozzle (which we consider minimally helpful). But when you take the current prices of each vacuum into account the Vertex can't be ignored, so we're calling it a tie.
These are two of the best upright vacuums money can buy, and we don't hesitate to recommend them. It's also worth noting that these picks value power over weight as they are two Shark's heaviest upright models.
Shark Rotator Lift-Away ADV LA502
Best Shark Budget Upright – Hard Flooring
If you have mostly hard floors then the no-brainer best value Shark upright is the Shark Rotator ADV LA502. The only downside is that it's not a Powered Lift-Away like the Vertex or Stratos. But, that's not a big deal since it's so much lighter than those two which is one of the reasons we like it so much. Check out our Shark Rotator Review for more details on how it stacks up with the Vertex.
We aren't quoting prices as they fluctuate so much, but you'll be surprised at how affordable both the LA502 and our next pick, the NV352 upright are.
Buy the Shark Rotator: Amazon – Walmart
---
Shark Navigator Lift-Away NV352
Best Shark Budget Upright – Carpeting
The Shark Navigator NV352 is our value pick for homes with mostly carpeting. It's one of the cheapest vacuums on the list and we found it to be more powerful than the other two Navigator Lift-Aways (the 360 and 356e) in various tests.
It's very light and has been around for ten years, fully supported by Shark. You can buy everything from wheels to motors and even a car detailing kit online, which we love to see. The NV352 doesn't have a lot of bells and whistles, like anti-hair wrap technology, LED headlights, or Powered Lift-Away, but if you have mostly carpets we think it'll serve you well for a long time.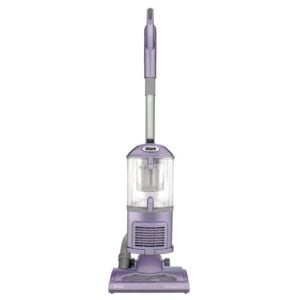 Buy the Shark Navigator: Amazon – Walmart
---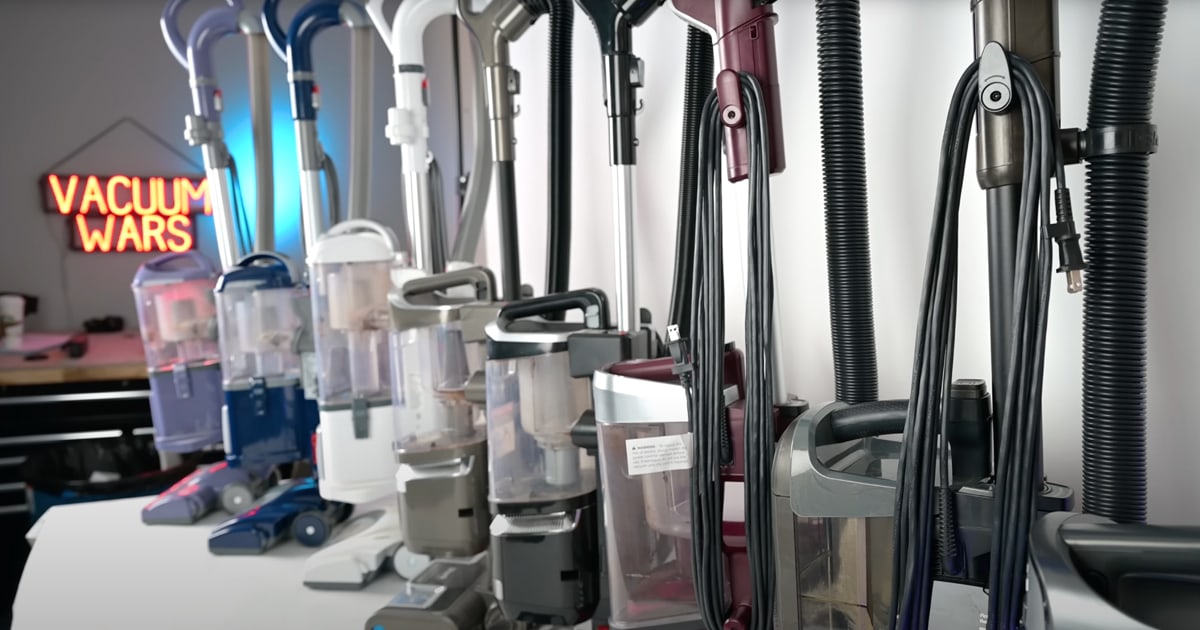 How Vacuum Wars tested and rated these vacuums
Methodology: Finding the Best Shark Upright Vacuum
We took a number of specs, features, and results from our independent testing and put it all into a spreadsheet. Then we weighted the scores for each category. We had no idea which Shark upright would come out on top until every cell in the spreadsheet was filled in.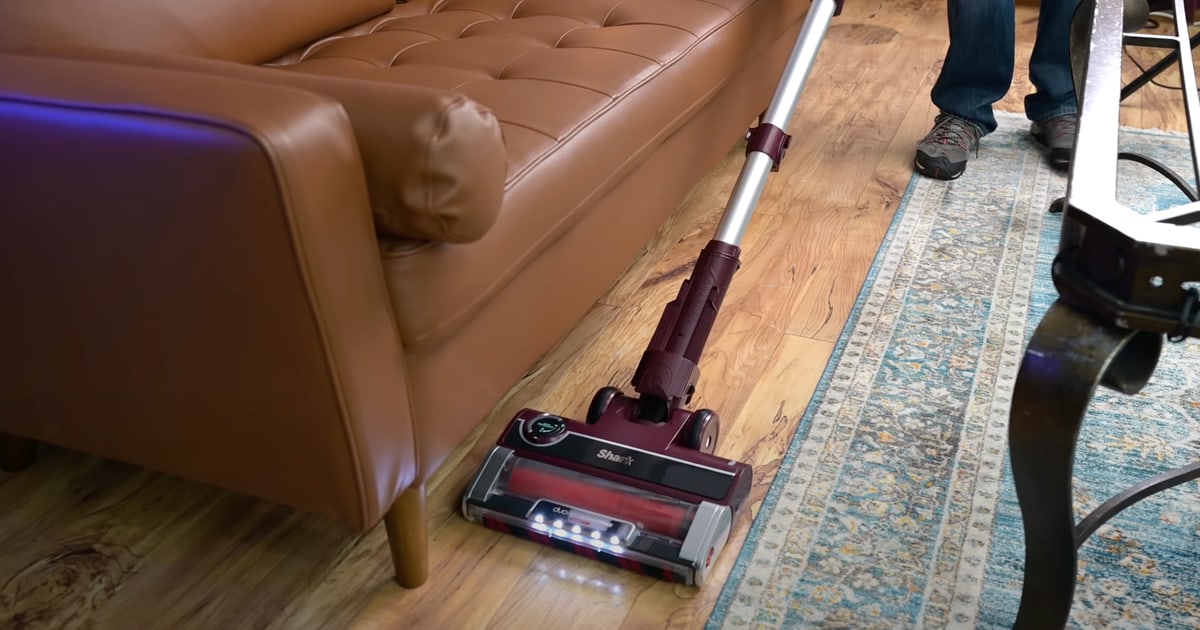 Here's some of the primary factors that we took into account:
Weight
When looking at uprights, one of the most important things to us is weight. The lighter they are the easier they are to push around and the more happy you'll probably be with it. But, there is a trade-off since being lighter usually means having a smaller motor, which means less power.
As we reviewed each Shark upright we found there is a big difference in weight from the lightest Sharks, at around 12 pounds, to the heaviest at 17 pounds.
Shark Powered Lift-Away
Some Shark uprights have what's called Powered Lift-Away. This feature allows you to separate the canister from the rest of the vacuum. The floor nozzle and brush rollers are still powered like a stick vacuum.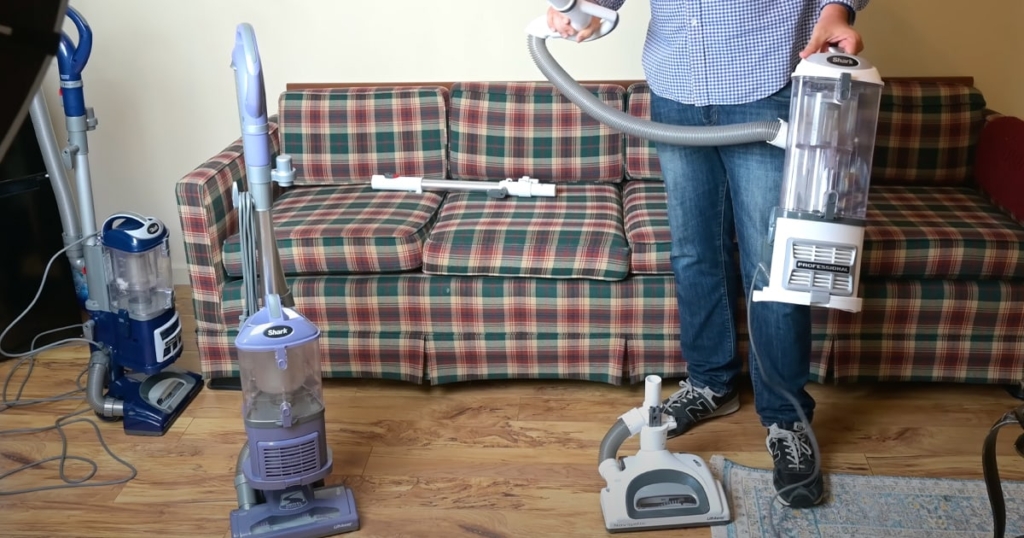 This alleviates a lot of the upright's weight. Powered Lift-Away should not be confused with plain old Lift-Away, which is where you can lift away the canister from the nozzle to make it easy to carry around for above-floor cleaning tasks. This non-powered version of Lift-Away doesn't work like a stick vacuum, however. To put it another way, not all Shark Lift-Aways are Powered Lift-Aways, but all Powered Lift-Aways are also Lift-Aways.
Dust bin size
There was some variation in the size of the dust bins across models. We only weighted this category at a quarter point since they all had better than average capacity. All of Shark's upright bins can be opened at both ends and are really easy to keep clean. This is something we've always liked about Shark uprights.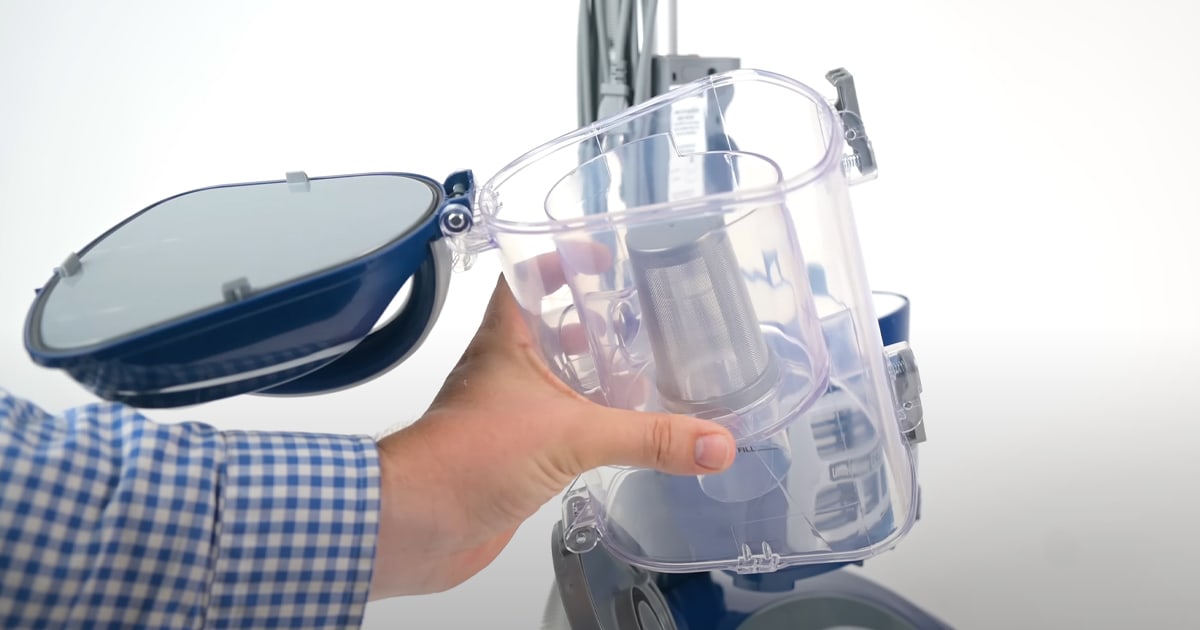 Cord length
Cord length is a little more important to us, and we gave vacuums half a point if they had a 30-foot cord as opposed to the standard 25-foot cord.
Lights on the floorhead
We also gave them half a point if they had LED lights. We really like lights on vacuum floorheads. Being able to see things you might miss translates to cleaner floors in our opinion. It's inexpensive technology and it is surprisingly not found on every vacuum nowadays.
Anti-hair wrap
One of the recent innovations that Shark has helped to pioneer is the anti-hair wrap technologies that are on most of their newer models. It doesn't matter if it's pet hair or human hair, both of which we've extensively tested with great results.
The newer anti-hair wrap systems do seem to be a little better than their older style, like the Zero M type. But they all do the job better than any comparable system and when compared to old-style brushrolls, it's no contest.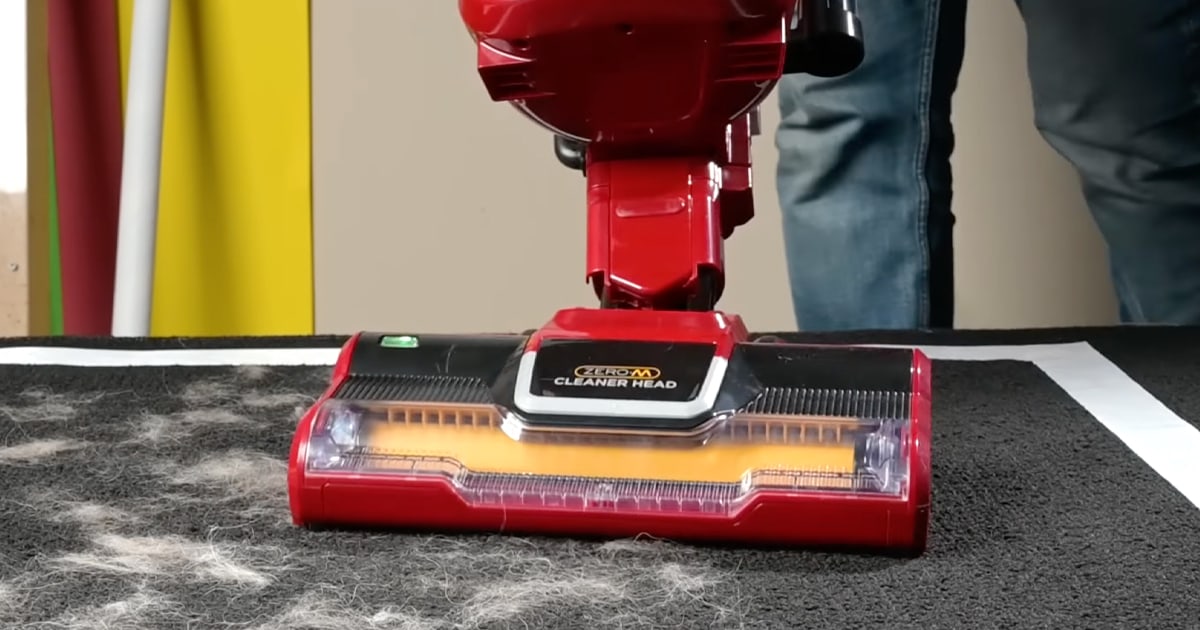 We gave them one point each if they had some version of an anti-hair wrap system and zero points if they did not.
Suction power
Another big metric is power. This is something we measure in a lot of different ways, such as airflow at the hose and head, sealed suction at the hose, and unsealed suction at the head.
We found that our results more or less matched up with the official wattage and amp specs given by Shark with some minor exceptions. For example, the Shark Stratos is a little more powerful on paper than the Vertex where wattage is concerned, but we found that they were really similar with metrics like suction.
The Vertex may have even had a little edge over the Stratos, but it really was too close to call.
Power is especially important if you have a lot of carpets because it helps to get deep down, embedded dirt in carpets. Suction power is also important for above-floor cleaning jobs where you'll be using the hose and attachments a lot. But for hard floors, power is a lot less important, especially if you get an upright model with Shark's patented DuoClean nozzle.
Shark DuoClean technology
The DuoClean head is probably our favorite vacuum head in the industry. It combines a soft roller up front with a more-or-less traditional roller in the back. The soft roller system creates a near-perfect seal for things like hard floors and crevices. It's also really good for fine debris and basically dusting hard floors.
Ironically, it is one of the best vacuum systems for large debris on hard floors as well. We often say, "to touch it is to vacuum it," with these soft roller systems, and while some competing brands do have soft roller heads, they are exclusively for hard floors. You can't use them on carpets so you have to physically change the entire floorhead if you come to a rug or patch of carpet.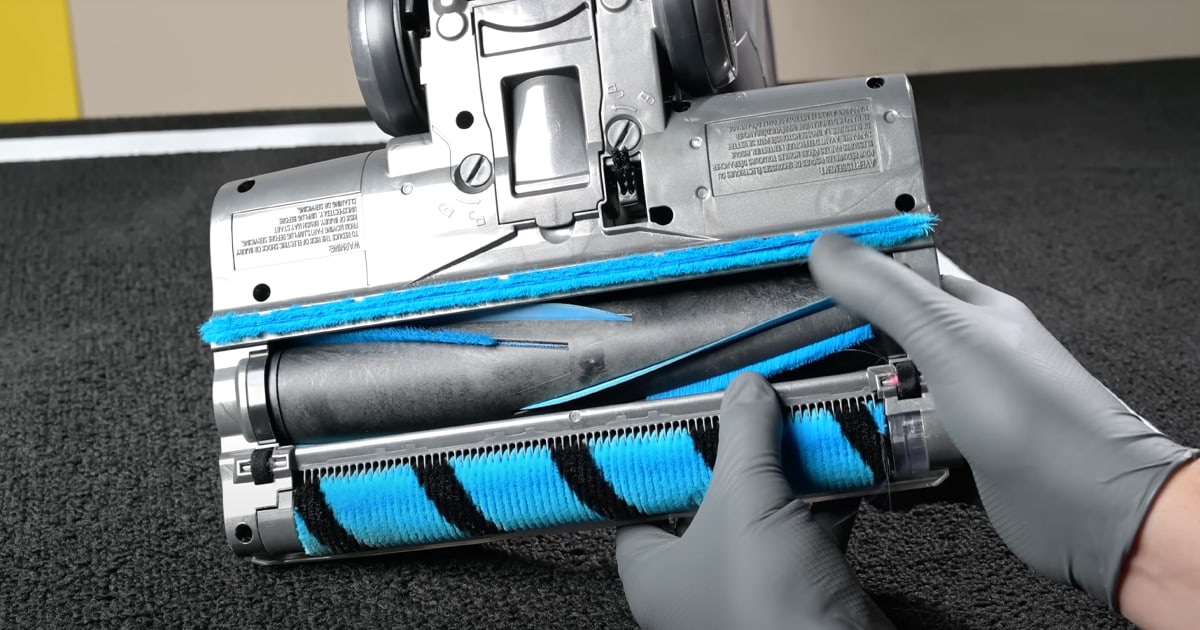 With a DuoClean-equipped Shark upright you just keep vacuuming through those transitions, though most of them do have some kind of switch on the handle to modify the brush speed to maximize effectiveness on carpets.
Attachments and accessories
We did take into account the attachment set each upright came with. But we only made two categories. One is a premium attachment set and the second is a standard attachment set. The premium sets typically had a mini-powered brush of some kind or some other specialty tool in addition to a crevice or upholstery tool, or brush tool.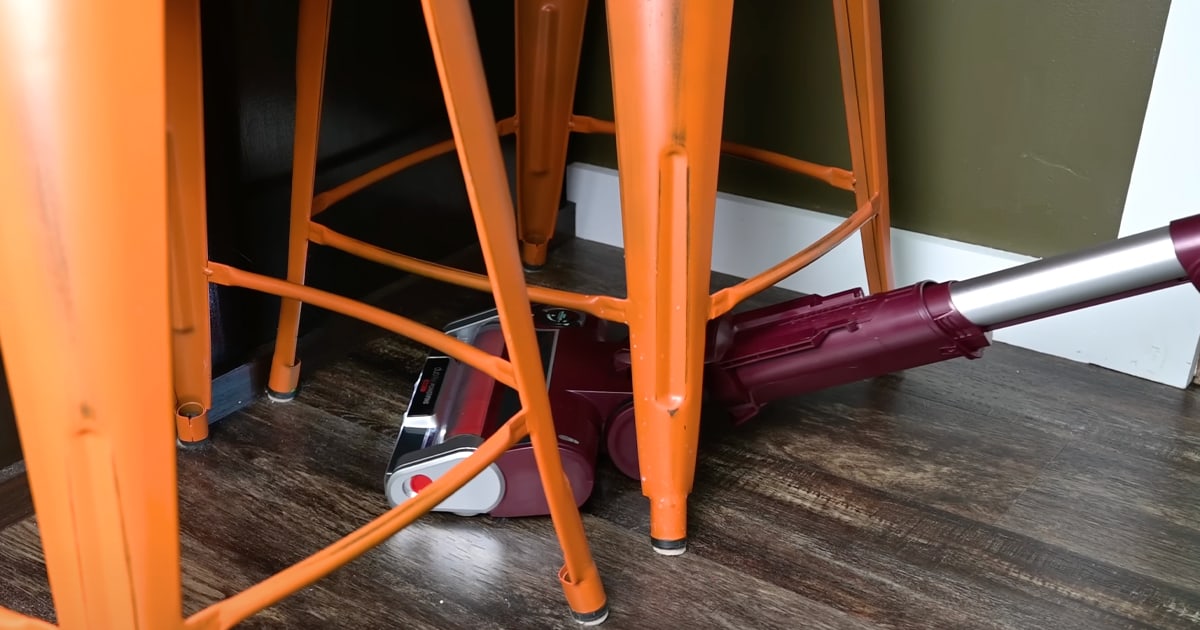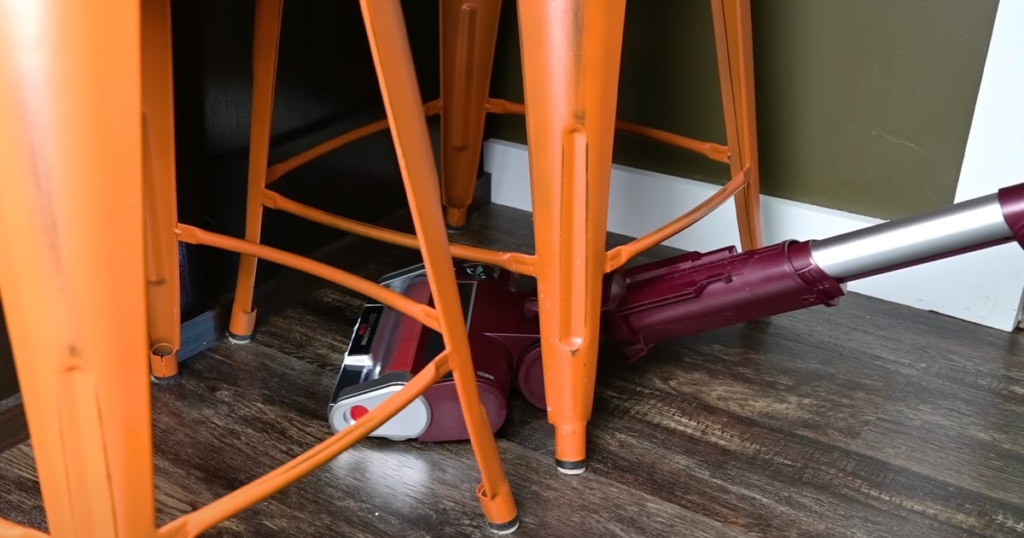 HEPA filtration, sealed systems
We didn't score filtration though it is one of the best things about Shark upright vacuums. The reason why we didn't score it is that all the Shark uprights listed here are sealed systems with HEPA filters. This is as good as it gets and that's not at all common in the vacuum world.
Vacuum Wars has done videos in the past showing why we think a well-sealed system is a big issue. The bottom line is that good vacuums have a sealed system and bad vacuums do not.
Price
Of course, we took price into account. We negatively scored a vacuum based on how expensive they were relative to all the Shark uprights tested.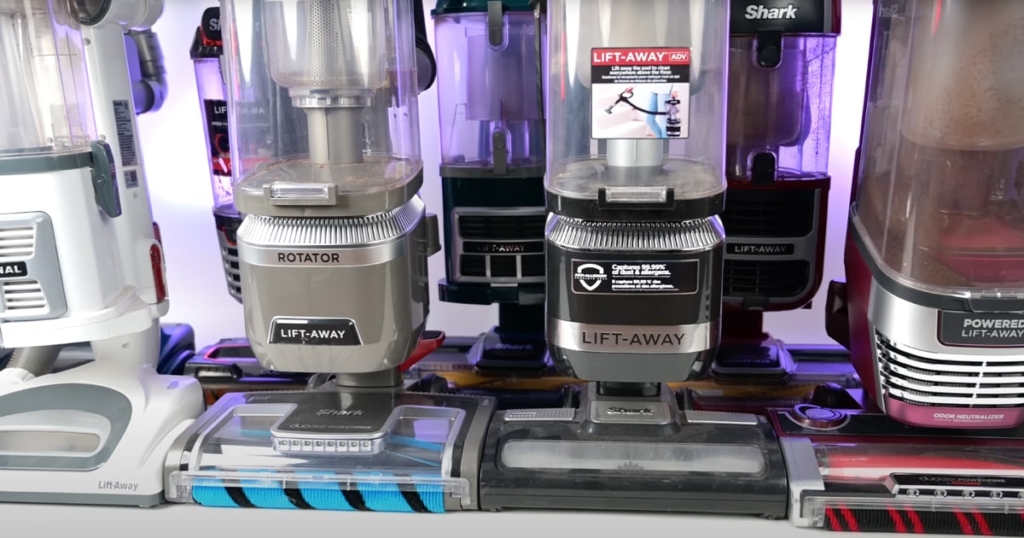 The final word
Shark makes some of the best upright vacuums on the market today. Looking over all the options they offer can be a bit daunting. And, that's why we set out on this journey to find the best Shark uprights. We hope you found our results helpful!