Welcome to Vacuum Wars and to our review of the brand new Shark Detect Pro cordless vacuum. We think it's one of Shark's most innovative and interesting stick vacuum releases in recent years.
After putting it through all kinds of tests over the past few weeks, we believe it may be one of our favorite cordless vacuums yet. However, it's not for everyone. In this article, we'll go over all the pros and cons of the Shark Detect Pro.
Shark's Latest Cordless Delivers
Summary
This vacuum is impressively lightweight and packed with innovative features, notably the new Shark QuadClean floor head which might even outshine the DuoClean. Plus, it's offered at a truly competitive price.
Performance -

8.8/10

Features -

8.8/10

Value -

9.4/10

Ergonomics -

9.3/10
Pros
Great Performance
Scored Well in Our Tests
Lightweight
Price
Cons
Small Dustbin
Limited Accessories
About the Detect Pro Cordless
The Shark Cordless Detect Pro comes in at least two different packages. The one we bought just had the vacuum cleaner itself, one attachment, and a clip for storage.
However, there's also a package that comes with an auto-empty station. That model is called the Shark Cordless Detect Pro Auto-Empty System. It is also the one we have linked to. It appears to be the same vacuum, just with the additional stand which also empties the vacuum's dustbin, much like the Samsung Bespoke Jet (review).
Specs
| | |
| --- | --- |
| Vacuum Type | Cordless Stick |
| Suction | 120 AW |
| Cleaning Path Width | 10.4 in. |
| Bin Capacity | .44 qts. |
| Bagless | Yes |
| Converts to Handheld | Yes |
| Filter | HEPA |
| Maximum Battery Life | 40 min. |
| Battery | Lithium Ion |
| Motor | 240W / 15A |
| Switchable Battery | Yes |
| Converts to Handheld | Yes |
| Headlight | Yes |
| Vacuum L x W x H | 13.9″ x 10.4″ x 43″ |
| Vacuum Weight | 6 lbs. |
| Warranty | 2 yr. |
Shark Cordless Detect Pro specifications.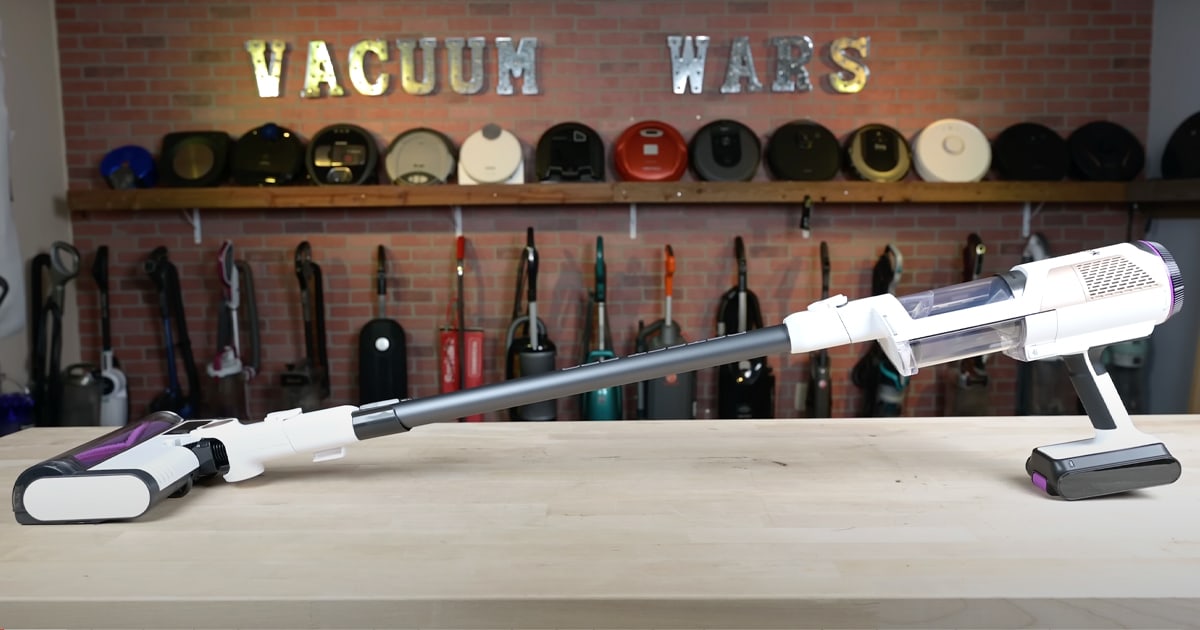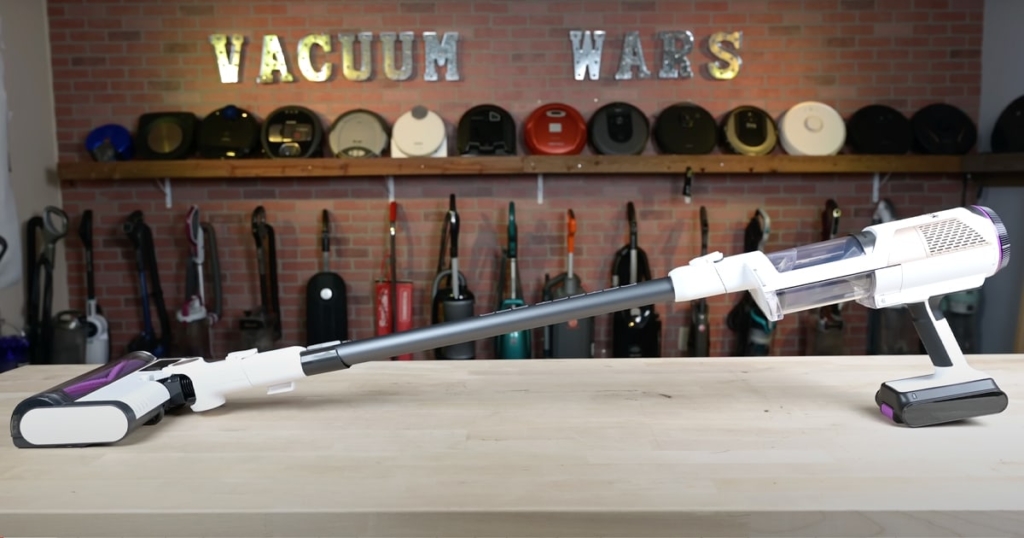 In the box
Shark Cordless Detect Pro cordless vacuum
Removable Battery
Storage Clip
Accessories (dependent upon where you buy)
Manual and warranty
Pros
Lightweight
The first pro that we noticed was the weight and feel of the handle, which we measured at just under 1,200 grams. This is incredibly light, around 30% lighter than the typical Shark cordless stick vacuum, and almost half the weight of the new Dyson Gen5detect. This difference in weight is indeed noticeable.
It's one of the lightest cordless stick vacuums we've ever tried, and it's brimming with practical technology.
Floorhead Design
The floor head showcases a new design, aimed in part at reducing the vacuum's overall weight. Its swivel was responsive, and it felt well-balanced in use. In our experience, it was one of the easiest-to-use cordless stick vacuums.
Pickup Ability
The new floor head design is unique, bridging the gap between a soft roller and a regular roller. It features an extra-tall front gate for large debris to easily pass through.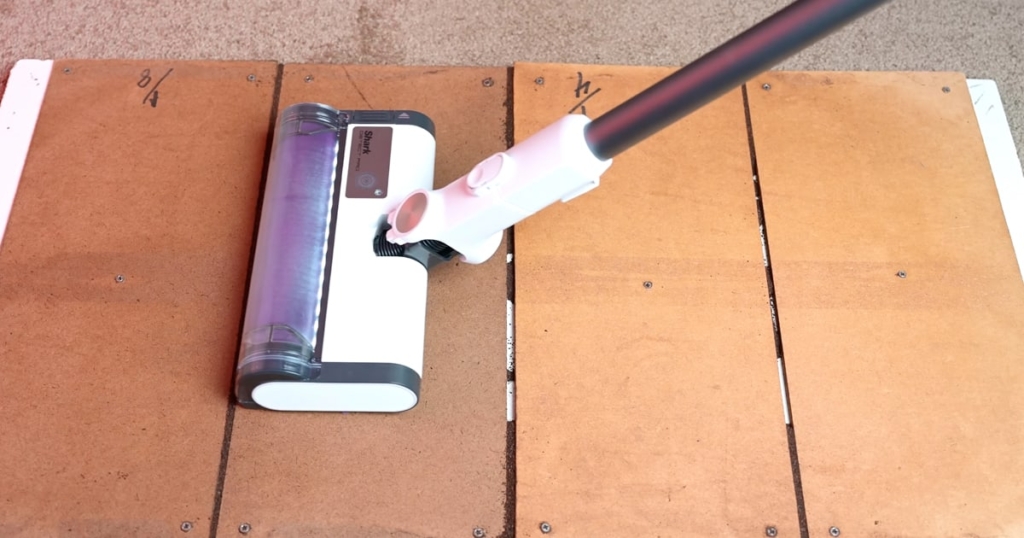 Shark badged the new cleaning head QuadClean, a nod to its predecessor, the DuoClean. And, like DuoClean models that came before it like the Vertex Pro Cordless and Stratos Cordless, the Cordless Detect Pro excels as a vacuum cleaner on hard floors.
We tested it with debris of all sizes including sand, various sizes of cereal and kitty liter. The Cordless Detect Pro efficiently picks up fine debris and pet hair and can also manage larger debris with ease. The same performance was observed on carpets.
It performed really well in our Crevice Pickup and Carpet Deep Clean tests. In the
Anti-Hair Tangle
The vacuum incorporates Shark's anti-hair tangle system—little combs that actively remove hair from the roller during operation. In our tests, using both 7-inch and 14-inch hair samples, the system worked nearly flawlessly.
Detect Features
Automatically adjusting cordless vacuums have grown in popularity recently. These devices optimize battery life and performance. Dyson has been at the forefront of this with the V15 Detect and V12 Detect models being two of their more popular models.
However, the Shark Detect Pro is unique, as it's the first one we've seen to utilize both a particle counter and a floor type detection system. This system adjusts both suction and brush speed, which is a first in our experience.
Wall Sensors
Shark has also embedded sensors on both sides of the floor head to detect proximity to walls. When close to a wall, the vacuum boosts its suction power, enhancing edge cleaning.
With its automatic suction and brushroll speed adjustment technology and edge detection the Cordless Detect Pro truly justifies the "Detect" in its name.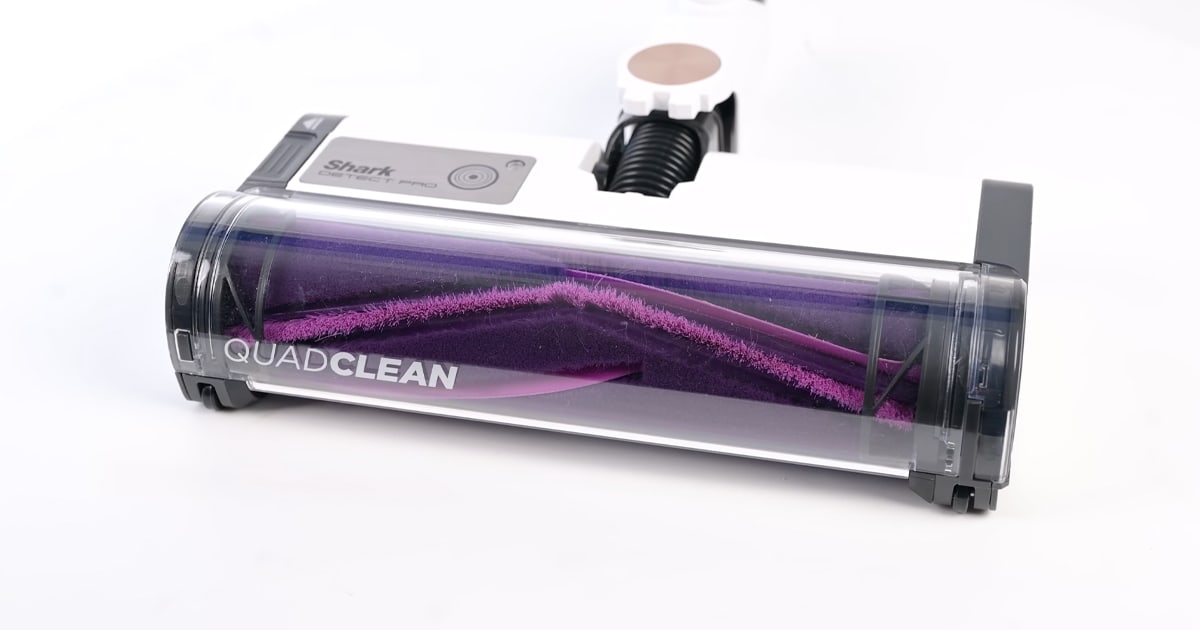 HEPA Filtration
Shark's complete seal HEPA filtration technology ensures that what's vacuumed up doesn't leak back into the environment. It's a significant feature, especially given its price point.
Display
LED rings located on the back of the handle illuminate when high amounts of debris are detected. These rings change color as areas are cleaned.
An easily detachable battery is included, and we anticipate that Shark will offer replacement batteries on their website in the future.
Price
While the Shark Detect Pro is not a budget vacuum, its price is approximately half of what one might expect to pay for a typical Dyson. If you can work with the limitations mentioned later in this review, we believe it offers tremendous value.
Cons
Moving on to potential downsides, battery life might be a concern for some.
Battery Life
Shark claims a 40-minute runtime on low power, which is slightly below average. On max power mode, we recorded just under 15 minutes of runtime. If you're utilizing the vacuum in its Detect mode, which auto-adjusts power levels, you'll get a runtime that falls between these two extremes.
Dustbin Capacity
Due to its lightweight design, the vacuum has a smaller dustbin capacity, which is around 330 milliliters. This is somewhat below average but is consistent with other Shark cordless stick vacuums.
Power
In terms of raw power metrics, the Detect Pro was below average in several of our tests. However, this did not negatively impact its pickup ability or deep clean scores. So, while power is down, cleaning ability was not.
Attachments
The version we purchased came only with a crevice tool. Given its lightweight design and ease of use, we were hoping for additional attachments like a dusting brush or upholstery tool. Some of these might be available in the version packaged with the auto-empty station.
Additionally, even though the vacuum has LED lights on the floor head, their placement on the top doesn't significantly aid in illuminating debris.
Our Conclusion
In conclusion, we're genuinely excited about this vacuum. It's one of the lightest cordless stick vacuums we've ever tried, and it's brimming with practical technology. The new Shark floor head design is a standout feature, possibly even surpassing the DuoClean head.
And, all of this is available at what we consider a very competitive price for a vacuum cleaner with this set of features.
The Shark Detect Pro Cordless is available online, including at the retailer(s) below.