Welcome to the Vacuum Wars review of the Roborock S8 Pro Ultra robot vacuum! It's the latest flagship product from Roborock and it could be considered the most advanced robot vacuum ever released. We put it through a lot of tests over the past couple of weeks and in this review, we'll go over all the pros and cons.
Roborock's Flagship Impresses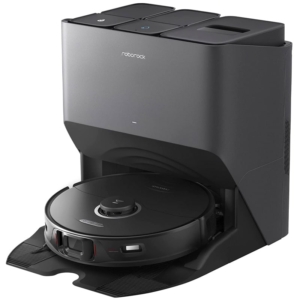 Verdict
The Roborock S8 Pro Ultra is one of the most feature-rich robot vacuum and mop combinations available. In our tests, it was excellent at debris pickup on all surfaces as well as with its mopping abilities. The new RockDock Ultra is impressive, taking most maintenance tasks that other robots rely on their owners for. When all our test results were in the S8 Pro Ultra earned the highest marks we've seen to date.
Pros
Excellent debris pickup
Improved mopping capabilities
Fast, accurate mapping & navigation
New RockDock Ultra
Cons
Expensive
Deep carpet cleaning
About the Roborock S8 Pro Ultra
There are a few different ways the Roborock S8 can be purchased. The Roborock S8 is the robot vacuum which comes with a standard charger. The S8 Plus version comes with an auto-empty dustbin and the S8 Pro Ultra version comes with the RockDock Ultra, which is an auto-empty dustbin and an auto-mopping dock, which we'll talk about later.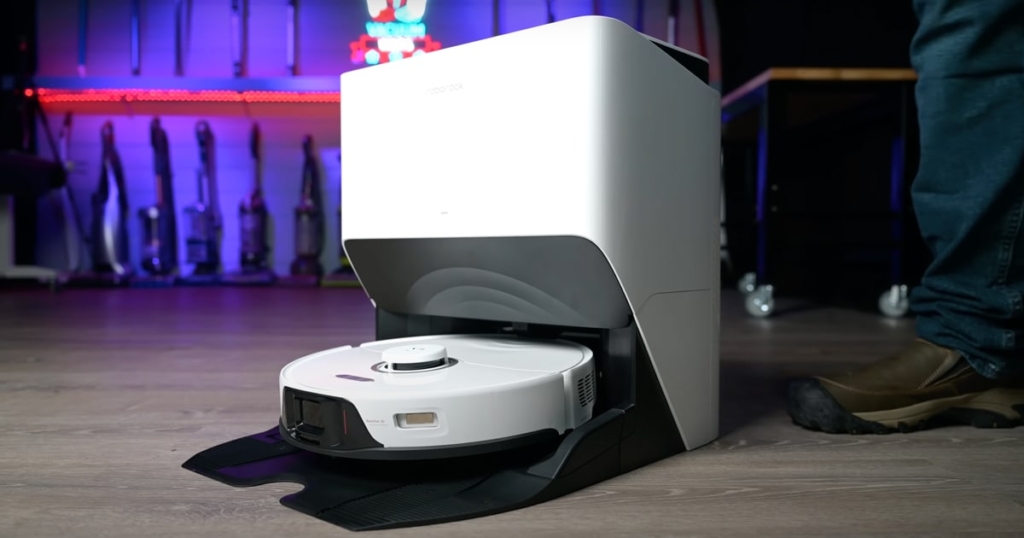 Which dock each ships with isn't where the differences end. We noticed, for instance, that the brushroll being used on the S8 and S8+ is similar to the Pro Ultras, but not the same. We'll get to that later, too.
Roborocks Flagship
The S8 Pro Ultra takes flagship robot vacuum and mop status, as it is the most technologically advanced Roborock robot vacuum available today. That previous flagship was the S7 MaxV Ultra (read our review), and the S8 Pro Ultra has every feature that model has and more.
Pros
Debris Pickup on Hard Floors and Carpet
As far as debris pickup is concerned, the S8 is a good robot vacuum. In our various tests, it excelled at pickup on both hard floors and carpets. We always find ourselves complementing Roborocks in particular with their sweeping ability, and the S8 Pro Ultra was no exception. It picks up various types and sizes of debris on both surface types with no issues. It also excelled in its mopping capabilities with all of its many mopping-related features.
In our new navigation tests, where we run robot vacuums several times on a fixed floor plan on different modes and different power settings, the Roborock S8 Pro Ultra was the most efficient robot vacuum of any other flagship robot we've tested…
Mopping Features
Roborock has introduced a new VibraRise 2.0 system with the S8. The new system vibrates at two points instead of one on the mop pad for enhanced scrubbing intensity. This improvement was evident in both our dried-on mopping tests and wet mopping tests, where it delivered some of the best results we've seen so far.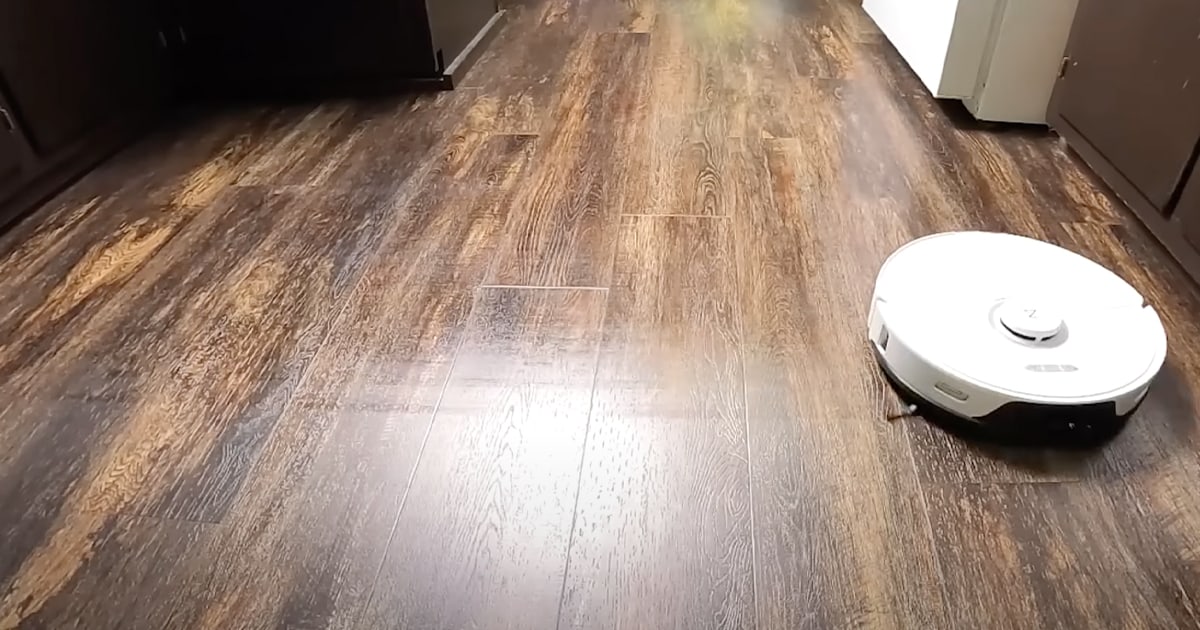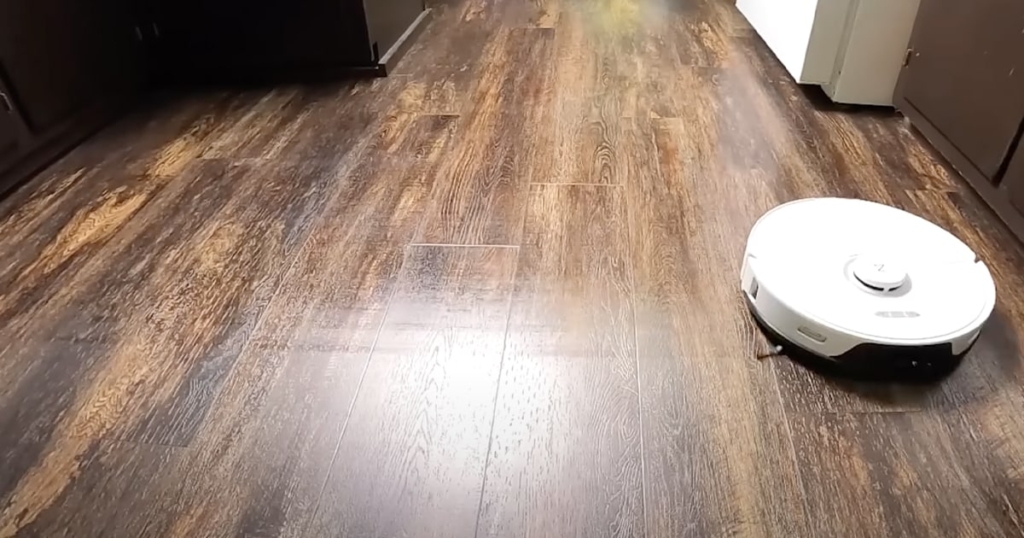 Also, the S8 Pro Ultra is one of the few robot vacuums on the market with a mop pad that automatically raises when it senses carpet. This feature enables it to vacuum and mop homes with a mix of hard floors and carpets in just one run, which is a significant game-changer in the industry.
We tested its mop-raising capability on both high-pile and low-pile carpets and aside from occasionally getting the edges of carpets wet because it would try to cover both surface types at the same time, the S8 Pro Ultra was otherwise flawless with keeping carpets and rugs dry when raising its mop pad.
One new mopping feature in the app is that you can now choose which way the floors in your home lay so that it will mop with the grain to reduce streaks. This is something we've been wondering about for ages, and the S8 is the only robot vacuum we know of that has this feature.
RockDock Ultra Dock
The rest of its mopping features have to do with its newly designed dock. Roborock has named it the RockDock Ultra. It's still an auto-empty dock that empties the contents of the robot's dustbin automatically, and it still automatically washes the S8's mop pad and refills and empties its mop tank, which is the pinnacle of automated floor care systems. But, the new dock comes standard with an auto mop pad drying system, in which over the course of hours, it dries the mop pad, which makes it much more sanitary.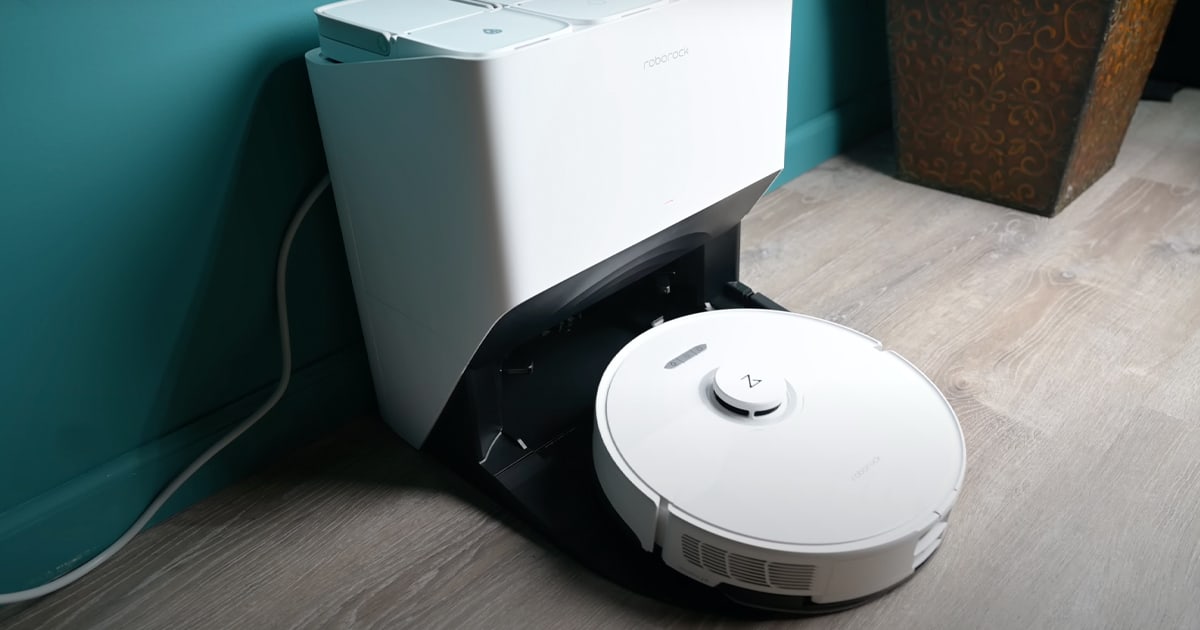 So, the full feature list for the S8 Pro Ultra with the new dock is that it is self-emptying, self-washing, self-drying, self-refilling, and self-cleaning.
Another Robot with an Advanced Dock
There is one other robot on the market we've tested which has the same feature list as the S8 Pro Ultra's dock. That robot is the Ecovacs Deebot X1 Omni (learn more).
Navigation and Obstacle Avoidance
Moving on to its navigation and obstacle avoidance sensors, Roborock is one of the best in the business when it comes to navigating around your house, and that seems to only have gotten better with the S8.
In our new navigation tests, where we run robot vacuums several times on a fixed floor plan on different modes and different power settings, the Roborock S8 Pro Ultra was the most efficient robot vacuum of any other flagship robot we've tested, including the previous S7 MaxV Ultra.
It was also extremely good with its overall coverage. Its fast mapping system was also amazing, creating a map of the floor plan in only four minutes, faster than any previous robot we've tested.
There was a big change with the obstacle avoidance sensors from the S7 MaxV Ultra to the S8 Pro Ultra because they left out the camera on the new S8. Instead, it relies on structured light and infrared images to help it see and avoid obstacles. We believe this was done in part to ease the mind of customers who expressed security concerns about cameras on robot vacuums. In any case, we found that it didn't affect the obstacle avoidance performance much, if at all.
In our new standardized tests, it scored a 9 out of 12, which is a little better than the previous Roborock S7 MaxV Ultra, and it's tied for the best score we've seen so far. We always say that obstacle avoidance sensors are not yet perfect, but they are certainly better than not having it as a feature.
App and Map Features
The app and map features are very extensive. There are lots of extras like no-go lines, room select, zone cleaning, and a huge amount of specialized scheduling features where you can program it to clean some rooms with different power or mop settings.
One notable new feature is that the app will suggest locations for no-go zones when it discovers areas that might cause it trouble. It has 3D maps and multi-floor maps, and you can adjust the frequency of the mop pad cleaning or auto-empty behavior. As far as apps go, Roborocks is just a master class in features and customization.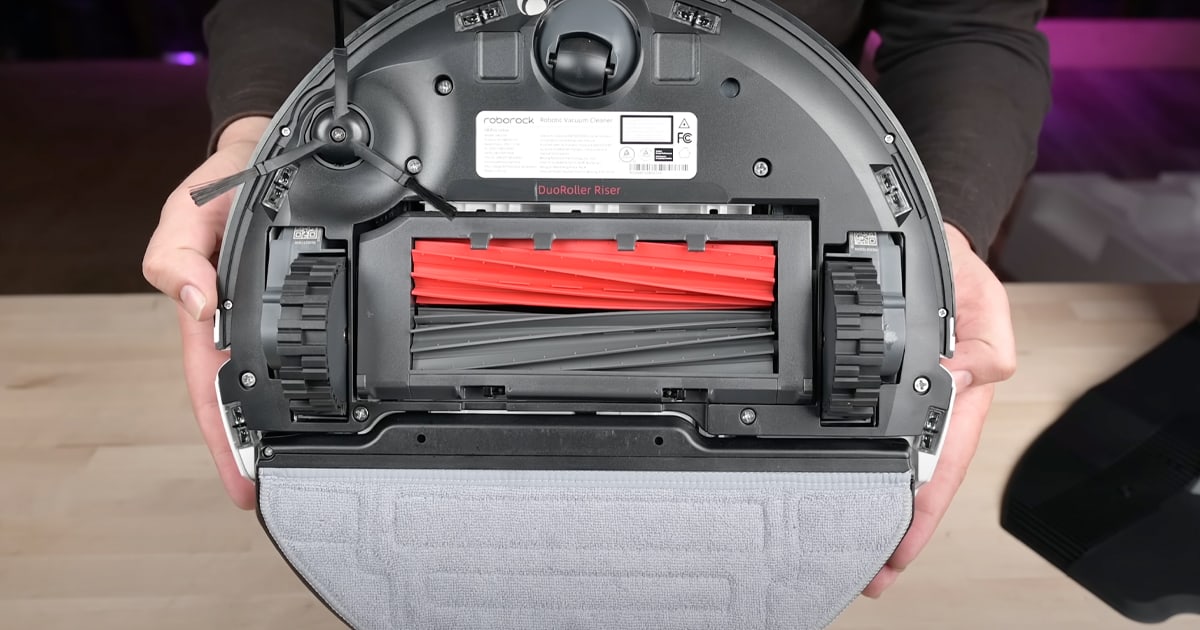 Lifting Dual Brushrolls
One highly anticipated feature of the S8 Pro Ultra is its dual brush roll design called DuoRoller Riser Brush. iRobot has had a patent on this two-brush concept for 20 years that ended not coincidentally around the release date of the Roborock S8 Pro. It's supposed to help with vacuuming carpets and preventing hair tangles. In our opinion, it's just kind of anti-climactic.
Roborock also notes that both the brushroll assembly and, as mentioned earlier, the mopping assembly raise depending on what the S8 is doing. The table below shows the conditions when each is in its lifted position.
| | Brush Lifted | Mop Lifted |
| --- | --- | --- |
| Vacuum Only | | Yes |
| Mop Only | Yes | |
| Carpet Cleaning | | Yes |
| Returning to Dock | Yes | Yes |
| Mop Drying | | Yes |
S8 Pro Ultra brush and mop lift conditions.
While on Roborock's website, we noticed that the S8 and S8+ do not seem to have the same brushroll as the S8 Pro Ultra. While the S8 Pro Ultra calls the new brushroll the DuoRoller Riser Brush, the S8 and the S8+ simply call it the DuoRoller Brush and there is no mention of it being able to lift.
Cons
As with any product, it can't all be good. Here are the things we think could be improved.
Carpet Deep Cleaning
We were really hoping that the dual brush roll system would translate to better carpet deep cleaning scores, but in the deep clean test that we do where we embed sand into medium pile carpet, it wasn't all that impressive. It was above average, but nothing to write home about, and even less than the Roborock S7 MaxV Ultra.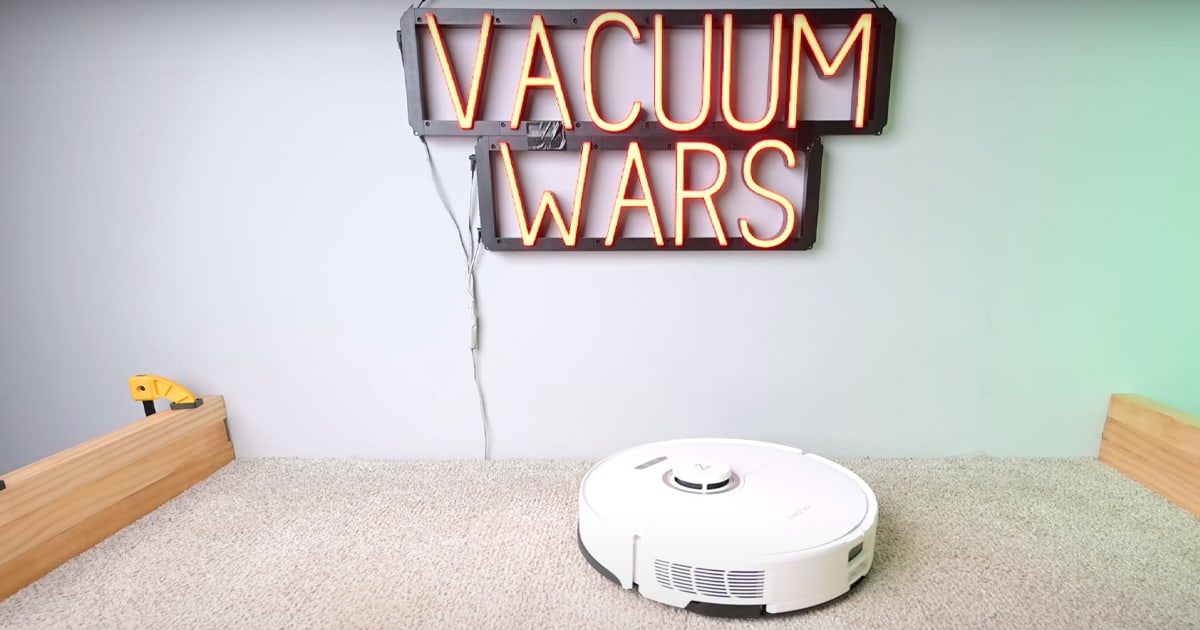 Power
Though this could possibly be explained by it seemingly having lower power than the S7 MaxV Ultra. We tested suction and airflow and it seemed kind of low on both. It was also pretty bad with the crevice pickup test, not even as good as previous Roborocks, which we don't really have a good explanation for other than it having lower power or possibly because of operator error on our part.
Battery Life
Another thing is that while it has one of the best battery specs in the industry, using a large 5200 milliamp-hour battery rated at 180 minutes per charge on low power, it was slightly less efficient than previous Roborocks in our tests. Though we still calculated its range at a little over 1200 feet per charge, which is a huge amount.
Our Conclusion
So, despite its mildly disappointing carpet deep clean scores, its other features and general performance were enough to recognize it as the best robot vacuum yet in our new robot vacuum scoring system. It's by far the best and most advanced mopping system on the market. It has all the possible features and upgrades that you would expect from a robot vacuum in this premium price range.
Roborock S8 Pro Ultra Specs
| | |
| --- | --- |
| Vacuum type | Robot vacuum & mop |
| Self-emptying | Yes |
| Self-refilling (mop tank) | Yes |
| Mop cleaning | Yes |
| Mop drying | Yes |
| Obstacle avoidance | Yes |
| Navigation | LiDAR |
| Suction | 6000 Pa |
| Max run time | 180 min |
| Robot dimensions | 13.9" x 13.8" x 3.8" |
| Dock dimensions | 16.8" x 20.2" x 17.7" |
| Colors | White, black |
| Battery Type | Lithium Ion |
| Battery Size | 5200mAh |
Roborock S8 Pro Ultra Specifications