In this robot vacuum competition, we're putting two premium 2-in-1 robot vacuum and mop combos up against one another, the Roborock S7 MaxV Ultra and the Ecovacs Deebot X1 Omni.
About the S7 MaxV Ultra and Deebot X1 Omni
These two flagship robot vacuums are arguably the two most advanced and feature-rich robot vacuums on the market today. They both have AI obstacle avoidance and auto-empty bins that both fill their water tanks and clean their mopping pads. They both have top-of-the-line suction specs and just about every app and navigation feature you could want in a modern robot vacuum.
We put them both through extensive testing over a period of several weeks, and now we're ready to reveal which of these robot vacuums is our favorite.
Roborock S7 MaxV Ultra vs Ecovacs Deebot X1 Omni
As we said above, we performed a number of tests on each robot to see how they stacked up. Below we'll cover how each robot fared in those tests as well as key measurements we took that directly relate to cleaning performance.
Vacuuming performance tests
With vacuuming performance, both the S7 MaxV and X1 Omni were better than average on both carpet and hard floors. This isn't a surprise, but is something we expect of robot vacuums in this price range.
So which of these do we think is best? First, these are both really good products, but in the end, we chose the Roborock S7 MaxV Ultra. It is a better system overall when compared with the Ecovacs X1 Omni.
Debris pickup
To gauge their ability with various-sized debris, we tasked them both with cleaning up the same type and size of debris on carpet and hard flooring to see how they do. Between the two, the X1 Omni did seem to consistently struggle a bit more with larger-sized debris than the S7 MaxV, specifically in the pickup torture tests.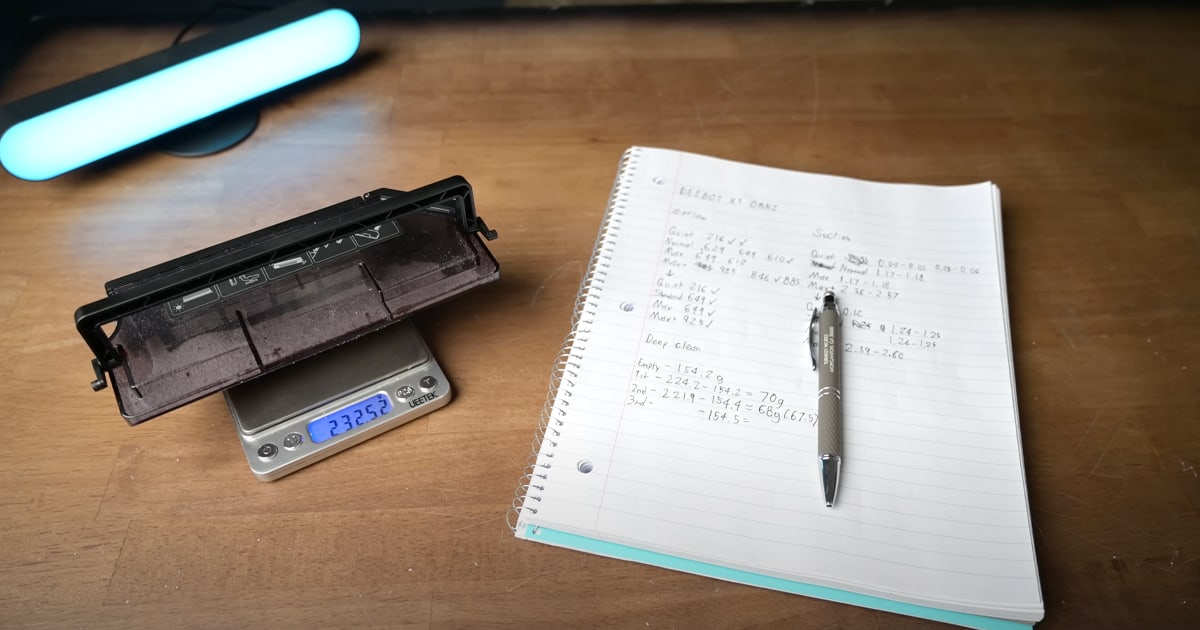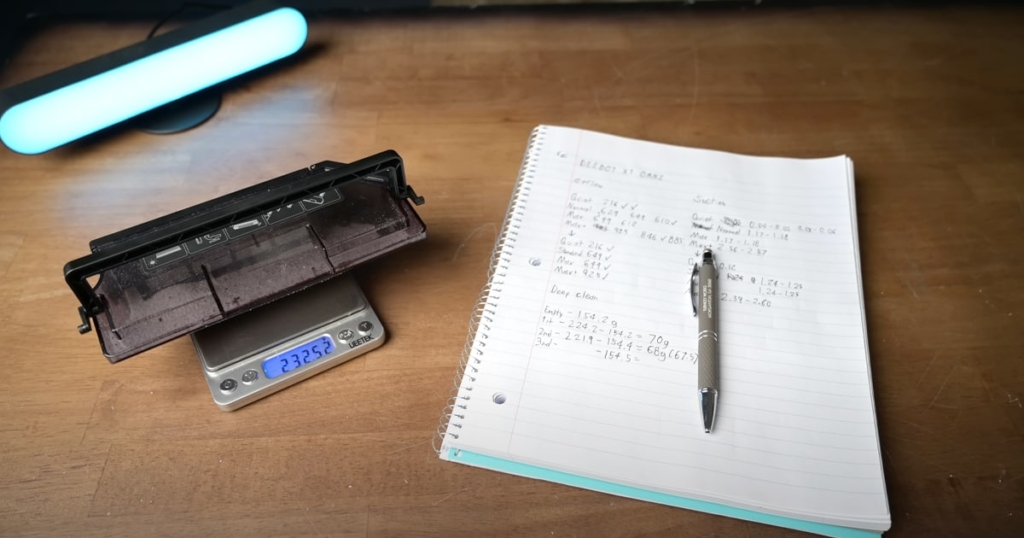 The debris that challenged the Deebot X1 Omni was larger cereal. Up until that torture test, both performed equally well with fine to medium-sized debris. Generally speaking, both robots performed very well with debris pickup.
Carpet deep clean test
In our carpet deep clean test we embed sand into medium pile carpet and weigh the dustbins of the vacuums we are testing before and after a five-minute cleaning run. The goal here is to see which robot can vacuum up more sand.
Both performed well above average in this test too, but the Roborock S7 MaxV was better. In fact, it posted the highest score we've seen to date from a robot vacuum that can also mop.
Suction
In our power tests, the Deebot X1 was the winner. Both robot vacuums claimed to have huge amounts of suction–almost double the amount of premium robot vacuum models that came before them. The official specs from the manufacturers are 5100Pa for the Roborock S7 MaxV and 5000Pa for the Deebot X1 Omni.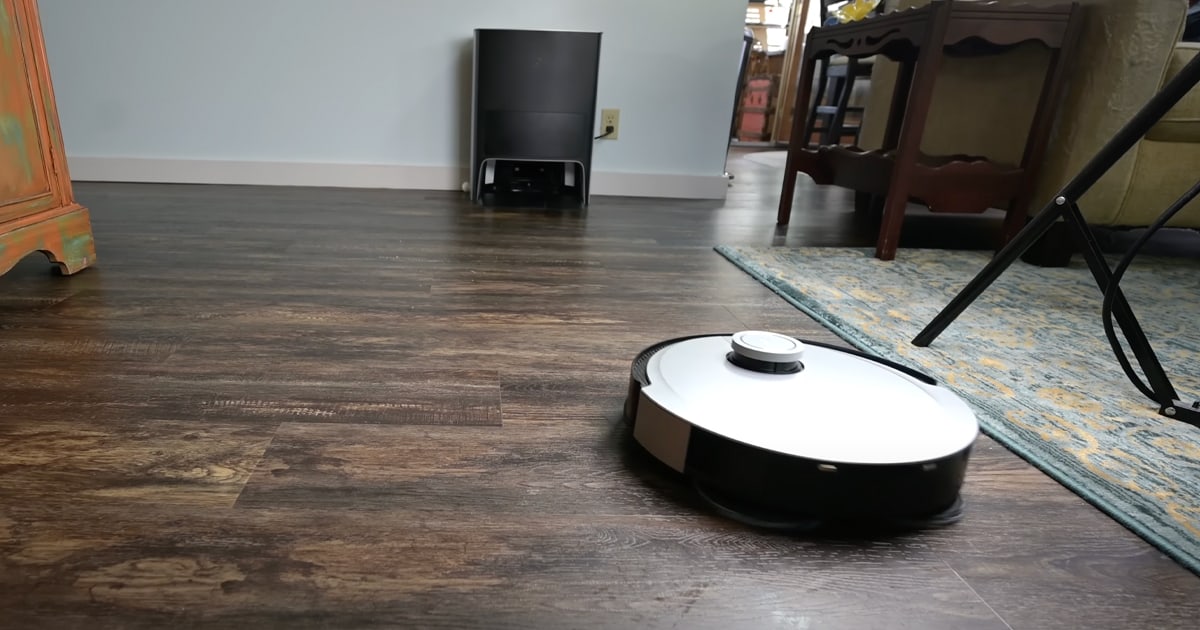 While we were able to confirm the extraordinary power of the Deebot X1, in our testing it had the highest suction and almost the highest airflow of any robot vacuum we had previously tested. The same couldn't be said about the S7 MaxV, but this may have been by design.
The Roborock S7 MaxV had relatively low numbers in our suction tests, but this was most likely due to a fail-safe on the S7 MaxV that prevented it from being measured by our tests. It's probably not a coincidence that the last time we had this trouble was when we tested the MaxV's predecessor, the standard S7 model.
At the end of the day, and because the Deeobot X1 Omni and the S7 MaxV scored nearly identical in our other power-related performance tests (like the crevice pickup test), we feel confident in saying that the Roborock probably does have the power that it advertises, but we just weren't able to confirm it.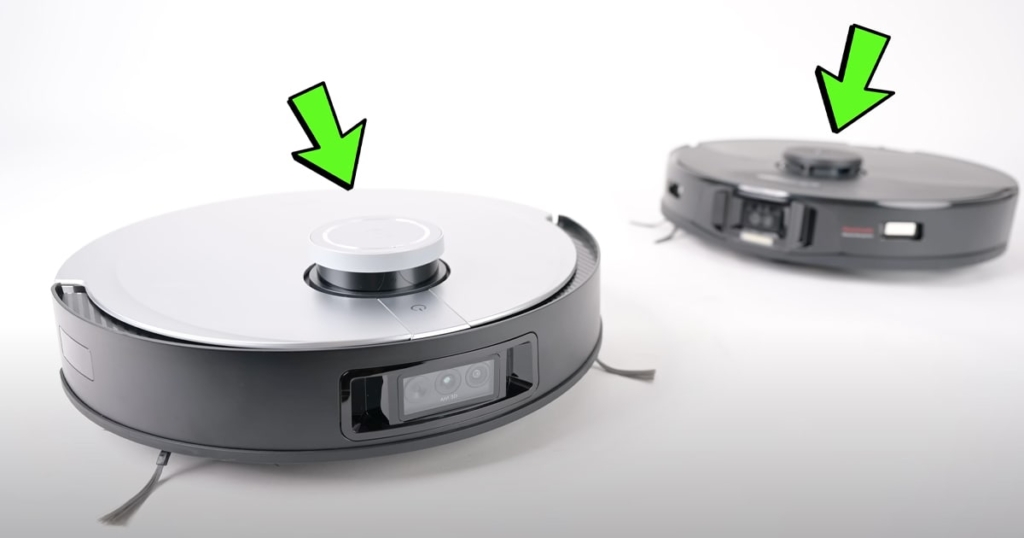 Navigation and mapping
Navigation is really important with smart robot vacuums. Both the S7 MaxV and Deebot X1 use LiDAR to create maps and navigate in a systematic way. In our tests, they both had near-perfect coverage of the floor area in a home and our studio.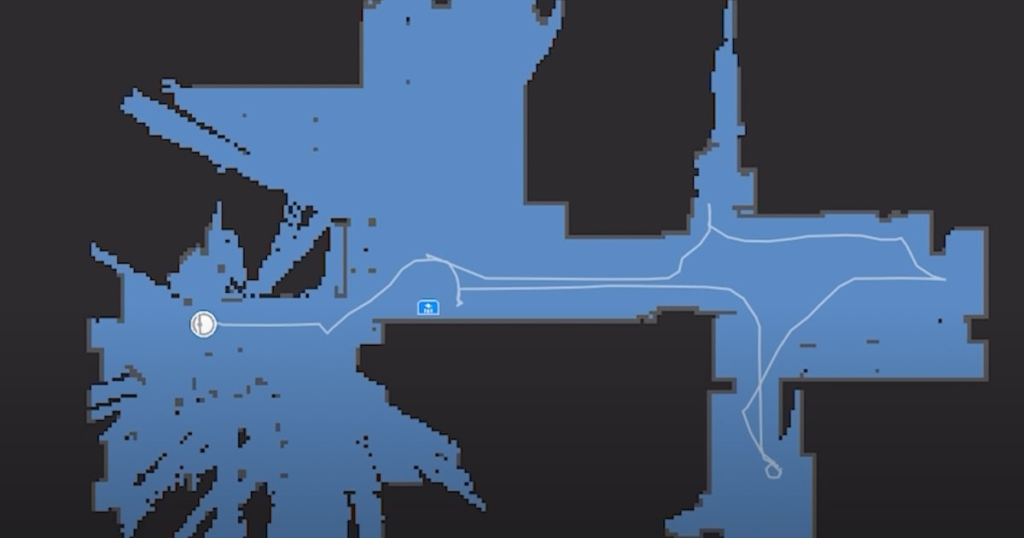 Both mapped our test house really quickly and were very efficient. The Deebox X1 does seem to be a little bit quicker with navigation than the S7 MaxV but not by a huge amount. They also both had multi-floor mapping, which is the ability to save multiple maps in case you want to use them for cleaning multiple floors.
App features
The Roboorock and Ecovacs robots were dead-on accurate with their app-based mapping features like virtual walls and no-go zones. These are created with their apps and are features we find to be really useful.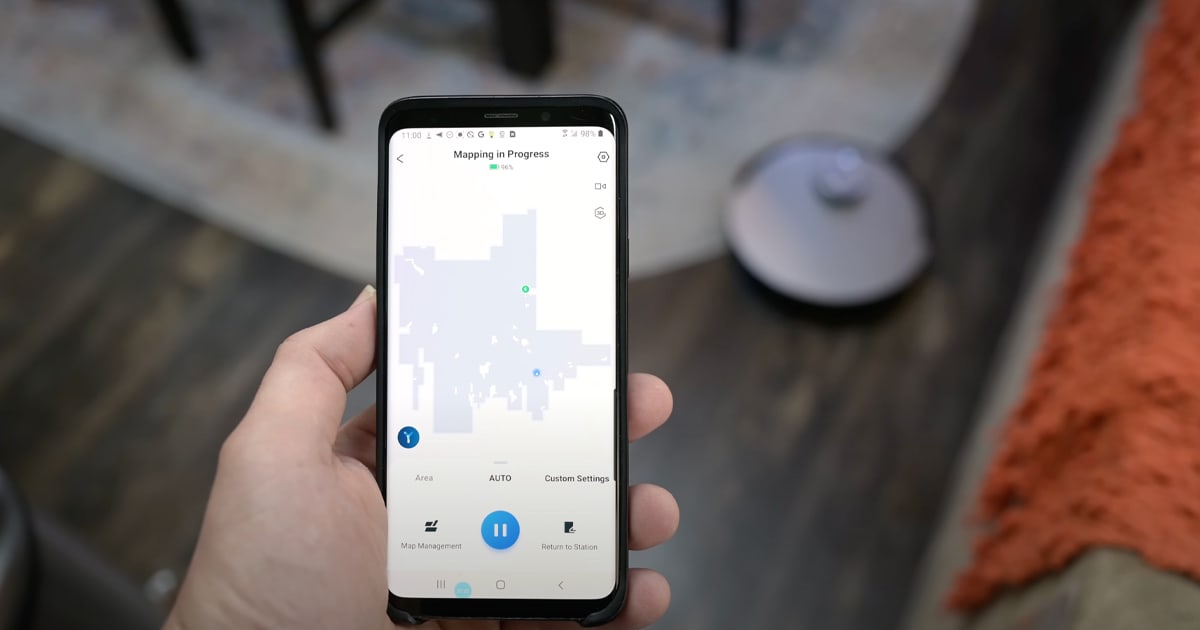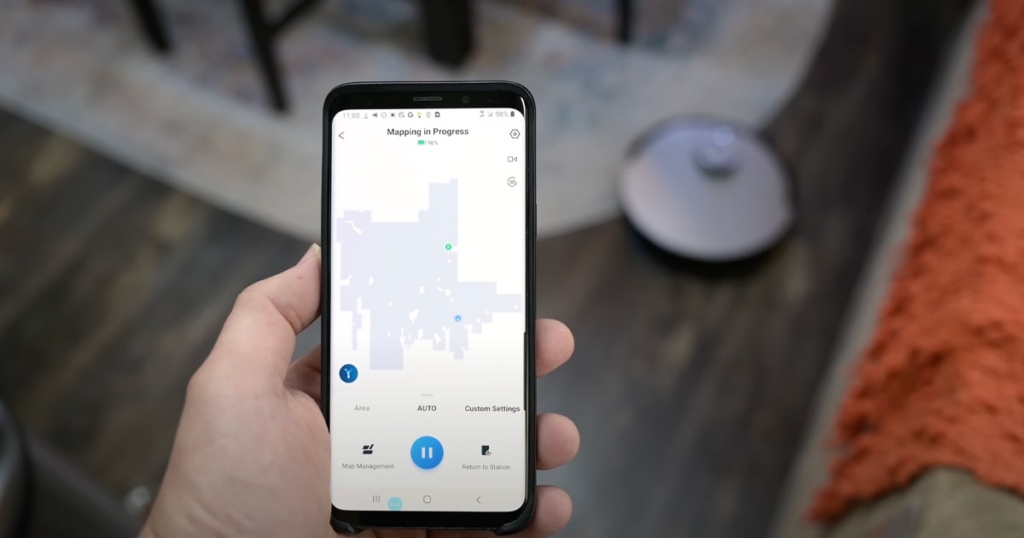 Speaking of the Roborock and Ecovacs apps, both of these have pretty much everything you could want in terms of state-of-the-art app features. Both have very detailed scheduling options where you can set multiple parameters, not just for date and time but also power levels per room. There are also several mop settings, and you can tell them to clean just one room or one area within a room.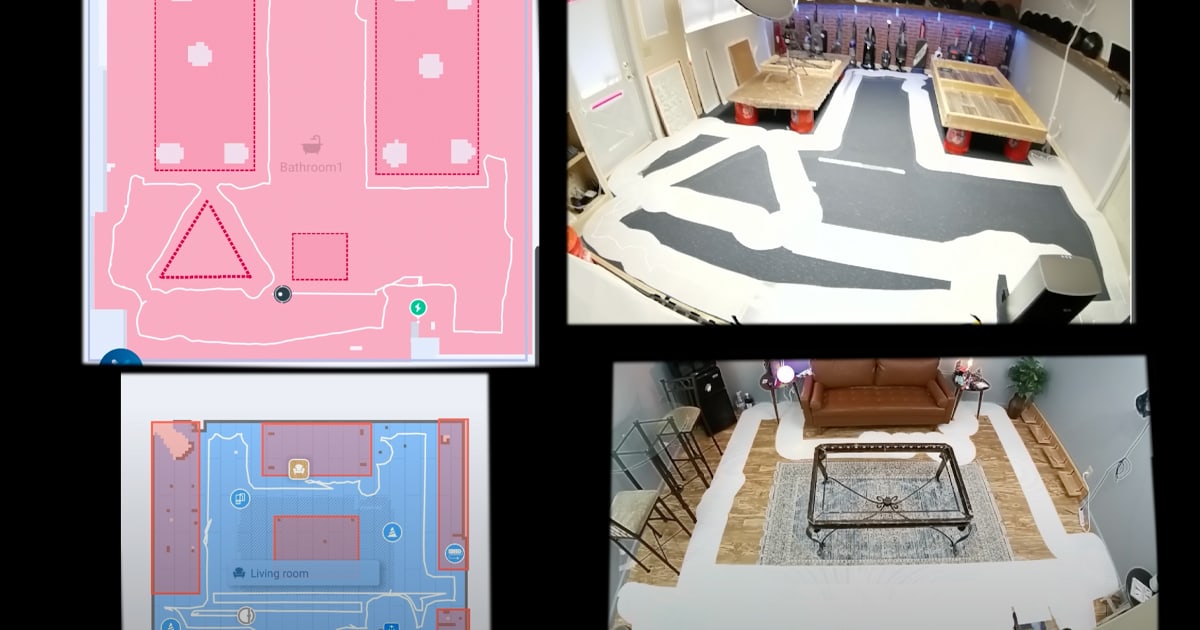 Both apps also have video monitoring and remote control options with audio. Some homeowners like this for checking on their pets or their home when away. Other features include 3D maps and voice control. Voice control for the S7 MaxV is by way of Amazon Alexa, Google Assistant, or Siri Shortcuts. The Deebot X1 Omni doesn't support those voice assistants but instead has its own voice assistant called YIKO.
Obstacle avoidance
The Deebot X1 and S7 MaxV both have very advanced obstacle avoidance sensors mounted in the front of the robot. These cameras and other sensors see obstacles that other robot vacuums miss, like cords, clothing, or pet waste, and will avoid them (most of the time.)
We recently did extensive testing on robot vacuums with AI obstacle avoidance systems and found that the Roborock S7 MaxV outperformed the X1 Omni in every test except for the timed test.
Obstacle Avoidance Evolution
Obstacle avoidance systems can dramatically improve with a simple app update. In fact, a new update to the Omni came out with even more cord avoidance not long after we did our comparison.
Battery and run time
Both robots have the same size battery at 5200 milliamp hours. We think 5200 milliamp hours is the largest battery possible with current regulations. Although their battery sizes are the same, the Deebot X1 Omni claims to have a much longer run time than the S7 MaxV when both are in their low-power modes.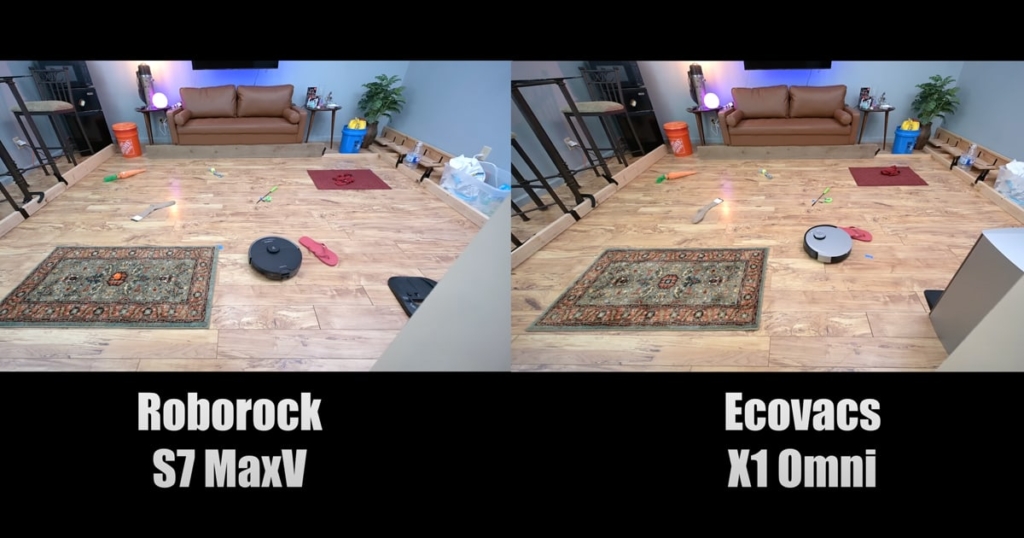 Auto-empty charging docks
Self-emptying bins are one of our favorite new features that have come out in recent years. Initially, manufacturers introduced bins that emptied the contents of the dustbin, which was cool enough. These two docks go far beyond that by also filling the robots' water and cleaning their mopping systems. These new advanced capabilities really solve a ton of problems and take robot vacuum automation to the next level.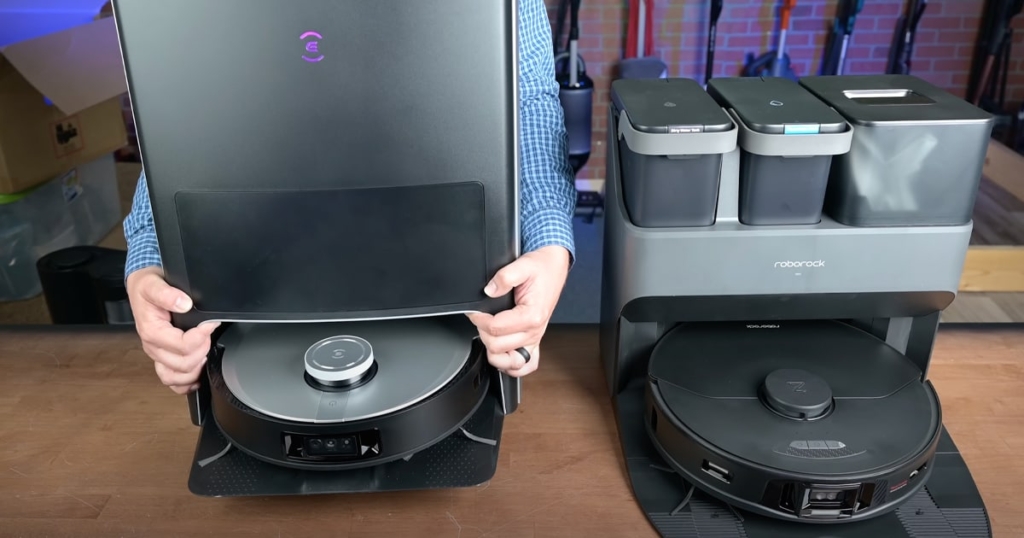 Size is the first thing you'll notice about these docks. The Ecovacs' dock, called the All-in-One OMNI Station, is quite a bit taller and heavier than the Roborock's. This could limit the places you would want to put it in your home.
Dustbins and water tanks
Both use similarly sized bags for dust collection, and as far as we can tell, they evacuate their dustbins equally well. They both also have what seem to be sturdy clean and dirty water tanks that are equally easy to fill and empty.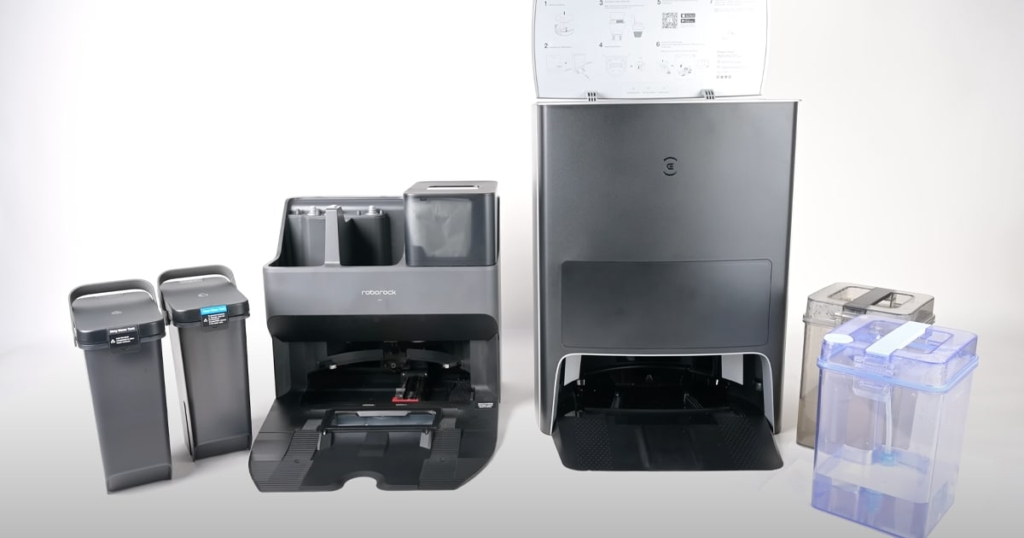 Mop pad cleaning and water tanks
Each dock cleans its robot's mop pads in totally different ways. The All-in-One OMNI Station has no moving parts. It works by filling its reservoir with water and then the robot's two mop pads spin to clean themselves. The Roborock S7's dock has an internal brush system that moves back and forth to clean the pads.
We tested how well they cleaned their pads in three different tests and were surprised at how well they both did. Generally speaking, they really did seem to clean even stained pads completely in the first two tests. We did a final torture test though, and in the end, we give the nod to the X1 Omni as being better at cleaning its mop pads (at least in extreme conditions).
We mentioned that both docks refill their robots' water tanks automatically. There did seem to be a difference with the S7 MaxV as it filled its larger removable water tank every time. With the Deebot X1 Omni however, as far as we can tell there's no way to visibly check to see if its internal tank has been filled, so we were never really sure.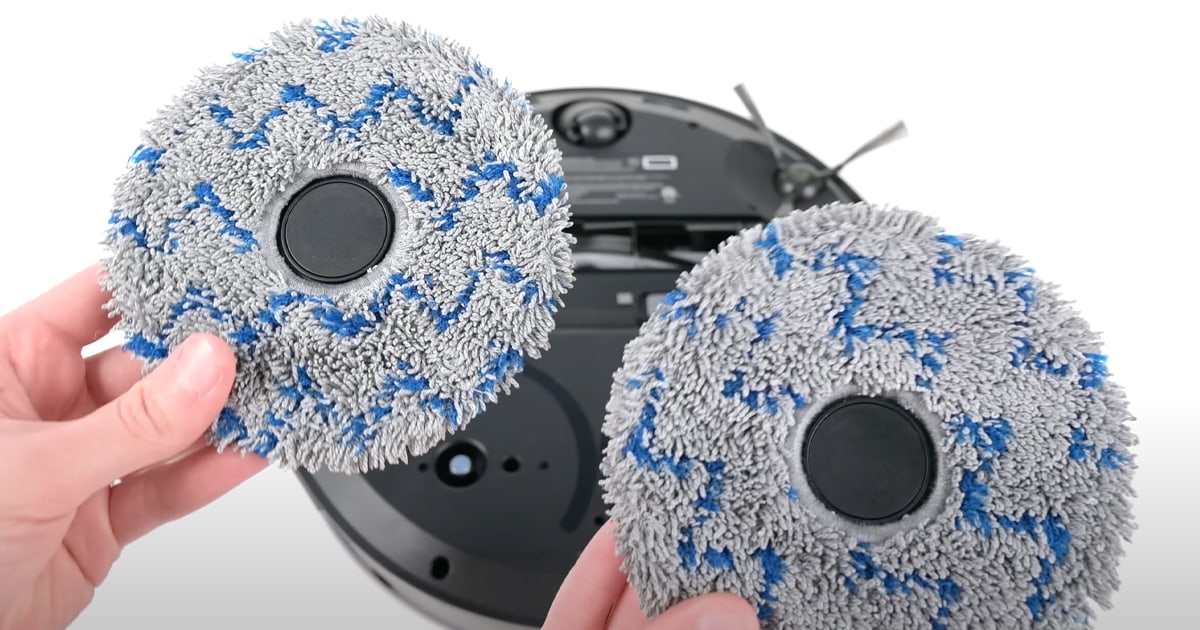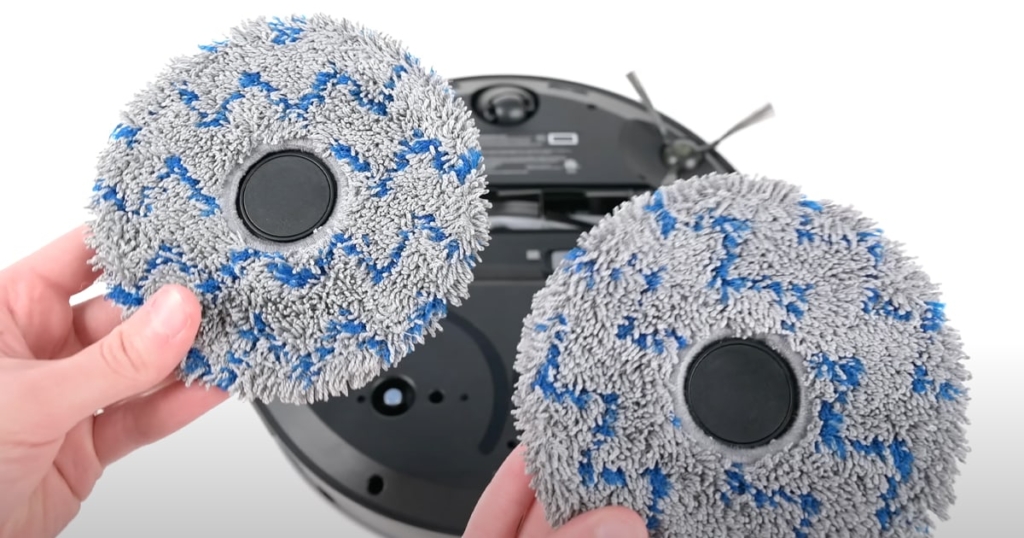 We note this because the Omni's dock will run through its water cycle whether the robot is properly docked or not, and in our first review of the Deebot X1 Omni we suspected it wasn't filling the tank properly. Add to this that the Omni has a much smaller water tank than the S7 MaxV, and it's one area where the Roborock is definitely better.
Mopping
Last but not least, we compared mopping ability, where the Ecovacs Deebot X1 Omni has two spinning mop pads, and the Roborock S7 MaxV vibrates a single, larger mopping pad. Another big difference is that the S7 MaxV lifts up its mopping pad when it senses carpet. So if you have a mixture of carpet and hard floors in your house, it can clean the whole house in one run.
One caveat on the Roborock's mop is that Roborock states it's only good for low pile carpets at around four millimeters. In contrast, the X1 will not be able to vacuum carpets while it's on a mopping run. So it needs to be run separately, without the mopping pads attached, to vacuum carpets as well.
Floor mopping performance
In terms of their actual mopping ability, we found that the X1 Omni and S7 MaxV actually tied in our most important mopping test, the dried-on stain test. So we consider them fairly equally matched and much better than less expensive robot vacuum mop combos.
Another thing that came up in our tests is that the Roborock S7 MaxV took longer to saturate its mopping pad with water than most of the other robots we had tested. It took about 5 minutes to do so. This is important because until its mopping pad is saturated, it will not be able to mop nearly as well.
Verdict
So which of these do we think is best? First, these are both really good products, but in the end, we chose the Roborock S7 MaxV Ultra. It is a better system overall when compared with the Ecovacs X1 Omni.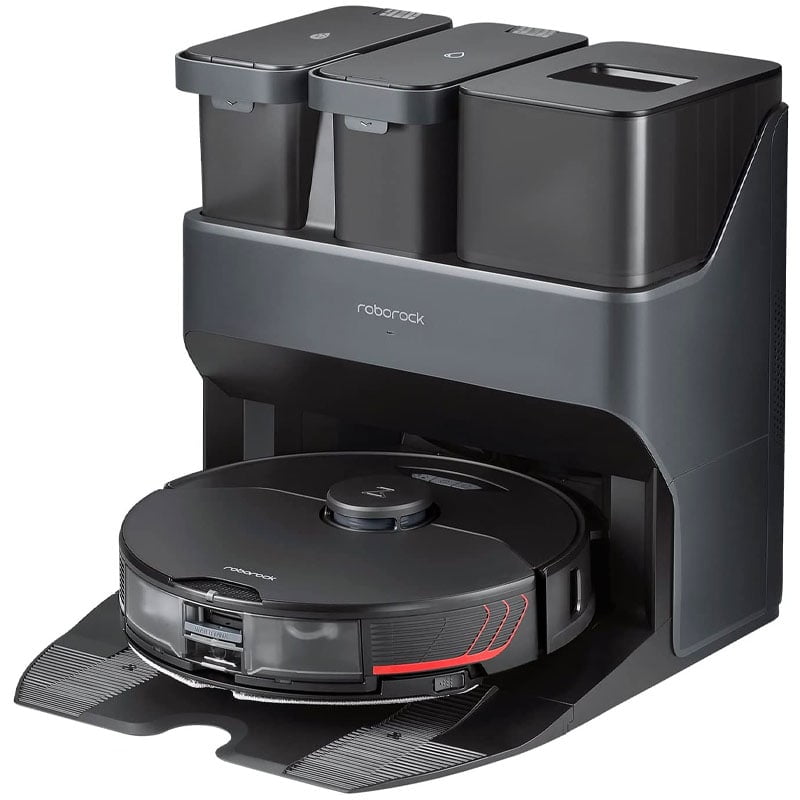 The Roborock S7 MaxV Ultra was a better vacuum on hard floors and carpet deep cleaning, and it was also better with obstacle avoidance. Another big plus is its ability to mop hard floors and vacuum carpets in the same cleaning run, something the X1 Omni robot couldn't do. Finally, in general, we felt that the Roborock was less temperamental than the Deebot X1 Omni.
| | | |
| --- | --- | --- |
| | Deebot X1 OMNI | S7 MaxV Ultra |
| Manufacturer | Ecovacs | Roborock |
| Type | Vacuum & Mop | Vacuum & Mop |
| Navigation | LiDAR | LiDAR |
| Obstacle Avoidance | Yes | Yes |
| Object Recognition | Yes | Yes |
| Map Storage | Multiple | Multiple |
| Room Cleaning | Yes | Yes |
| No-Go Zones/Virtual Walls | Yes | Yes |
| Max Cleaning Time | 260 min | 180 min |
| Auto Empty | Yes | Yes |
| Mop Pad Maintenance | Yes | Yes |
| Water Tank Refill | Yes | Yes |
| Amazon Alexa | No | Yes |
| Google Assistant | No | Yes |
| Voice Control | Yes | Yes |
| Buy | Amazon | Amazon |
Ecovacs Deebot X1 Omni vs Roborock S7 MaxV Ultra. Data from manufacturer websites.