Welcome to another Vacuum Wars robot vacuum matchup. Here we take two vacuums and compare their specs and features to help establish which might be the best fit for your home. Today's contenders are the iRobot Roomba s9+ and the Roborock S7+.
iRobot Roomba s9+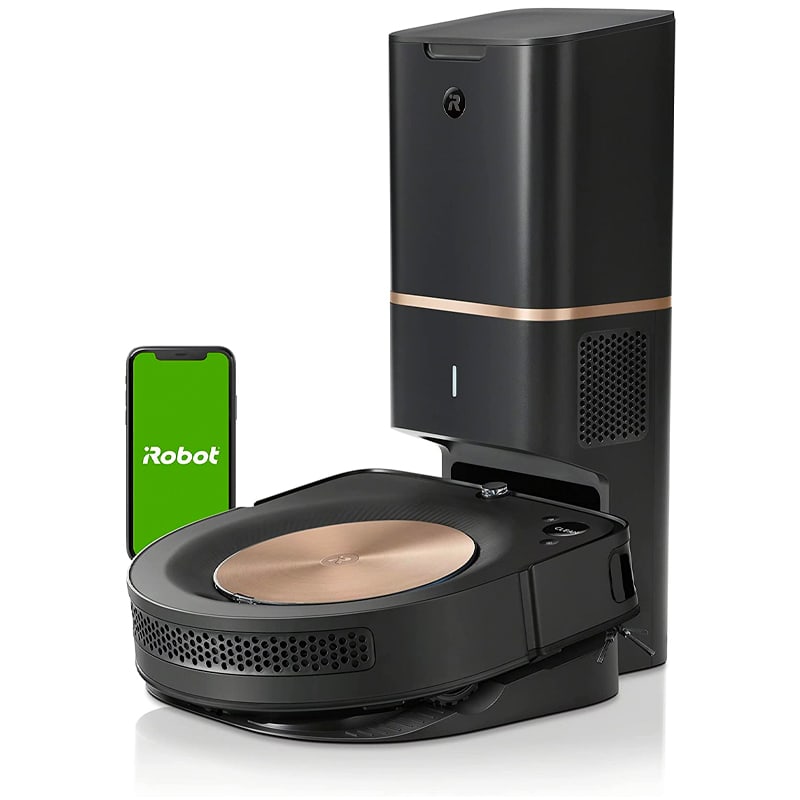 Roborock S7+
Roomba S9 / S9+ vs Roborock S7 / 7+
Just a quick clarification. The '+' in both the iRobot Roomba s9+ and Roborock S7+ indicate that they are packaged with auto-empty docks. Both robots are also sold without them, simply without the plus designation. Our findings beyond those that are dock-related apply to those models, too.
Comparing the Roomba s9+ and Roborock's S7+
We've thoroughly tested both of these robot vacuums and did full length reviews on them not long after they were released. At that time, they were the best robot vacuums each brand had to offer. At the time of writing this both models are sold and remain popular. And, as both have been upstaged by newer flagship models, their prices have fallen, too.
Price comparison
First, these two are still very close in price , which was also true when they were initially released. And while prices change all the time, as we write this, the Roborock S7+ is a bit cheaper than the s9+, and so, the S7+ gets the point here.
Navigation
Moving on to navigation, both of these robots are smart robot vacuums, meaning that unlike less expensive robots that bounce around randomly, these two create maps of your house and can systematically clean room by room in more or less straight lines.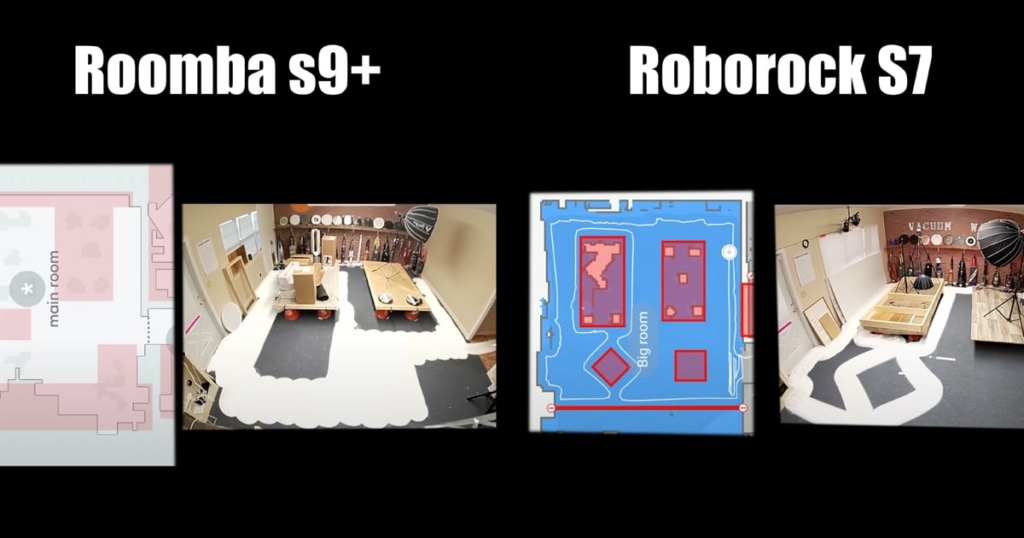 One big difference between these two robots however, is how they navigate. The Roomba s9+ uses a camera-based system called V-SLAM to map your house, and the Roborock S7+ uses a spinning invisible laser called LiDAR. There are pros and cons to each system, but both end up with the same basic result, which is near 100% coverage of your house.
But we give the point here to the Roborock because our personal view is that the LiDAR systems are more accurate, especially for use with the additional navigation features we will talk about later.
Cleaning ability
Carpet cleaning
Next up is cleaning ability, and let's begin with carpet cleaning. Here, the Roomba s9+ is the big winner. The s9+ actually held the best score we'd ever seen in our carpet deep clean test for quite some time. In that test we embed sand into medium pile carpet and weigh the dustbin before and after a set timed cleaning run.
Why did the S9+ do so well? This is due in part to it being a Roomba, and like all Roombas, it has a patented dual brush design that we've seen beat out other robot vacuums with where carpet cleaning is concerned. But that's not the whole story; the s9+ also has much more power than the average Roomba. That being said, the Roborock S7+ was also well above average with carpet cleaning, just not as good as the s9+.
Hard floor cleaning
With vacuuming hard floors, the point easily goes to the Roborock S7+. One of the things we've always liked about Roborocks is their ability to pick up debris from hard floors and carpet very cleanly and on the first pass, and the S7+ was no different. Its brushes just work well together for a notably clean pickup.
The s9+ is good with hard floors too, but it does struggle a little with larger debris on hard floors and carpet. This may be the tradeoff for why the Roomba is so good with carpet deep cleaning–its brushes are very close to the ground.
Battery life
Battery life goes to the Roborock S7+ as well as it has a much larger battery and runtime. It should be noted that since both are smart robots that make a map of your house, battery life isn't that important.
Here's why: If they do run down their battery, they will return to their base, recharge, and then resume cleaning exactly where they left off. But, it is nice to have them complete the job in one run if possible, which the Roborock S7+ is more likely to do since it has a better battery.
Software features
Next up is software features. Both robots have our favorite navigation-related feature, where you can draw boundaries on the map in the app to keep the robot from going places you don't want it to go. We do think the Roborock's no-go lines are more accurate because of the LiDAR system and can be customized with more detail than the s9's can. But, they both get the basic job done as far as these barriers go.
They also both have a feature where you can tell them to clean one room and exclude others, with lots of variations and related features in terms of scheduling. They both have multi-level mapping, a fairly new feature when they were released, too. This feature allows you to put them on a different floor in your house and they will recognize that floor plan, assuming you've mapped and stored it before.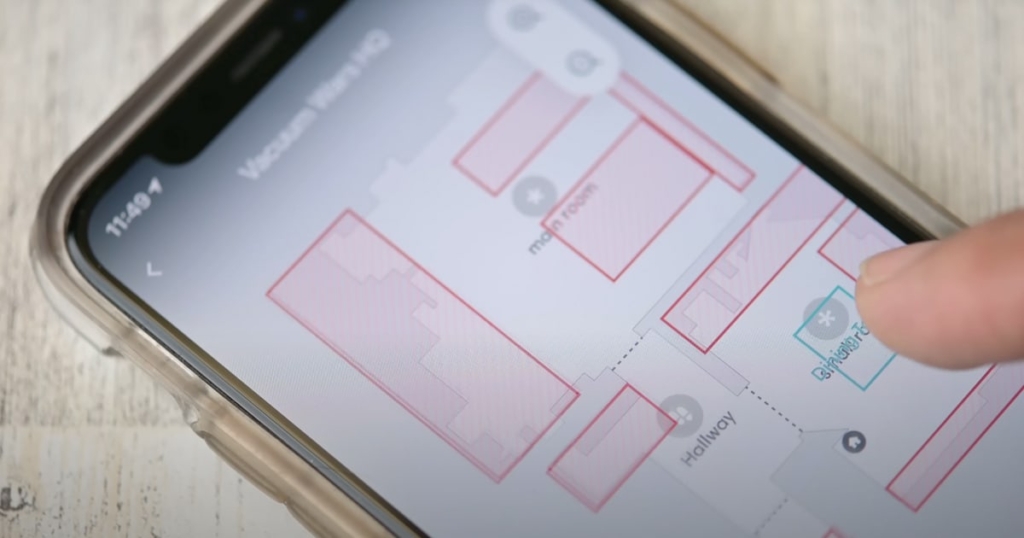 The Roborock can remember four maps, whereas the Roomba can remember a whopping 10. Basically, they both have incredibly good apps with virtually the same features, and though there are minor pros and cons, we're going to call this a tie and give them both a point for having excellent, full-featured apps.
Mopping
This one is easy since only one of them, the Roborock S7+, has a mop system. When Roborock released the S7, its mopping was a really big deal as it was one of the best, if not the best, mopping system on a robot vacuum we had seen. The S7's mopping system raises the mop for carpets and has a host of software features and sensors that make it a truly useful robot mop combo.
Since the S7+, Roborock has included upgraded versions of its mopping system on subsequent Roborock S7 models as well as the S8 models, including the S8 Pro Ultra.
Hair tangles
Next up is pet hair, and really, they both did about the same, which was really excellent with short pet hair. But the Roomba s9+ was better in our test with resisting tangles with longer hair, like 7 to 14-inch human hair, so we'll give a point to the s9+ here.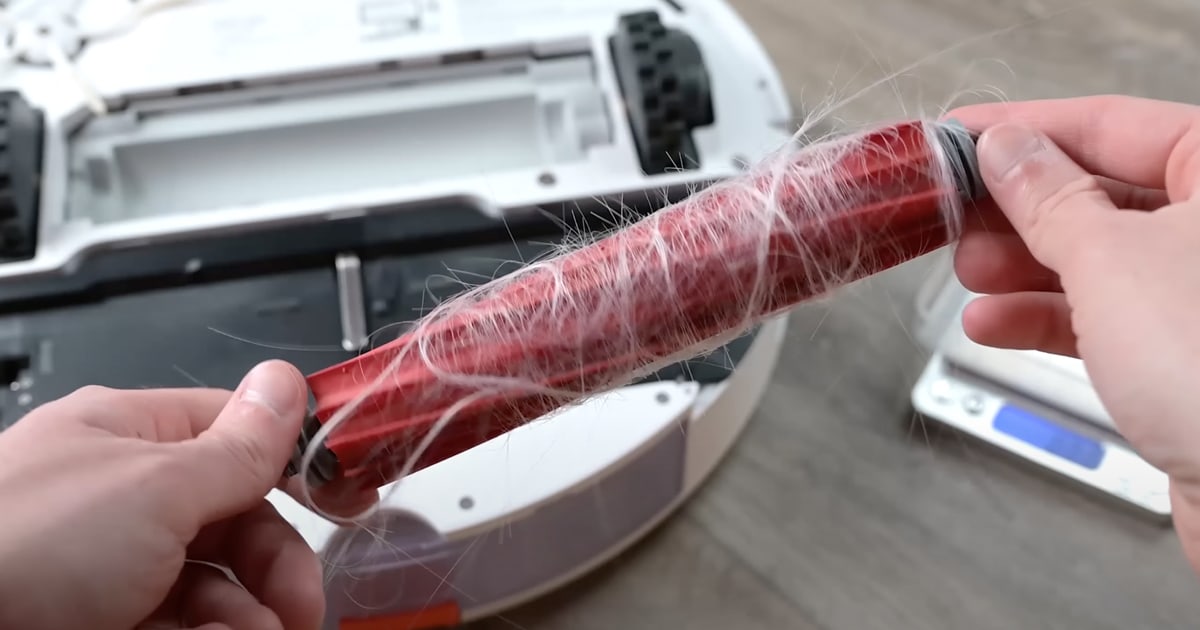 Auto-Empty bins
Next up are the auto empty bins. They both have auto empty docks that are bag-based. They both claim their bags can hold around the same amount of debris. In our tests, we found that they were pretty much the same in terms of their abilities.
The Roborock S7+ Auto Empty Dock does have a few features that the s9+ Clean Base does not, including possibly a better filter, though we had a hard time confirming that. We personally think that both auto empty bins are well constructed and do their jobs well, so we'll call it a tie with one point each.
Customer satisfaction
Next is customer satisfaction. This is a totally subjective thing, and it's really hard to quantify, but we took reviews and ratings from all over the internet, and it appears to us that customers are slightly more satisfied with the Roborock S7+ than they are with the Roomba s9+. But the S7+ and especially its Auto Empty Dock are much newer, so these numbers could easily change down the road if long-term issues arise. But we'll give the S7+ the point here.
Conclusion
As you can see, the Roborock S7+ has won this competition, though it was closer than it looks. To us, the main thing is that the Roborock S7+ gives you the same top-of-the-line features at a slightly reduced price, with the added value of the mop system.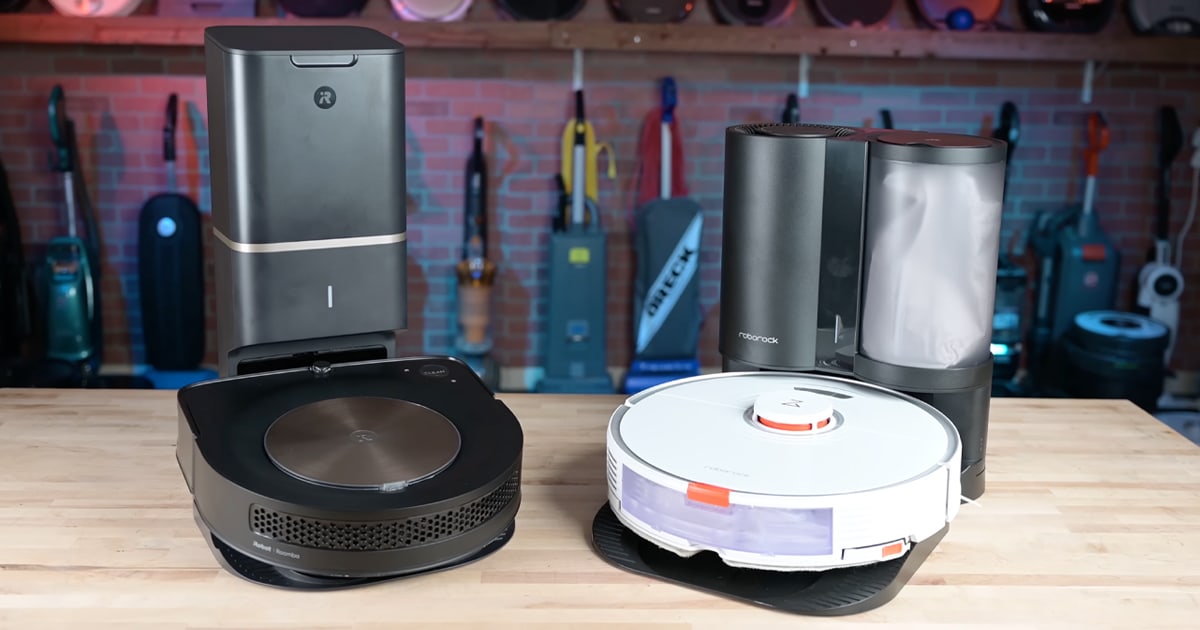 Specs: Roomba s9+ vs Roborock S7+
| | | |
| --- | --- | --- |
| | Roomba s9+ | Roborock S7+ |
| Manufacturer | iRobot | Roborock |
| Navigation | vSLAM | LiDAR |
| Map Storage | Yes, 10 | Yes, 4 |
| Room Cleaning | Yes | Yes |
| No-Go Zones/Virtual Walls | Yes | Yes |
| Mopping | Yes | Yes |
| Auto-Empty Dock | Included | Included |
| Dual Brushroll | Yes | No |
| Obstacle Avoidance | No | No |
| Amazon Alexa | Yes | Yes |
| Google Assistant | Yes | Yes |
| Voice Control | Yes | Yes |
| Colors | Black | Black or White |
| Buy | Amazon | Amazon |
iRobot Roomba i7+ vs Roborock S7+