The Dyson Gen5detect and Gen5outsize cordless vacuums represent Dyson's most advanced cordless vacuums yet and their performance shows they are among Dyson's best cordless vacuums available. We were really impressed after thoroughly testing and comparing them both this week.
However, because there are so many similarities between the two, we thought it would be best to do one combined review and comparison to save time and point out where they differ along the way. This will help you decide which one of these, if any, is right for you. So, let's get started.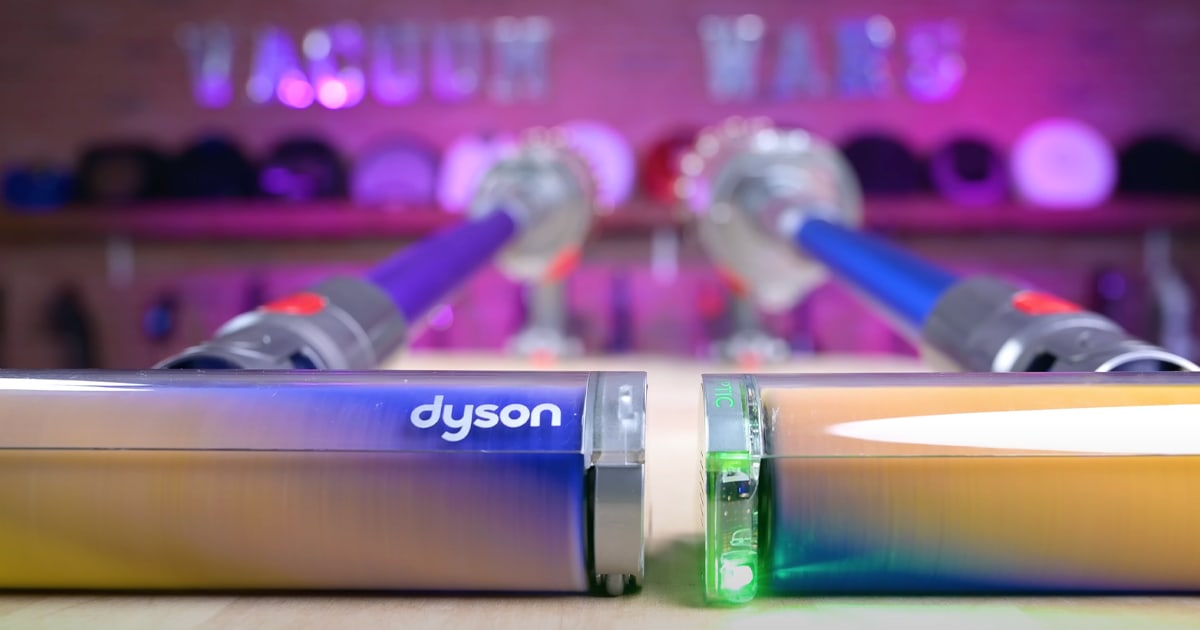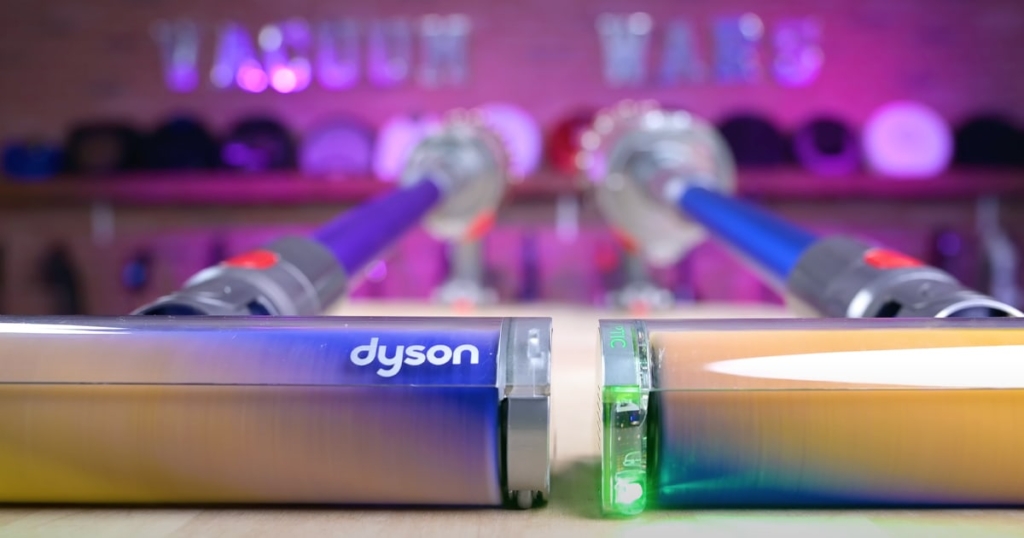 Price
Both of these vacuums sell at the top end of the price spectrum, though the Gen5outsize costs about 10 percent more than the Gen5detect.
RELATED: See our Dyson V15 Submarine Review!
Similarities
Starting with the features that they have in common, the Get5detect and Gen5outsize come with a very similar attachment set which we'll talk more about later. They both use the same fifth generation of the Hyperdymium motor and have Dyson's new HEPA filter media, which filters smaller particles than previous generations, making their already top-of-the-line sealed filtration systems even better.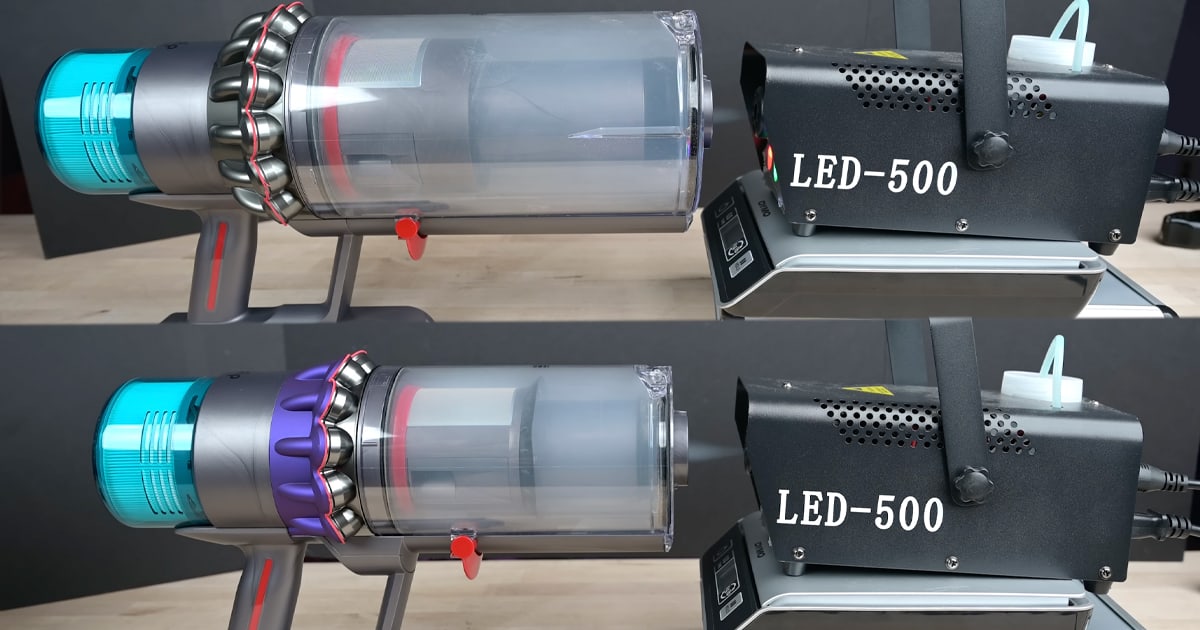 They both have the same incredible electronic suite, mostly based around the internal particle counter, making their auto suction adjustment feature possible. So, when it's on auto mode, it will adjust the suction power automatically up or down based on how dirty the floor is, which optimizes the performance.
…because the roller is so good at dusting floors, it really seems like our hard floors have never been this clean.
They both have an LCD screen that shows alerts as well as real-time battery life numbers, which change depending on which attachment you're using and which power level you're on. It's extremely useful.
It also shows on the screen in real-time the number and size of particles that you are vacuuming up, something we don't find particularly useful, but since they already have a particle counter installed in the vacuum, you might as well get the most use out of it.
They both now have an on/off button instead of a trigger like on previous Dyson cordless models. We think we prefer the on/off button. The pro is that you don't have to hold the trigger down constantly.
The only con we can think of is that we were more likely to keep the vacuum running when moving from room to room, which is a little bit more wasteful of battery life.
Battery
Speaking of battery life, they use the exact same battery, which Dyson now rates at 70 minutes on low power for both, which is one of, if not the best, battery specs in the industry, given their power output. The Gen5outsize does come with an extra battery and an extra charger which is why they double the battery life numbers in that case.
| | Fluffy Optic | Motorbar | Hair Screw | Combo Brush |
| --- | --- | --- | --- | --- |
| Low Power | 75 min | 60 min | 75 min | 74 min |
| Med / Auto | 45 min | 24 min | 45 min | 39 min |
| High | 16 min | 13 min | 16 min | 7 min |
Battery life numbers are based on display readout and may not be perfectly accurate.
Attachments
Moving on to the attachments, the tool set will vary slightly depending on where you buy it, but they both include, for example, the motorized screw tool, which is an upholstery cleaner designed not to get tangled with pretty much anything. It's well-designed and does work extremely well.
The Get5detect and Gen5outsize come with a combo brush tool, one of our favorite suction-only attachments, mainly because you can use the longer bristles for dusting.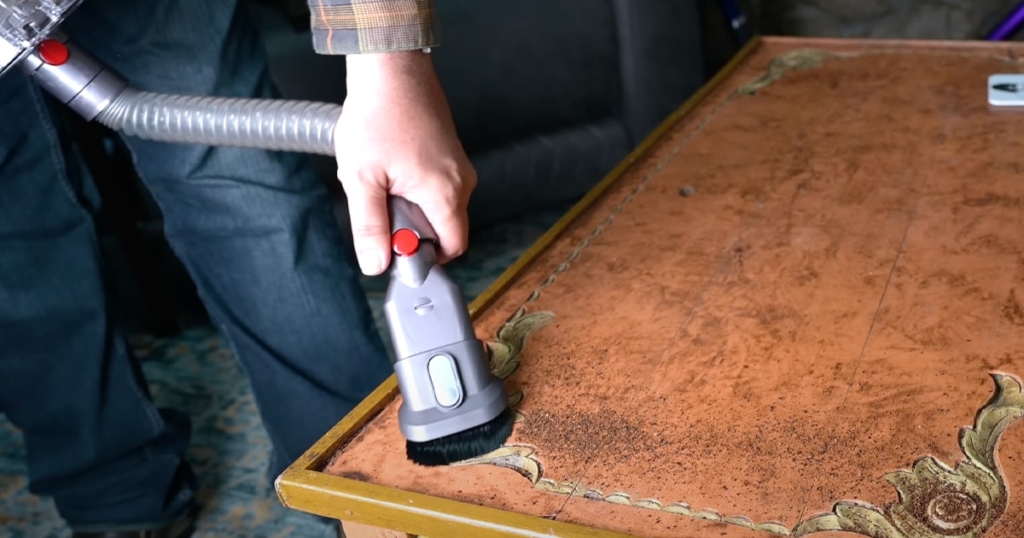 Though we will say that using these Dysons for handheld tasks is not easy because there's so much weight on your wrist, and it's just awkward. This is why we recommend getting a hose attachment, usually sold separately, with these Dysons so that you can actually make use of that excellent dusting brush.
They also have a new feature: a built-in brush and crevice combo tool that you can access by pushing two red buttons on the wand. The idea is that you no longer have to carry around attachments for quick handheld jobs.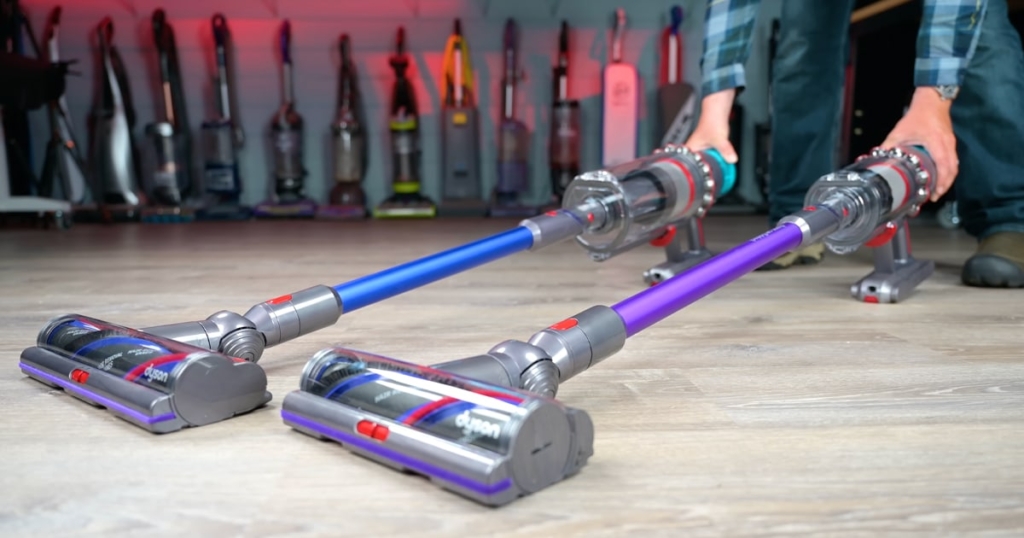 Floor Heads
The Gen5detect and Gen5outsize come with two different floor heads, the Digital Motorbar and the Fluffy Optic Cleaner Head.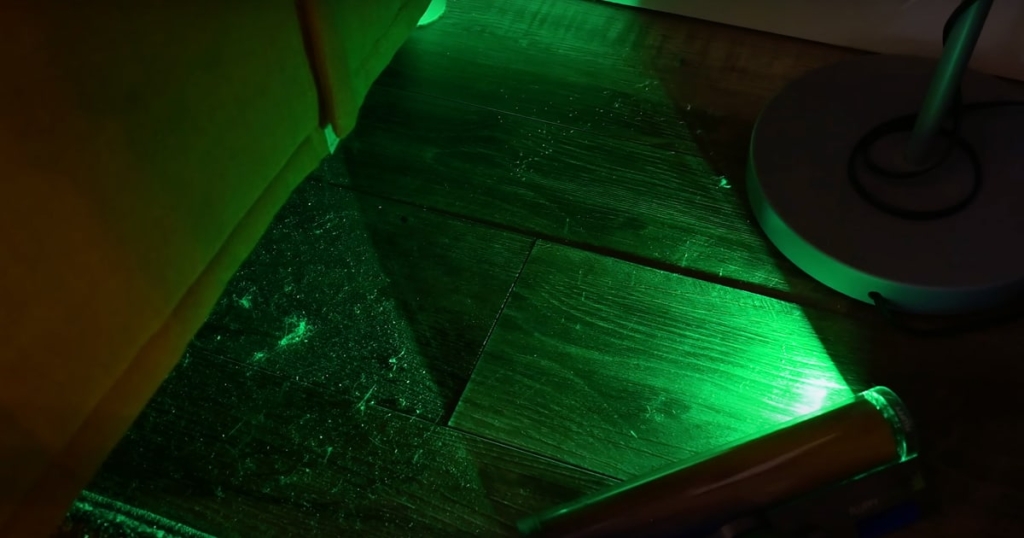 The Fluffy Optic Head with a little green laser on it is a much more interesting feature than we've previously given Dyson credit for. We think it might be because the light is brighter than it was on the V15 Detect that we're noticing it more.
In any case, it's not simply that the light shines on the debris; it's the specialized angle of the laser that makes the dust show up the way it does. And we have to say, we've never believed that our floors were as dirty as this feature revealed them to be.
And because the roller is so good at dusting floors, it really seems like our hard floors have never been this clean. The one downside is that if you are a clean freak, it will probably make you a little crazy.
The Outsize model comes with a much larger version of the Digital Motorbar called the Digital Motorbar XL, and it's one of the big differences between the two that really matter, and it's also a good time to move on to performance.
Gen5detect vs Gen5outsize: Specs and Test Results
| | Gen5detect | Gen5outsize | Average |
| --- | --- | --- | --- |
| Unsealed Suction (Max) * | 2.48 kpa | 1.74 kpa | 0.67 kpa |
| Carpet Deep Clean Test * | 100 | 96 | 92 |
| Max Battery Run Time | 70 min | 70 min | 46 min |
| Included Batteries | 1 | 2 | – |
| Charge Time | 4.5 hr | 4.5 hr | – |
| Suction Power | 262 AW | 250 AW | – |
| HEPA Filtration | Yes | Yes | – |
| Bin Capacity | 750mL | 1900mL | – |
| Weight | 7.7 lb | 8.6 lb | – |
| L x W x H | 9.8″ x 10.9″ x 50.2″ | 11.4″ x 12.6″ x 50″ | – |
| Price | $$$$$$$$$$ | $$$$$$$$$ | $$$$ |
| Where to Buy | Amazon | Amazon | |
* Vacuum Wars' independent test results.
Performance Tests
The idea, of course, is that by having a wider floor head, you can cover more area with fewer passes. While that's true, we found that the larger width did seem to negatively affect its performance, presumably because the suction on the Motorbar XL is distributed over a larger area and so is less concentrated.
So, it didn't do as well with things like the unsealed suction test, where we measure how much real-world suction is available at the head.
It still performed significantly better than average but wasn't as good in that respect as the Gen5detect. We suspect the head is the problem on the Outsize because our sealed suction test results show both versions have the same suction power at the base, which is way above average, by the way.
The larger head on the Outsize probably also contributed to it performing a little worse on our carpet deep clean test as well. But again, these numbers are much better than average.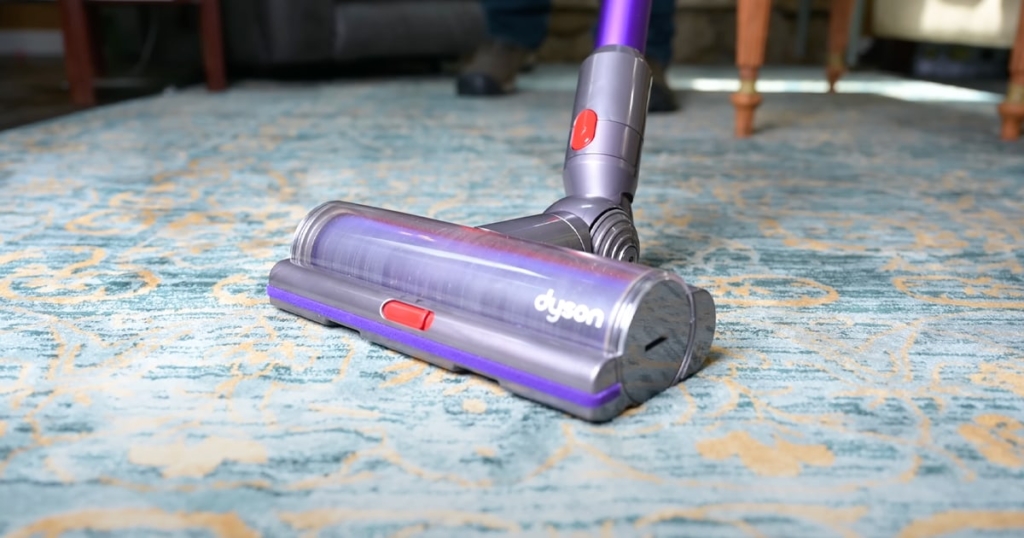 As far as surface debris pickup, both floorheads performed as good as you would expect a Dyson to perform. The Digital Motorbars, which, as we said, are able to vacuum both hard floors and carpets, and the soft rollers, which are made for hard floors but can be used on very light-duty jobs on carpets, did exceptionally well with fine to extra large debris, even piles of debris and pet hair. Really, they are very good with hard floors, no matter what you're trying to pick up.
Suction Power vs Previous Dyson Models
Using Dyson's official AW (airwatts) specs, the two new Dyson Gen5 cordless models both outpace their predecessors' suction. The Gen5detect is the most powerful at 262 AW, closely followed by the Gen5outsize at 250 AW. The Gen5detect has 9% more AW than the V15 Detect, 42% more than the V11 and 75% more than the V12 Detect Slim.
The Gen5outsize is also more powerful, just to a slightly lesser degree. The new Outsize model has 25% more AW than the V11, 67% more than the V12 Detect Slim and 4% more than the V15 Detect.
Hair Tests
They both have active hair removal systems on the Digital Motorbar head, which uses little plastic comb-like structures which remove the hair as you vacuum. We tested this with 7 and 14-inch hair, and it performed almost perfectly. And it really should cut down on the need for regular maintenance.
Bin Size
The Outsize has a much bigger bin that can hold 1900 milliliters compared to only 750 on the Gen5detect. But it comes at the cost of being both heavier and less ergonomic overall.
What is the difference between the Gen5detect and Gen5outsize?
Dyson's Gen5detect and Gen5outsize are more similar than different. The significant differences are that the Gen5outsize's dust bin is 1.5 times larger, it comes with an extra battery which doubles its run time to 140 minutes, it's Digital Motorbar cleaning head is 25% wider, it has slightly less suction and it weighs almost a full pound more.
Our Conclusion
Both of these products represent the state of the art in cordless vacuum technology. However, the lighter weight, better performance on the regular-sized head, and cheaper price put the Gen5detect in the top spot over the Gen5outsize. And it's the first time in a long time that we decided to keep a cordless vacuum as our primary vacuum at our house.