In this comparison we're taking a close look at two of the most popular upright vacuums on the market today: The Dyson Ball Animal 3 and the Shark Vertex Upright. We have reviewed each of these vacuums before and thought it might be a close matchup. Spoiler alert – we were right! 
These are both really good upright vacuums. We are going to tell you what we think, but we will also encourage you to focus on the nuances of both models and the features that are important to you.
Before we begin our comparison, here's a bit about both vacuums.
Shark Vertex Upright
The Shark Vertex Upright was Shark's flagship model until its successor, the Shark Stratos Upright, was released. The Vertex had every premium feature offered in a Shark upright, and they noted it to be their "…most powerful vacuum ever, with incredible suction and innovative cleaning technologies."
Notable and unique features of the Shark Vertex Upright:
Powered Lift-Away
Self-cleaning brushroll
DuoClean PowerFins
LED headlights on nozzle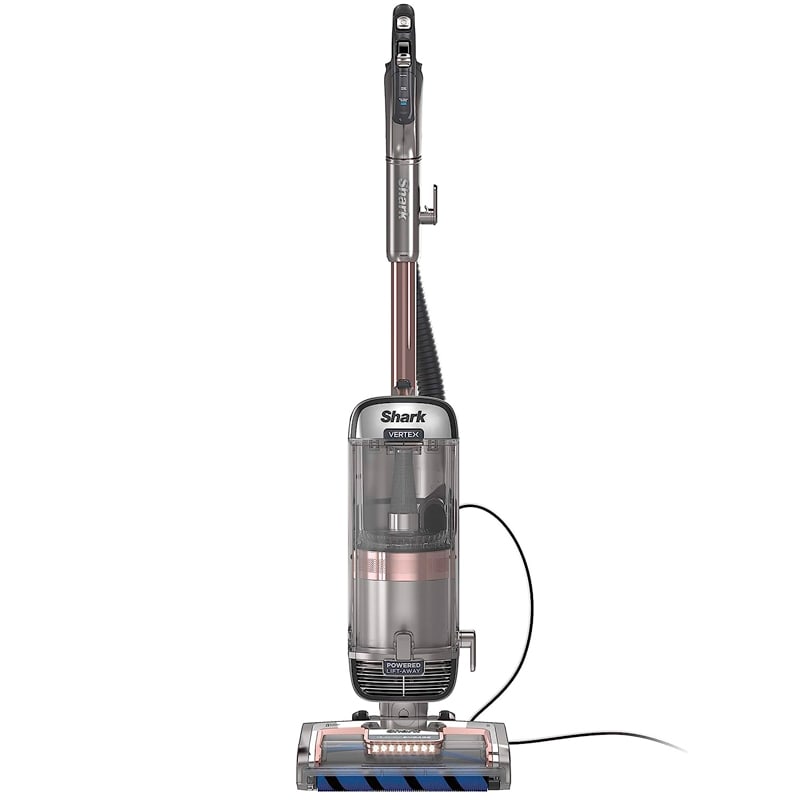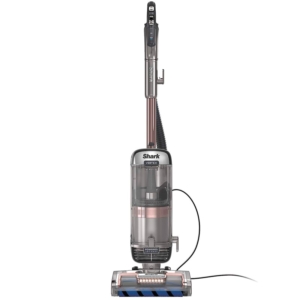 Dyson Ball Animal 3
The Dyson Ball Animal 3 was released in the summer of 2022. We recently did a full Dyson Ball Animal 3 review, where we found it to be a significant improvement over its predecessor, the Ball Animal 2. The "Animal" designation in the upright's name gives you an idea of who Dyson is marketing this vacuum to, although its usefulness goes beyond homes with pets.
Notable and unique features of the Dyson Ball Animal 3 include
50' total reach with hose and cord
Dyson Ball steering
Whole Machine Filtration
Automatically de-tangles hair
Comparing the Shark Vertex and Dyson Ball Animal 3
At a high level, there's a lot that these two uprights share. They both have powerful suction, well-sorted hair-detangling brushroll technology, and anti-allergen seals. Two standout differences would be the Shark Vertex's Powered Lift-Away and the Dyson Ball Animal 3's 50-foot reach.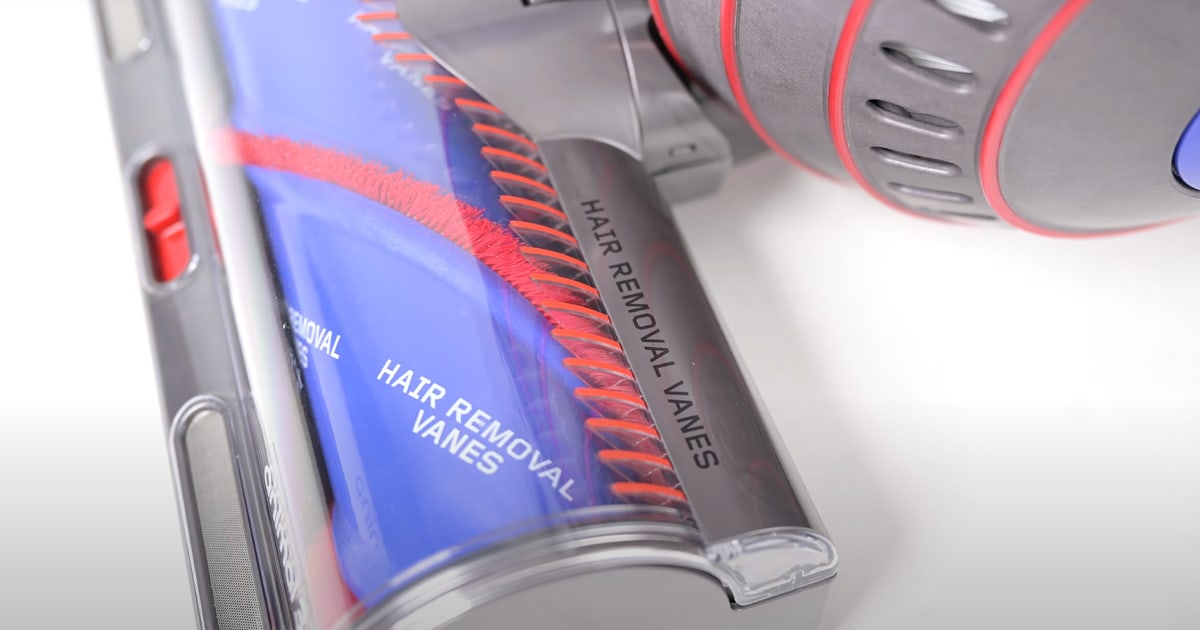 The Dyson is also newer when compared with the Vertex, which has been available for a few years.
In this comparison, we'll look at how the Dyson Ball Animal 3 and Shark Vertex Upright stack up in four categories: performance, specs & features, ergonomics, and value. We will give each vacuum a numerical score in those four categories to see which vacuum comes out on top. Then, we'll convert those scores to Vacuum Wars Scores on a ten-point scale and see which one we think is best.
As we walk through each of the four categories for comparison, we'll briefly summarize why one upright scored higher or lower than the other.
Performance
We performed a number of tests on each vacuum to come up with our performance score. We tested their suction and airflow at various places on each vacuum, including both sealed and unsealed suction tests.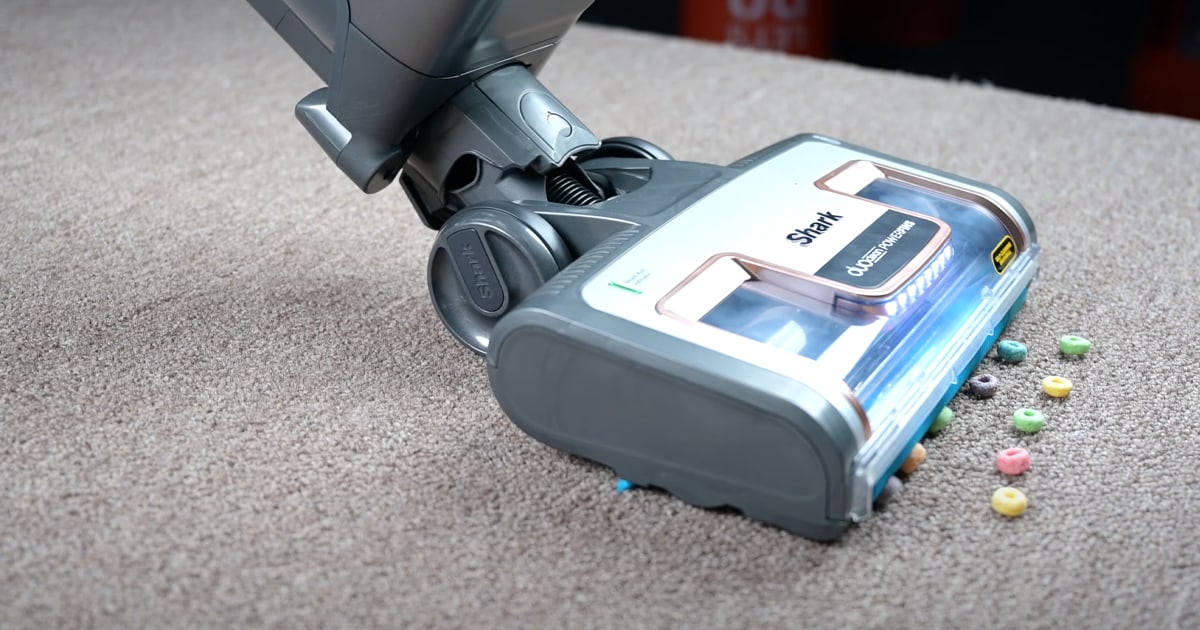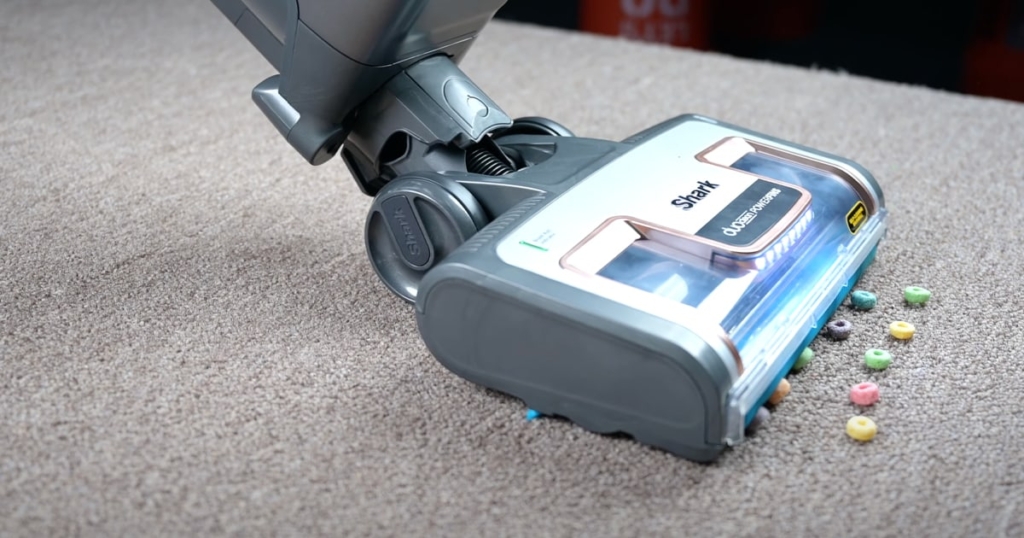 Tests
We also do tests that emulate real-world use. Those tests include a crevice pickup test and a carpet deep clean test. The first test reveals how good a vacuum is at extracting dirt and debris that is below the surface of hard flooring in a crevice. The second test challenges a vacuum to pick up sand that we've embedded deep into a carpet.
In addition to the results from the test results above, performance scores also include each vacuum's general pickup ability on hard floors and carpet. In each scenario, we give extra points for larger size debris each vacuum picks up with its floorhead.
Results
Looking across all our performance data, our tests recorded the Vertex having better airflow overall. The Dyson Animal Ball 3 however performed significantly better in our usable suction test, and in our carpet deep clean test, it scored a perfect 100. The Shark Vertex was close behind it in that test, scoring 98.
When compared with all the uprights we've tested, both the Shark and Dyson scored above average where sealed suction, overall pickup, and crevice pickup are concerned. Comparing the two, the Shark Vertex did outperform the Dyson in our pickup tests because of its DuoClean roller, which was excellent with both hard floor and carpet pickup. The Dyson Ball Animal 3 was above average here as well, but the Vertex was better.
Specs and Features
For the Specs and Features category, we give points for specifications like bin size and cord length, and we look at useful features such as if they convert to a canister-style vacuum, have an anti-hair tangle roller brush, or are equipped with LED lights.
We also score their attachment set, test their filtration systems, and more. In this category, both vacuums share similar features such as an anti-tangle roller and about average noise levels, but the Shark Vertex scored higher.
Both of these vacuums have somewhat small dustbins. The Shark Vertex's dustbin can hold about 1.1 liters compared with the Dyson's, which can hold up to 1.7 liters. Both vacuums also have decent cord length, but the Dyson's is longer at 35 feet compared with the Shark's 30-foot cord.
Aside from these similarities and slight advantages of the Dyson, the Shark Vertex ultimately wins out this category with the best features overall.
Ergonomics
Moving on to ergonomics, where we look at how easy each vacuum is to use. We measure the overall weight of the vacuums, if they have a swivel, and if their wands are easy to remove and replace.
Both vacuums have a swivel and an easy-to-use wand. And while both vacuums were easy enough to use, the Shark Vertex was slightly better than the Dyson. So the difference here comes down to weight, where the Dyson Ball Animal 3 was slightly heavier than the Shark Vertex. This means that the Shark Vertex is technically the more ergonomic vacuum.
Another point for the Shark Vertex in the ergonomics category is that it can be used in powered Lift-Away mode for a more stick vacuum-like experience, something the Dyson cannot do.
Value
The final category is value, where we look at the current retail price of both vacuums and compare that to their scores in other categories. We also subtract points if a vacuum has lower-than-average reviews online.
Here again, the Shark Vertex Upright was slightly better than the Dyson Ball Animal 3.
The Dyson and the Shark both have good reviews, so the difference in value for these vacuums boils down to the price point and their scores in other categories
Even though the Dyson did a bit better than the shark in the performance category, it has slightly worse ergonomics and significantly fewer features for a more expensive price.
After adding it all up, the final scores were 9.4 for the Shark Vertex Upright and 9.3 for the Dyson Ball Animal 3. So the Shark Vertex is the winner, but the Dyson Ball Animal 3 certainly did well too, especially in the performance category.
Category and final Vacuum Wars Scores
| | | |
| --- | --- | --- |
| | Dyson Ball Animal 3 | Shark Vertex Upright |
| Performance | 91 | 89 |
| Specs and Features | 91 | 99 |
| Ergonomics | 91 | 90 |
| Value | 94 | 97 |
| Vacuum Wars Score | 9.3 | 9.4 |
Winner: Shark Vertex Upright
Clearly, this was a close call. The Shark Vertex Upright was our winner, all things considered. But you can't really go wrong with either one of these vacuums. 
Shark Vertex Upright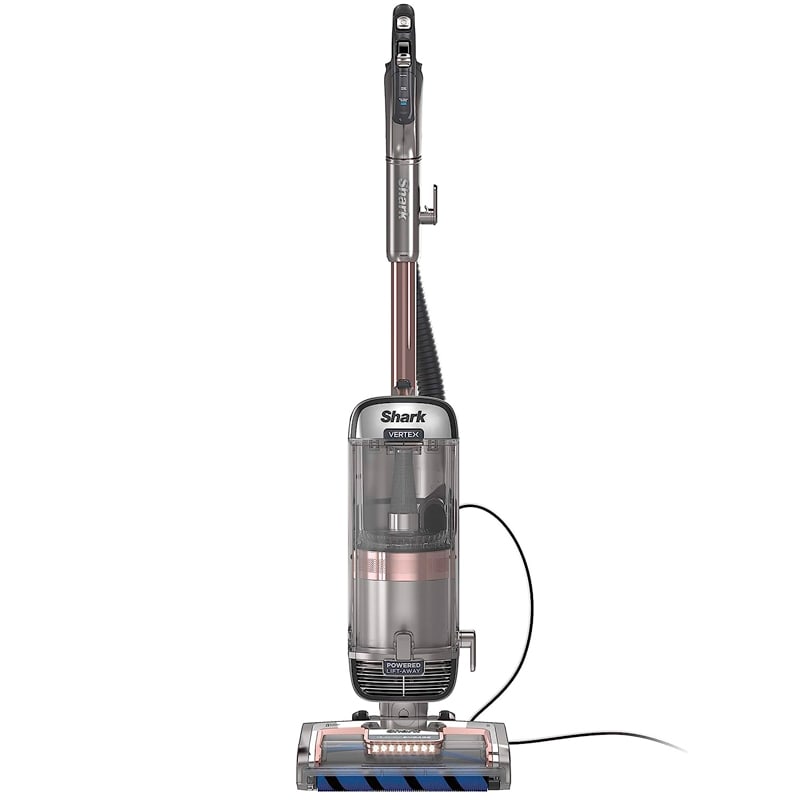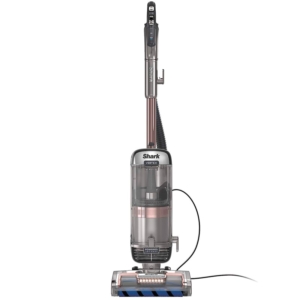 Dyson Ball Animal 3
When to choose the Dyson Ball Animal 3
The Dyson Ball Animal 3 is a worthy choice. When would you choose it over the Shark? If there are features unique to the Ball Animal 3 that are important to you, you could easily be happy with that vacuum. And if you were a fan of the Dyson Ball Animal 2 and are considering upgrading, we think it is worth it and that you'll be happy with the Dyson Ball Animal 3.