This review is of the Bissell TurboClean DualPro Pet carpet cleaner. It's the mid-range option for Bissell carpet cleaners, but after extensive testing over a week, we think it may be one of their best options at any price, or at least one of the best value options we've seen from Bissell in a long time.
A Great Mid-Priced Carpet Cleaner
Verdict
The Bissell TurboClean DualPro Pet carpet cleaner did a great job on both wet and dried-on stains.
Like more expensive models it includes a long 8-foot hose, excellent spot cleaning brush and a 1.25 gallon tank. We think this is one of Bissell's best and a great value, too.
How it Works
Starting with the basics, it works like most carpet cleaners, meaning that you fill up the clean water tank with warm water and the included solution. It has a trigger which, when pressed, dispenses the water-solution mix.
RELATED: See our review of the Bissell Revolution HydroSteam Pet Carpet Cleaner, Big Green Professional, Best Bissell and our picks for Best Carpet Cleaner!
You apply water as you vacuum back and forth like a vacuum cleaner, and the single rotating brush spins to loosen the stains as the suction port in the front sucks up the dirty water into the dirty water tank.
In the box
Bissell TurboClean DualPro Pet
Bissell Trial-Size Formula
8' Hose
Accessory Bag
3" Tough Stain Tool
Nozzle Clean Out Tool
Manual and warranty
Cleaning Wet and Dried-on Stains
We tested its cleaning ability with both wet and dried-on stains and found that it cleaned the stains completely after a few back-and-forth passes.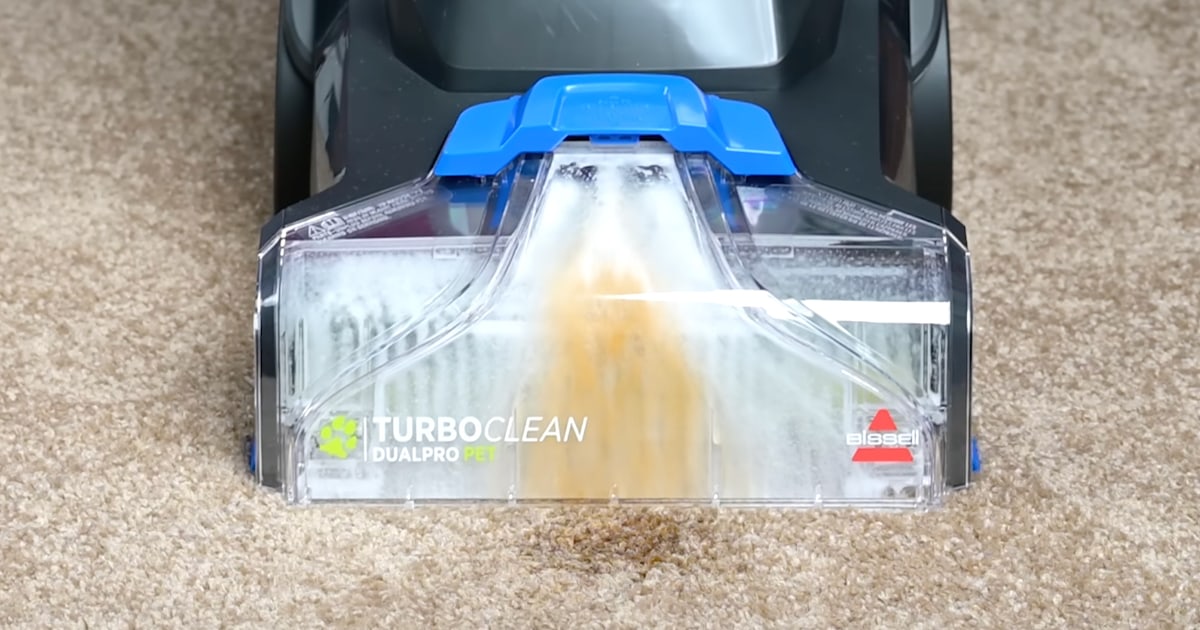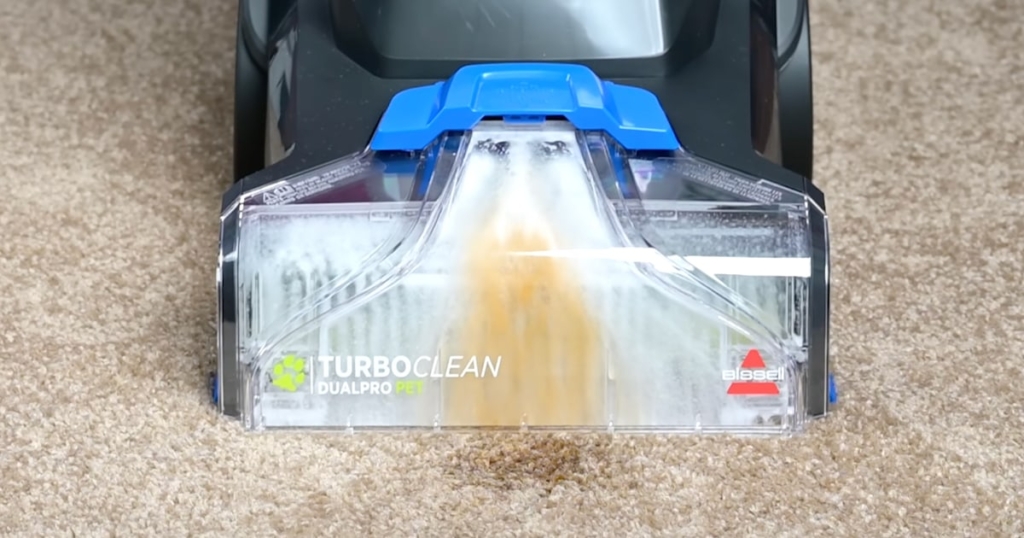 This model only has one brush instead of the two like on the 2X Revolution series, but Bissell calls the brush a "four-row deep reach power brush" and says that it has extra-long bristles.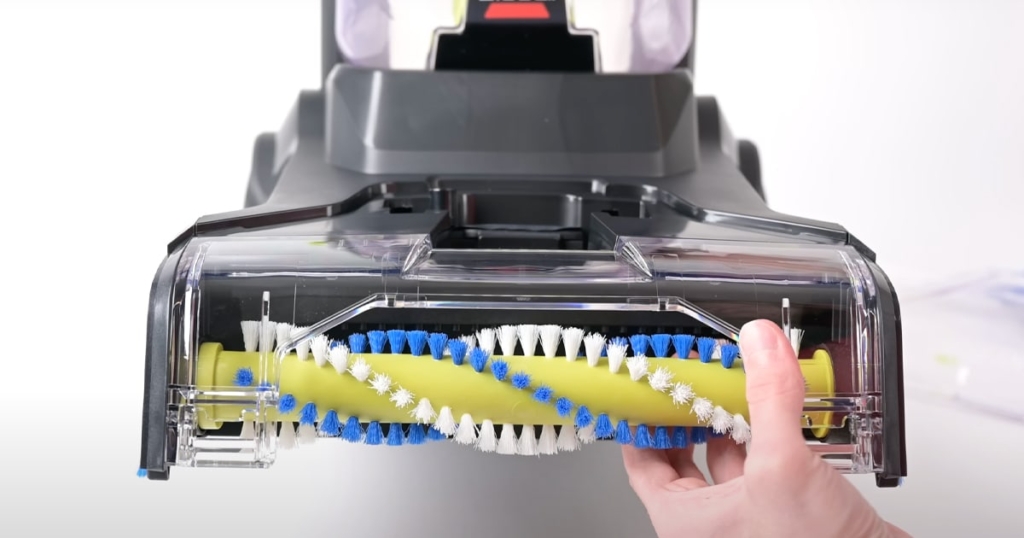 We couldn't tell the difference between its results and the 2X Revolution results, which we consider to be really good. Bissell also claims the TurboClean DualPro Pet outperformed the Hoover Power Scrub Deluxe in their standardized tests.
Hose and Spot Cleaner Functionality
This model also has an eight-foot hose, which you plug into the port on the head, and it operates like a spot cleaner. You apply the water-solution mix with the trigger and manually scrub the stains as it sucks up the dirty water.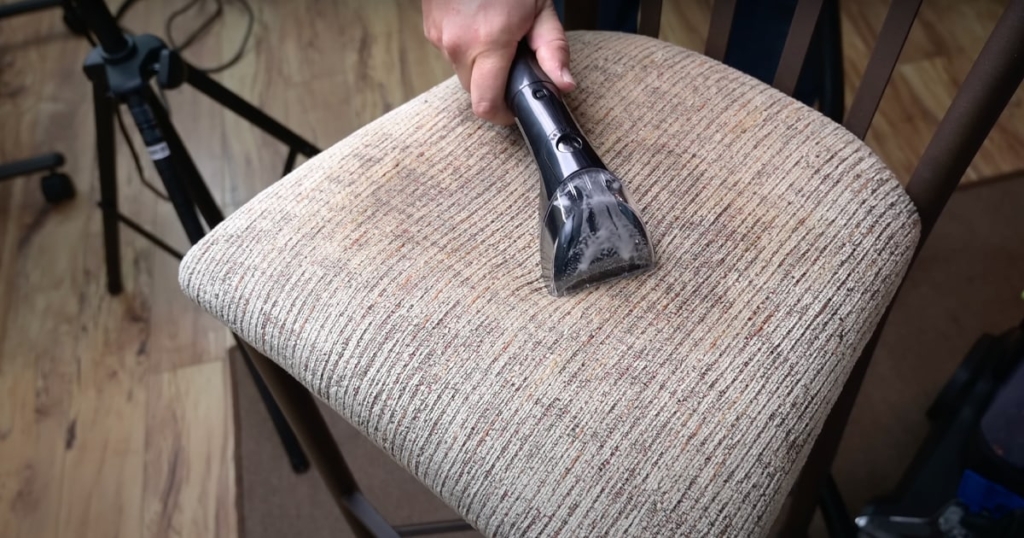 One of our problems with previous Bissell budget carpet cleaners is that while they were cheaper, they didn't have a hose attachment like the premium Bissells did, and the ability to use a hose like a spot cleaner—whether for scrubbing particularly difficult stains or reaching places that normal carpet cleaners can't go, like stairs or upholstery—is a major value add. It was the main reason we consistently recommended premium Bissells over budget ones.
Spot Cleaner Tests
But the Bissell TurboClean DualPro Pet does have a hose like the premium versions do, with the same 8-foot hose length, and it comes with a 3″ Tough Stain Tool, which we consider to be the best Bissell hose attachment.
We tested this spot cleaner function with wet and dried-on stains and found it to be excellent at both, thoroughly cleaning the stains after just a few minutes of scrubbing.
Power and Suction
As far as stated power, Bissell rates the DualPro Pet at six amps, which is much more than their previous budget options and only 0.8 amps less than the 2X Revolutions. With the unsealed suction tests, it seemed to have more suction at the head than any of the others we've tested in this way, though it did have a little less sealed suction at the hose.
Tank Size
Another big pro is the tank size, and here again, this was one of our gripes with previous budget carpet cleaners, which had really low tank capacities, like half a gallon on the 2085 or 5/8 gallon on the 2987. That really is just enough to deal with very small areas.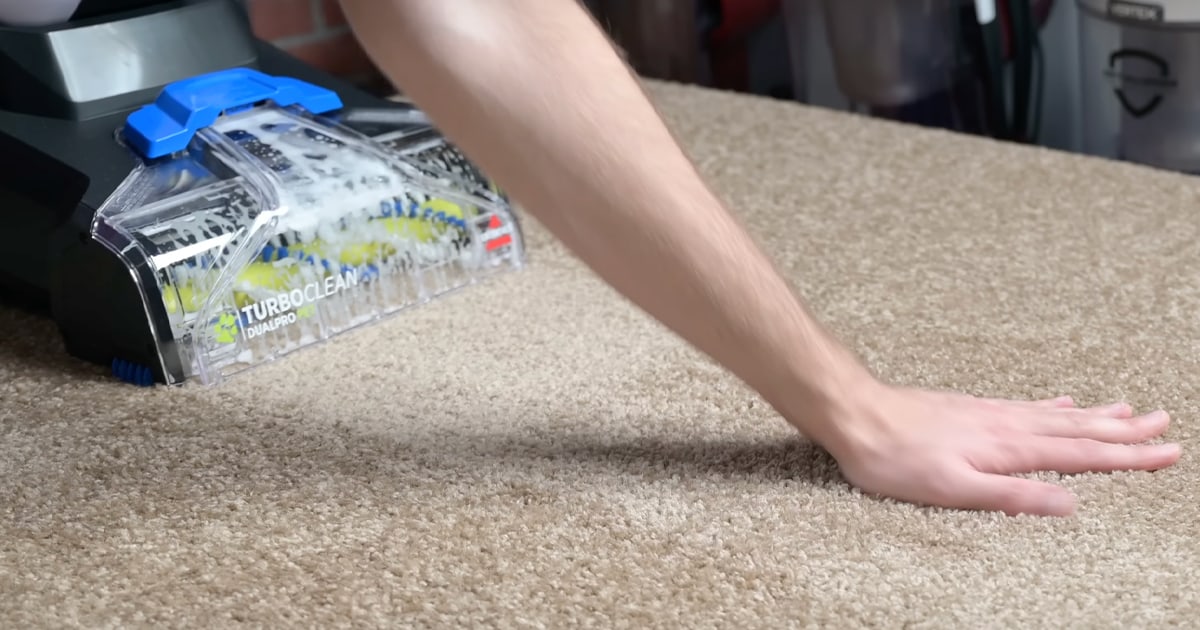 But not only does the TurboClean DualPro Pet come with a 1.25-gallon tank, which is actually more than the premium 2X Revolutions, but it also has the Express Clean water usage mode, which Bissell advertises as a feature to help carpets dry faster because it uses less water. We like it for whole house cleaning jobs too, or for cleaning area rugs, as you can cover more area on just one water tank while not soaking the carpet more than you have to.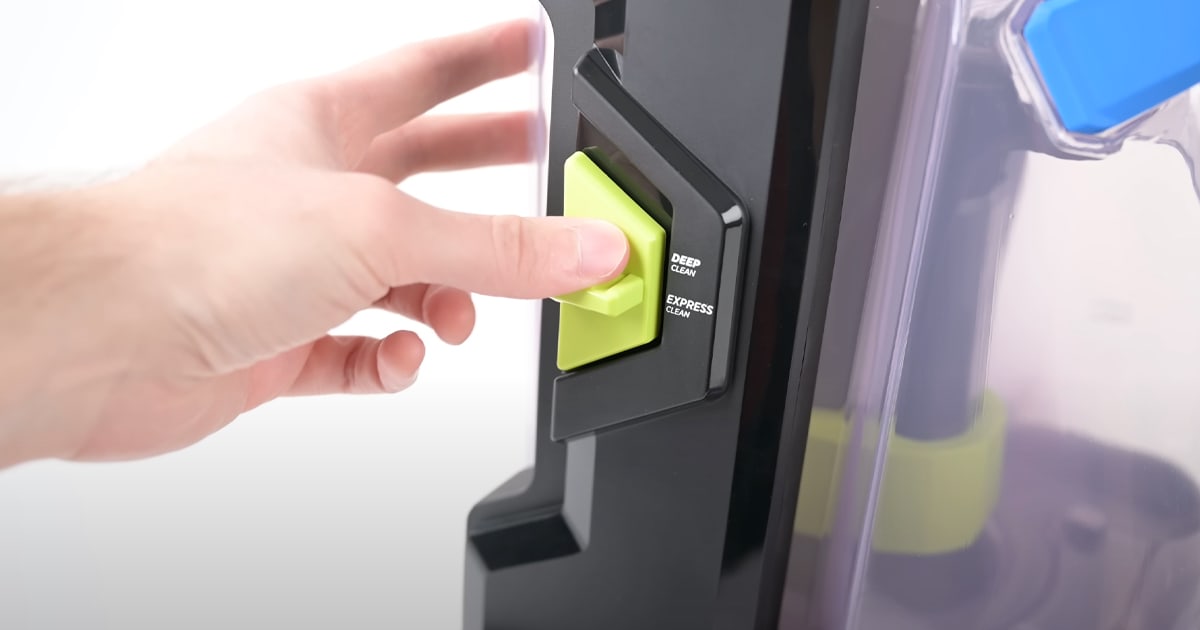 The dirty water tank has an easy-to-pour spout that helps to completely empty the tank, which is rarer than you might think. Size-wise, it's less weight than the Revolutions, but just barely, which is always a good thing.
We tested the TurboClean DualPro Pet's cleaning ability with both wet and dried-on stains and found that it cleaned the stains completely after a few back-and-forth passes.
Ease of Cleaning and Value
One often overlooked pro is that its brush housing can be mostly removed for easy cleaning.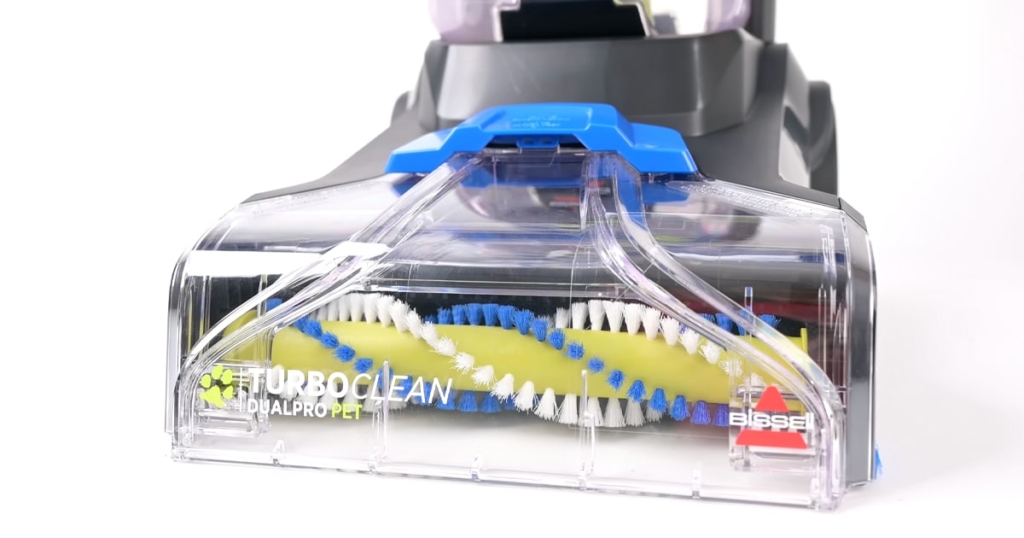 We think the real story here is the price. It's roughly the same cost as Bissell's premium spot cleaner and significantly under the Bissell 2X Revolutions, whether the Pro or Pet Pro.
So, if we did a best carpet cleaner round-up today, we're almost positive the Bissell TurboClean DualPro Pet would be in the running, if not win the best value category.
Specs
| | |
| --- | --- |
| Manufacturer | Bissell |
| Model | TurboClean DualPro Pet |
| Model Number | 3067 |
| Power | 6 amps |
| Corded/Cordless | Corded |
| Power Cord Length | 20 ft |
| Hose Length | 8 ft |
| Cleaning Path Width | 11 in |
| Clean Tank Capacity | 1.25 gal / 4.73 L |
| Weight | 12 lbs |
| Warranty | 2 yr |
DualPro Pet specifications from the manufacturer's website.