People have been asking Vacuum Wars for years about the best vacuum for tile floors. And even though we've tested a ton of vacuums, we were honestly clueless on how to answer that question – until now! We decided to spend a week trying out several vacuums on all kinds of tile floors, and we finally have the answer. So, check out what we found!
Best Vacuum for Tile Floors 2023
For those in a hurry, here are the top 5 best upright and cordless vacuums for cleaning tile floors.
Cordless vacuums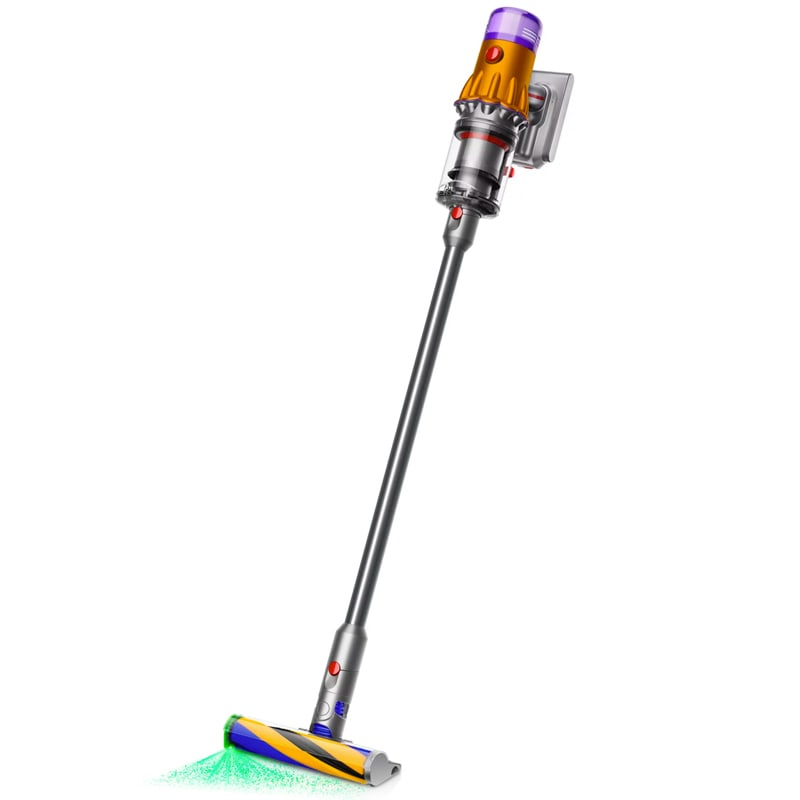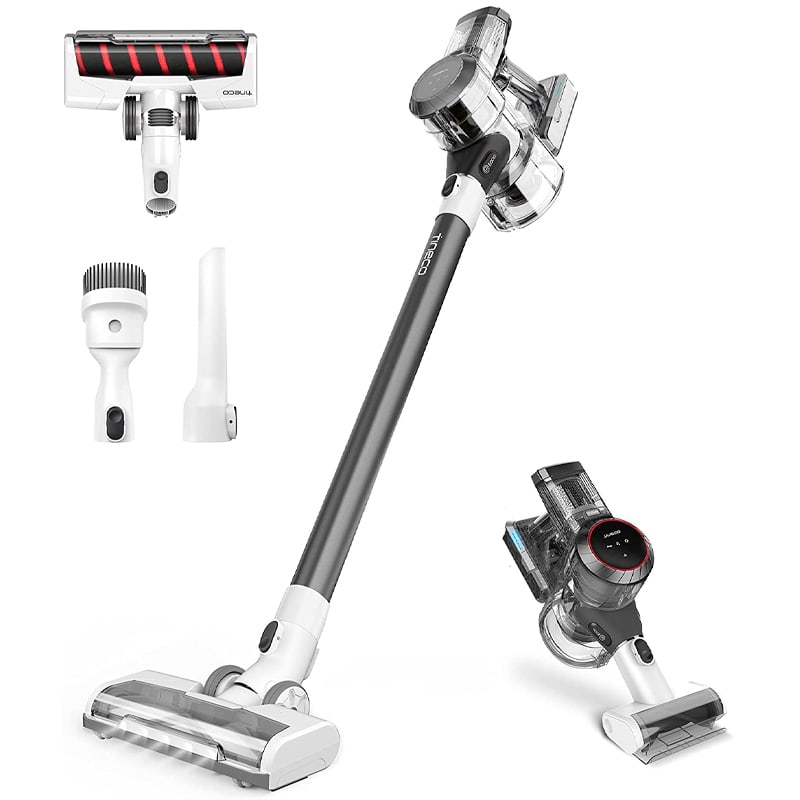 Tineco Pure ONE S11 Tango
Upright vacuums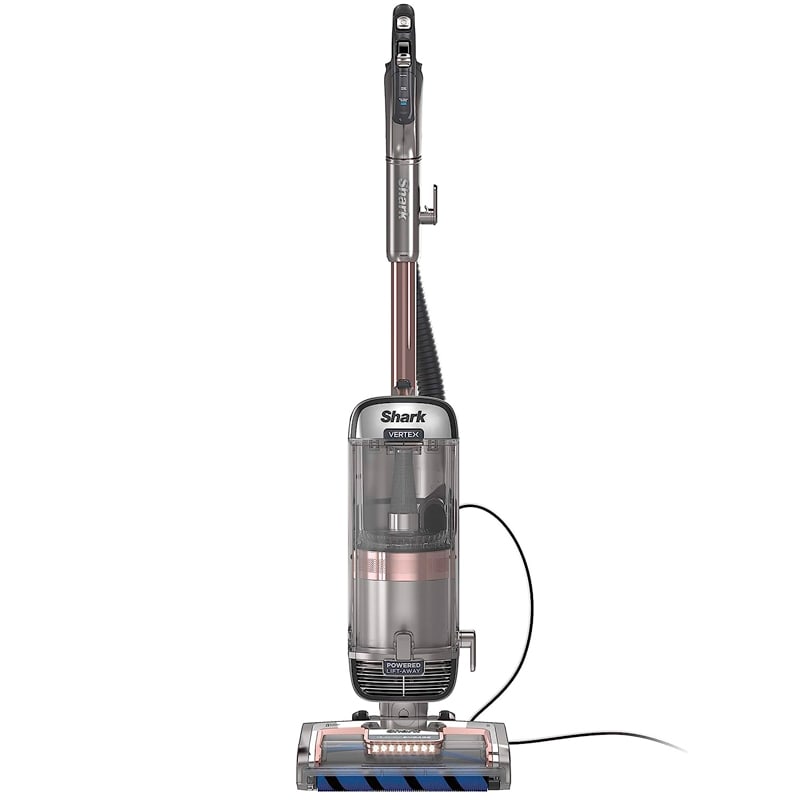 Cordless vacuums for tile
Looking at cordless vacuums, Dyson took the top two spots, represented by the Dyson V15 Detect and Dyson V12 Detect. Their Laser Slim Fluffy cleaner heads, meant specifically for hard floors, combined with a good amount of suction power and a well-sealed system put these two vacuums on top.
Three brands make up the remainder of our top five cordless vacuums for tile. In third place was the Tineco Pure ONE S11 Tango (read our Tineco Pure ONE S11 review), which was followed by the Samsung Jet 90 cordless. LG's CordZero took the final spot. All of these top five picks include a dedicated soft-roller head for use on hard floors only.
RELATED: See our review of the Dyson V15s Detect Submarine!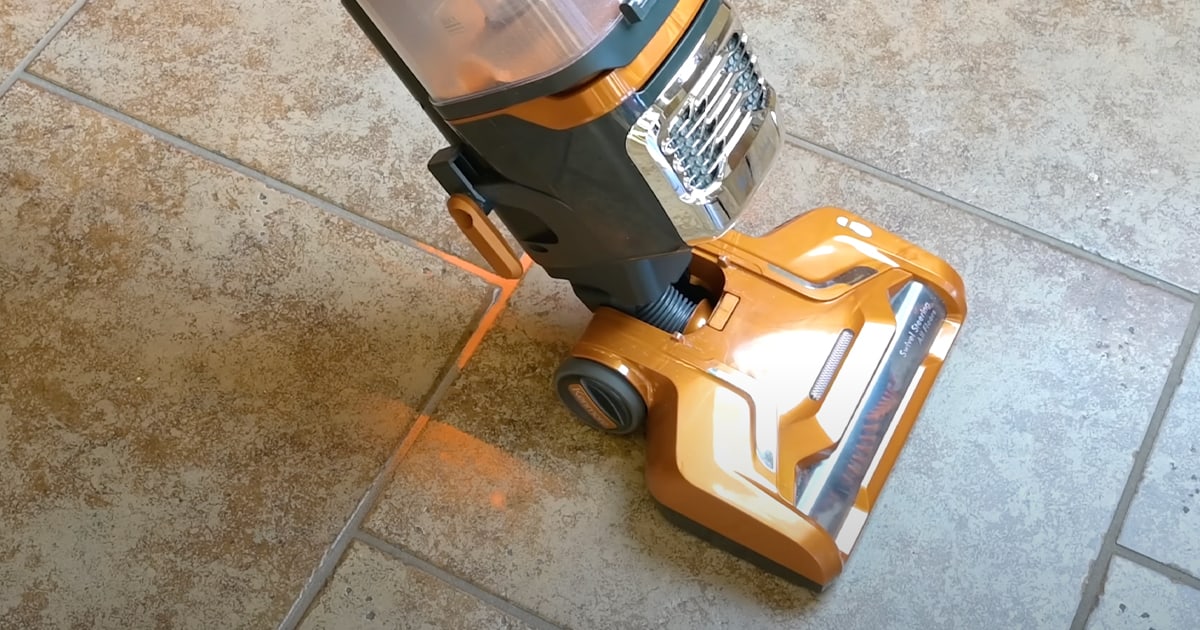 Corded uprights for tile
The DuoClean-equipped Shark Stratos upright and Vertex models were the two best upright vacuums for tile floors. The older Vertex model narrowly edged out the Stratos, its successor. Two Dyson Ball Animals, Animal 3 and Animal 2, took the next two spots. Finally, fifth place went to the Kenmore Featherlite, a budget-priced upright option.
You can find out more about our tests below. We picked out the vacuums for this competition by first going over the data we gathered from our earlier reviews of cordless vacuums and upright vacuum reviews. By doing that, we were able to handpick the top contenders for this competition.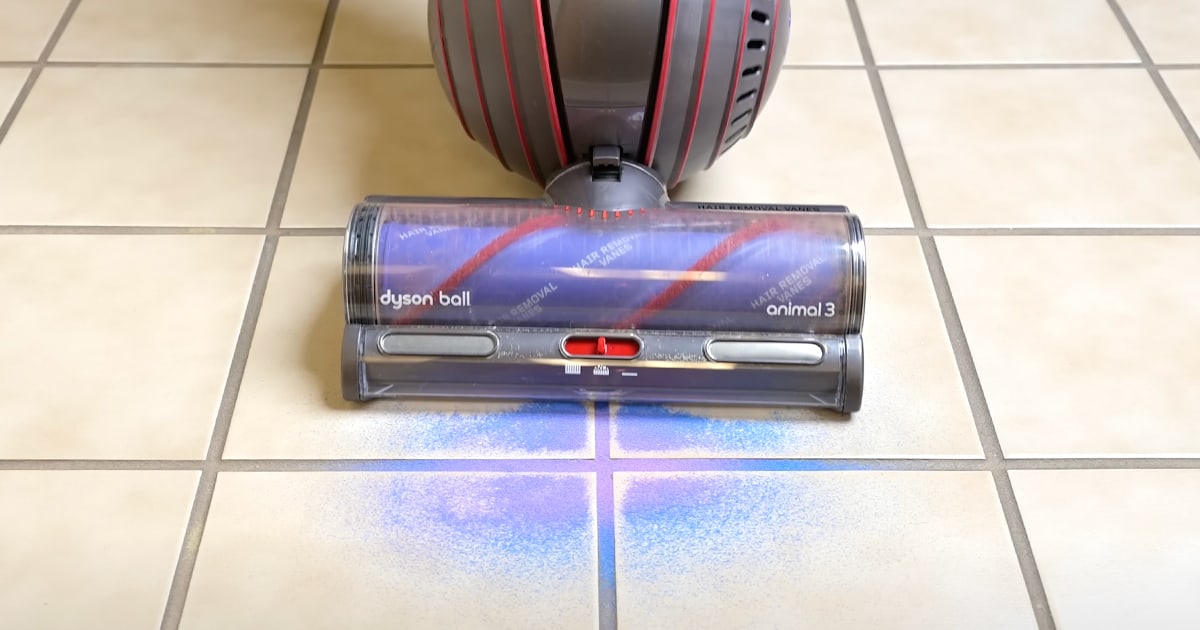 What we tested for
When people ask the question "what vacuum is the best for tile floors" we think what they're really asking is one of two things. First, they are looking for what vacuum is the safest to use on tile surfaces, so as not to scratch them. Second, they are wanting to know what vacuum is the best for picking up debris on tile floors, especially debris that's between the tiles in the grout where it's harder to pick up. So, those are the two questions we set out to answer.
Don't scratch your tile!
Please note that we have tested a select group of vacuums and types of tile, and our test results are based on our own independent testing.
If you are concerned that a vacuum may scratch the tile in your home, consult your vacuum's manual or its manufacturer before use.
Tile flooring, vacuums, and the potential for scratches
The first thing we learned and wanted to share is that not all tile floors are the same in terms of their chances of being scratched.
Natural stone tile
The type of tiles that are most likely to be scratched by a vacuum, or anything else for that matter, are natural stone tiles. More specifically, tile that is actually rock, such as slate. But, it's rare that people have this type of tile in their homes.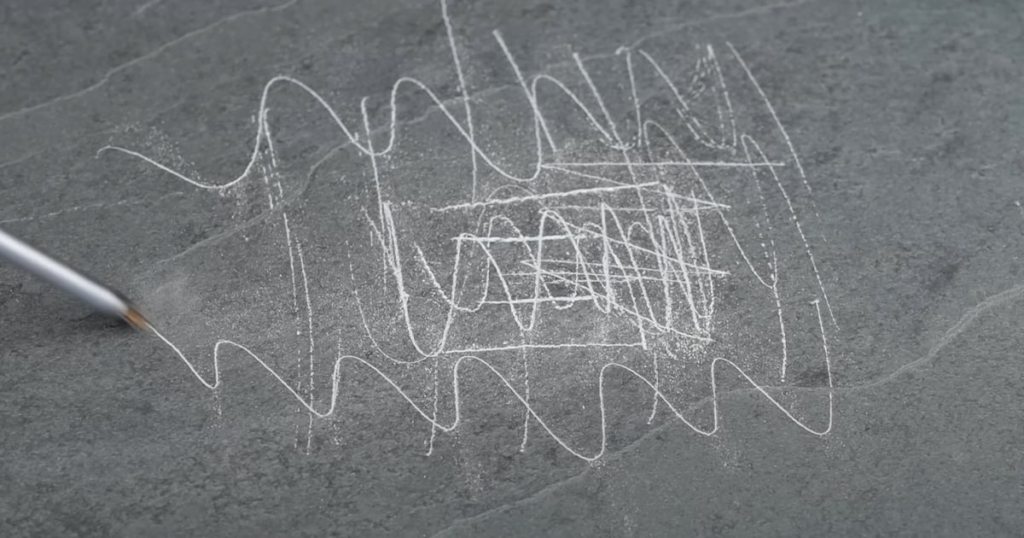 Porcelain tile
Next on the potential-to-scratch list are porcelain tiles that have a shiny polished glaze. While these are likely the second most scratchable variety of tile, they are far less likely to be scratched than natural stone tile.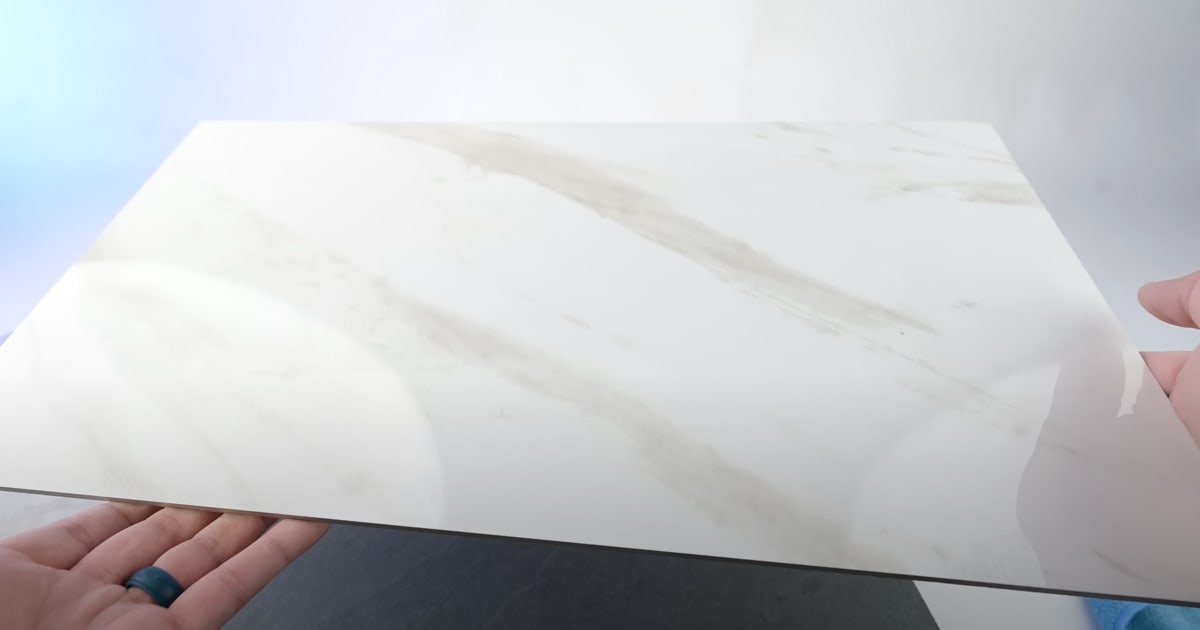 Ceramic glazed tile
Next comes the most common type of tile, which is a ceramic glazed tile that doesn't really have a shine or polish on it. This kind of tile is really difficult to scratch. We tried to scratch the ceramic glazed tile we used in our tests as hard as we could with metal objects, and we couldn't seem to leave a single mark on it.
Scratching tile with a vacuum cleaner
After we schooled ourselves on all things tile and did some scratch tests with various objects to see how different tile types held up, we shifted our focus to the big question: can those fast-spinning vacuum brushrolls scratch the tile surface?
To find out, we turned to some vacuums with very aggressive brushrolls, such as the Ricar 40 Series. It has a big brushroll motor and uncommonly stiff bristles. This is the kind of brushroll that gave rise to the name "beater bar."
We took the Ricar and a few other vacuums known to have particularly aggressive brushrolls, put them on their lowest height setting (in order to make maximum contact with the tile,) and had a go.
Many of these vacuums have a brushroll shut-off switch, which of course we did not use.
Basically, we are doing everything you would not want to do if you were worried about scratching your floors.
Tile Scratch Test results
In these tests, we found that even on the natural stone tile we could not make a scratch with any of the vacuums we tried, with the exception of the Sanitaire Tradition. The scratches that the Sanitaire made weren't because of the vacuum's brushroll but were the result of a metal baseplate that scratched the tiles' surface when set to its lowest possible height.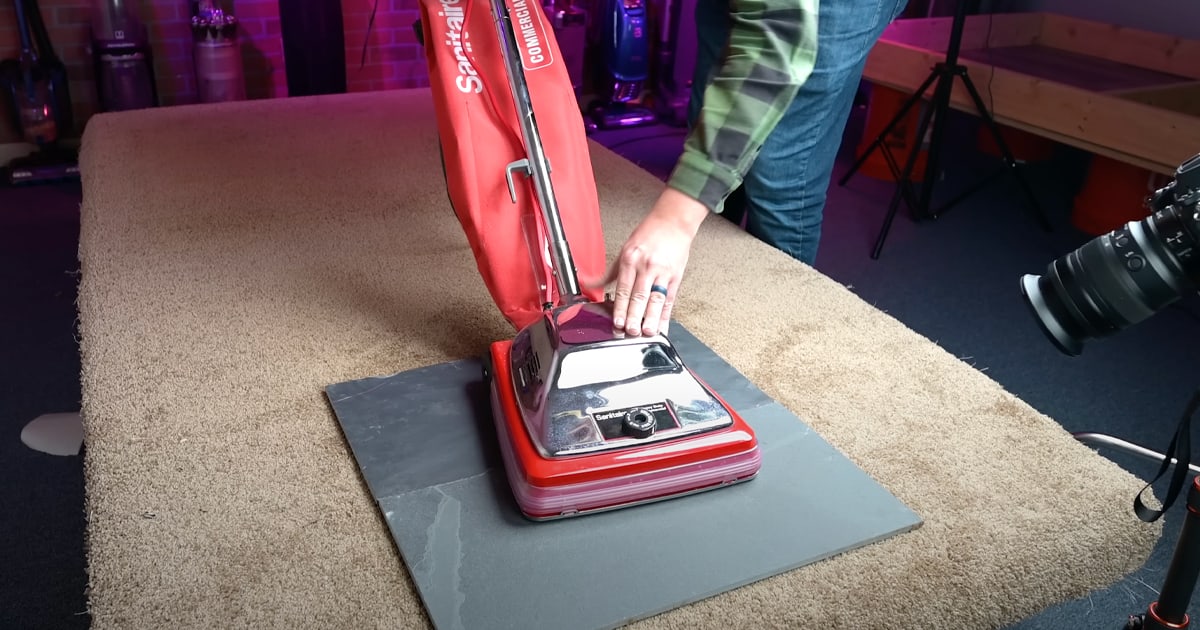 In fairness to the Sanitaire Tradition, it is explicitly not supposed to be used on hard floors; never mind that we did so with it on its lowest height setting! So this clearly wasn't a fair assessment of this vacuum.
There was also one anomaly in the scratch test with the Shark Rotator LA502 (see our Shark Rotator Review), one of Shark's cheaper DuoClean designs. We found that on the natural stone tile, it did leave a mark if it was left running in the same spot for a while.
While we are not sure we would call it a scratch, it definitely was a mark. This occurred only on the natural stone. None of the other Shark vacuums equipped with DuoClean left this mark.
To sum up the results of the scratch test, we could not find a link between aggressive brushrolls and scratches on tile floors.
Debris Pickup Test on tile flooring
In our Debris Pickup Test, we used sand as our dirt and debris as it is one of the heaviest and thus hardest debris types to pick up. We tried this on a few different styles of tile flooring, looking for any direct correlation between features and performance.
Vacuums with brushroll on-off switches
What we found was that vacuums with brushroll on-off switches seem to require extra suction power and airflow – levels that that you typically only find on more expensive vacuums.
For example, the Dyson Ball Animal 3, a much more expensive upright vacuum of this type, did better than the Shark Navigator and Kenmore Featherlite, both cheaper versions of this type of vacuum. Those cheaper versions were eventually able to do the job; it just took a few more passes.
Soft roller brush-equipped vacuums
The vacuums we tested with soft roller brushes did not seem to require as much power to do the job nearly perfectly. This is likely due to their design, which gives them a better seal on hard floors. Among the competitors were dual-brush vacuums like the Shark DuoClean Stratos as well as the new Hoover ONEPWR Emerge Pet+.
Using the Dyson V15 with its soft roller brush completed the job perfectly, even on its lowest power settings. Interestingly, we found that using the combo head on the Dyson V15 was not as effective in the tile pickup test as the soft roller, and it required either the higher power setting or closing the adjustable gates on the front of the brushroll in order to pick up the debris cleanly.
Vacuums with interchangeable brushes
In the end, the big winner here is vacuums with interchangeable brushes, such as a single combo head for carpet and hard floors as well as a soft roller head. Those soft roller heads are really good for hard floors and performed very well on tile in our tests.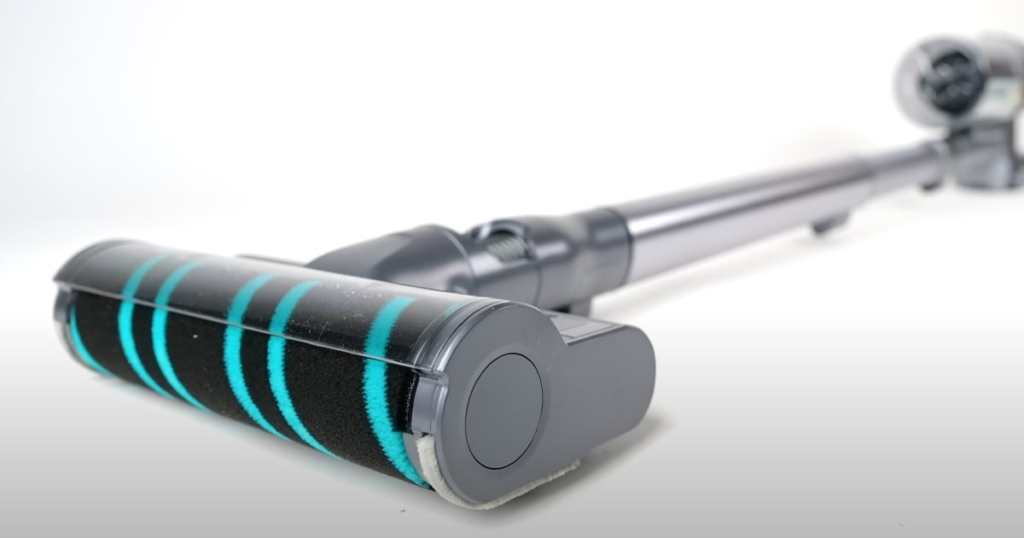 Top Five cordless and upright vacuums for tile
So now we can finally answer the question, which vacuum do we think is the best for tile floors?
For cordless vacuums, the Dyson V15 finished first, and the Dyson V12 Detect Slim a close second. They are probably the best at pickup while doing so in a super gentle manner. Other brands have dedicated soft-roller options too, so the Tineco Pure One S11 Tango, Samsung Jet 90, and LG CordZero rounded out our top five.
And, for best upright vacuums for tile floors the Shark Vertex and Stratos took the top two slots followed by two Dyson Animal Ball models and the Kenmore Featherlite.
Frequently asked questions
Can a vacuum cleaner be used to clean tile flooring?
Yes. You can remove dirt and debris from both tiles and grout with the right vacuum cleaner.
Which vacuum cleaner head should be used on tile floors?
The best type of vacuum cleaner head to use is a soft roller brush. While most stiff bristle brushes won't harm tile, a soft-roller brush, on an upright or a cordless vacuum, will do the job better and in less time.
Can vacuum cleaner brushrolls scratch tile?
In rare instances, yes. A vacuum cleaner with hard bristles can scratch tile that is soft or otherwise prone to scratching. Vacuums that fall into this category usually come with a warning for use on tile.
Is it better to vacuum or sweep tile floors?
Vacuuming is the optimal method for extracting dirt, sand, hair, debris, and other particles that tend to accumulate in the grout between tiles. As with anything, the vacuum or broom being used plays a big part in how good of a job either is able to do.
Can a vacuum scratch a tile floor?
Yes, but it is highly unlikely. We did observe a vacuum with a metal baseplate scratching tile when the two materials were allowed to make direct contact. We would say this is an exception, however, not the rule.
What type of tile is most prone to scratching?
Natural stone tile is the most prone to scratching followed by porcelain tile.