Welcome to Vacuum Wars and to another Air Purifier Wars air purifier match-up. In this review, we'll be comparing two ultra-affordable air purifiers from the same brand: the Aroeve MK01 and the Aroeve MK06. We decided to compare the Aroeve MK01 vs MK06 when we noticed how popular they both were as well as the fact that they were both geared toward the same size room.
When we say affordable, it's not an exaggeration. These are two of the cheapest air purifiers on the market and they happen to be from the same brand. So, it will be interesting to see how they stack up against one another. So, let's get started.
RELATED: See which models we chose in our Best Air Purifier competition!
Comparing the Aroeve MK01 and MK06
Starting with the basics, the MK01 is more of a cylinder shape, and the MK06 is rectangular. Both are about 10 inches tall and are available in two classic colors: black or white. While these air purifiers aren't exactly identical, they do share several similarities.
Specs: Aroeve MK01 vs MK06
| | Aroeve MK01 | Aroeve MK06 |
| --- | --- | --- |
| Official Coverage | 215 sq. ft. | 215 sq. ft. |
| PM2.5 Sensor | No | No |
| Pre-Filter | Yes | Yes |
| HEPA Filter | Yes | Yes |
| Carbon Filter | Yes | Yes |
| HEPA Rating | 99.97 @ 0.3 microns | 99.97 @ 0.3 microns |
| Timer | Yes | Yes |
| Fan Speeds | 3 | 3 |
| Dimensions | 6.1″ x 6.1″ x 9.7″ | 6″ x 6″ x 9″ |
| Colors | White, Black | White, Black |
| Certifications | CARB, ETL, SGS | CARB, ETL, SGS |
| Where to Buy | Amazon | Amazon |
Data from the Aroeve website and air purifier manuals.
Similarities
They both use the same basic air purification techniques and they're both recommended for spaces around 215 square feet, recirculating the air in that area within an hour. They both also employ a multi-directional air intake from the side vents and a top-placed fan for dispersing fresh air.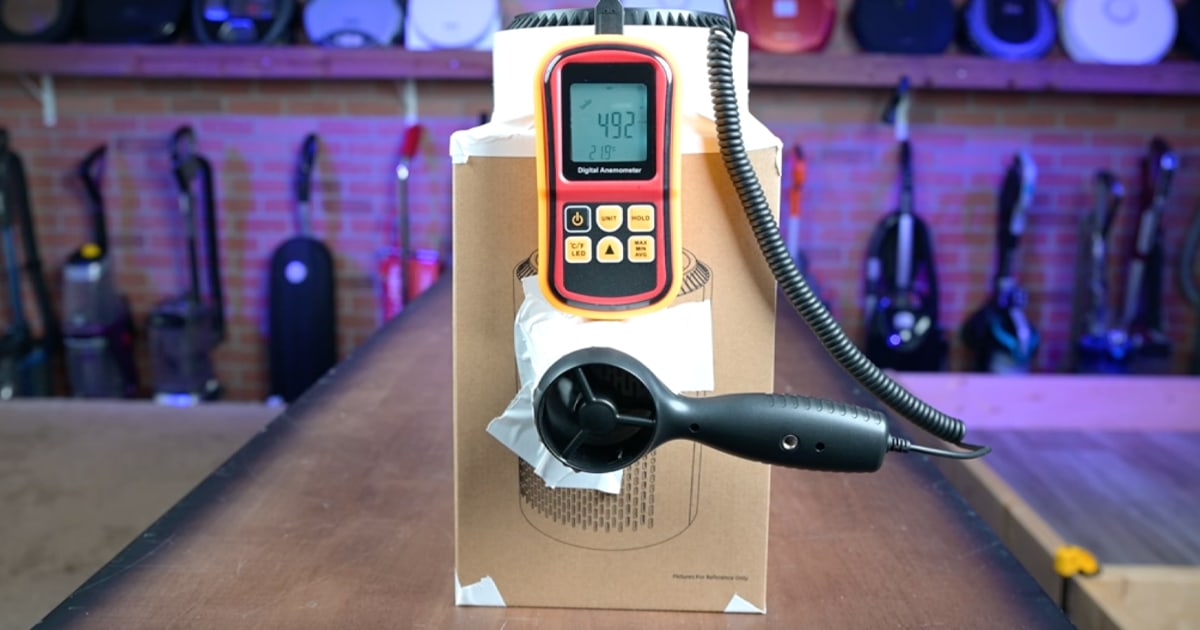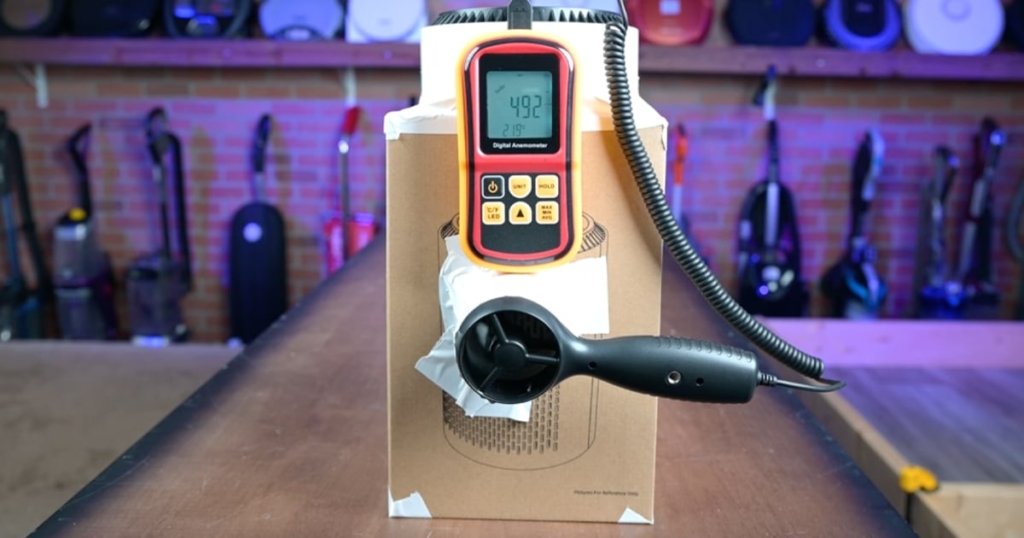 Features
Our first round is features. These are things that don't necessarily help with air purification but are nice to have. Both models feature soft-touch control panels with timers for 6, 12, and 24 hours and fan speed settings, including a hushed night mode, a moderate speed 1, and a more vigorous speed 2.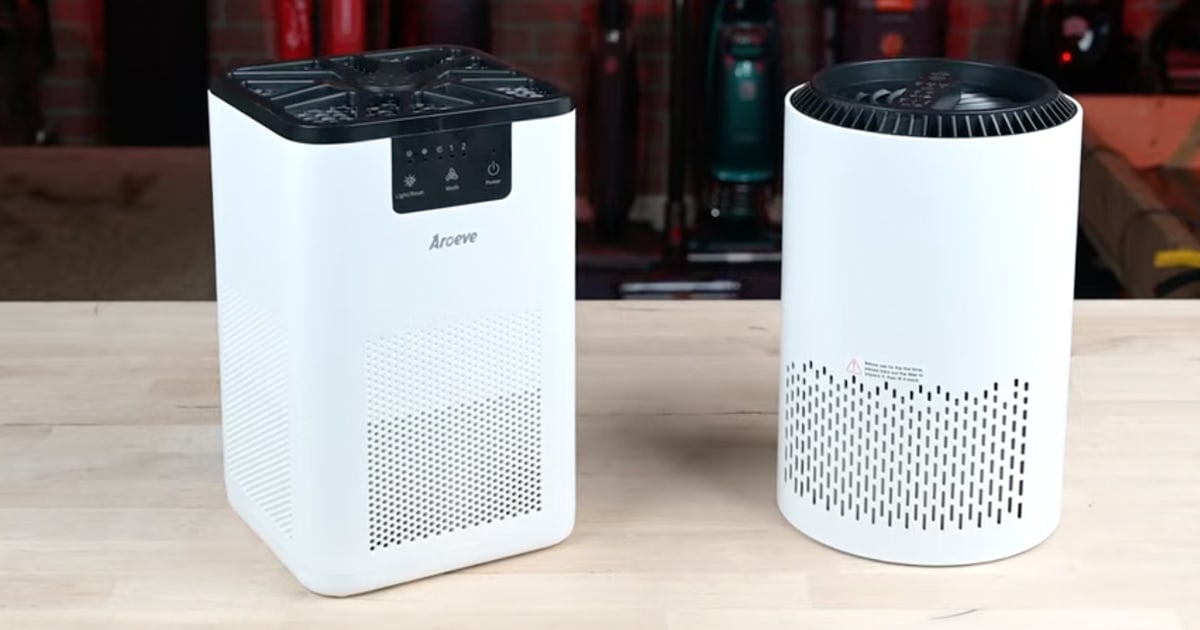 They both have LED lights with ambient options, filter replacement indicator lights, and aromatherapy chambers. So, the MK01 and MK06 are pretty much the same in the features category. However, for this round, the MK01 does win, thanks to its slightly smaller size.
Filter Quality
Moving on to the filter quality round, the MK01 and MK06 use the same three-layer circular filter. The filter has an inner activated carbon layer to trap odors, smoke, and fumes and a central HEPA filter to eliminate particles larger than 0.3 microns. As well as an outer pre-filter to catch bigger particles such as dust, hair, and fiber.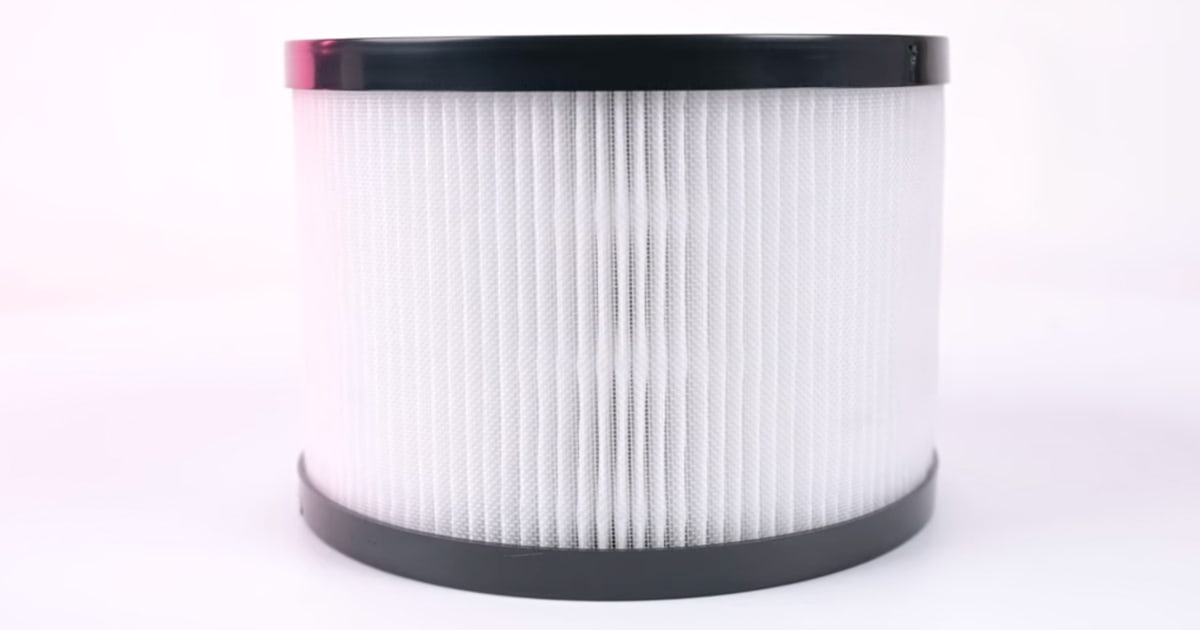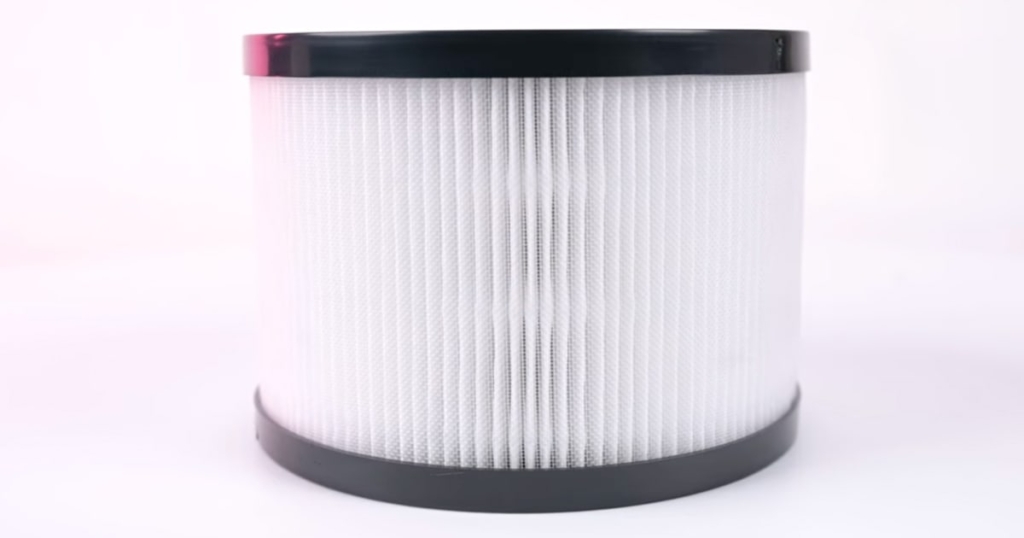 Aroeve recommends cleaning the pre-filter every two to four weeks to ensure optimal efficiency and prolong the filter's lifespan. Filter replacement is suggested every three to six months or after two thousand hours of use on both.
Aroeve does offer upgraded four-layer HEPA filters for specific needs, including versions for standard use, pet dander, and smoke and odors. But for the filtration quality round, it is a clear tie as they both use the same filter.
Performance Tests
Moving on to the bench tests. This is where we focus on assessing metrics like airflow and noise level. During these tests, the MK01 outperformed the MK06 in airflow across all three settings.
Airflow / Noise: Aroeve MK01 vs MK06
| Fan Speed | Aroeve MK01 | Aroeve MK06 |
| --- | --- | --- |
| 1 | 44 db @ 5 CFM | 46 db @ 0 CFM |
| 2 | 50 db @ 18 CFM | 48 db @ 11 CFM |
| 3 | 62 db @ 30 CFM | 57 db @ 19 CFM |
Results are from our independent testing, not from the manufacturer.
In the real-world noise test, which measures noise levels at the setting most likely to be used in a household, the MK01 registered 50 decibels while producing an airflow of 18 CFM at a fan speed of one. Conversely, the MK06 recorded a slightly lower 48 decibels at the same speed, but with a reduced CFM of 11. So, the MK01 takes the honors in this round.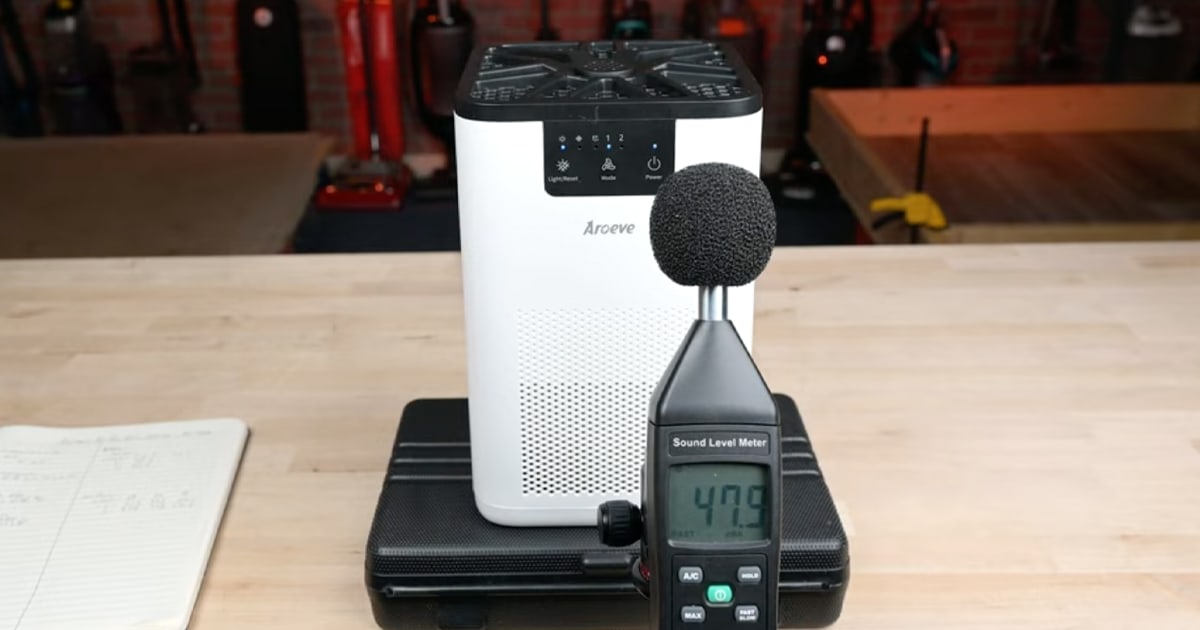 Filtration Tests
Moving on to the filtration tests. In our fog test, we discharged 12 seconds of fog into a sealed room and operated each air purifier at maximum power. In this test we noted that the MK06 restored the room back to baseline readings in 135 minutes, whereas the MK01 only took 112 minutes.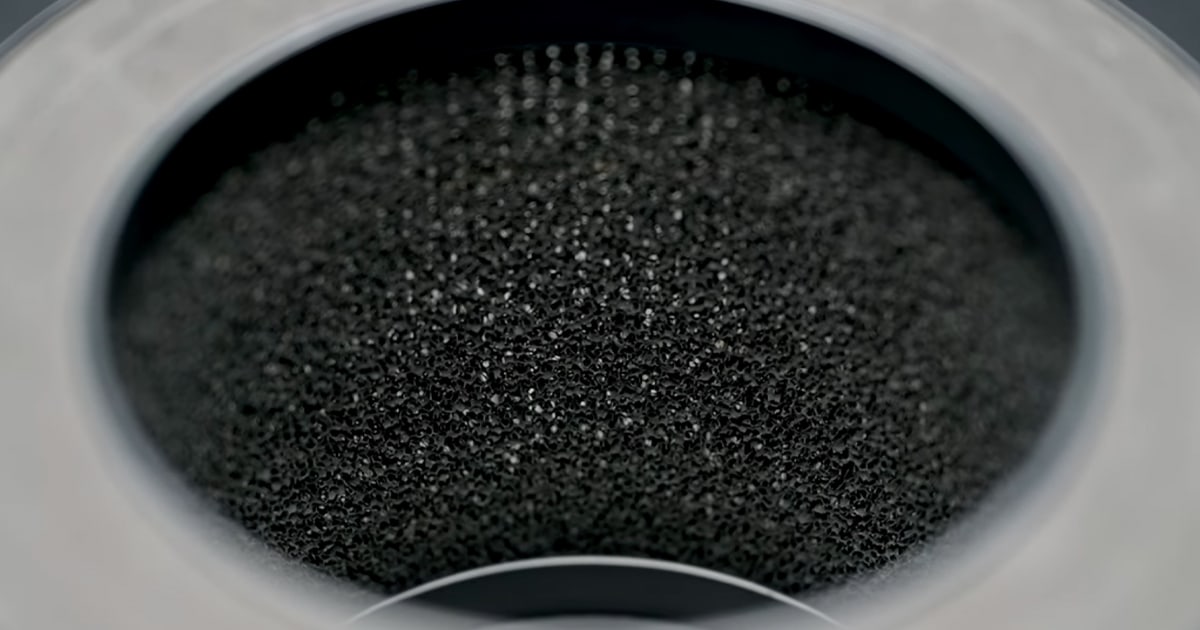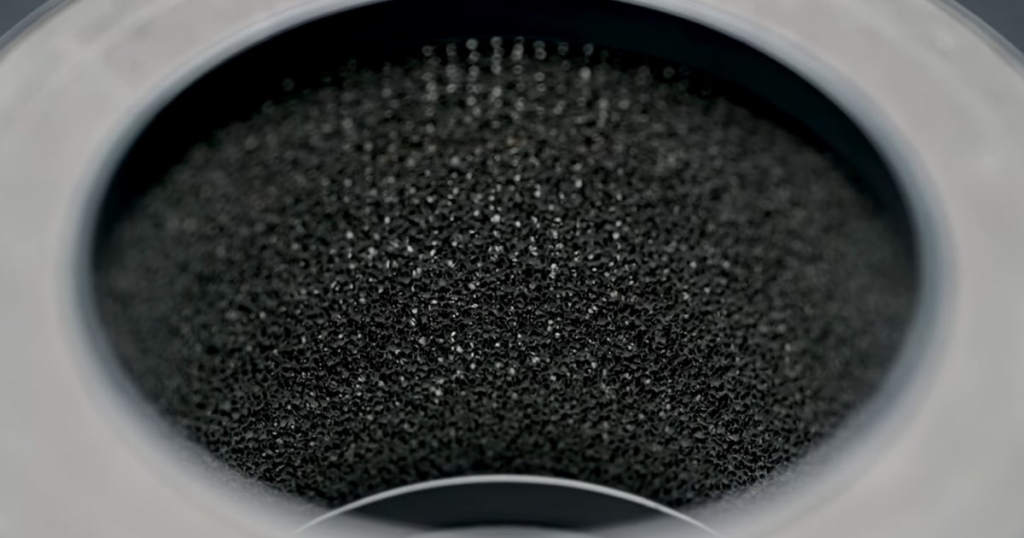 Since they have the same filter, the difference is probably attributed to the differences in their airflow. Remember, the more expensive one, the MK01 had higher airflow numbers than the MK06, which explains why it was a little bit faster at reducing the particles.
In this test, we also look at the reduction of volatile organic compounds, or VOCs. We conduct this test by introducing precise quantities of incense smoke into a sealed refrigerator and measuring how efficiently and swiftly the air purifier can minimize the VOC levels over a 5-minute test on maximum power.
Filtration Tests: Oransi Mod vs Shark Air Purifier Max HP201
| | Aroeve MK01 | Aroeve MK06 |
| --- | --- | --- |
| Fog Test | 112 min | 135 min |
| TVOC Test | 10% in 5 min | 12% in 5 min |
Results are from our independent testing.
In this test, there was almost no difference between the two. While the MK01 again reduced the particles from the smoke faster than the MK06, the actual VOC gas reduction was only around 10 percent for both in the 5-minute test, which is not particularly good. But you wouldn't expect VOC reduction to be all that good in this budget price range.
If you want better VOC gas reduction, we recommend considering one of the upgraded filters Aroeve offers. So, the MK01 won the filtration test category because of its higher airflow and particle reduction speeds.
Verdict
In conclusion, after we add up all the scores and the test results, the winner for this head-to-head competition is the Aroeve MK01. It's a little more expensive compared to the MK06, but it's still one of the cheapest air purifiers on the market, and its high airflow makes it worth the upgrade.